I recently purchased a basic membership into Michael Bashi's Sell For Me Funnel program and yes, this review is going to give you a real inside look and help you understand how and if this program works and what I recommend if it doesn't.
Michael Bashi's teachings in Sell For Me Funnel reflect affiliate marketing and that happens to be what I too am not only interested in, but also an expert at as well, so this review isn't the sort that's like "Wow this program is amazing, get it", but rather an objective one to help you understand if this program will work for you. So let's get started:
Here's a short summary and review of Sell For Me Funnel:

Who created Sell For Me Funnel?
Michael Bashi.
How much does Sell For Me Funnel cost?
There's different price points and here they are:
$10 for a basic membership (but if you sign up to his email list, you can use the exit pop up option on the same $10 page to get the same basic membership for only $1, which is what I did).
Then there's 2-3 OTO's after that purchase is made:
$47.
$97.
Then within the program, he offers you a "done for you funnel" service which is $47 (which might be related to one of the 2 OTOs).
What does Sell For Me Funnel teach?
The main thing is a 3 lesson course on being an affiliate marketer for big name networks and promoting their products through email marketing. I'll get into the specifics of this 3 lesson plan in a moment, but there are also other things.
My rating for Sell For Me Funnel:
2.5 out of 5 stars
Do I recommend Sell For Me Funnel?

It's a split for me.
I'll admit, the program is legit and for the $1, the value of training in Michael's membership is very high and in many ways, you get more than what you paid for it.
However: There are several issues I personally think exist and I'll get into them further in this review of Sell For Me Funnel, but the main problem is the model of affiliate marketing taught by Michael (email marketing) which I honestly disagree with being the best model to teach beginners.
There's just a lot of difficulty in performing this affiliate marketing model for beginners and there's better ways to go in my opinion and I find that this model is most often taught across similar programs (and yes, I consistently disagree with that too).
Alternatives: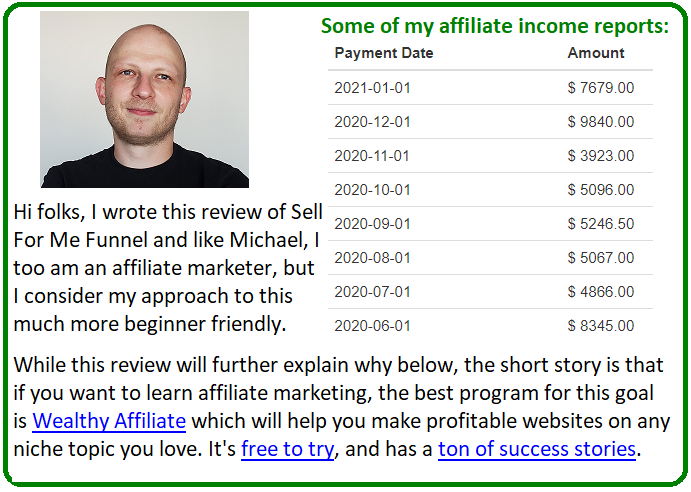 Here is a detailed review of Sell For Me Funnel:

So for starters, I included a screenshot above from the members area which shows you the 3 steps and with that, let me explain each one:
Step 1:
Talks about taking action and introduces people to email marketing as an affiliate. You are also things like:
Niches to start with as an affiliate and they are offered as examples (you can choose more than on the list).
You are shown options of autoresponders to get (Aweber, Get Response, ect…).
Things I liked here: The basic idea is pretty sound.
Things I didn't like here: The niche examples weren't really niches, but broad niches at best. There's way better examples people can choose from and it's better to start with ones you actually like (this isn't stressed enough). Here are examples of my own:
Those are all actual niches (specific) and very profitable examples. I find the more broader a niche is, the more harder it is to make money from.
Step 2:
Here you are shown different affiliate networks to connect with and become an affiliate for. Here are just some of the options (screenshot to the right shows what Michael suggests on the site).
And frankly, the rest are listed in my affiliate networks page here (most). Most of them are legitimate affiliate networks and I tend to agree with Michael's list, although the make money online ones are places I'd avoid because:
Most people shouldn't be getting involved in the make money online niche when they are beginners.
And most of the products on some of those networks are garbage.
Things like I liked here: The list of affiliate networks is pretty sound.
Things I didn't like here: Honestly, there's nothing here to dislike. I like what Michael taught here.
Step 3:
In this lesson, you are shown how to get traffic from multiple sources. Basically you are trying to send traffic to whatever email opt in you prepare to collect emails to then promote your affiliate promotions to and Michael teaches a few options here:
One of them is solo ads and there are some other trainings on setting up media ads (display ads) on other sites which I have to admit is new to me but I'm open minded on that so I want to give it the benefit of the doubt.
Things I liked: One of the methods (display ads) was a new method to me and I haven't tried it yet but I do believe you have to pay for that to begin using it.
Things I didn't like: Solo ads. I think they're a huge mistake and while Michael recommends using a site called Udimi, I personally find solo ads to be a huge mistake for traffic generation. It's expensive, very difficult to convert offers and get quality visitors from.
Granted, Michael does provide a video on helping you figure these problems out, but given the info I've learned about solo ads, I never use them.
Bonuses: Bing PPC training.
I received one bonus from the $1 offer I purchased and it's traffic generation training from Bing Ads. However I was never able to get access to this bonus. I followed the instructions on signing up to receive it, clicked the link to continue to it and got an error page. I never got it in my email either.
Fortunately, I have my own good experiences with Bing Ads (I made six figures with them) and if you want to learn how I personally use it, that link will show you.
The good news is that it's a legit way to generate traffic. The bad news is that it's not for beginners.
Bonus 2: Michael pays you for your opinion.
There's a "Make money now" type page on the members area where if you send your opinion to Michael about what you think of Sell For Me Funnel, he will pay you money for that. I believe it's $25 and up.
Conclusions on Sell For Me Funnel:
As I said earlier, the value for the $1 is great for the most part, but again, the subject material in my opinion could be better for beginners. For example:
The niche training could be explained a lot better (I recommend Wealthy Affiliate for a complete course).
The concept of email marketing is just not for beginners. I stuck to that belief for many years (and I do email marketing so I know).
Solo ads suck in my opinion and unless you're a good marketer, do not even bother with it.
These 3 things hinder me from recommending Sell For Me Funnel and while I think Michael and this program are legit, and I do believe someone who truly applies it can make money online, the material has to align with what a beginner friendly training would show for that (in my opinion).
In short, just because it sounds easy, doesn't mean it's beginner friendly folks. But perhaps you may think differently and here is a link to Sell For Me Funnel for you to try if you want to draw your own conclusions on this.
Additionally, Michael Bashi has another program out called Your Web Traffic Agency you may want to check out too.
Here's what I recommend instead: Wealthy Affiliate
I've seen the same kind of training Sell For Me Funnel pitches over dozens of programs in the 13+ years I've reviewed them. There is really nothing that special and it's overused and misconstrued as being beginner friendly.
What a better option is in my opinion is learning to:
Building a niche blog on an actual niche you love and building up free traffic to the site vs using advanced models. This is what I have stuck to preached and will continue to preach for beginners to do.
And that happens to be the model that is most beginner friendly and the one which Wealthy Affiliate teaches. And just as well, they offer free starter training you can click here to learn more about and even get my coaching (7 days free).
You'll get much more training, free tools (website) and a much more personalized experienced and personal access to me to help you get this model going.