Wealthy Affiliate has been the single biggest reason I have found success in the affiliate marketing world and continue to get it and this review will show you why. Now if you're reading this, you're either someone who doesn't or does know what this program is.
If you've never heard of Wealthy Affiliate before, the short answer is that it's the best program to learn how to become a success in affiliate marketing as well as online business as a whole since goes beyond that too (and I'll show you proof of what this program did for me shortly in this review).
Now if you already HAVE heard of this program, whatever it is you have seen or heard, no matter if it's from other reviews, my review is going to be very unique with 100% honesty and a truly no holds barred look at the program.
Here is a summary of what you're about to learn from this Wealthy Affiliate (WA) review:
And it's very straight forward:
1) The summary of how WA works.
2) My proof of success with WA (income reports).
3) Proof of success from WA members.
4) How WA works to make you successful at affiliate marketing.
5) The membership levels of WA explained (Starter, Premium and Premium Plus).
6) The pros and cons of Wealthy Affiliate.
7) The best way to get started with WA (risk free).
8) How to get my coaching with your membership in WA.
9) Frequently asked questions about Wealthy Affiliate (FAQ).
10) A comments section so you can see what people are asking and saying about Wealthy Affiliate.
The quick disclaimer about this Wealthy Affiliate review (before we dive in):
While I attribute nearly all of my affiliate marketing success to it (more on that below), the truth is:

It's not for everyone and if you join, I want to see you get results from it like I and so many have (success stories are also below), because neither you nor I want to waste time.
And while everyone's dream in joining this program is to make money online, be a successful affiliate marketer, and have financial freedom, the truth is, not everyone will (and there's reasons for that which have nothing to do with Wealthy Affiliate):
I've seen countless people walk through the doors of Wealthy Affiliate over the 15 years I've been a member there and I know:
Which people are going to be successful.
Which people aren't going to be successful.
How to help people reach success with Wealthy Affiliate, regardless of which side you're on.
Because I've been on both sides of that experience, if you see this program is for you and join, I recommend you to do it through me right here, because you'll get me as your personal coach.
And it's also because I'm one of the biggest success stories in Wealthy Affiliate and I want to make sure you get results, because if you don't, I don't get the credit or the commission, so let's get that out of the way.
And now that we have:
I have something very important to ask of you:
Please do me

two simple favors

as you read this review of Wealthy Affiliate:
1) All I ask is that you read it fully. Even if you are 100% convinced this program is for you, I want you to fully get into it on the best path to success inside it. Just taking a few extra minutes to read this review will really help with that (trust me).
2) I do have a frequently asked questions section in this review (FAQ) but if any of your questions aren't addressed there, I do encourage you to ask me your question/s below. Please don't be shy, I'm more than happy to answer!
The summary of Wealthy Affiliate (the quick review):
What Wealthy Affiliate is:
It's primarily a training program on affiliate marketing and in my opinion the best one out there (I've seen the competition, they don't compare and rarely come close). I will be explaining what the training inside Wealthy Affiliate contains shortly.
The support of Wealthy Affiliate (Why there's nothing like it):
This program also contains hands down the best support system I've ever seen for members. You get tons of help (besides from myself), including from the actual community, forums, live chat and more.
Creators:
Kyle and Carson.
How long I've been a member:
About 15 years and that's not a typo, I'm actually one of it's oldest and experienced members.
What Wealthy Affiliate helped me accomplish in life:
Paying for school (No student loans or debt).
Being debt free in general.
Living by my own rules.
Being my own boss.
Being able to travel so much more.
Getting more out of life.
And more.
This is all possible for you as well, whatever your financial goals are, through this program.
My results from Wealthy Affiliate:
Over $1.4 million. My affiliate income reports display this publicly and that's thanks to using the Wealthy Affiliate training.
There are success stories right?
Absolutely. In a moment I'll show you "some" of the many there.
What Wealthy Affiliate teaches you:
You will learn how to create a real passive income through affiliate marketing. This is what I have personally reached and I know the freedom that comes with that, which is what I want you to reach as well (this review will show you how).
How far you take the affiliate business Wealthy Affiliate helps you create is up to you and there is NO limit to how far it can go.
Do I recommend it?
If you accept that Wealthy Affiliate is NOT a get rich quick scheme, take the time to do their training and actually do it honestly, then yes, this program is for you.
Join here for free and get my coaching included (details below if you'd like to know more).
A quick look my 2020 income reports (Thanks to Wealthy Affiliate):
As I said earlier, I publicly display most of my affiliate income reports here.
A quick look at "some" of the many success stories of Wealthy Affiliate:
How Wealthy Affiliate teaches you to reach this same kind of success:
There are 2 primary training programs within Wealthy Affiliate that teach you how to do affiliate marketing:
Online Entrepreneur Certification Course. It's called OEC (all new members should start with this one).
Affiliate Bootcamp (Teaches members to promote Wealthy Affiliate, but you should start with OEC).
Here is a preview of the course: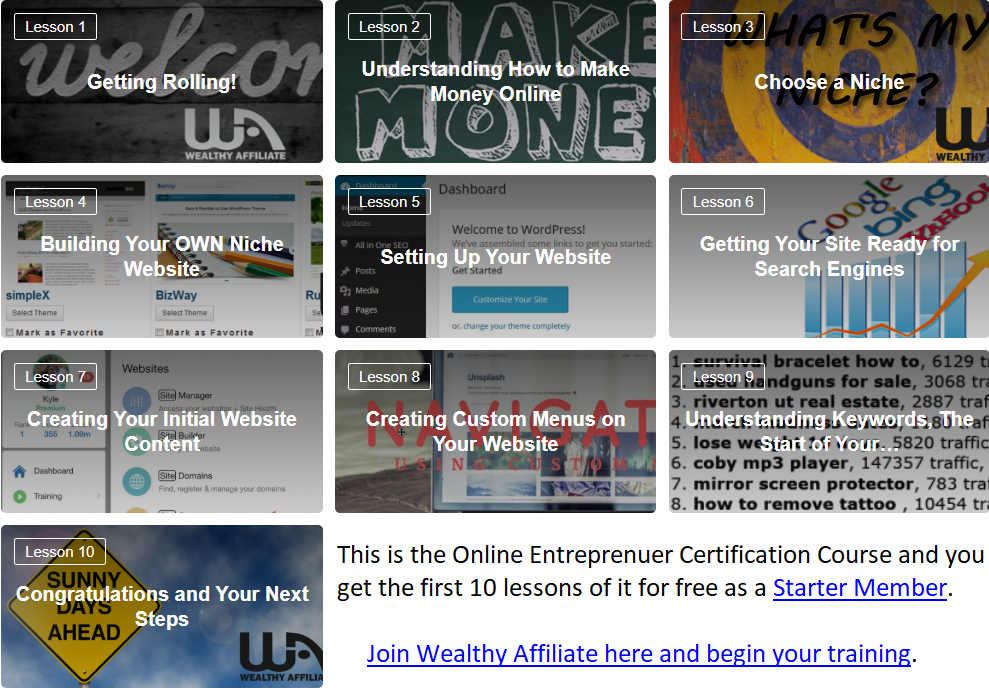 Both courses teach the same fundamental principals of succeeding with affiliate marketing and they are these 4 steps:
To first choose a topic you really love, which is called a niche.
To then make a website for this niche (you are given 1 free website as a member of Wealthy Affiliate).
To then create content on the niche (and this process brings traffic to your website).
And then to sell affiliate products to the niche audience on the website.
For example:
Joe loves scuba diving.
Joe makes a website that helps people get into the hobby of scuba diving.
Joe writes content on his website that attracts 10,000 scuba diving enthusiasts to it (his traffic)
Joe signs up with scuba diving affiliate programs, gets links, puts them into his content.
And because he follows these 4 steps, this is the result:
Each time a visitor comes to Joe's site and buys a product he promotes as an affiliate, he gets a commission.
Joe average $5,000 a month through his scuba site as a results.
Joe makes a full time income selling scuba affiliate products and loves his online business and you can apply that same system to ANY niche you love.
There are countless opportunities, niches and affiliate programs you can make money from in this business but the place to start is with a niche passion you love, and Wealthy Affiliate teaches you how to do this.
Note: People do get stuck on what niches to pick often, so as a bonus:
One of my coaching features is to help you with that (details below).
Results members of Wealthy Affiliate are having by following the training:
Wealthy Affiliate's membership levels (Starter, Premium and Premium Plus):
One of the best features of Wealthy Affiliate is that even if you have a single ounce of doubt about it, you can actually try it for free to decide that, and it begins with the:
Starter Membership (free and here's what you get):
You can join Wealthy Affiliate, literally, for free without a credit card (if you don't believe me, here's proof).
You will get access to 10 lessons of the Online Entrepreneur Certification Course (remember, start here).
You also get 10 lessons of the Affiliate Bootcamp Course.
You get tasks with each lesson, so you're really building your affiliate business while you're learning.
Access to 100's of other free lessons within Wealthy Affiliate (side lessons, not related to the main training).
1 free website (we do encourage people to upgrade to their own domain and you can get it in Wealthy Affiliate).
7 days of live chat and messaging available to communicate with other members.
Bonus: 7 days of free affiliate coaching with me.
Premium Membership ($49 a month and here's what you get):
Access to all the (50) lessons of the Online Entrepreneur Certification Course.
Access to all the (70) lessons of the Affiliate Bootcamp Course.
Access to ALL the training and lessons in Wealthy Affiliate (literally 1,000's and growing).
Up to 10 free websites.
Free hosting, free security, free support and other free tools for your 10 websites.
Access to all of Wealthy Affiliate's webinar series (Over 300).
Unlimited access to all the support features of WA (live chat, forum interaction, and more).
Unlimited access to myself, which means you get coaching from me so long as you are a premium member.
Premium Plus ($99 a month and here's what you get):
Access to all premium benefits above.
Hosting for up to 50 websites (the best hosting service in WA).
Access to WA's top success stories and their "classes".
200+ credits provided for using within the WA system.
Classes is an exclusive area of the Premium Plus membership where the top experts (including me) share their best strategies for making money online (inside and outside of affiliate marketing).
And much more.
Premium Plus without a doubt offers the most out of all 3 memberships and is basically the top tier part of WA that offer the best this program has to offer. It is basically for people who want to get the most out of the program, on top of the already awesome training and support.
Which membership level of Wealthy Affiliate is best for me? The answer:
Starter ($0) is great for:
Anyone who just wants to take a "test drive" of Wealthy Affiliate to see how awesome it is.
Anyone who just wants to "test the waters" of affiliate marketing.
Basically, if you have any doubts or are unsure, start with the Starter Membership (there is no risk).
Premium ($49/month) is great for:
Anyone who wants to get the full educational benefits of the Wealthy Affiliate training.
Anyone who wants to get serious results (I followed the training here to get my results).
Anyone who is ready to invest time into the program.
Basically premium is for anyone ready to create a serious affiliate marketing business that makes them money.
Premium Plus ($99/month) is great for:
Anyone who wants to get the MOST out of the WA program (best benefits).
Anyone who is serious about immersing themselves fully with the WA program.
Anyone who wants to get exclusive training from the top members on what they're doing to make serious money online.
Anyone who wants access to the most websites options, tools, support and basically the best of the best in the entire program.
Basically Premium Plus is for anyone who is truly seeking to get the MOST out of the WA program. In addition to all the training benefits, you also get a ton of other bonuses, tools, support and more, all described here.
The pros of Wealthy Affiliate Affiliate:
Very beginner friendly training (even if you're completely new).
Extremely awesome support and help system. We help each other succeed in WA.
More free value from the Starter Membership than any competing program out there.
Free website.
Coaching and help from me added (join here).
Many success stories.
2 million members inside program.
More educational value on affiliate marketing than anywhere else.
WA has been around since 2005 and has only improved over the years.
And much more.
The cons of Wealthy Affiliate:
Not for people looking to make a "quick buck". This takes time.
Not for people who are lazy and unprepared to work.
Not for people who try to "skip" and rush the training.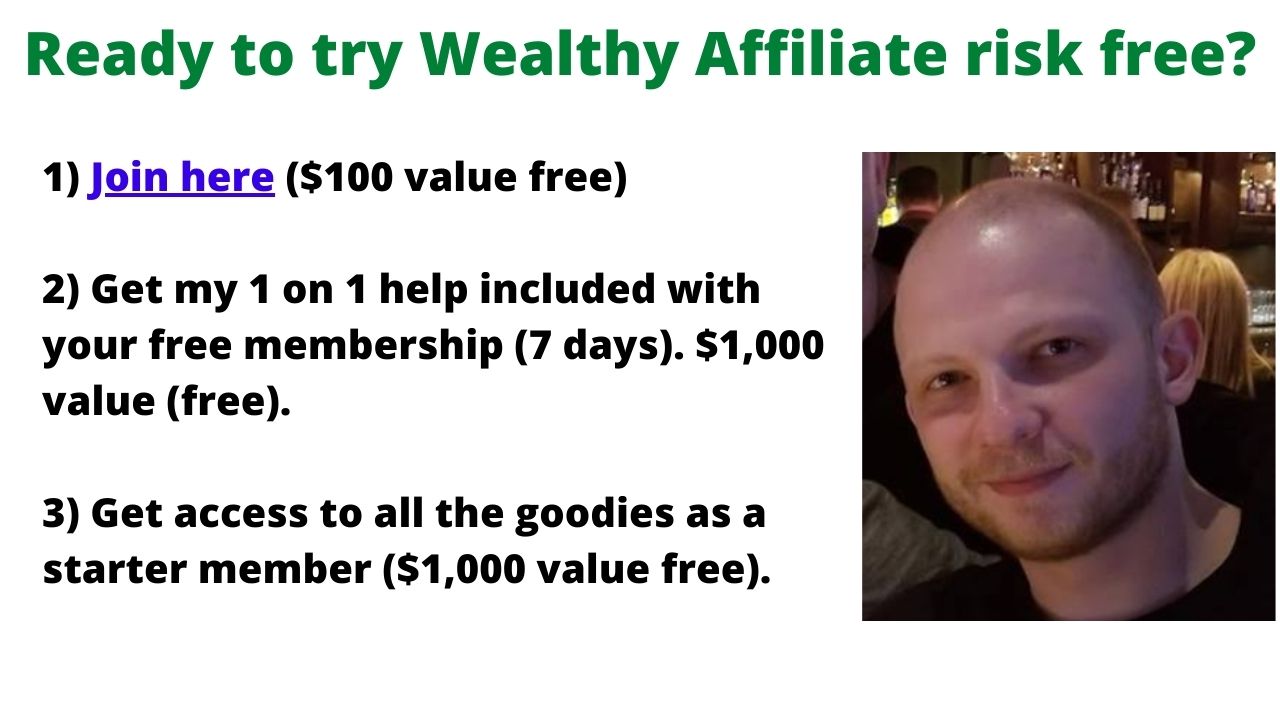 The best way to get started with Wealthy Affiliate:
1) Join here and start with the free membership. Even if my review convinces you to go with premium, I still want you to see all the free value before you upgrade.
2) Follow the welcome tour you get once you join. It'll get you started.
3) Start with the Online Entrepreneur Certification Course (the welcome tour takes you there). Do all the lessons and take in all of the value.
4) Interact with me and the community (I'll contact you after you join).
5) Only join premium if you love the Wealthy Affiliate program and want to go further.
You can do all of this risk free and if it's not for you, then you at least know, without ever having to spend a penny. And if it is for you, I do recommend you then upgrade to premium.
Bonus: How you get my coaching with your Wealthy Affiliate membership:
If you join Wealthy Affiliate through ANY of the links on THIS page, you will have my coaching included with your membership:
Starter members get it for 7 days.
Premium members get it for an unlimited period so long as they stay a member.
Benefits of my coaching:
1) You get access to one of the top success members of this program.
2) You get access to a top experienced member who can guide you and help you if you get stuck.
3) You can interact with me on my Wealthy Affiliate profile.
4) You can also post questions on the Wealthy Affiliate profile you make and anytime you ask a question there, I'm notified.
5) I'm a positive guy and I will help you out, but I'm also real, meaning I'll tell it like it is if I have to.
6) I respond to every single question/inquiry my referrals ask (100% response rates).
7) Anytime you ask questions within Wealthy Affiliate, I get a notification that you asked it, and will respond to it (if the community hasn't already answered it).
23 frequently asked questions about Wealthy Affiliate (FAQ):
1) How long does it take to get results? The average is a few months to a year.
2) Does Wealthy Affiliate teach YouTube affiliate marketing? Yes.
3) Does Wealthy Affiliate teach you to make eCommerce websites? Yes.
4) Does Wealthy Affiliate teach drop shipping? No.
5) Can I downgrade my premium membership to a starter? No.
6) What happens after 7 days if I don't upgrade to premium? You still have unlimited access to your free training and site, but you won't be able to chat after 7 days (or get my coaching). This prevents abuse.
7) I have a website outside of Wealthy Affiliate, can I move it to WA? Yes, we have tools and support to help you do that and moving your site/s to Wealthy Affiliate saves you a lot of money.
8) I started a website before I joined Wealthy Affiliate, can I use it's training for it? Yes you can, but most of the time, I'd recommend you start a new one with the WA training.
9) How beginner friendly is Wealthy Affiliate? Very. Of course everyone has their own learning curves, but even if you are completely new or even computer illiterate, follow the training and you will become experienced, that's why it's there.
10) I'm stuck on picking a niche, can you help me? Absolutely. I personally help people inside WA do this.
11) Should I started with the OEC course or Affiliate bootcamp? Start with OEC and it will help you decide (As will I if you have questions).
12) Does Wealthy Affiliate offer refunds? Yes as long as it's within a realistic time frame.
13) If I go premium, am I charged every month? Yes and it's $49, every month.
14) What's the best way for me to start? Join here, and just follow the tips afterwards.
15) Does Wealthy Affiliate teach paid ads like PPC? Yes!
16) I'm not good at blogging, will Wealthy Affiliate help me with this? Yes absolutely and if you choose a niche you like, it will be much easier than you think.
17) Is it easy to become successful at affiliate marketing? If you do the training right, then it definitely helps in that regard, but it does take time.
18) Is success in Wealthy Affiliate guaranteed? No, because it really depends a lot on you and how you do the work. Better quality, time and action spent on the training = better results.
19) I'm nervous about starting, what do you recommend? Just join for free, see how it works and then decide from the inside. The great news is that the starter membership is perfect for any doubt you might have.
20) How fast do you help me with your coaching? It varies, but I respond as promptly as possible and my response rate is 100%.
21) How many members does Wealthy Affiliate have? 2.4 million (and growing).
22) Does Wealthy Affiliate only teach people to make money by promoting them? Absolutely not. They teach you to make money in any niche you love and you can make money as an affiliate without promoting them.
23) Can I downgrade my Premium Plus membership back down to Premium? Yes.
More Wealthy Affiliate success stories: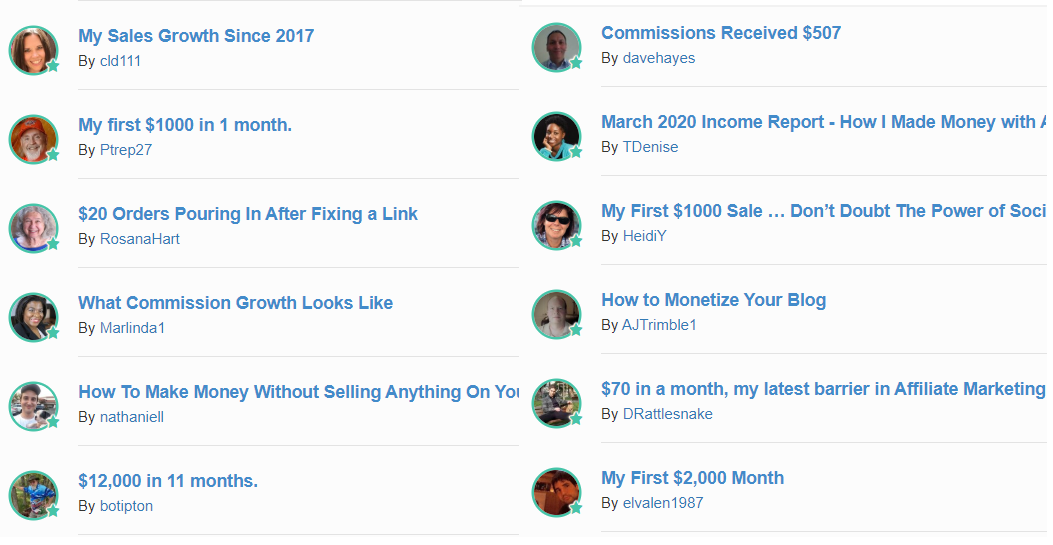 A final word on this Wealthy Affiliate review:
If you've read up until this point of the review, then I really appreciate you taking that time and I can also tell that you're probably the ideal person to join Wealthy Affiliate.
This is not just because the information and value this program holds is beneficial.
But it's also because you read everything and understand that this stuff takes time and that through applying the training and putting in effort is how you get the results.
It would be my pleasure to personally help you see the awesomeness of Wealthy Affiliate and help you get results with it.
And if you are still doubtful or don't think it's for you, then at the very least, give the starter membership a shot and then see if it's for you.
Comment below if you have questions about Wealthy Affiliate: