Solo ads in my opinion are one of the worst ways to do affiliate marketing and in this post, I'll be sharing 5 very serious reasons as to why that is and just as well which alternative methods are much safer, cheaper and just better options instead.
After having tried many different ways of doing affiliate marketing, I have developed a good sense of which strategies work best, and contrarily which strategies work worst.
And in a nutshell, here is the conclusion I've come to about that:
1) The best methods of doing affiliate marketing:
Typically involve being able to intelligently target very specific niche traffic and give them very specific niche offers. Mix that with authenticity and genuinely good content and you have a good model for success in this business. For traffic, you can rely on blogging, paid ads, social media and YouTube with or without ads and more and get truly targeted visitors to your offers.
2) The worst methods of doing affiliate marketing:
Typically involve trying to cut corners and pay for "fast results", and try to do anything possible to sell the worst garbage imaginable (scams, get rich quick schemes, MLM programs, and/or bogus high ticket offers) and do anything to accomplish that.
Long story short, solo ads typically circulate around 3 primary topics: Make money online, weight loss and health (they aren't even niches in many cases).
Typically, in my experience, solo ads belong to this category because they are often seen as that "fast" and "easy" way of getting results.
Now there's nothing wrong with using solo ads and trying to promote good offers while being a genuine marketer, but the more you understand about how solo ads work, the less inclined you may be at believing they are good for this goal and the 5 reasons I'll be giving you today will pretty much prove that.
Here are the 5 reasons I never recommend using solo ads for affiliate marketing: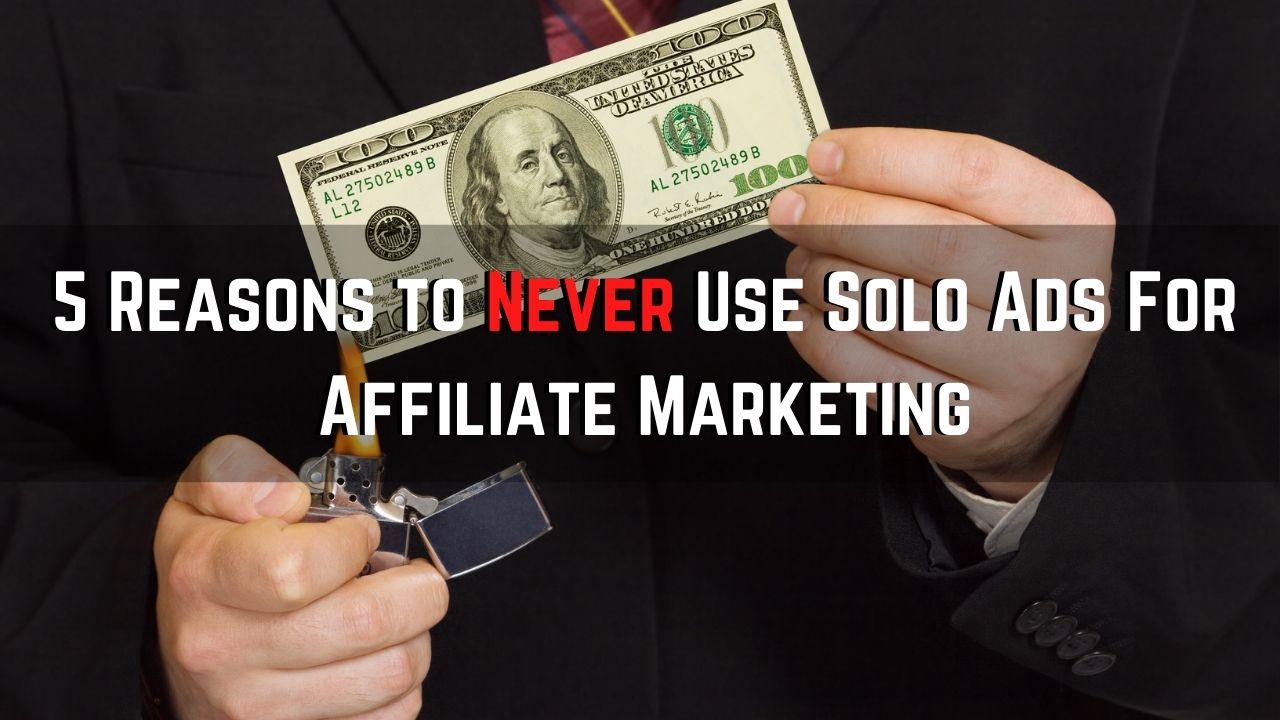 The quality of the solo ad clicks you get is often fake or low quality.
It's very difficult and rare to find a good solo ad provider.
You'll always overpay a lot for solo ads and rarely get a good ROI.
Solo ads typically only work for sleazy promotions.
There's numerous alternatives to solo ads that are better for affiliate marketing.
In order to put all of these points into proper perspective, I need to first explain solo ads to you.
Many of you reading this might already know how they work, but there's usually a lot of missing details left out and I want to make sure you understand them fully.
What is a solo ad? How does it work?
There's an easy way to explain this:
John has an email list of 5,000 people.
You pay John to advertise your affiliate marketing offer to his email list.
John sends out an email blast to his list of 5,000 with a link to your offer.
An X amount of those 5,000 people click on the link.
You can make an X amount of money off those clicks (whoever buys your offer).
That's basically how a solo ad works. Now multiply that example with the following:
1) The fact that there's a lot of John's out there with email lists (100,000's).
2) Who advertise their lists on solo ad networks, individually to people and social network groups.
3) And you have a whole bunch of people wanting to buy to get advertised to those lists.
4) And you have a whole industry of people in the solo ads market.
There are 2 big reasons that solo ads have such appeal to affiliate marketers:
From the sellers side (the person with the email list):
It's an easy way to make money off the list they have. They just tell potential buyers that they have "high quality, targeted leads" and they can charge a crazy amount for it. Very shortly, I'll explain why this is mostly false and in rare cases where it's true, it costs a lot.
From the buyer's side (the affiliate marketer wanting to buy the solo ad):
It's a way of getting fast traffic, fast clicks to the offer they have and potentially making fast money from their affiliate marketing offer. Very rarely does this ever occur with solo ads as you'll see shortly.
So now that we have solo ads explained, let's get to the reasons why I don't recommend using them for affiliate marketing.
1) The quality of the solo ad clicks you get is often fake or low quality:
In my experience, most people who partake in selling their email lists through solo ads are not the most ethical individuals.
They buy up worthless email lists which are usually dead, filled with bots or provide fake data to the buyer and then sell it as a "high quality solo ad".
You as the solo ad buyer really have no control or evidence to prove the solo ad you're buying is full of targeted buyer leads, aside from the here say of the seller.
When you consider the monetary incentive solo ad sellers have to make money in this business, you won't be surprised to learn that many of them care very little about ethics and will sell you garbage solo ads but call it gold.
You may very well get clicks or "hits" to your offer from the solo ad, but the value of all of it combined is little at best, and worthless at worst.
And in most cases, this is how most solo ad transactions go.
And while there are certain solo ad providers who do some "checking" on whether their solo ad sellers are legitimate, in the end, it's nearly impossible to make sure they have high quality leads/traffic to offer buyers.
2) It's very difficult and rare to find a good solo ad individual/provider: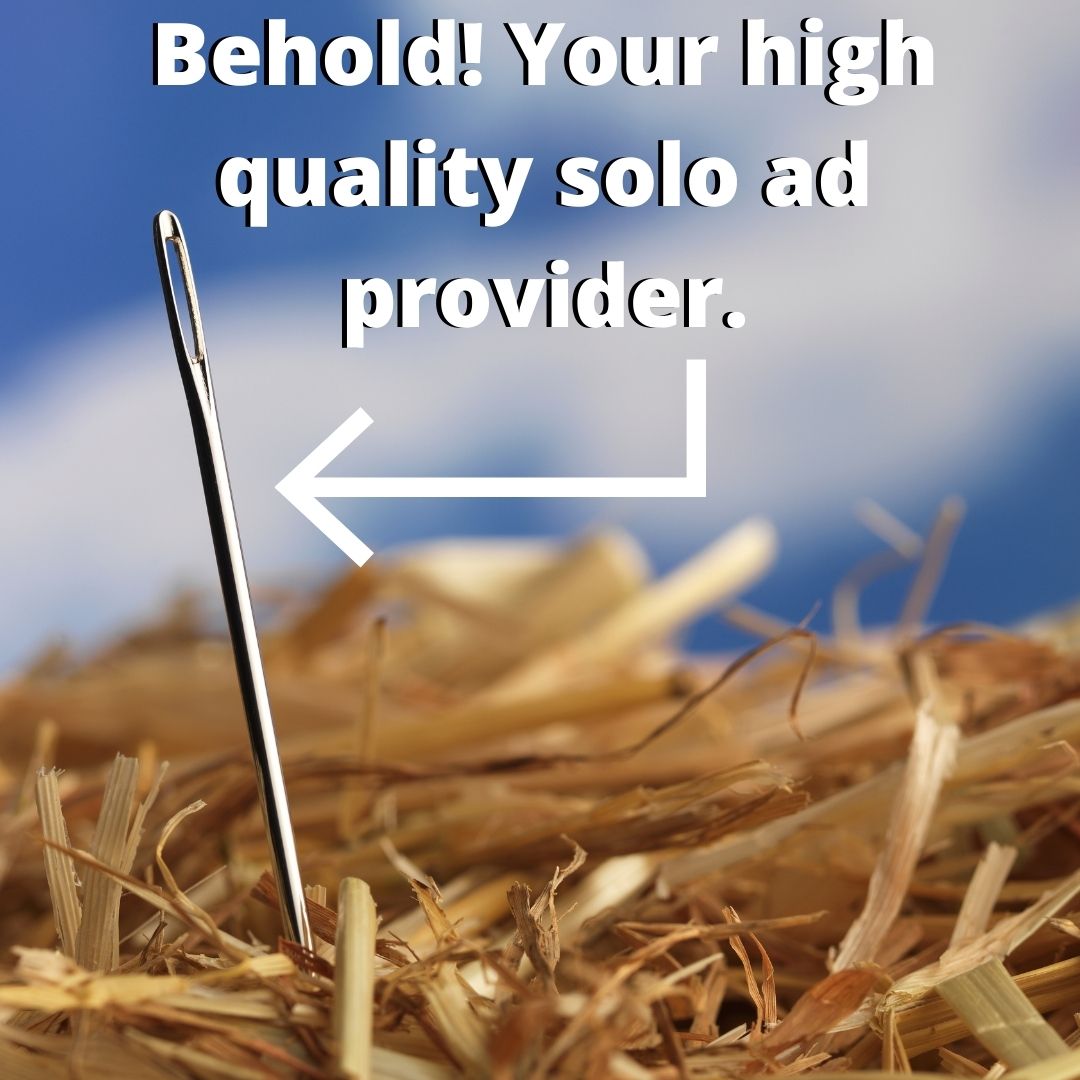 Generally speaking, anyone who offers you "free, high quality solo ads with targeted leads" is lying to you and the very rare, good solo ad providers and users will likely charge you a ton for the solo ad, in which case, you'd better have you affiliate marketing A game going with a great online sales funnel to boot, otherwise you'll go broke quickly.
The 3 problem in this case are this:
1) In my honest opinion, 99% of solo ads out there are either garbage or low quality.
2) The 1% that legitimately sells you high quality solo ads will charge you a boat load for it. Add to it that it's very difficult to find those rare gems and you've got a harder hill to climb to find those people.
3) Even if you do find them, unless you have some seriously good affiliate marketing skills and offer to pitch, you have no guarantee you'll get a good ROI off it (rate on investment).
3) You'll always overpay a lot for solo ads and rarely get a good ROI:
For every click you get from a solo ad, you're likely spending 2 to 3 times more than you'd spend in other places to drive traffic to your offer. With solo ads, you're looking at spending at least $0.50 or more for every click you get and that's in very rare cases.
The even more cases of good solo ad providers will likely never charge you anything less than a few dollars per click. Even compared to paid ads (PPC), solo ads can cost way more (and produce way less!). Here's a comparison between solo ads vs PPC so you know what I mean.
And while it may seem like a good investment (considering you actually find that good solo ad provider), you have way better options that would cost you less and get you targeted traffic!
I'm going to be covering these examples in point 5 that's coming up.
4) Solo ads typically get results when you promote sleazy promotions in sleazy ways: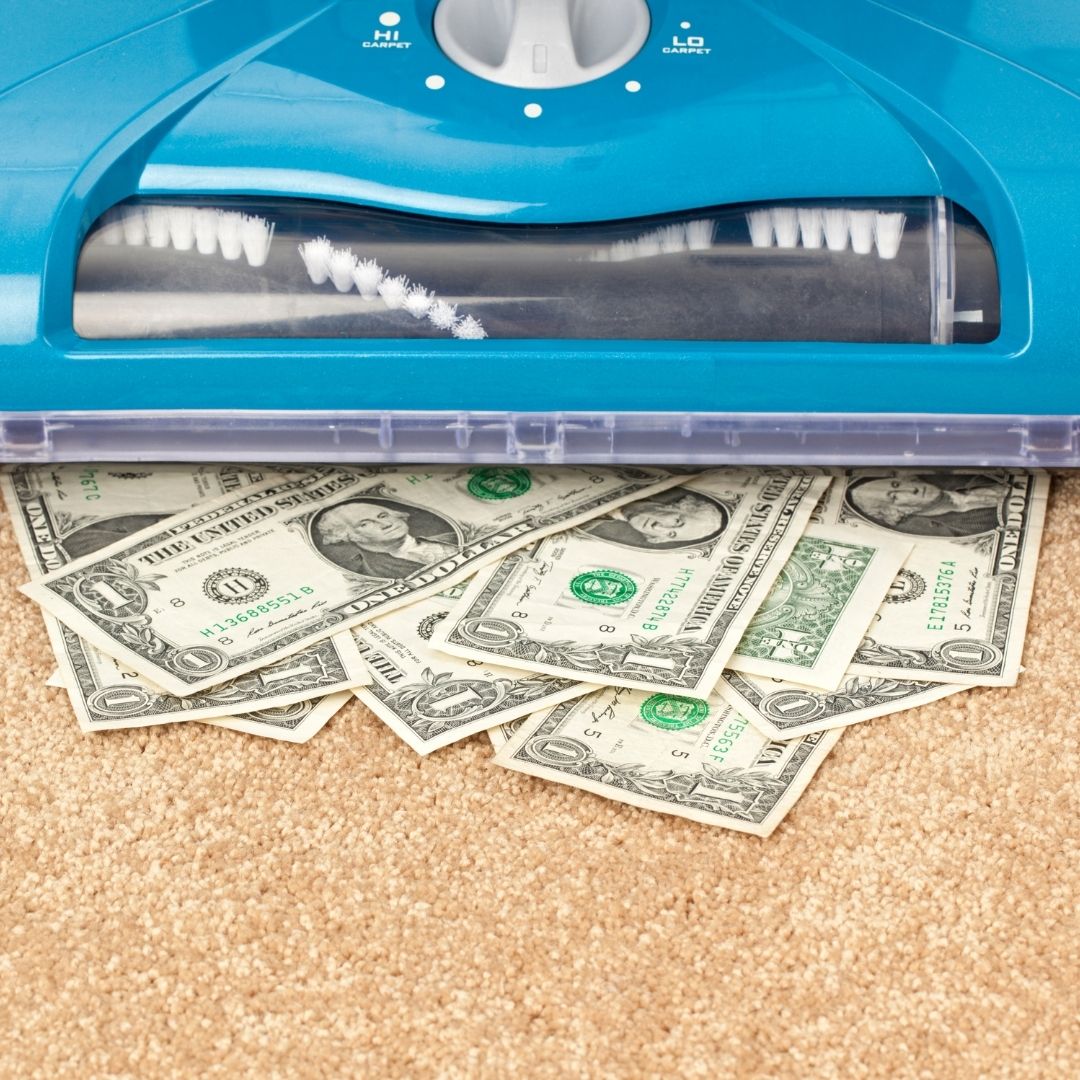 Solo ad success really comes from promoting hype and this is why it's very hard to get away with being a genuine marketer promoting realistic affiliate marketing promotions.
Let me give you an example:
If you have been on any marketers email list, I guarantee you that 9 out of 10 of them send you hype emails all the time, promoting you "new" and "never before seen" systems that make you money and to get in on a special deal as quickly as possible.
In just about every case this is total nonsense, and I assure you many people get tired of seeing promo emails over and over from the same person which is why it's rare to find email marketers who actually have a legitimate list (they basically chase their subscribers out with all the promotions they do).
But I use this example because these are the kinds of people who typically sell solo ads to buyers and these buyers are typically unethical affiliate marketers who also promote very questionable make money programs and opportunities to people on the back end.
Why? Because hype is the best seller of products and programs, even if they are total garbage.
And in my experience, the most hyped programs are the most garbage programs online which is one of the hidden ways scams keep making money (through solo ads). I however run into programs from time to time where you can learn to build a legitimate solo ads business, such as with Your Web Traffic Agency, but I still hold strong on my positions on solo ads overall.
5) 4 alternatives to solo ads that are better for affiliate marketing (and traffic generation):
In the realm of paid ads, PPC is better than using solo ads for numerous reasons:
1) For starters, Bing Ads is where I get most of my paid traffic from and even in the most competitive niches where you'd spend dollars on solo ad clicks, I get my clicks for under $0.50 and we're talking very targeted users here.
2) Same thing for YouTube Ads. I get very targeted views there for very lost CPV (cost per view) which is generally $0.20 or under.
3) With Facebook Ads, I've consistently driven targeted leads to my offers for $0.30 or under each click.
Considering that I can get targeted traffic, for 2-3 times less the costs compared to solo ad providers who may not even be quality clicks, I'll take my chances with these pay per click networks for my affiliate marketing projects any day over using solo ads.
4) And if you don't even have money to be doing this, then forget pay per click and start doing affiliate marketing through blogging by applying the following strategies:
Start a niche blog in something you like (here are evergreen niches).
Grow it, get free traffic over a years time.
Start doing affiliate marketing after about 3-4 months on the blog.
If this is something you can't invest time into, while also not being able to spend money on paid ads, then affiliate marketing is not for you.
But if it is, then start doing it the right way and places like Wealthy Affiliate will help you start that kind of business.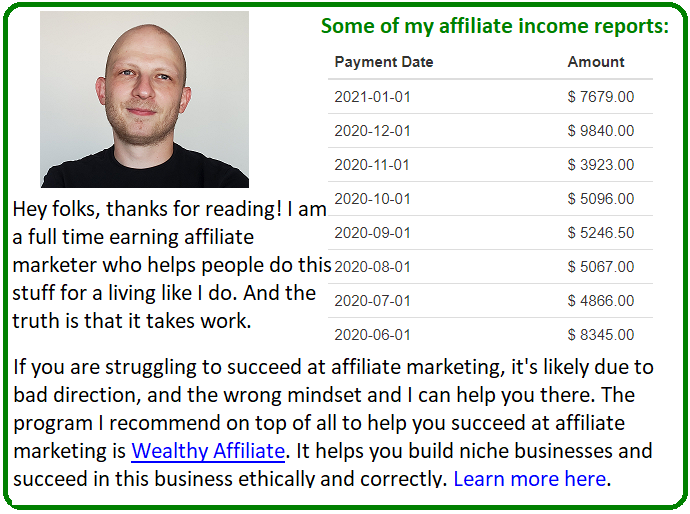 Final questions about solo ads and affiliate marketing:
Do solo ads work for affiliate marketing?
Yes solo ads can work for affiliate marketing but it generally takes advanced understanding of sales funnels to make it happen.
Do solo ads still work?
Yes, but I would recommend you avoid using solo ads if you're new to affiliate marketing.
How do I become a solo selling ad?
You first have to have an email list of a specific niche audience. Then you need to sign up with a solo ad agency to post your prices and sell that there.
What is Udimi solo ads?
Udimi is one of the most popular solo ad providers online. It generally has good reviews and a lot of people use it to get traffic.
For solo ads, I hope I have made my case. I'm not saying you won't succeed with them, but let me tell you that affiliate marketing is hard enough as it is to succeed in and that's usually because of people who preach about solo ads being the best way to do it (which is far from the truth).
But in any case, if you have questions about solo ads, affiliate marketing or disagree with my points of view, feel free to let me know below.