Pretty much any niche idea related to the outdoors is potentially very profitable to build a website out of and in this post, I'm going to share 7 of them with you.
All of these outdoor niche ideas are themselves:
Highly profitable on their own.
Have a wide variety of low competition keywords to rank for.
They all have a large audience of people to profit off.
All are evergreen niche ideas on their own as well.
If you have passion for any of one of these 7 niche ideas, you can be rest assured in knowing that you the potential to create a full time earning website out of it, and yes, I will also be showing you how that can be done if you're new.
Here are the 7 outdoor niches ideas that can be turned into profitable websites: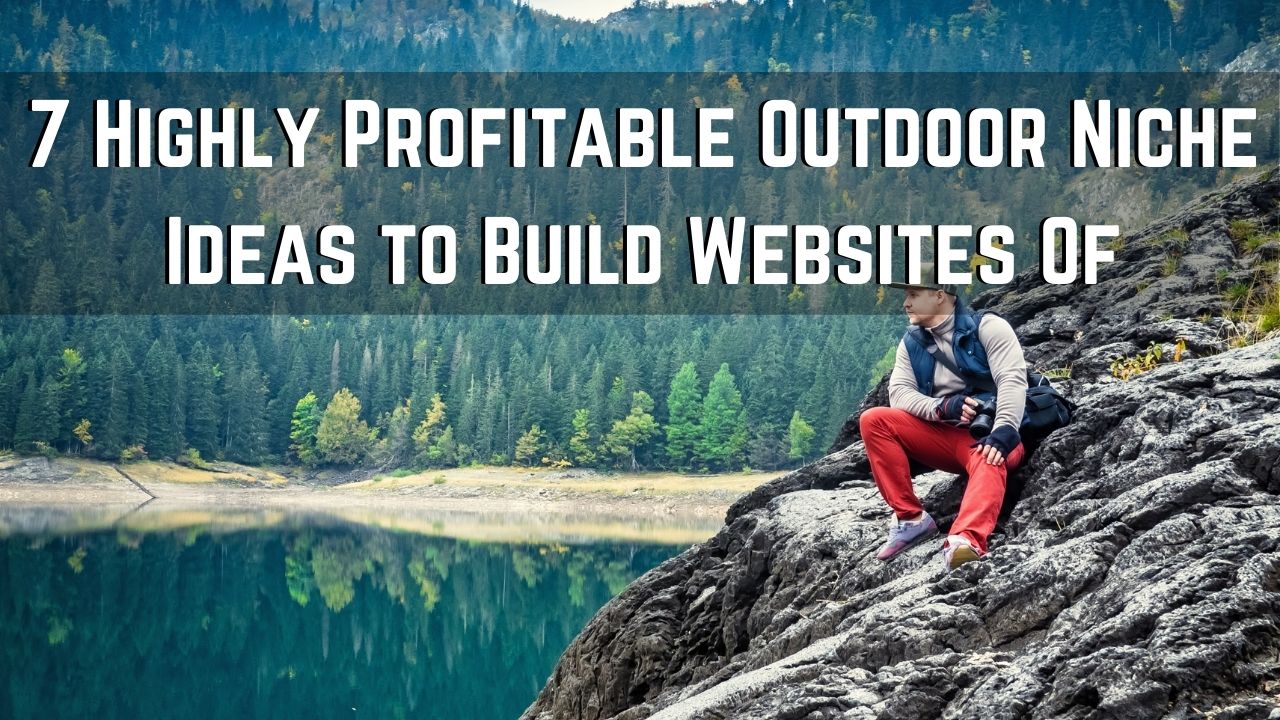 Mountain bikes.
Regular bicycles.
Camping.
Hiking.
Trail running.
Gardening.
Travel blogging.
Some of these niche ideas can also be mixed together if you want. For example:
Hiking + trail running.
Travel blogging + camping.
But the point is, if you read any one of these 7 niche ideas and at least one resonated with you because you have passion for it, then focus on that singular niche, read this whole article and I'll show you how to turn it into a truly profitable website.
And in terms of that (profits), there are essentially 2 ways to monetize every single niche idea on this list:
Affiliate marketing: You can promote products in said niche on your website ($5,000+ monthly income potential). Check out this list of outdoor gear affiliate programs for details.
Outdoor niche idea 1: Mountain Bikes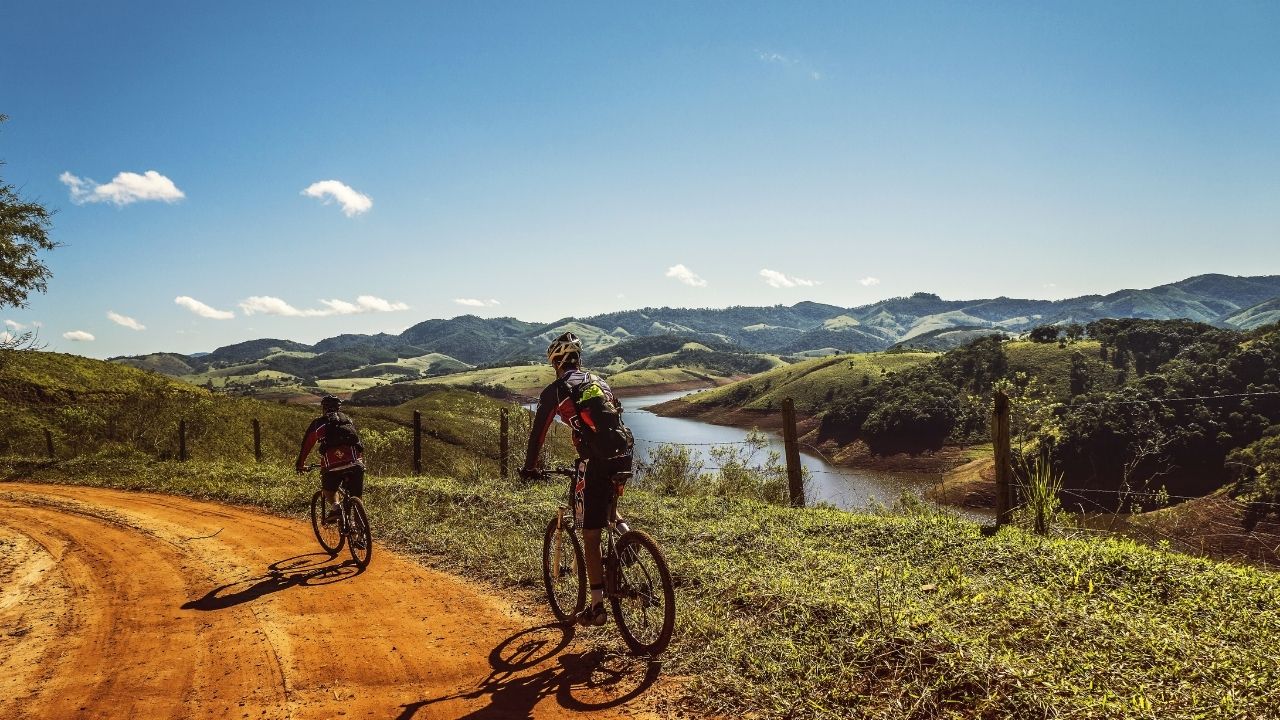 I chose mountain bikes as the first outdoor niche idea to write about here because of a few reasons:
There is a large volume of searches in this niche done every single month that I would estimate reaches over 100,000+ combined searches.
People look for all sorts of stuff related to mountain bikes, from specific models, to top 10 lists, to mountain bikes under a certain price tag, to accessories and more.
All of this offers you, the potential to leverage this and make a profitable website out of it. And in terms of potential, a person who properly builds out a mountain bike niche site can probably earn $10,000+ or more every single month from such a website (details coming up on how).
Promotional options:
Affiliate marketing.
Display ads.
Outdoor niche idea 2: Regular bicycles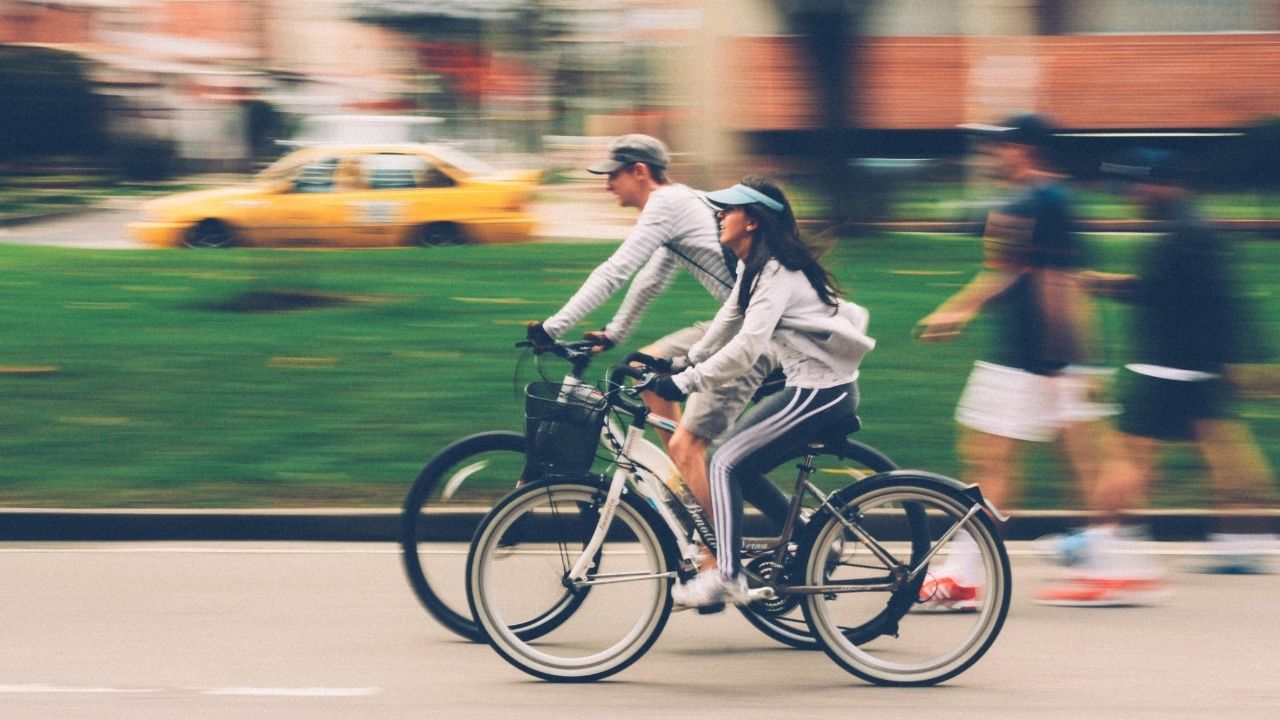 Regular bikes are ridden outdoors, so therefore it too is an outdoor niche and you also have a lot to play around with here in terms of ideas. For instance:
You can promote regular bicycles people ride in cities.
You can promote electric bikes.
You can promote sports bikes.
I'd honestly choose either the second or third option to focus on since its more niche specific, and like mountain bikes, there are also cycling affiliate programs you can sign up with to promote such things on your site.
Despite there being more open ended ideas to work with and this niche being profitable, I would say the mountain bike one has more money potential though because it is far more specific and the audience in that niche in my opinion is far more buyer ready. In other words, you can probably find a lot more buyer keywords for the mountain bike niche vs the regular bike niche.
Promotional options:
Affiliate marketing.
Also display ads (like Ezoic).
Outdoor niche idea 3: Camping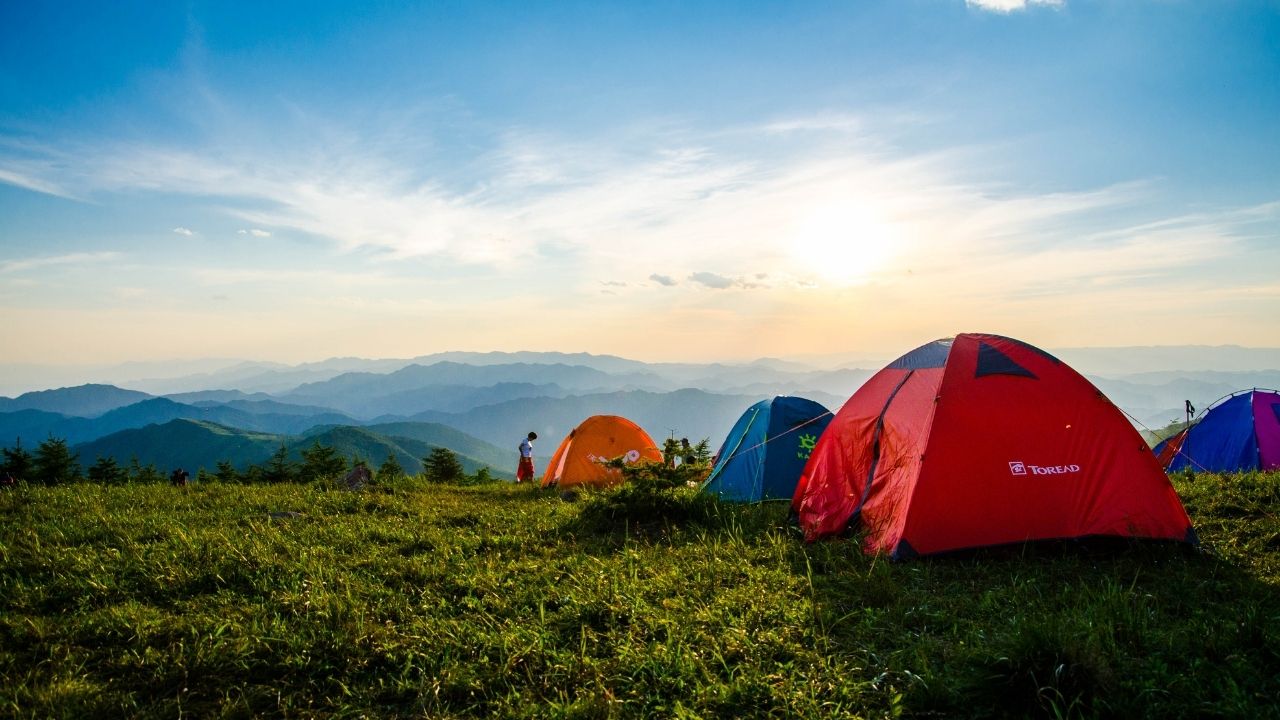 Camping is one of those niche ideas no one needs to be convinced on about how popular it is. We all know it, so I'll spare you the numbers (but they're large).
Anyway, a niche website focused entirely on camping, camping gear, accessories, promoting tents, places to camp at, can really go far and while there are a lot of websites focused on this subject, I promise you that there's very few websites who can write a lot of content on this.
If camping is your thing and you enjoy it, make a niche website on camping, period. You can get have a website easily reach over 100,000 viewers a month and the money that can bring in is insane when you think about it.
Promotional options (Also affiliate marketing and display ads for the most part).
You can also create free online courses and market more expensive things that way such as tourist services.
Outdoor niche idea 4: Hiking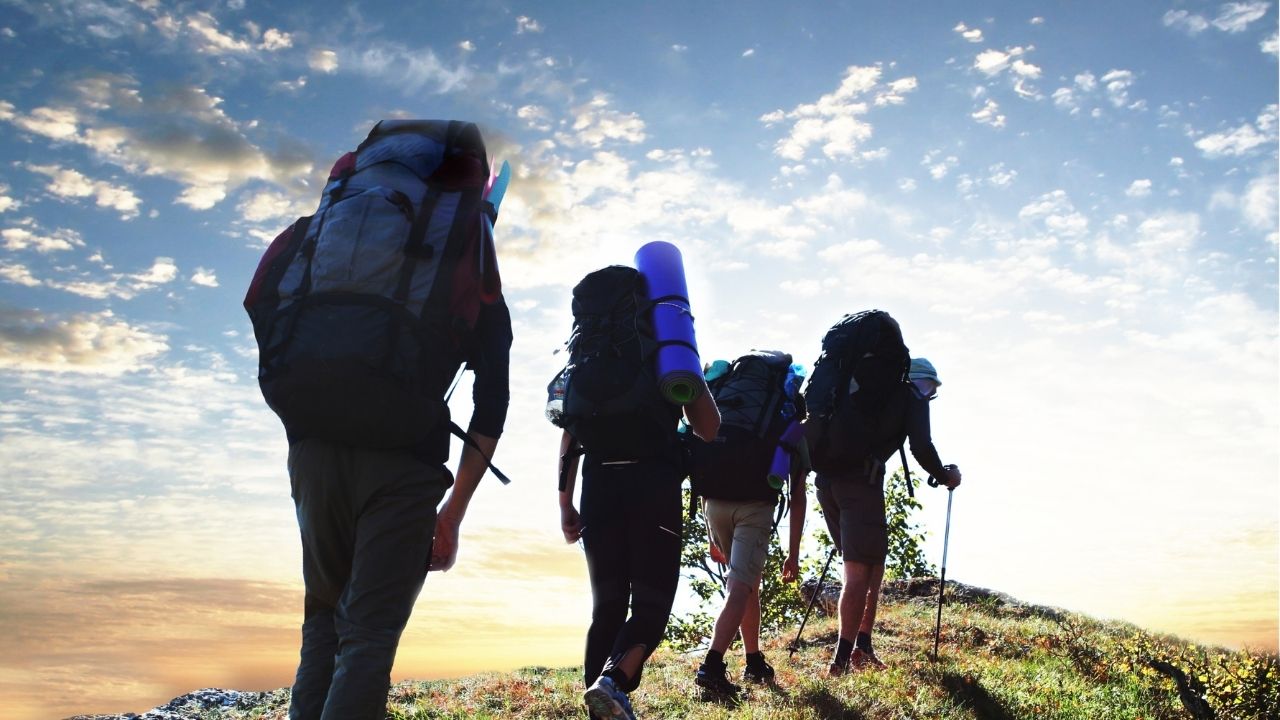 Just as with camping, no one needs to be convinced that hiking is popular. I personally do it and when I give you my last niche idea (travel blogging), I'll be sharing my personal blog on that.
But the point is that on that blog, I often write about the hikes I do and I have found tons of low competition keywords on trails, hiking gear (shoes, trail running sneakers, backpacks, ect…) which are helping me bring in fast traffic to my blog.
Promotional opportunities:
A lot of it can be affiliate marketing.
Display ads are also very plausible to earn money off a hiking niche site.
Outdoor niche idea 5: Trail running
Trail running is hiking with jogging mixed into it and it too is a highly profitable niche idea to build a website off. You're looking at an audience in the 100,000+ range (again) here with a lot of monetary potential to promote things like:
Trail running shoes.
Trail running backpacks.
Trail running clothing.
Information on popular hikes/trail runs.
And much more.
All of this presents tons of low competition keywords, easy traffic generation potential and much more from which a site on this niche idea can quickly become highly profitable (likely under a years time).
Promotional opportunities:
Affiliate marketing.
Display ad.
I would also consider making free online courses or eBooks helping people get into the hobby.
Starting a YouTube channel documenting your trail runs.
Also doing YouTube affiliate marketing.
Outdoor niche idea 6: Gardening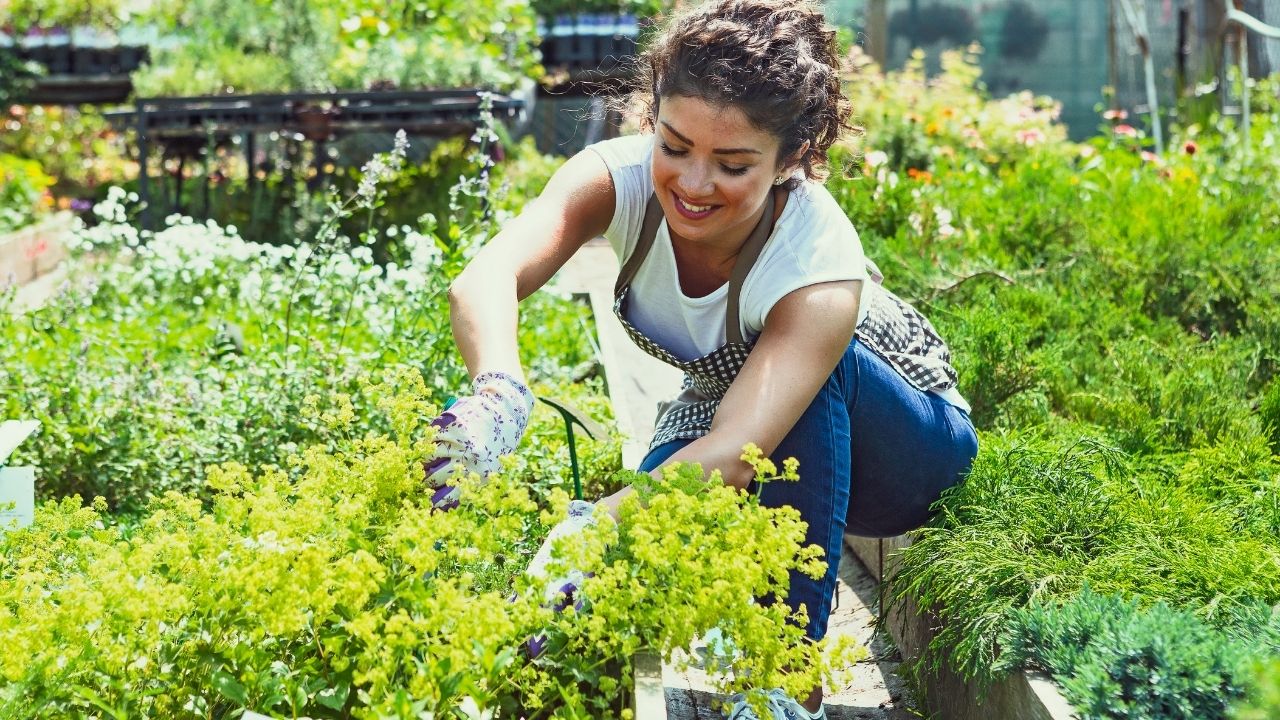 While it's the least "active" niche idea on this list, it is also one of the most popular. Gardening has an always will be huge. In fact, there are even branches off gardening to consider making website off.
For example: Japanese gardening which is a popular micro niche I discovered awhile back. But besides that, there's many subjects in gardening to create blog content out of:
How to start gardening.
How to grow specific plants and food.
How to fertilize your garden.
And everything else imaginable on this.
Promotional opportunities:
Affiliate marketing (promoting garden supplies).
Display Ads (get enough traffic to the site to place ads and earn money from the site).
Make free eBooks to grow an email marketing list.
And more.
7) Outdoor niche idea 7: Travel blogging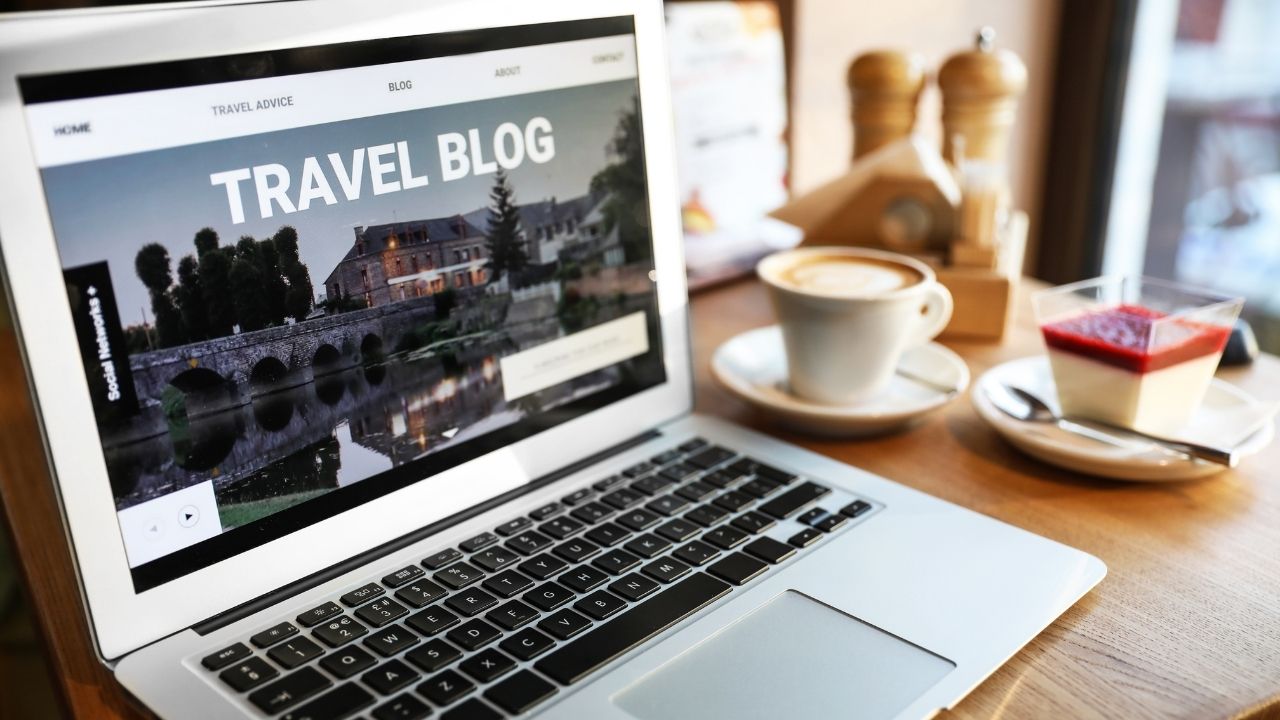 If there is no singular niche you can settle on as of yet on this list and you love traveling, as well as the outdoors, just create a travel blog.
This is what I did on a website called TheNatureSeeker.com which currently gets about 500 visits daily.
This site mixes together my outdoor adventures from hikes I do, to trail runs, to beautiful parks and destinations I visit. I also often review different outdoor products I wear when I go here and I do make affiliate sales from that.
There are a number of highly profitable travel blogs on the internet where the owners of these sites are making 5 and even 6 figures every single month sharing their adventures.
For instance, besides my travel blog, there's people who live off their travel blog's profits. People like the owners of Blogging Fast Lane for example and Nomadic Matt (a popular icon in the world of travel blogging).
Promotional opportunities:
How do you start monetizing these outdoor niche ideas?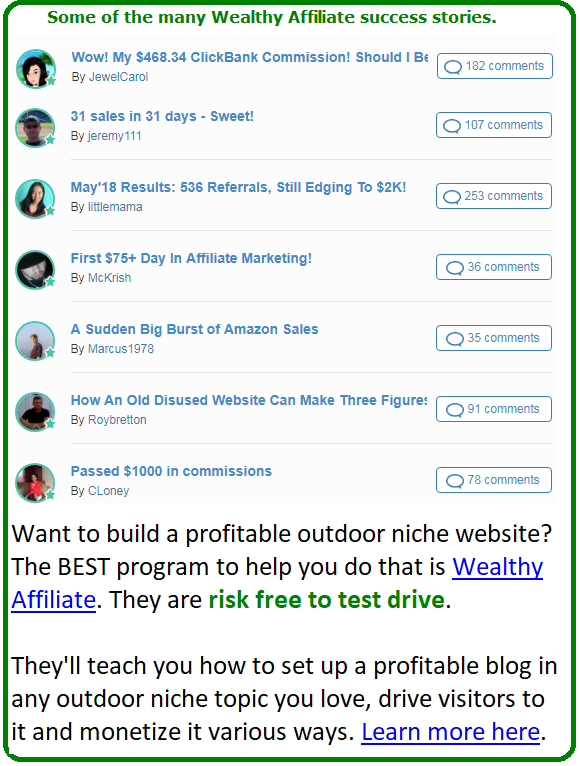 For starters, you would need to create a blog for the chosen niche.
Then you would have to find low competition keywords related to the outdoor niche to build out content for that.
This is what would get you the visitors.
With visitors coming to your site, this opens up the monetization opportunities.
If you'd like to start doing this, there is 1 awesome option for that:
It's called Wealthy Affiliate, and it is a program that teaches people this process.
There are actually TONS of people, including myself who have created outdoor related niche websites through this program's training (and you can try it risk free too).
Making a successful/profitable niche site, in this case related to something outdoorsy is totally possible, but what you need is good training to help you do that step by step, which is where this program applies.
The same 4 steps you just saw is exactly how they teach you to do this. Of course, there's a lot more to this 4 step process, but you can try this program free and get starter training to get started with this stuff (in addition to a ton of other awesome benefits).