The Clickbank affiliate program is a place I have a lot of experience with, having done a lot of my personal affiliate work through and gotten a lot of results from (multiple six figures). If you're a beginner to this network, what I'm going to do in this post is explain the basics of what you need to know about it including how to make money from it.
The truth is, a lot of people hear about Clickbank and get excited when they find out the many benefits it houses for promoters (high commissions for instance), but in reality, when they try to succeed themselves, they fail because they don't follow the proper steps to see results.
So think of this post as a first step into the Clickbank world, as well as the affiliate marketing world in general if you're new. So let's get started: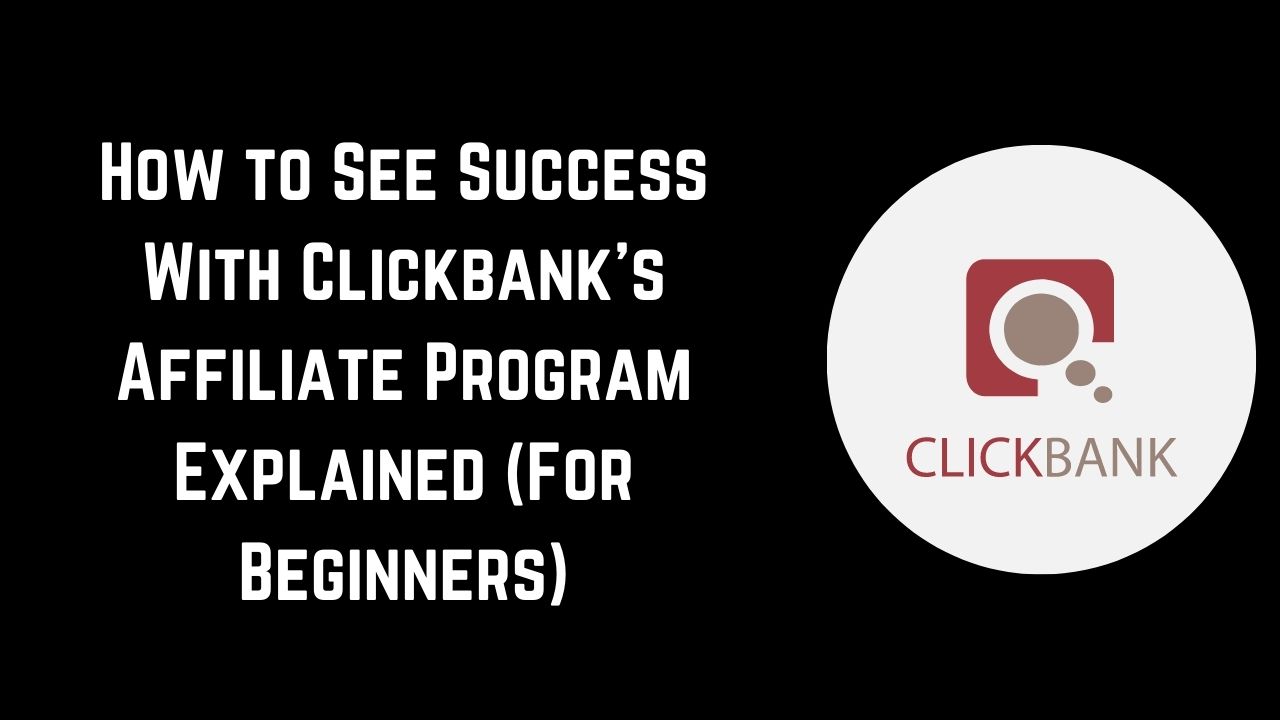 What is Clickbank?
It's a giant digital company that offers people the opportunity to make money online.
One of the ways it does this is that it provides a sort of done for you service where people who have digital products (say eBooks, online courses, or even physical products) who want to make money with them, host these products up on the Clickbank network. The people who do this are known as vendors. See more about being a Clickbank seller here (vendor).
The advantage of doing that is that Clickbank will gives these product creators access to their affiliate network which houses 100,000's of them to then potentially see the creator's product and then promote it.
And the system by which they can do that is automated if you're a product creator, you have very little to do in terms of setting this up.
The hard part is getting the affiliates to find and promote your product, but that topic is for another section of this post.
What is the Clickbank affiliate program?
Product creators aren't the only people who can make money utilizing the Clickbank program.
You can sign up as an affiliate for this network and when approved, can start browsing the 1,000's if not more products available on this network's database. See more about being a Clickbank affiliate here.
How to go about becoming an affiliate and promoting products on Clickbank:
The great news is that depending on your personal interests and experiences, you can find products in different categories on the Clickbank marketplace and then the products that appear for whatever subject you choose are ranked in order of the best selling products meaning you can quickly see which offers have the highest potential of making you sales.
Making your affiliate links in Clickbanks (called hoplinks):
After you find one or more products you like, you can promote that product/s by simply clicking on the "create hoplink" button which will give you a unique affiliate link to promote it.
As an affiliate, you have a lot of flexibility on the Clickbank network (I'm speaking from experience) because you can promote any program or product on it and get paid for every sale made.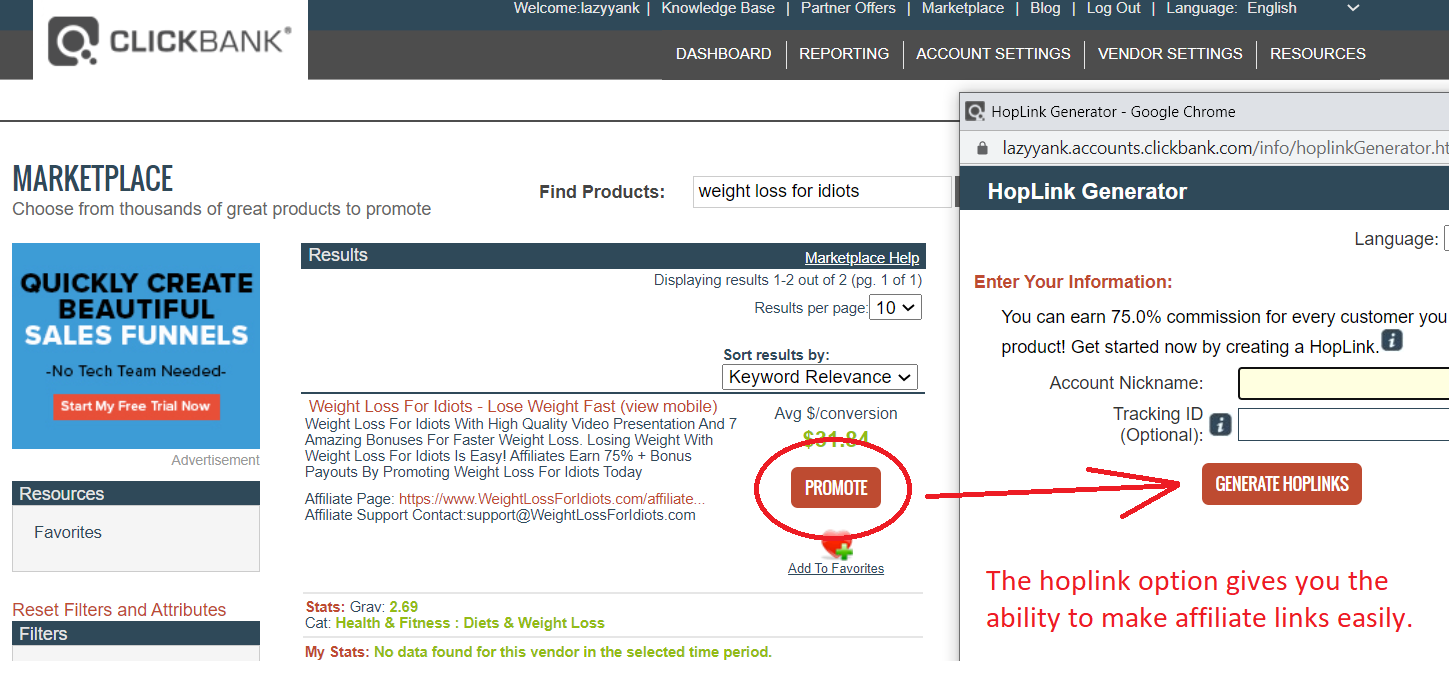 Certain products and programs you can promote offer a wide range of commission opportunities, including:
Getting paid:
Assuming you make sales and pass the payment threshold (which you can set in your Clickbank account), you are paid 2 times a month (every 2 weeks) and on time every time (Clickbank is very reliable overall).
A quick story about my history there:
I've promoted all sorts of products in the many years I was a Clickbank affiliate, ranging from diet products and programs, to make money online offers (by the way, there's places like JVZoo and Warrior Plus which also have many of them), to even things like relationship products.
For me, I did at one point in my Clickbank career have a partnership with a company (vendor) that put up their product on Clickbank and was handling all the marketing, getting affiliates to market it and made some money from that.
Ultimately though, 99.9% of my money from Clickbank came from being an affiliate for them.
How much can you make being a Clickbank affiliate?
This actually depends on 3 things I'll cover in a moment but for the sake of simplicity, let's assume that we have an affiliate who does know this stuff well and promotes a $100 product that pays him 50% commission for each sale.
If he makes 20 sales a month, that's $50 for each sale, giving them a total of $1,000 every month. As a Clickbank affiliate, you do have to pay a small percentage of your earnings to them (last time I checked, it was 10%), meaning the person making $1,000 in revenue would actually end up making $900.
Here are some of my older stats when I was a full time affiliate there: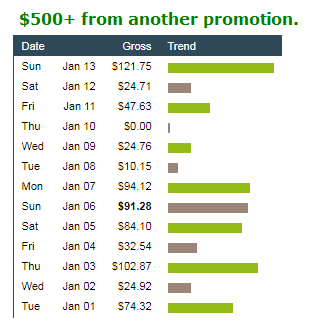 The 3 factors that determine your success potential as a Clickbank affiliate:
These 3 factors come from my own personal experiences with the network and the success I've seen through it (as well as hindsight knowledge after making so many mistakes when starting out):
The product/s you're promoting and the commission payout for each sale.
The amount of sales you make for the said product/s.
How well you know how to market the said product/s (the most important factor).
The last factor while being the most important, is ironically the one most affiliates miss and ignore in many cases, and it is actually the reason why 99% of them fail, and not just on Clickbank but with other similar affiliate networks out there.
You see most people see the opportunity with this network (or others) and focus on finding a product that typically pays them high commissions, but then go about promoting and marketing that product in all the wrong ways and without the proper knowledge in knowing how to promote them, they fail consistently.
More questions about being a Clickbank affiliate:
How much do Clickbank affiliates make?
Most affiliates on Clickbank make very little to nothing unless they are skilled. There are however a lot of affiliates who earn up to 7 figures promoting products from there.
Is Clickbank affiliate free?
Clickbank is free to sign up with whether you're an affiliate or a vendor. You are however charged a small amount based on every sale you make.
Is Clickbank a good affiliate program?
Yes Clickbank is one of the most legitimate affiliate programs online. It provides access to many promotions, pays on time and has excellent commission compensation.
How do I get paid in Clickbank?
You can get paid by Clickbank via PayPal or check.
How do I promote my Clickbank products for free?
The best ways to promote Clickbank affiliate products for free would be through a niche blog or through a YouTube channel where you create content that is reflective of your product's topic.
How to ensure you see success as a Clickbank affiliate:
I'm going to recommend several resources I personally wrote to help you with this regard:
1) I wrote a general guideline in this post on 5 ways to see Clickbank success that outlines the important things you need to keep in mind and adhere to.
2) Overall, the guidelines there will transfer over to any other affiliate network out there, and not just Clickbank, so you should also be flexible in promoting products cross platforms, including with places like Amazon's affiliate program for instance.
I also offer coaching and recommendations across this website for more personal help in these networks and seeing success with them as an affiliate if you're interested.
Overall, the success potential with Clickbank is huge if you properly understand how to market products but at the same time, don't make the mistake of "only" being an affiliate there. There's lots of opportunities across the affiliate world and all the giant networks out there (some bigger than Clickbank) that you can focus making money off and really good money at that.