Earlier this year, I became an affiliate for the Avantlink program and in this review, I would like to share 5 things I've experienced with this network and if it's a good place for you to join.
My reason for joining the Avantlink affiliate program:
Most of my promotions with this affiliate network came about out of necessity, as I started seriously working on and growing a travel blog, and it just so happens that most of the products I reviewed as an affiliate on this travel blog, I wanted to promote and many of them could only be promoted through being an Avantlink affiliate.
Despite already being an affiliate for other affiliate networks like:
Clickbank, Amazon Associates, Commission Junction and other places, the products I wanted to promote were either:
Not available for promotion on any of these networks.
Or the payout Avantlink offered for the same products would be better for me.
And one way to think of Avantlink is that it's a giant affiliate network that connects companies that sell outdoor gear and supplies, like REI and Backcountry (major companies).
Here's an example of my current affiliate stats with Avantlink: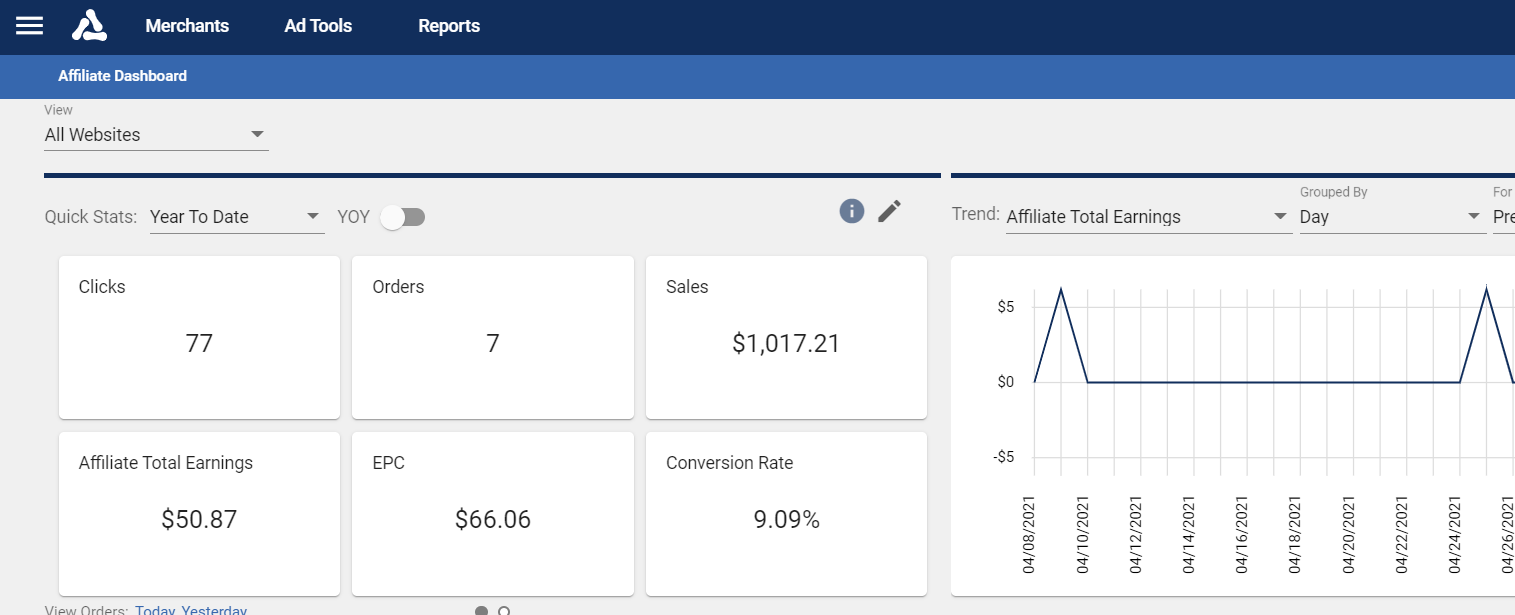 Currently, I've only made $50+ for promoting one product, but this is just the start. I plan on promoting many more products from this network.
Anyway, after being an affiliate for this place for several months and making some sales, let me explain the main point of this Avantlink review which is:
My review of the Avantlink affiliate program and the 5 things I learned:
It's a bit annoying to sign up initially.
The UX experience is tacky and needs improvement.
Getting your Avantlink affiliate links is also annoying.
Overall, once you learn the process, this is a good affiliate network.
Commission payouts vary, but Avantlink is overall a good affiliate network to use.
Let me get into each point, but my goal with this Avantlink review is this:
I'm encouraging you to use this network if your online business aligns with it.
In my case it does, and despite having some initial learning curves to figure out, I am at a point now with Avantlink where I enjoy being a part of that network and I am certain you will see that too. But anyway:
1) Avantlink's signup can be annoying when you first do it:
All affiliate networks have at least one major layer of a signup process which involves giving your most important info (taxes, address, and so forth) and while this is normal, Avantlink is the type of place where after you do this, you will then have a second layer to contend with where you will have to sign up with the affiliate program inside Avantlink, get approved, and only then be able to generate your affiliate links.
For example:
If I go to Clickbank or Amazon Associates and look to promote something, I can type in the name of the product, get the affiliate and get going (after first getting approved for the network in the first place).
With Avantlink, I will have to first get approved by them first, then find the vendors who do business inside the network, then register with them inside Avantlink, wait to get approved and only then will be able to promote their products.
That extra layer can be annoying and I did encounter some issues when I tried signing up with one of the vendors inside this place, but by contacting them directly, I was able to resolve my issue and start promoting their product within Avantlink.
2) The UX experience in Avantlink could really be improved upon:
Seriously, for a giant affiliate network, you'd think they'd be a bit more clean and organized with how to navigate your way through it, but if you just land on the main site, and look for a vendor to then apply to, it can be a bit overwhelming or just confusing on where to go: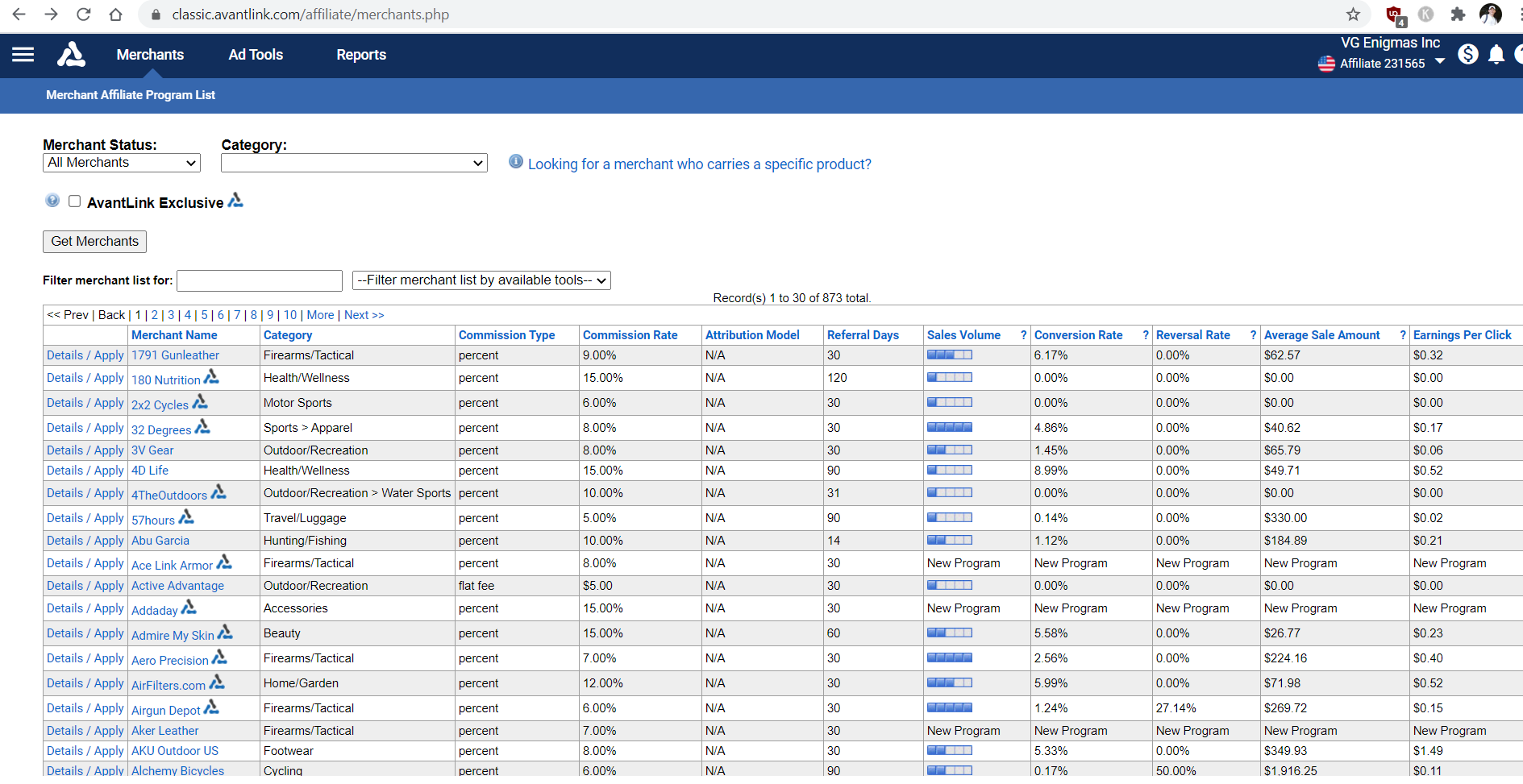 If you look at the above screenshot, you can see the list of vendors who you can apply with, or you can enter a name of a vendor you heard who is associated with this network to get started with the application.
In my case, I had to go with the second option, but after not receiving any response, I had to contact them directly by literally calling them and giving them my info to get the to listen. This wasn't directly associated with Avantlink, but doing so much extra and not having a more expedited process was annoying.
3) Getting an affiliate link with Avantlink can be confusing at first:
There were no instructions inside this site to help me do it, so I had to go on YouTube and watch videos on this first. Let me tell you that this process could be a lot easier and so after figuring it out myself, I made a video to help anyone whose struggling with making affiliate links with this network do it:
4) After getting over the initial humps, Avantlink becomes a good place to work with:
I've contacted their support and gotten help before and overall besides that, it offers good opportunities in general to become an affiliate for some major companies out there.
As of now, I've become quite accustomed to this network, know how to navigate it well.
5) Commissions on Avantlink can be more lucrative than on other networks:
While I would say Amazon Associates is still the king in terms of products you can promote (and many affiliates do make money with Amazon still), it is true that Amazon has lowered their commissions for affiliates and has been in a downtrend in that regard.
And so you may find companies associated with Avantlink which offer you a better commission for the same product you would have the option to promote on Amazon and even an extra 1% compensation on a sale, multiplied by many sales could make a huge difference in your affiliate business.
Additionally, there's numerous products you'll find inside Avantlink that you wouldn't find elsewhere, so that access to good products and being able to promote them makes this network a viable option for certain businesses, particularly those who make blogs on outdoor related products, since many vendors in Avantlink are part of the outdoor niche topic.
Other questions about Avantlink:
What does Avantlink do?
Avantlink provides people to become an affiliate for major outdoor brands like REI.
Is it worth becoming an Avantlink affiliate? Sure, but only if:
You're into stuff related to outdoor niches. If that's the case, then yes, this might be a perfect fit for you.
Succeeding as an Avantlink affiliate (what you need to do):
My general advice if you're new is to start with Wealthy Affiliate to learn how to market and sell affiliate products in general. There's numerous ways to promote Avantlink products online, and the 2 I would say are the top are:
The commissions I showed you above are made from one single product I am promoting (so far) through Avantlink and it's done through blogging and YouTube.
Plus the affiliate income reports I generate (which are far higher) all come thanks to Wealthy Affiliate which again will be what helps you do this right.