In this Worldprofit review, I want to help people understand whether or not it's a scam or legit site and while I am on the latter opinion in that regard, the truth is that it's not for everyone and if you do join it, I want you to understand how to properly use it in order to succeed with it.
Before I begin this Worldprofit review, its only fair that I give you several disclaimers:
1) First, I am not a member of this program. I have studied it so I know how it works, what it offers and I do think it's legitimate based on that research.
2) Despite not being a member of Worldprofit, I am very experienced in just about everything it offers people and happen to have a ton of experience (as well as success) in affiliate marketing and other fields of online business. I have made a lot of what Worldprofit offers and teaches my livelihood. I am also an individual who helps and has helped countless people seeking to get into affiliate marketing do it right so I have a "bit" of expertise on this.
3) I happen to think that Worldprofit is better for advanced affiliate marketers, but not so much for beginners and if you are a beginner, then there are better ways to get started in affiliate marketing and the greater online business methods out there.
Product info: Worldprofit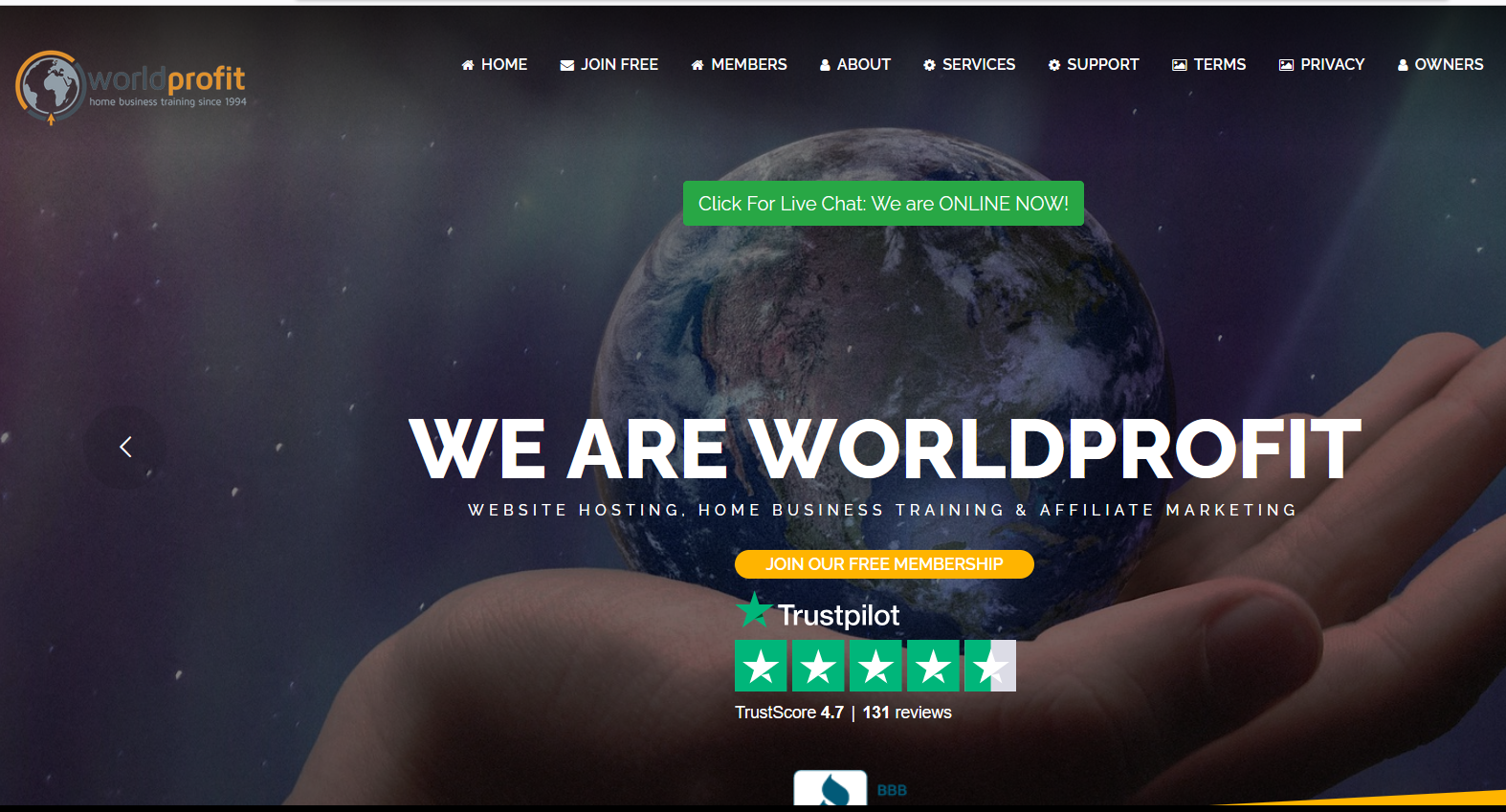 Name: Worldprofit.
Owners: Sandi Hunter and George Kosch.
Pricing: Free, $99/month, $149/month + individual services inside.
What does it teach? It provides tools, services and opportunities for affiliates and online businesses to drive leads to their offers (more details later).
Rating: 3.2 out of 5 stars.
Recommended? Somewhat.
There are 2 things Worldprofit has going for it that make it worth trying:
The first is that it's free to try.
The second is that it's been around for a long time and has a good established reputation online and on sites like Trustpilot.
On the other hand, I personally think that if you are a beginner, that utilizing this program and it's services might be confusing for you and even though I personally am advanced and understand how to properly use Worldprofit, I still think there are better ways to monetize through affiliate marketing and online (and I will show you examples).
Ultimately, Worldprofit in my opinion is legitimate and works for the right people (and for decent prices too), but that doesn't mean there aren't better alternatives (and I do think there are numerous ones).
Of course I will offer more context further in this review so you understand my positions, but I am always welcome to hear your thoughts about it below and if I'm wrong on anything, I'm happy to make updates/corrections. With that said, let's start:
What is Worldprofit and how does it work?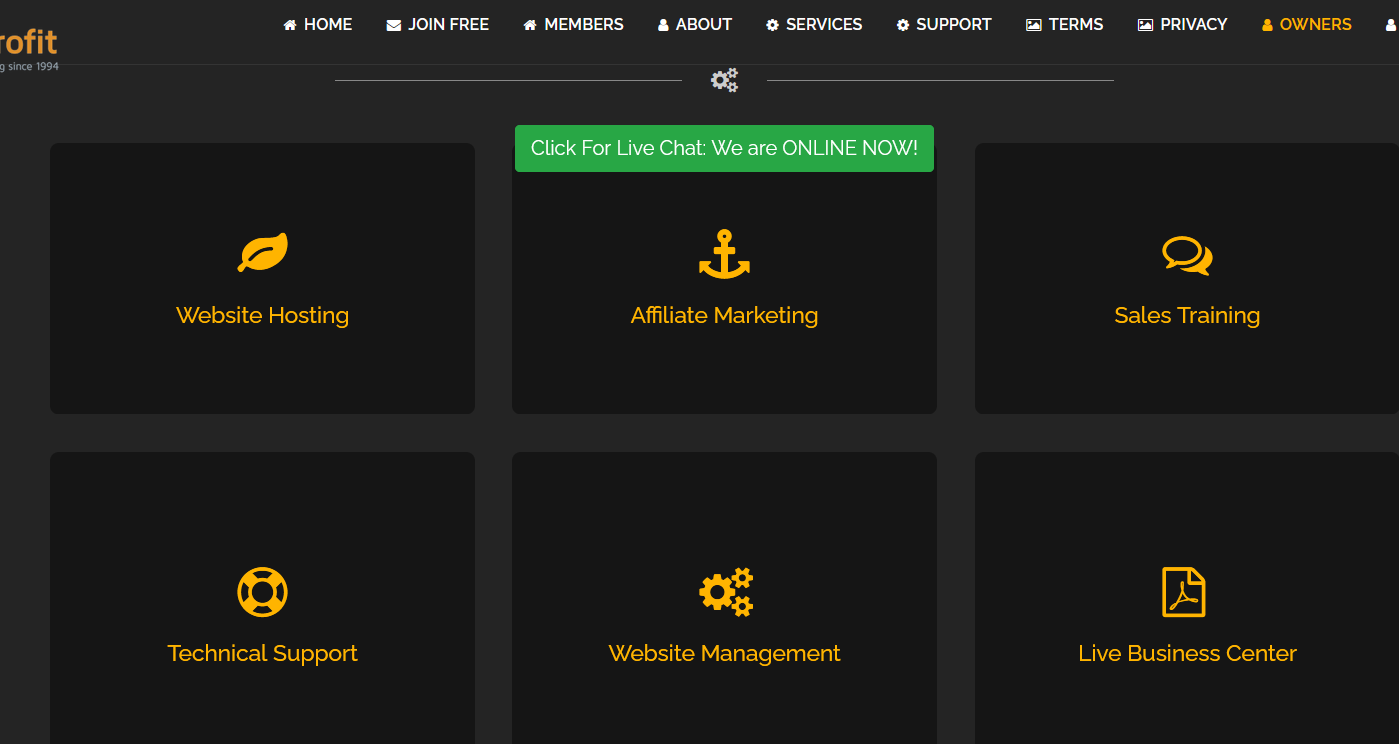 Think of Worldprofit as an inclusive online business source that offers members the ability to get a number of different services, tools and opportunities to do things like:
Start the actual business.
Pitch their site/affiliate offer on the network.
Have the network help you promote your business.
Offer you tools/services with your questions.
SEO tools, website hosting.
They even have done for you type affiliate services.
And much more.
People can actually test drive the Worldprofit program for free and get some nice incentives for doing so (like free traffic offers). Let me give you some examples of how Worldprofit can help you with your online business goals for further context:
1) Let's say you're an affiliate marketer and you have some sort of promotion you're looking to get more people to see. Well Worldprofit offers access to things like solo ads and classified ads which you can buy for various packages that allow you to do that.
2) Or let's say you're an online business person or someone looking to start a site and needs tools to do that. Well this program also offers that.
There's a lot more stuff, but this is the general gist of it and on top of that, there's a huge 2 million+ community in Worldprofit to boot to help you if you need that.
Pros:
Worldprofit is legitimate, has been around for a long time.
There are 2 million members.
The Trustpilot rating for Worldprofit is very positive (4.7 out of 5).
If used properly, I believe this program/service can help you earn money online.
Cons:
I think using Worldprofit is difficult for beginners and there's better options for that.
Additional payment to use the services may be required to fully utilize the program.
I think a lot of the solo ad traffic and opportunities in Worldprofit may be hard to convert into sales.
If you are a total beginner to affiliate marketing and the greater online business world, then I would recommend better alternatives like Wealthy Affiliate in getting started.
Conclusions on Worldprofit (my personal viewpoint):
Being someone who knows affiliate marketing, traffic generation and the way things generally work, I see a lot of what Worldprofit offers as something with potential, but not something I'd personally use or recommend to beginners for the complexity of it. Let me explain:
On the surface it seems like joining Worldprofit and then buying solo ads for example is a great way to generate traffic to your offer (and for many that may be the case), but at the same time you also have to understand there is so much beyond that surface and you need to also know things like how to make decent online sales funnels, how to figure out if the traffic you get from these sources is targeted or cold traffic and so forth.
The bottom line is when you try to make money online, whether through multiple fields of online business and/or affiliate marketing, it's not as simple as just driving traffic to a page and making money. There's WAY more to the process and this requires experience and frankly, even from my advanced point of view, I would spend my money and time with other methods and here's some examples:
1) Example 1: Starting a niche blog.
You create an affiliate marketing blog on a specific subject like Japanese Gardens and then make articles on that exact topic. Your blog will rank and get viewers who are interested in making their own Japanese Garden land on your site and that traffic itself will be targeted, and therefore much easier to make money from. Better yet, this will be FREE traffic from Google so you won't pay a penny (but that does require you to spend time and effort to build it up).
I have created and still run several niche blogs that have gotten millions of visitors from Google, and have earned me six figures. See my post on how to do affiliate marketing with a blog (best for beginners).
2) Example 2: Starting a YouTube channel.
You create a YouTube channel and videos on say how to manage a sail boat and you will then get people who are also interested in buying or managing sail boats see your videos on YouTube and Google (they find you, you don't have to advertise to them and that changes the dynamic) and you can get free viewers, earn money from YouTube's monetization methods and even promote affiliate offers on the videos themselves.
I run a YouTube channel that has over 400k views and has earned me well over $50,000. See my YouTube affiliate marketing post for details.
3) Example 3: Creating pay per click ads.
The last of the main examples (the one closer aligned with what you can get with Worldprofit), you make PPC ads on Google Ads, as well as other networks like Facebook Ads but you can selectively edit them so only the correct people see those ads so when they do get clicks, it's only from people who are truly interested in buying your product/affiliate offer and that saves you money.
For this last method, I prefer it well over solo ads or advertising on any type of classified ad channel because your customers find YOU, not the other way around and that makes sales easier to get.
I have made tons of ads on these networks over the years and have made six figure incomes in the process, but also lost a lot of money when the ads weren't working. This is risky, but through the way I suggest doing it, you can curb your losses so you don't lose a lot. See my pay per click affiliate marketing article for details.
Point is, the dynamic/framework from which I do online business, affiliate marketing and so forth and how I preach going about it is different than what Worldprofit offers and this is why I'm not exactly on board with using it, even though it has that potential.
What I think is better than Worldprofit if you're a beginner to affiliate marketing/online business:
Aside from a number of recommended programs, my stand out choice (#1) would be Wealthy Affiliate.
If you are a beginner to affiliate marketing or just starting an online business, this in my opinion isn't just a great alternative to Worldprofit, but it is also the best choice for learning the business period.
Here are several reasons I highly recommend it:
Great for beginners (I'm talking total beginners here).
It's also free to test drive like Worldprofit.
Teaches you inexpensive ways to start (blogging on your passions).
Well over 2 million members as well like Worldprofit.
Also has a great Trustpilot ratings (higher actually).
Access to 1 on 1 help from multiple experts, and that includes me.
Much more.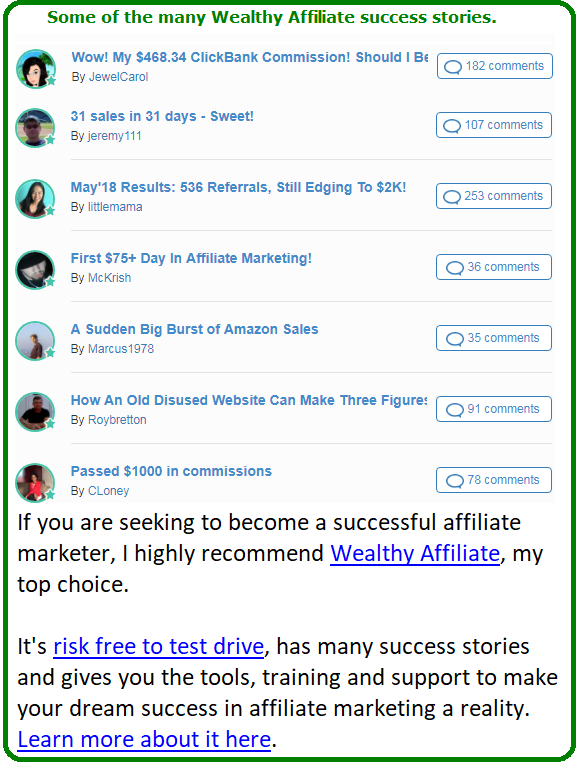 While you are free to decide if you'd like to start/try out Worldprofit or Wealthy Affiliate, I maintain my position that the latter isn't just better if you're a beginner, but also better if you're advanced and seeking to learn how to earn money online in general.
The 3 examples I mentioned above and results I've gotten were attained via applying the training I learned in Wealthy Affiliate which by the way is layered, meaning you start from super beginner friendly methods that are inexpensive and work your way up the ladder to more advanced methods like paid ads.
This is great if you're not exactly comfortable with spending a lot because you get the freedom to reach success without risking a lot of money. But I won't lie to you, this does require that you work at it. That being said, if you have any questions about Worldprofit or Wealthy Affiliate, let me know!