In this Rapid Profit Package review, I want to share what I uncovered regarding this program or opportunity and why in all honesty, even if I'm being very optimistic about this program being legit, why I am still highly skeptical.
There are several things I found out while trying to research this program and while I will cite the sources, here's the basic idea:
The program is either a drop shipping and/or affiliate marketing program.
There are numerous reviews about it, and most of them are not very positive.
I don't see any info about the creator of this program from the official site.
Drop shipping and affiliate marketing can be learned from other sources in my opinion that I feel are most trustworthy.
Now these things I just explained are the reasons why I personally decided not to buy this program, but I am experienced in both affiliate marketing (which I make a living with) and a bit in dropshipping overall (I know the model pretty well).
Quick information on Rapid Profit Package (basics):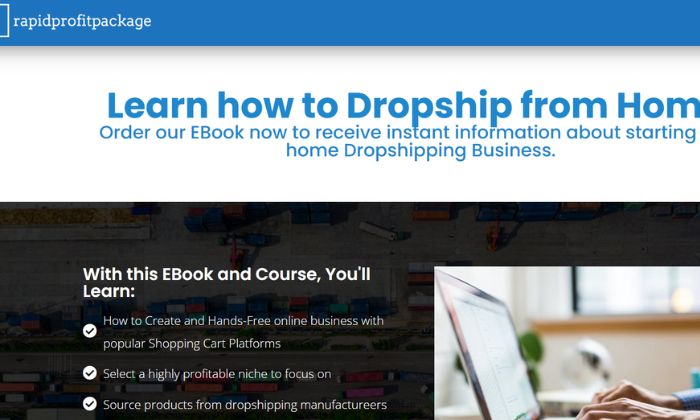 What is it? An eBook and possible course/software teaching you how to do dropshipping and it's supposedly made to sound very simple. Some sources I have found out there have said that Rapid Profit Package may also be an affiliate marketing program.
How much is it? $47 but I am suspicious that you may need to spend more because the very business of dropshipping requires you to have other essentials like a website and probably spend money on paid ads. This is not part of the Rapid Profit Package, but just something that is necessary for a dropshipping business to operate. I do believe Rapid Profit Package may have it's own upsells though (but this is my speculation/opinion).
Their policy does say there is a 60 day refund available.
Understanding what dropshipping is: It's a form of online business in which you have a website that sells products you don't actually own, but when orders are made on the site, you buy them for less elsewhere, and sell for more to the person who purchased it off you so you keep a good profit.
In order to make money from such a site you need to know how to use paid ads like Facebook Ads or Google Ads in order to drive traffic to the site. More importantly than that, you need to know how to drive targeted traffic to the site, meaning the right types of visitors who would buy the product/s you are selling. This takes time, understanding of how to set up your website, ads and online sales funnels correctly to profit from the model.
Understanding what affiliate marketing is: This is a different type of online business in which you promote other people's products and get a commission when a sale is made through you. Commission earnings vary on the product and the affiliate network you work with, but there is more flexibility with affiliate marketing vs dropshipping because:
You can promote products on a website and much more (like a YouTube channel).
You have multiple options for driving traffic beyond just paid ads (like blogging).
My rating for Rapid Profit Package:
1 out of 5 stars
Do I recommend it? No:
The reviews I found, plus the suspicious things I noticed on the site mixed together with how much I understand about this business give me little confidence in Rapid Profit Package as a whole, even though I do not think it's a scam.
3 red flags I discovered about Rapid Profit Package:
Red flag 1:
The first major problem I found is that I can't find any mention of the product/program creator on the official homepage. Looking at a few reviews though such as this one, different creator names come up including:

Greg Thomas with no image of the person. There was also a speculation that Rapid Profit Package was actually a different version of an old program with a different creator named April Mathews who may also not be real because there are allegations of a stock image used (again you can read that review I linked above for details).
One of the many checks I have for reviewing online programs and if I even buy them is knowing if the creator is real. Too often I run into many programs like My Profit Payday where the program creator is supposedly given a name but you never see them and can't verify if the name is even real. Legit programs have to have this stuff present! Those that are legit, but don't bother to add this extra layer of verification are truly doing themselves a disservice.
Red Flag 2:
The "oversimplification" of the dropshipping business model, at least on the sales page of this program. I am not a fan of any sales page which makes complex business models seem like they are so easy and effortless that anyone can do it. Sure it may be easy to explain but as someone who has been through the process himself, even the most legitimate business models out there have a lot of real world factors mixed in with it, making the reality of success a lot more difficult than it sounds.
Even affiliate marketing, something which I literally make passive income with (about me) takes time, a lot of writing and hard work. I always make sure to tell people this because there is so much misinformation on the topic out there.
Now giving everything the benefit of the doubt, let's assume Rapid Profit Package's eBook and potential course/software afterwards is legit and provides great info. It's not like the business will just set itself up. Remember, you need a website and you also need to (likely) run ads. All of this takes understanding and knowing how to do every bit of it.
Trust me, you will have questions as you set up your own dropshipping business and you will need further help beyond the initial stuff. You need more, like a platform, step by step training and 24-7 help available when you have the questions. Now if Rapid Profit Package DOES have this, then I highly doubt the cost of that would be $47. This is why I believe there might be upsells and as usual, if I am wrong, correct me below. But if it's just an eBook for all of this, then it's not enough.
A good example of a program that provides ALL of this stuff you need however is Wealthy Affiliate. Here is why:
Red flag 3:
The mass amounts of "not such good" reviews. I did find a few positive seldom ones but they aren't really telling me much about WHY it's good.
On the contrary, the mass amount of negative ones I found did a lot of detective work and basically backed up their points. Here's just a few: Review 1 and review 2.
The third one I linked above. But these people, I trust a lot more to help me verify a company/program's legitimacy than the official site itself unfortunately in this case.
Conclusions on Rapid Profit Package:
If I can't even verify the legitimacy of a program/opportunity, I certainly can't recommend it even if it is actually legitimate.
A good, legitimate program needs a real creator to show themselves and easily verifiable info on the program working and having good reviews and success stories to put my finger on.
This one doesn't have it and or if it does somewhere out there where I haven't found it yet, then there isn't enough of that.
For alternatives, Wealthy Affiliate has ALL of those verifiable things which is why I recommend it to you instead.