Out of all the paid networks out there to do affiliate marketing through, Microsoft Ads is the one which is most often overlooked because Bing itself is not considered to be a "serious contender" against other search engines like Google, YouTube and Facebook. 
But neglecting this goldmine of a network and the benefits it holds, is a mistake I would advise you not make, especially in affiliate marketing. Considering how it gets up to 20% of search traffic online, that "small number" can actually become a profitable number if you know how to use it.
Note: Microsoft Ads was originally known as Bing Ads, the name just changed but everything is still the same.

Here's the amazing potential Bing Ads (Microsoft Ads) holds for affiliate marketing:
Imagine for a moment a popular product comes out that has millions of people wanting to buy it and looking up reviews for it everywhere online (one of my case studies actually had this happen).
This causes affiliates who see this opportunity to want to promote it in masses and they'll start scrambling to do it everywhere they can: Through Google, YouTube, blogging, ad networks like Facebook and so on.
And this will usually result in a lot of competition coming about to promote this product, and only the elite affiliates will really be able to truly capitalize on this.
However, this is where the Microsoft Ads potential truly shines:
Since Bing and it's ad program is so often forgotten about, affiliates like myself can just as easy take that same popular promotion that's trending, set up an ad to promote it and literally not worry about other affiliates finding out about it, because they simply underestimate or even forget that this network even exists. And that's perfect for me 🙂
And this is a strategy I've been practicing for YEARS and…
This brings me to the $300,000 case study I have on this subject:
In my case, I have personally been using this network for the last 8 years and have been able to generate over $300,000 in affiliate sales in markets that outside of Bing Ads were VERY competitive, but within this network itself, there were very few affiliates that I had to worry about, so I was pretty much wide open to promote anything I wanted, with little competition and spend very little to get traffic to my affiliate offers.
Today, in this article, not only will I show you how I did this, but I am also going to share the step by step guide on how you can do it too, even if you're a complete beginner.
But in case you are VERY new to this search network and it's advertising network, let me explain…
What is Microsoft Ads?
Bing Ads is an advertising network created by the Bing search engine which allows users to advertise their business and products through it.
Setting up ads on this network also has them run on the Yahoo and Duck Duck Go search engines. 
This ad network also receives about 15% of all online searches when it comes to search engines (if you add Yahoo and Duck Duck Go), making Bing a great opportunity for marketers to make money.
How does one use Bing Ads to make money as an affiliate marketer?
The formula is pretty simple:
You get an affiliate offer (and link). 

You create a landing page which reviews that offer you are promoting.

Then you hop on Bing Ads and set up an ad that links people interested in this offer to your landing page.

You will be able to get visitors from this (And you pay for each person who CLICKS your ad) and if you make more affiliate sales than you spend on the ads/clicks, you will be making a profit.
Here's an example of a profitable Bing Ads campaign:
If you get 50 people who click an ad you set up on Bing and pay $0.10 for each click, then you will have spent $5 total, but if you make 1 sale which pays you $50, then your profit is $45.
That is in a nutshell how pay per click marketing works, at least a successful one. 
And while the formula sound simple, there are a lot of ways to screw this up and waste money, like with every PPC network, which is why the approach I'll be teaching you in this article is set up so you get the most targeted visitors to your landing page, the lowest amount spent on the ad you set up and the most space for profits to come in.
This is something I've been able to do numerous times in time with this network, and this brings me to explaining…
How I made the $300,000 in affiliate marketing sales on Bing Ads (the proof):
Basically the profitable Bing Ads example I explained above, happened to me numerous times, and 2 of those in particular, I was able to make so many sales and spend so little on my ads, that I was able to generate the $300,000. 
Here are 2 main campaigns that I set up on Bing Ads to make this money:
One was a popular dieting program that I promoted on the network which earned me $190,000.
And the second (which is still active today) involved me promoting an affiliate marketing program called Wealthy Affiliate (The earnings crossed

$63,000+

).
The other $50,000+

I made was spread across other miscellaneous campaigns I had set up, some of which made $1,000's in affiliate sales, and one which made $10,000+, but sadly, I did not record every single campaign and even changed accounts at one point. 
Here is proof of campaign 1's income reports (About

$190,000

):
Background info: This particular campaign involved me making money through Bing Ads by promoting a VERY popular dieting program that hit the market and had millions of people wanting to get it and of course, every affiliate who saw this opportunity tried to promote it. 
Yet just as I said above about how people literally neglect Bing Ads, I was one of the first and ONLY affiliates to use this network to market this program and it is because I had NO competition, that I was paying literally $0.06 for each click my ad was getting and making SICK bank in the process (this is why my profits were SO high in this regard).
Now let me just say that this particular campaign occurred many years ago and I didn't save every single income report, but I do have 3 pieces of evidence:
2 diplomas from the affiliate network I made my sales from and 1 of the checks I got from this same network: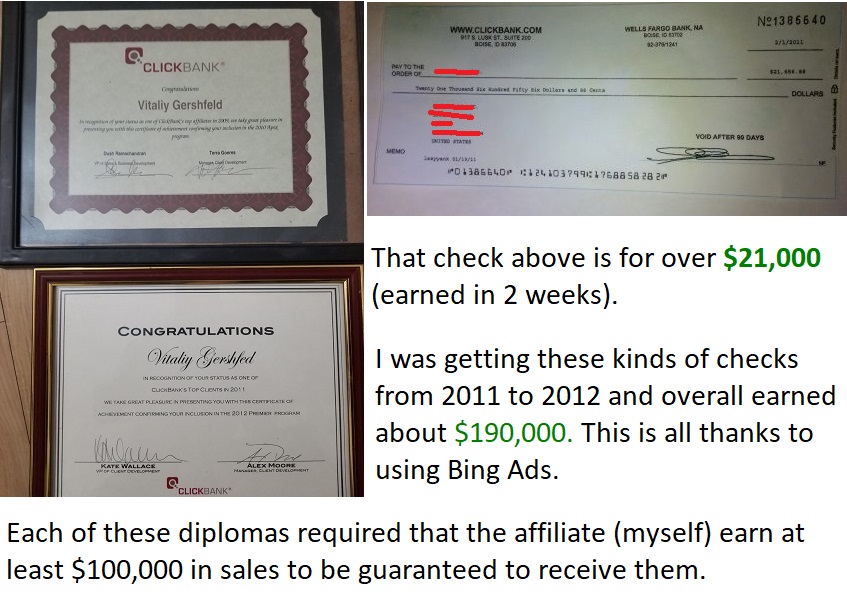 The ad campaign I had set up for this project had over 130,000 clicks that made this money:
Very soon, I'm going to show you the exact steps I took to get these clicks, low costs and high affiliate sales 🙂
Now let's move onto the next major campaign…
Here is proof of campaign 2's income report (

$63,000+

):
Background info: This particular campaign is still active on Bing Ads today and is still making me money almost daily. I started it a few years ago when I began promoting the Wealthy Affiliate program.
Here is how it is doing today on Bing Ads:
Through Bing Ads alone, this campaign that is promoting Wealthy Affiliate has over 3,000 conversions.
How this campaign works:
In this case, I had (have) a whole other website that promotes Wealthy Affiliate and reviews affiliate marketing programs and work at home opportunities.
90% of those opportunities are horrible (this is a fact), but they do get searches on Bing, and so what I did was, I set up ads on Bing that targeted people looking for reviews of those products, and when people landed on the page, it promoted the Wealthy Affiliate to them (successfully I might add).
In addition to getting traffic to this site through Bing Ads, I also get a larger chunk of traffic to this same site via Google search (SEO). So the income reports I have to show you are MAINLY from Google's search, and about 20% or more of it is from Bing Ads.
So in these following income reports, the number is FAR larger than $63,000, but that combines the profits I made on this site through SEO, so to get the estimated Bing Ads profits I earned, I just need to take 20% of the total profits:
Here are some of the income reports: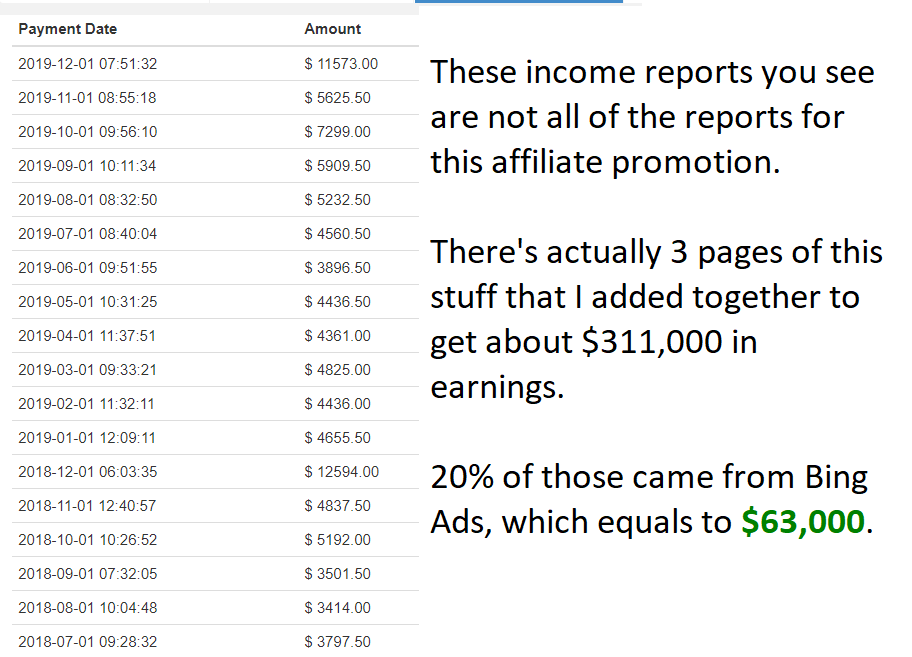 You are welcome to see more of my other affiliate income reports for this in which I show yearly income numbers for this specific promotion and if you'd also like to know more about myself, here is the page where I talk about my history in affiliate marketing.
The other $50,000 are spread across miscellaneous campaigns.
Sadly, as I said before, I don't have the proof of this, but I hope the 2 campaigns I showed you proof with above is enough to help you believe the other $50,000 were also generated the same way. 
Some of the other campaigns also involved successfully promoting another dieting program while others were spread across other affiliate promotions ranging in different kinds of niche topics.
So overall, my affiliate marketing commissions from the 2 major campaigns and the miscellaneous other ones total to over $300,000.
Here is the 1 formula I used to make this money on Bing Ads:
In every single instance that I was able to successfully do affiliate marketing on Bing Ads, it was because I set up campaigns that targeted VERY specific products or topics.
The 1st campaign above, targeted a niche audience interested in a VERY specific dieting product.

The 2nd campaign above, targeted niche audiences interested in VERY specific make money online products, and pitched Wealthy Affiliate to them.
Here is how this strategy works:

If you'd like to learn more about Bing Ads and affiliate no problem, let me continue:
This is something I will be teaching you in a moment how to do as well, but I want to make sure you understand just how important it is that you understand this concept…
PPC marketing is one of the riskiest ways to do affiliate marketing and if you don't know what you're doing, not only will you fail, but because it is PPC marketing, you will lose money, and very often, A LOT.
Most of the time, people who get into PPC look for ways to get a lot of fast traffic to their site, and through PPC you CAN do it, but it literally comes with a price: You have to pay for that traffic and…
To succeed with affiliate marketing through Bing Ads, you need super targeted traffic.
Let me give you very simple examples to make this point and I strongly suggest you read this part carefully, and even multiple times, because I am literally going to save you a lot of money if you understand this concept…
There exist broad niche topics,

narrowed niche topics

and specific niche topics.
If you want to succeed with affiliate marketing through Bing Ads, you will want to ALWAYS target specific niche topics.
In rare cases, you will want to target the narrowed down niche topics, but those require more experience.
For example:
Getting into shape, fitness programs in general, and the P90X program. 
Martial arts supplies, boxing gloves, hayabusa boxing gloves.
Because you are literally spending money on clicks here, the BEST, most qualified traffic you can get is the one which comes from a specific niche topic.
With the P90X example, if you set up a campaign on Bing Ads correctly, you would ONLY get the P90X audience to your site and that would be the BEST type of audience because they would be the most likely to buy the product from it. 
For the hayabusa boxing gloves, if you are promoting that exact glove and advertise it to people who know it, you will only get those people interested in it and those are going to be the people who will most likely buy it.
5 reasons why this strategy = success with affiliate marketing on Bing Ads:
Because I've been using this same strategy for so many years and have seen it's benefits, I want to share them with you as well:
Reason 1: You get only the best, most qualified traffic.
There is simply no better traffic than the specific niche topic traffic. That is the audience most ready to buy something and the most easy to convince to buy your affiliate promotion.
Anything that strays into the narrowed and broad niche world is going to get you bigger traffic numbers, but LESS sales in the end.
Reason 2: You spend far less on clicks (pennies) because of less competition.
Broad and narrowed down niche topics generally have more people advertising their ads on the network so you are basically competing against them if you go the red and yellow route. 
However, with specific niche topics, you are in 90% of cases, going to be spending VERY little money to get clicks to your site on and this will result in you having to spend so much less.
I know people who spend DOLLARS on clicks and get few sales, where I spend PENNIES on clicks and get more sales. Which scenario would be better for you? 
And let's not forget once again about how many people literally forget and underestimate Bing Ads in general and this is something I have no problem with! Let them worry about out competing one another on big networks like Google, Facebook and YouTube.
I'll just occupy my affiliate promotions and ads on Bing and make crazy bank in the process (As I have done numerous times on this network for years like I said before).
Reason 3: You are almost certainly insured against big losses.
PPC is itself a VERY risky way of doing affiliate marketing, and that is something you cannot escape. However, through this strategy that I am showing you, because you are spending so little money on each click, you have far more leeway to get traffic to your site and not lose a lot of money. 
I have never lost much thanks to this strategy, but people who target broad and narrowed niche topics typically spend more, and lose more.
Plus it is also likely that most of the campaigns you run on Bing will likely not be very profitable and you may have to shut them down because they are not being profitable. But in that instance, you will still not lose a lot of money because you are going at this in the most conservative way possible.
Reason 4: Quality scores rise and rewards come from Bing thanks to this strategy.
This network has a "grading" system it uses to determine how much you will pay for your clicks and one of them is called quality score and the higher it is, the better it will be for you, because you will be able to spend less on clicks.
With this strategy, if employed correctly, you are bound to see quality scores in the top tier numbers (8-10).
Reason 5: This strategy is great for beginners to get their feet wet with the PPC world.
There is no other network that I have come across in which I can spend so little and have so many benefits, and if you are a beginner to the PPC realm, Bing Ads is arguably the best place to start.
Because you are risking so little with this strategy, even if you have a failed campaign, you are likely to only lose a few dollars (if you follow my advice). 
Convinced? Then let's get to the step by step formula to doing affiliate marketing on Bing Ads:
First, let's get the terminology of this network down. Here are the most common terms and what they mean on this network: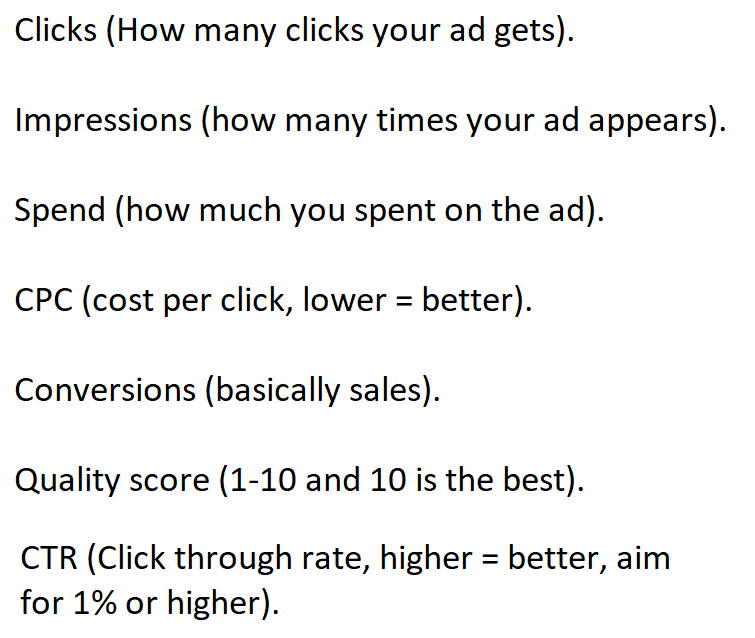 And now that we have these basics terms down, let's get started with setting up your first campaign in the same way I set up mine:
Step 1:
An account with this network. They are also running some deals where you can get credit ($75) if you spend like $25 on ads, which is basically free money in this case.
Step 2:
An affiliate promotion you wish to advertise on this network. I suggest finding products that:
You know a lot about.

That are popular (more traffic will come through your campaigns).

Find products and affiliate offers that pay you $30 or more in affiliate commissions. 
The more you can get paid for a sale, the more leeway you have to get more clicks and break even. For example:
If you get paid $30 for a promotion and set up an ad in which you pay $0.10 a click, you'll need to make just 1 sale out of 300 clicks to break even and the higher that break even point is, the better it is for you. 
Note: If you have problems picking a promotion or ANY part of this tutorial, let me know below. You can also ask me questions in my frequently asked questions section.
Step 3: 
Next you will need to have a landing page set up where this affiliate promotion is pitched. You are basically going to be doing a product review and sending people to the page who know about that product and want to know more about it (hence the review).
It is important that the review you set up is high in quality and explains why the product you are pitching is worth buying. Set up pros and cons, show positive reviews of it. Things of that nature, but this is a topic I will cover in a separate article on how to increase your affiliate sales on a landing page.
Making YouTube videos is also a good way to go. I do talk about affiliate marketing on YouTube here, and in this case, making the video, and putting it on the landing page where you sell the affiliate promotion is a powerful way to make sales.
Step 4 (

watch the video above for reference

): 
This is where we go into the Bing Ads site and set up the actual ad and link to our page so we get the traffic. And for that, I have to refer you to my video that I put above which offers the exact instructions on how to proceed. 
The goal here is to set up the ad so only the people interested in the specific niche topic or product see it and that you get more clicks from it. 
Warning 1:
Do not let Bing dictate which keywords you should advertise for.
One thing I did not include above in the video is that you WILL get suggestions from Bing on which keywords to use and they will say you can "raise your traffic" if you do. Do not make the mistake of falling for this! 
The keywords this network gives you will generally lead broad audiences to your affiliate page and those are probably not going to make you sales. So stick to the specific keyword strategy and specific niche topic method I showed you above, it will ensure you ONLY get the VERY targeted clicks and visits, because again, those are the people who are most likely going to help you make sales.
Warning 2:
Do not let Bing "suggest" what you should bid. They will always try to get you to spend more. Start at $0.10 like I suggested in the video above and if you follow my strategy correctly, that should be plenty to have your ad start getting clicks.
The only time you should raise your bid (and I recommend doing it in $0.10 increments) is when the ad you put up doesn't get any impressions or clicks for at least 5 days.
Sometimes new accounts take a few days to marinate in this network and the ads to start receiving impressions and clicks, so don't panic if you're not getting clicks right away.
Warning 3:
Never ever direct link to an affiliate offer, that is almost sure to fail 100% of the time. I have tested this and every single time that I ran this test, it has never made me profits. 
Always create a landing page with a review of the product or program you are promoting and warm up the audience that visits your page to understand it better before buying.
After all, people who click the ad you set up aren't ready to buy the product you are promoting so sending them straight to an affiliate offer makes no sense. They want to know more about the product/program beforehand and this is why a landing page with a good review is the best way to make the sale.
Step 5:
If your campaign works, then you can try to replicate this formula and create other ads, targeting other specific niche topics and selling specific affiliate promotions on it. This is exactly what I did with my second campaign (the one which promotes Wealthy Affiliate).
If this ad doesn't work (doesn't break even), you have a few choices:

Remake the sales page that promotes the product and test the new on to see if it sells and it doesn't, pause it and find another promotion.
Keep testing new versions of the same promotion to see which one works.
The good news is that with this strategy, you have a lot time to test different variations of your sales page, but normally, if 2-3 do not make you profit, then move to a different promotion.
A very important thing to "expect" with PPC marketing:
That is that it is very likely that MOST of the ads you set up, especially in the beginning of your experience with Bing Ads will likely not make good profits, and this will gradually decrease as your experience rises, but again, the method I showed you can help you avoid losing a lot of money and at most, you'll only lose a few dollars, which is no big deal considering the GREAT experience you'll get.
It takes only 1 Bing Ad to succeed and then all you have to do leave it on, and it'll make money 24-7, while you move onto a different campaign. This is something I have experienced more than once in my affiliate journey with Bing Ads and this is something you can experience too if you follow this guide.
But if you need more help with this, then I have something that can provide just that:
Expanding to the next level of affiliate marketing & Bing Ads:
This strategy is again one of the best starting points for beginners to get into the PPC world. It is SAFE, it is cost effective and it is designed to really help you make good money online through affiliate marketing this way.
I have literally been using and continue to use this very same strategy to generate a chunk of my online profits this way and with practice, you will be able to do this too.
However, if you wish to go further into this business, here are some other things you can do:
Start targeting specific niche topics that are popular. There is more traffic there.
Product reviews in specific niche topics are great entry points into the PPC world and you can truly make a lot, but targeting specific niche topics that are popular is a great way to expand further in this world.
Let me explain using the same broad, narrowed and specific niche example…
Health, pain, back pain.
Back pain is a specific niche example and has millions of people who go on Bing and look for ways to cure it. Targeting this niche crowed and doing things like:
Setting up a Bing Ad that reviews the top back massage products
Or setting up a campaign that collects an email list that helps this niche audience know of natural ways to stop back pain (affiliate promotions can be included in your emails).
These are all different ways you can target this niche audience and expand further into the PPC world this way. So if you were wondering about list building or targeting niche audiences with problems, this is how you would do it.
The video I made above should also answer how to get started with this stuff, as I do offer examples of these scenarios.
Expanding even further with this: Helping clients set up their Microsoft Ads campaigns.
Once you have enough experience and success with Bing Ads, you'll actually be able to advertise that knowledge to potential clients who also run their own businesses and will be able to help them set up their campaigns and make money from that.
I've personally been involved in this and it's amazing how many people incorrectly set up their campaigns on Bing and other networks. The fact that someone with experience in this can come in and basically help them save money while getting more clicks is something that business owners will pay a lot of money for.

Final questions you may have about Bing Ads (Microsoft Ads):
Is Bing Ads good for affiliate marketing?
Absolutely. I'm an affiliate marketer and Bing Ads has been a very profitable network for me to work with for many years.
Does Bing allow affiliate links?
Yes you can use affiliate links in your Bing Ad campaigns, but it's better to send your PPC traffic to landing pages that have affiliate links on them instead.
How do I get paid from Bing Ads?
You first need to set up a proper campaign on Bing Ads and then funnel the traffic to a landing page that has an offer you are selling or promoting.
Is Bing Ads profitable?
Yes if you understand how to properly set up campaigns on Bing Ads and send the clicks to a proper landing page, then you can profit from Bing Ads very well.
Is Microsoft ads worth it?
Yes Microsoft Ads is worth it but it is very important to have money to spend and know how to make smart campaigns and funnel the right traffic to your landing pages first.
To conclude:
If you are just beginning affiliate marketing, I would advise that you wait to get into Bing Ads until you've made some sales through easier, most cost effective methods like blogging and making YouTube videos. PPC is not always the best place to begin in this business and it can often end up being a mistake many affiliates make.
But none the less, the strategy shown in this article is like I have said numerous times already, VERY safe for beginners to get started with if they are affiliate marketers trying to get into the PPC world.
Later on I will be adding tutorials on other PPC networks like YouTube ads, Facebook Ads and Google Ads to show you how to do affiliate marketing with them.
While they are all awesome networks, all with a lot of potential, once again, Bing Ads is the safest one to start with if PPC is where you're aiming to go and I hope this tutorial helped answer a lot of questions you have about getting started with it 🙂