Hey folks, so on this page, I will be disclosing a majority of my personal affiliate marketing income reports that I have accrued over the years. It's over $1 million and I will be disclosing that on this page.
The purpose of this affiliate income page is not to "show off" or brag, but to be:
Transparent about my personal results in this business so you can see that these reports are real.

And more importantly to show you how you can do the same thing too.
Now even though I started affiliate marketing around 2006 or so (my overall history explained here), I didn't really start recording my income in this business until mid 2014, so while I do have checks certificates to show you prior to 2014, the main reports that you will be seeing are from 2014 and up. 
I will also be summarizing the ways I was and am earning money, so you have an idea of what I was/am doing to make this a reality for yourself. More detailed reports will be provided in separate case studies I will be adding to this site in the future.
This is also a page that will consistently update year after year and this point in time, I happily admit that affiliate marketing is my full time business, and again, this is something I help YOU accomplish as well on HelpingHandAffiliate.com, and through ethical approaches.
So let's get started:
Here is a video detailing my affiliate income reports: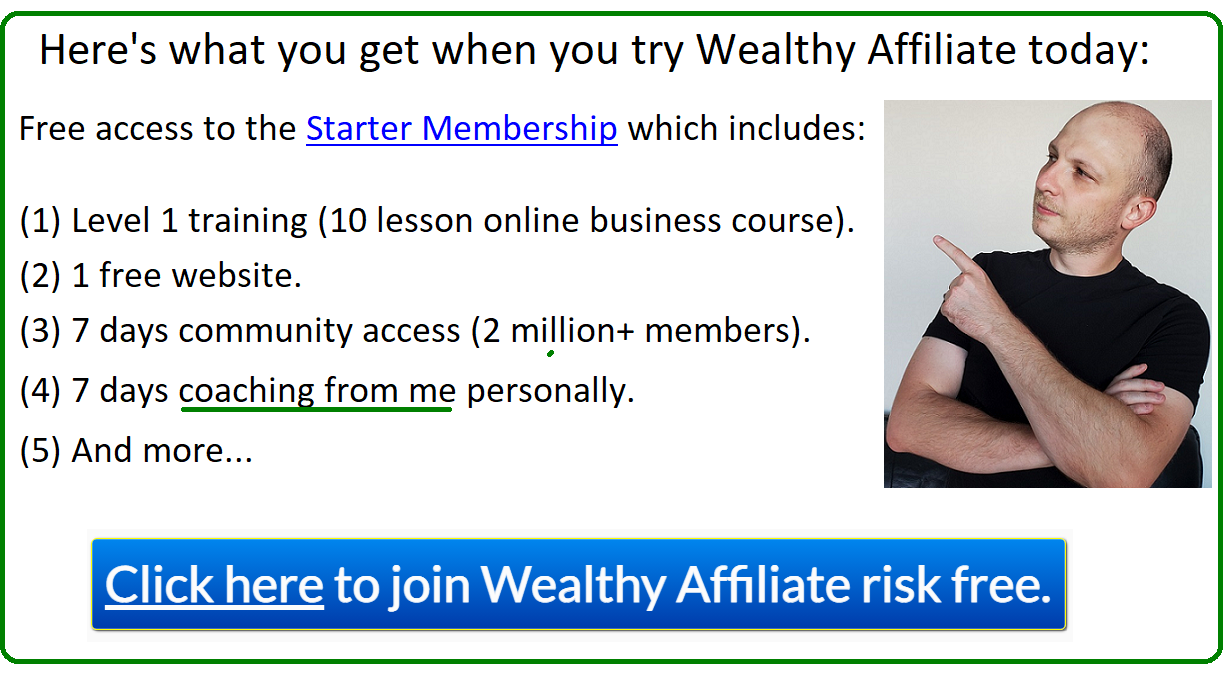 Would you like to read more about my income reports? No problem:
Firstly, from 2007 to about 2008, I earned about $10,000:
As I said before, the screenshots of my income reports will officially begin in mid 2014 (further below), but I want to disclose that when I first began seeing results with this business, it was in mid 2007 and for the most part, I was making money writing articles on these blog websites:
Ezinearticles.com

Squidoo.com

Hubpages.com
And similar places, which back in the day, were referred to as article directories.
The majority of my $10,000 earned between 2007 and 2008 was thanks to Ezinearticles.com and Squidoo.com where I was writing simple articles on ways to lose weight and promoting products from a network called Clickbank.
The articles I would write would link back to some sort of landing page where the weight loss product was being promoted.
Now I do not have screenshots of this period of income reports, but what I CAN show you is one of my highest viewed articles that I wrote on Ezinearticles.com (right):
Now as you can see, the articles I wrote on that site received over 700,000 views, which I hope makes the $10,000 more believable and you are more than welcome to check out my Ezine author page here.
Afterwards, until 2013, I had earned over $300,000 in affiliate income:
Here I have some extra proof to show you the six figure results I am claiming now (before we get to the recorded income reports). There were a few years:
Then if you read my bio, you'll know that ALL of these profits I earned gradually ended and I literally went broke in early 2013. I basically made a lot of mistakes in affiliate marketing during this period.
This experienced forced me to restart my efforts, but in a completely new niche market and so I decided to shift things and began promoting the Wealthy Affiliate program in 2013, only to see my efforts start to show in mid 2014.
And that brings us to the promised affiliate income reports throughout the years: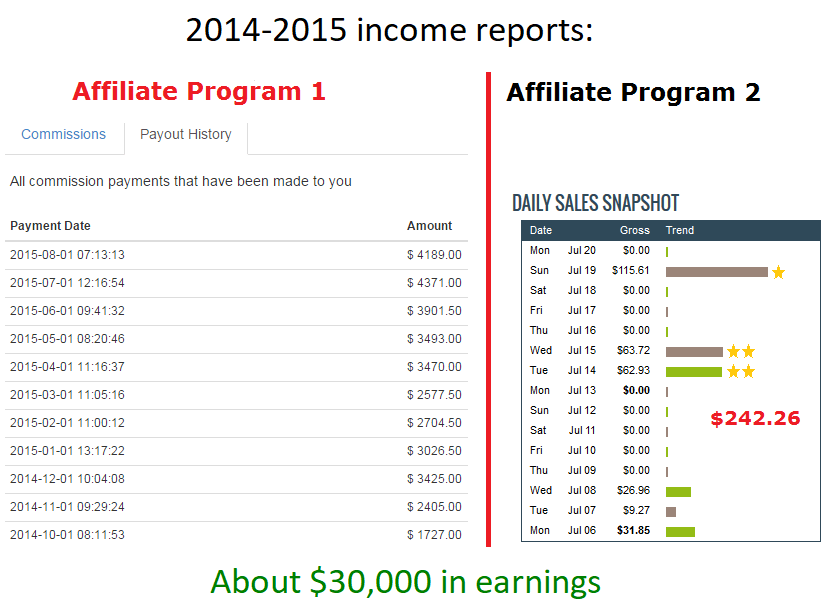 The majority of the income I was earning throughout this period was from affiliate program #1 (promoting Wealthy Affiliate). It was mainly through a blogging website that I still run today.
And this continued and grew in 2016:
And in the following year, more growth occurred:
Now there are 2 reasons my income grew for the same promotion:
1) I continued to grow my other blog website called Howtomakehonestmoneyonline.com and raised the traffic I was getting there, which naturally led to more people buying the offers. The traffic I was getting (and am to this day) is organic.
2) I began entering the pay per click world, where I would create ads to drive extra traffic to the same blog website.
While I had to pay for this, it did produce extra profits, and added about 20% more traffic and profits to the site. While this traffic was not organic, it didn't change that the people who went to my site were still buyers, and this is why I was able to grow the overall site even more.
The following year, things slowed down: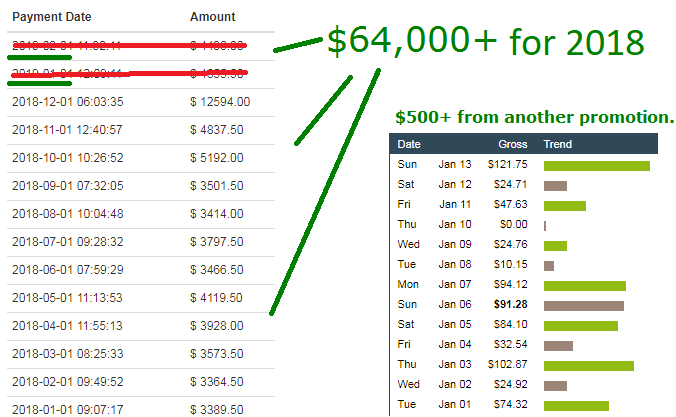 One of the reasons things slowed down was that I began to become complacent (again). Because I had seen my main website grow and earn more year after year, I felt I could leave it alone and things would just progress the same way. I was wrong.
While my main blog site continued to get traffic and make money, I didn't really grow it as much as I did in the years prior and this naturally led to less traffic coming to the site after awhile, which naturally led to less profits.
It is a blessing that the Wealthy Affiliate program provides recurring commissions because had it not, I would have probably lost my business in 2018. It was thanks to the recurring commissions that I stayed afloat. 
However much like the situation which occurred in 2013, where I lost everything, this 2018 experience awakened me again and I started putting in the same and even more effort into my website than ever before, growing the content, growing the site, and after a few months, things stabilized:
So here is how my affiliate income looked for all of 2019: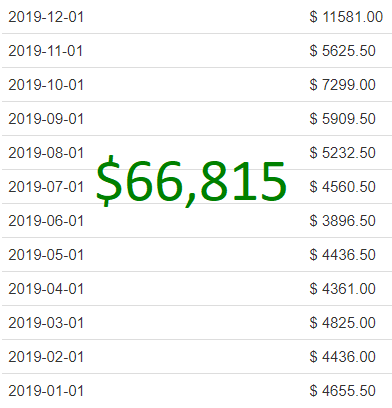 In the above report, the numbers rose because I got my act together and returned to growing my blog website. It suffered a few setbacks in 2019, but none the less, it still shows growth in the long run.
Now while you may notice that if you look at my earlier income reports, of the 6 figure incomes especially, and the ones from 2014 and up, it may seem like the six figure results are what you should focus on. 
I would argue differently.
The lessons I took from that six figure experience show me that passive and stable income is where the true success in affiliate marketing lies and this is why I am happy I chose a different road after the 2013 incident.
The same blog that started earning me in 2013 is still earning me money today and will continue to do so. The only difference now is that I am much wiser and am growing other sites and getting into new networks for more profits and new projects. 
Additionally to all of those events, I began using more of the training I received at Wealthy Affiliate to expand into new worlds and make money from other sources like:
Pinterest and doing affiliate marketing there too.
YouTube ads (and I did earn about $5,000 from there).
And more.
Naturally, every new area took me some time to learn and make money from but this expansion of my overall business was a great move and it did improve my income results in the following year:
My affiliate income report for 2020:
More will be updated and added to this as the months continue.
You may notice a slight downturn in the profits as the months progressed. One of the reasons why is because of 2 things:
The crazy things that went on in 2020.
The election in the U.S.
Events like these do play a role in the profits affiliate marketers make.
But I promise you that affiliate marketing is one of the most recession proof businesses there are.
I've had slight ups and downs before and as long as you follow the principals of setting up a successful affiliate business (let me help coach you to do this) and scale it, you won't have to worry about these things.
Moving forward into 2021, I have high ambitions and optimism despite all of the things going on and I wrote about how to succeed at affiliate marketing in 2021 here, something you're welcome to look at too.
Either way, I am pushing my affiliate business and income further in the years to come.
Here's how I can help you with starting a successful affiliate business:
1) Again, check out my affiliate coaching page here for details. I explain how affiliate marketing works and how I help people set up a proper one on any niche they love.
2) You can also check out my Wealthy Affiliate review where I explain how this program helped me succeed in affiliate marketing and it is also where I coach people to succeed in the business. It offers all of the necessary tools, platform and training to help ANY beginner do this.
Thanks for checking out my income reports page and if you have any questions, let me know!