Michael Bashi pitches Your Web Traffic Agency as a way to make money online by selling traffic and clicks vs doing traditional affiliate marketing and if you're wondering how it all works and if it's a scam, this review is going to clarify everything you need to know.
I have some generally positive experiences with Michael and have bought at least one of his programs before, and this is one of the reasons why I wanted to give Your Web Traffic Agency a closer look.
To start this Your Web Traffic Agency Review, here are 4 disclaimers:
1) I did not buy Your Web Traffic Agency (and for specific reasons, other than the price).
2) I have various affiliate marketing success and experiences, and in this particular case, what Michael's program teaches as well.
3) I have purchased "Sell For me Funnel" by Michael Bashi (so I have some experiences with the owner, and frankly, there's good things to say, which I'll mention later).
4) I'm giving you my experienced opinion based on what I've seen on this program (and what I also know on this), and if there's anything to update (or be corrected), let me know below.
Your Web Traffic Agency product info:

Name: Your Web Traffic Agency.
Creator: Michael Bashi.
Price: $2,500 or 3 payments of $997.
What is is about? You running your own solo ads agency whether with Michael setting it up for you, or you doing it yourself.
Rating:

2.5 out of 5 stars
Do I recommend it? I'm split and here's why:
I happen to think Michael Bashi is legitimate and do believe in what he teaches and also offers in this particular service. I do believe if you try it and truly put in the word (despite all the done for you stuff), that you will be able to see results.
That's on the pro end. I'm confidently stating that I do NOT think that Your Web Traffic Agency is a scam.
However, as an affiliate marketing, I stay far away from ANYTHING related to solo ads because of numerous bad things that occur in that particular world of traffic generation.
I'm not saying Michael will lead you down a bad road, but typically, the nature of solo ads itself steers people to get cheap traffic and sell it for high prices and for me, if I'm going to apply this, I wouldn't even bother with solo ads, but perhaps just selling people education on how to generate traffic themselves.
Alternatives?

Yes.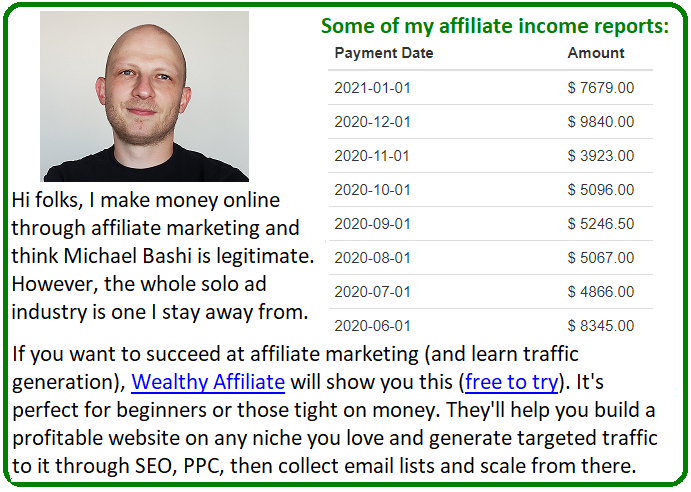 A deeper Your Web Traffic Agency review:
Michael Bashi does a lot of paid ads stuff on YouTube and that's actually I discovered this particular program. I've been getting ads for it for so long that I finally decided to take a look. He is an expert affiliate marketer and helps people with this stuff too, but his angle of teaching is actually different than others I've seen.
The last time I got an ad for a different program from Michael's, it led me to Sell For me Funnel, which I had some skepticism about because I didn't know the owner very well, but when I did buy into the program for a measly $1 and saw the value of it, my opinion of Michael's grew substantially and it's one of the reasons I am confident about this new program of his too, despite it being a high ticket product.
However, despite that experience being positive, I didn't agree with the methods taught in the program, even though they could work and overall, said the program is legitimate, but the methods of teaching affiliate marketing didn't vibe with me and I felt there were better methods for beginners.
This is pertinent to this review of Your Web Traffic Agency because:
What I see Michael doing here is another example of a different way of teaching people to succeed online, but ultimately have to disagree with the method, even though it can work. I just think Michael and I differ on what we think is best for beginner affiliate marketers.
He is more for email list building, buying something like this done for you system, and that can a lot.
I think they should start with making niche blogs on their passions through Wealthy Affiliate (it's way cheaper and highly profitable too).
My positions on what Your Web Traffic Agency teaches (why I think there's better options):
So again, this whole program deals with making a solo ads and selling your clicks/email lists to people who will buy from you and this is actually nothing new. A lot of people do it all across the internet and in fact, it's one of the oldest methods of affiliate marketing to date.
Basically people collect email lists from all types of sources (typically low quality traffic), and then go on solo ad websites and sell that traffic for things like $100 for 50 clicks. Then they keep recycling the offer and reselling the same clicks to different people and their money online that day.
While it can provide a good source of income, one of the main issues I find with solo ads in general is that typically the traffic you buy from this source online is riddled with a lot of cold leads, junk traffic and in some unethical cases, bots. Rarely will you be able to find truly high quality leads through solo ads, and if you do, trust me, you'll be paying a lot for them (Several $1's per click).
Now this isn't meant to tie what Michael teaches you in his program and to say he teaches this, no.
In fact, based on what I've seen, I believe he will teach you to accumulate legitimate high quality leads to your email list and give your potential customers (people buying clicks from you) good valued traffic.
However, on the flip side, when I think of this business model, I think of 3 sides:
The first is the solo ad provider (you in this case).
The second is the person you're selling the list to (buyers you make money from).
The people on an email list of the solo ad provider getting bombarded with offers left and right who could see it as spam.
A lot of what happens with solo ad providers is that they'll inflate the value of their traffic to buyers and often hit up their email list with their buyer's offer (typically low quality products too), which will annoy them. This is why a lot of solo ad providers have garbage email lists I wouldn't bother with or spend money on.
As a person who buys traffic through pay per click channels, I always recommend that over solo ad providers because of the lower cost, and more in control stuff you have over the type of traffic you get. With solo ads, it's literally just word of mouth or reputation you're dealing with. For more details, see my PPC vs solo ads article that explains why PPC is honestly the better way to go in my opinion.
Regarding Your Web Traffic Agency, you can make money with this system, but from the customer's end, I'd never want to engage in this because I know I can teach them ways to do it themselves for less.
Alternatives: Making money from affiliate marketing and/or teaching people traffic generation.
Michael's Your Web Traffic Agency has a good idea and program that can help you succeed yes, but for me, I like to think of the customer's end in this too.
Customers who buy solo ads typically do it to sell either low quality make money online products and/or hope to get easy leads because they saw the solo ad provider said they could. Very rarely are either of those 2 things achieved, which is another reason I stay away from solo ads.
Overall this is an advanced area of affiliate marketing that I stay away from because it very often attracts a lot of low quality solo ad providers and customers who are looking to sell low quality products in general in my opinion.
If you are someone who is into solo ads or are a beginner to affiliate marketing (and you haven't succeeded yet), my opinion is to:
Try something different. In this case, I recommend learning how to make a niche website and generate high quality, organic traffic to it, which you will learn from Wealthy Affiliate.
Furthermore, you will also learn how to get targeted traffic through pay per click networks (not solo ads).
This knowledge, education and results in my opinion will save you a ton more money, give you much more control over the type of traffic that comes to your website/offers and you will be able to get more out of this in the long run.