As someone who has made a lot of high ticket sales as an affiliate marketer, I want to share how I personally to do it in this article.
This particular branch of affiliate marketing is one that in my experience is misunderstood and leads to a lot of people doing it incorrectly and I want to give you a structure and step by step tutorial that I personally follow that works for me and will also help you.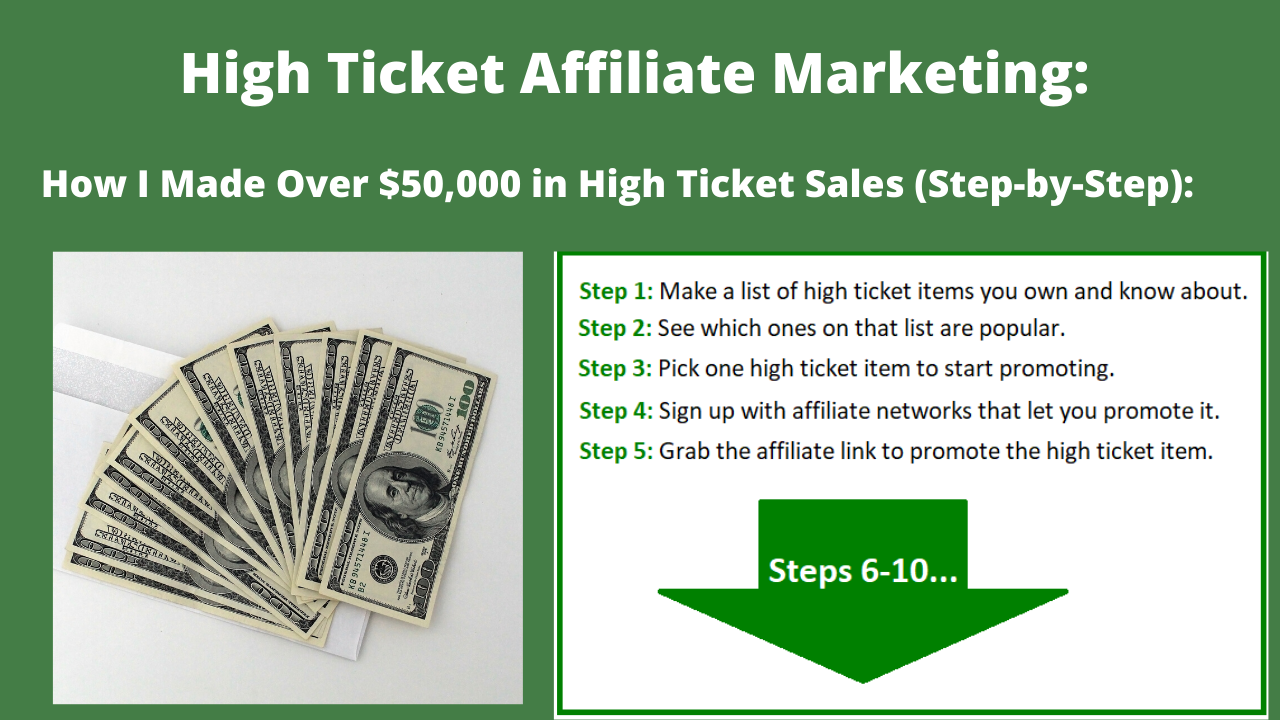 How I do high ticket affiliate marketing (summary):
Create a list of the high ticket products you wish to sell (ones you own are best to begin with).
See which high ticket products on your list are most popular and work on those first.
Begin by making a review of one of the products on the list.
Sign up with an affiliate network that allows you to promote that product.
Get the affiliate link for the product.
Create the review of the high ticket product (via a blog review or YouTube video review is preferable).
If you're promoting via YouTube, I explain how to best structure your review below.
If you're promoting via a blog post review, I also explain in this step how to best utilize this option.
Consider making pay per click ads for the high ticket product in order to get more sales.
Once you make 1 review, go back to your list and create more reviews of other high ticket products.
Keep in mind this is a summary which means that:
Before I explain it in detail further below in this article (all 10 steps), I want to give you proof that the strategy works and help you understand the process that goes into successfully selling high ticket items as an affiliate. This is why:
I'll first get into details on how much I've made with high ticket affiliate marketing.

Then I'll show you the pros and cons of promoting high ticket items.

Then I'll show you affiliate programs you can join to promote high ticket items.

Then I'll explain the 5 key points to making a high ticket sale.

And then I'll get into the step by step strategy I showed you above (again, all 10 steps will be explained).
My video summarizing how to do high ticket affiliate marketing:

My results promoting high ticket affiliate offers ($50,000+):
There are 2 particular niches where I actively promote high ticket items:
1) About $500 made from promoting expensive drones.
One of my affiliate websites promotes these and the prices of these drones can range from $300 and go up to $1,500 or more.
For these promotions, I'll make anywhere from $30 to $100 in affiliate commissions. I haven't really gotten too involved with this niche topic, but I have been able to sell close to 10 thus far, and make a couple of $100 in overall commissions. 
2) About $52,000+ made from promoting Wealthy Affiliate's high ticket membership. 
One of my most focused promotions in affiliate marketing is promoting the program called Wealthy Affiliate. Is it the program where I spend the most time creating online sales funnels, ads and blog posts, all of which promote this program and it is also the same program I learned all of this stuff from.
Now I've been doing this for years and with this program, there are numerous price points:
First, there is the free membership, the one I promote the most. 

Next is the $49 a month premium membership, for which I get paid $23+ recurring monthly.

Next is a Premium Plus membership for $99, for which I get paid $49 a month recurring for.

Then there's a yearly membership for Premium which pays me $175 recurring yearly.

Then there's the yearly membership for Premium Plus which I get paid $495 per year for.

And finally, there is the Black Friday yearly membership that I promote which pays me $130 also recurring yearly.
The $49 a month membership is where I made the majority of my affiliate sales (Around $400,000). 
But the yearly sales also happen to people are part of this program and every year, I'll make about 50 or so yearly sales at $175 each, giving me around $9,000 in commissions. In fact, today when I wrote this article, a new $175 sale came in, the first of 2020: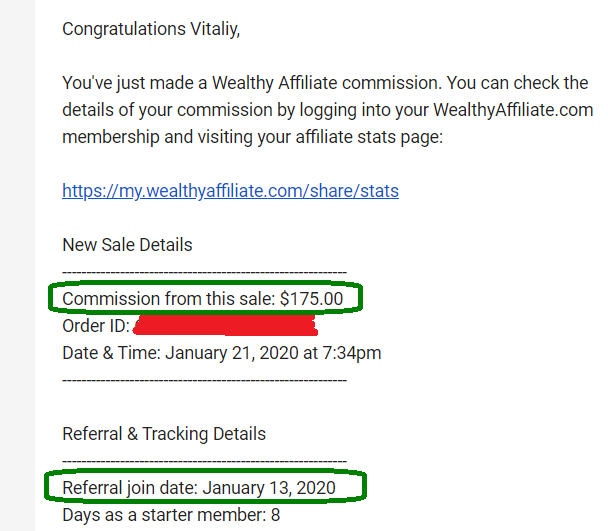 But there's also the Black Friday, $130 commissions which gets me around 30 sales every year and that equates to about another $5,000 in high ticket commissions every year. 
And don't forget, there's recurring sales, so I also make additional sales from people who signed up the year before and renewed their membership, but that's a whole other commission breakdown. Let's just stick to the sales reports, not the recurring sales:
Here is proof of my high ticket affiliate sales: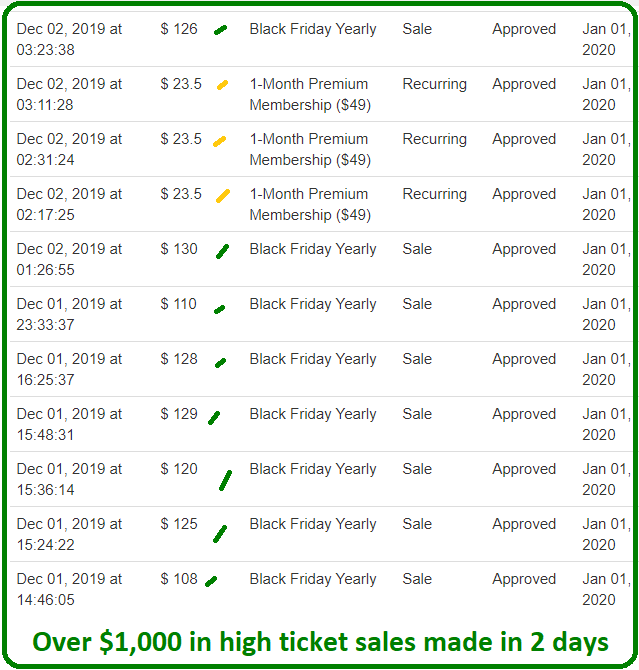 And in 2020, despite the recession that occurred, I still did very well for the Black Friday event (lots of high ticket sales):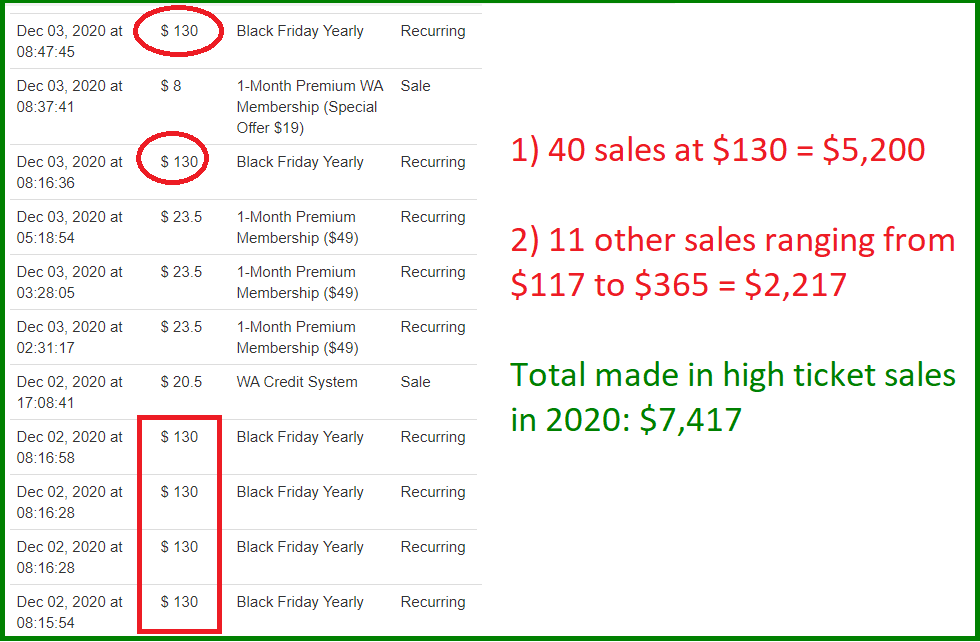 I've been working on this for years and this is why I've been able to make $52,000+ in the process. This is a figure that also is being added to every year.
3) An affiliate coaching program ($198 made so far).
There is a coaching program I started promoting in 2019, but not too seriously because I keep my promotions centered around Wealthy Affiliate, where by the way if you're a beginner to affiliate marketing, you should try it out. I'm offering my personal affiliate coaching with a membership there so if you enjoy my content and want to learn from someone whose experienced at affiliate marketing, I'd try it out.
But anyway, this particular coaching program is one I pay for personally because I use the services to further my own education in affiliate marketing.
It involves getting 1 on 1 help from a very experienced affiliate marketer who has more success than me. Here is his affiliate coaching program if you're interested. If it is too expensive for you, I recommend my personal coaching instead as you'll also get good training through me. 
In addition to getting his coaching, he does offer people the opportunity to promote that same coaching to others. It pays affiliates $99 for the initial sale and then recurring commissions as well. 
I have made 1 sale so far, but that person who bought the offer, stayed around for a few months, so that $99 turned into almost $200. And here is a PayPal screenshot of this payment: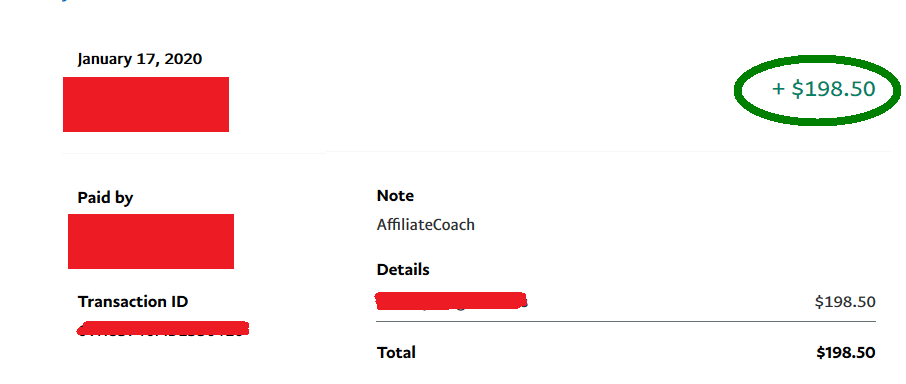 Now there were and are other high ticket commissions I've made but being that these 3 promotions are the ones I focus on most, I'll just leave this proof/resume at that and continue with this tutorial…
The point of these reports is to show you that what I do to make sales in this branch of affiliate marketing works and I'll be showing you exactly how I do it shortly.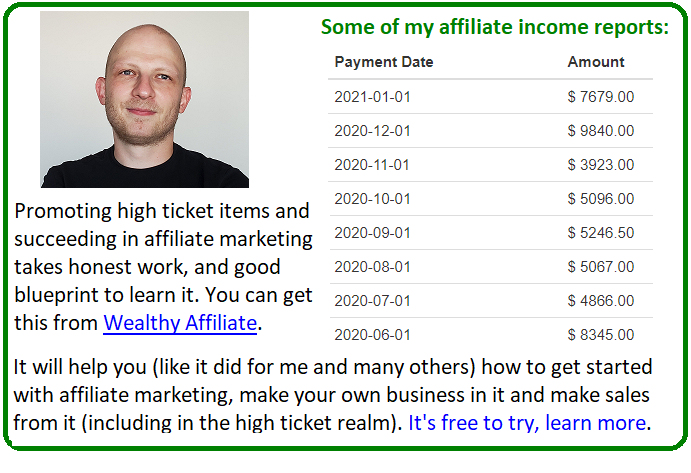 But before I get into the step-by-step process I use to do high ticket affiliate marketing, let me explain a few very important things about this branch of the business:
What is high ticket affiliate marketing?
High ticket affiliate marketing is simply another way of saying you promote expensive things and make big commissions if you sell them.
In the affiliate marketing world, there are 3 classifications of the kinds of commissions you make as an affiliate:
Low ticket (Usually you'll make a few dollars or even less than that).

Medium ticket (Usually $20 commissions or more are classified as medium).

High ticket (I'd say anything over $50 is high ticket).
Now the thing about high ticket affiliate marketing is that it can go far beyond $50. There's promotions out there that can pay you $1,000 or more for each sale you make and it ultimately depends on:
What you promote.

How expensive that promotion is.

And what the affiliate commission rate for that promotion is.
The pros of doing high ticket affiliate marketing:
Getting paid a lot for each sale is certainly the biggest pro.

Making 1 high ticket sale can equate to making dozens of 100's of low or medium ticket sales.

You can potentially make more in your online business with high ticket sales.

If you do affiliate marketing with pay per click

, it's a good way to promote high ticket items there.
The cons of doing high ticket affiliate marketing:
Because they cost a lot for the consumer, you'll likely make less sales overall.

Most people don't really have a lot of money to spend on expensive products.

It's generally harder for the affiliate to make a high ticket sale because of the price.

Many high ticket affiliate marketing programs and opportunities are scams. I'm about to explain why:
A

warning

about promoting high ticket info products (and why I don't do it):
There's a branch of high ticket affiliate marketing I don't engage in and that is selling info products such as make money online programs. I consider it very unethical ways of doing affiliate marketing. 
These particular products offer what some perceive to be the best high ticket promotional opportunities that can pay you $1,000's for every sale you make. 
However, if you look beyond the opportunity, and see the reputation they have, you may also decide not to engage in this branch of affiliate marketing.
Here are 8 major reasons why this may be the case: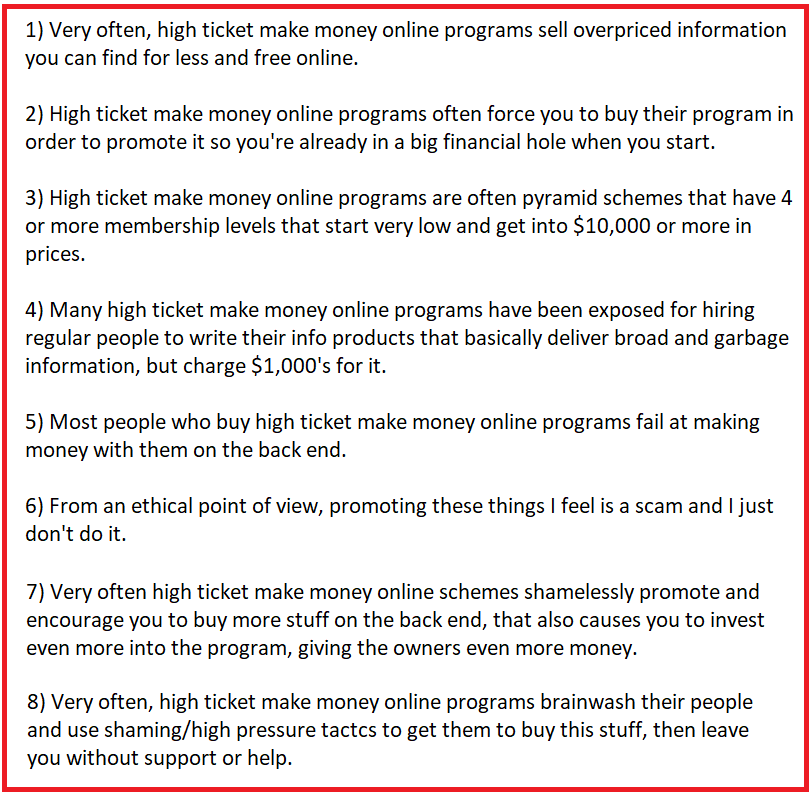 Now if you read those 8 points and wondered if what I promote, which is Wealthy Affiliate and the Affiliate Coaching programs falls into one or more of those 8 points, I applaud you for questioning me, but the truth is these 2 promotions do not fall into any of the 8 categories above because:
You do get awesome help from these 2 promotions.

You get more than just help and are provided with free tools to add to your membership value.

You get unique, high quality training and access to truly professional affiliate marketers and education.

Plus the price is kind of in the grey area of high ticket affiliate marketing (Under $500, for which you get a lot).

And more.
Questions about doing high ticket affiliate marketing:
How do you become a high affiliate marketer?
In order to become a high ticket affiliate marketer, you first need to sign up with one or more networks which have expensive products to promote and then decide if you want to promote that.
What are high ticket offers?
High ticket offers are basically any products or services that are in the 3 digit or higher price range. So a product that costs $500 would be a high ticket offer.
What is the highest paying affiliate program?
Technically, Clickbank offers the highest paying affiliate program but you can also find tons of promotional opportunities in other networks that pay less but cost more for the consumer, thus giving you higher earnings per sale.
The best high ticket affiliate programs to start promoting with:
The beauty is that there's a lot of affiliate programs on the internet which sell very expensive products and services you can promote and make high ticket commissions from. I'll say the following places offer great opportunities:
1) Amazon Associates:
There are countless high ticket products you can promote when you sign up with Amazon Associates and in fact, some of my drone promotions are from there. While the commission rate is low, as long as you promote a very expensive item, that low commission can still equal to big commissions on the back end.
2) Commission Junction:
This is also a great program that is right up there with Amazon Associates and with Commission Junction, you can also get access to tons of high ticket items to promote there too.
3) Wealthy Affiliate:
I suggest this program as the best one to promote if you're thinking of selling make money online/affiliate marketing training. Like I showed you above, my results with the Wealthy Affiliate program are good and I make a majority of my high ticket commissions there. Learn more here.
4) A good article on other high ticket programs out there:
I found this blog post on high ticket affiliate marketing programs that I would classify as good (none of the sleazy kind) and their list is also one to consider.
5) Individual affiliate programs for whatever product you want to promote:
If you are aiming to promote a high ticket product, you'll probably stumble upon more than one affiliate network that allows you to do it and all you really have to do is a simple Google search. I've actually done lists on the following types of high ticket niches (and affiliate networks associated to them):
All of these are high ticket niches with names of affiliate networks that are specific to them and only sell those types of products. All I had to do to find these was a Google search and come up with my own list of the programs I liked out of it.
And also, these 7 affiliate networks generally also provide good options to sell stuff, including high ticket items.
Here is what is truly important about choosing a high ticket affiliate program:
Begin by picking just one legitimate affiliate program.

Then find at least one high ticket item on that affiliate program to promote (for starters).
5 keys to selling high ticket items as an affiliate marketer:
The short story here is that I'll be reviewing the high ticket items I want to promote, but before I pick them out and show you the step by step approach to doing it, here's what I make sure is present:
1) Promote products you know a lot about.
And this especially applies to high ticket items. Anyone who is looking to buy something expensive that finds your review of it, is going to have a lot of questions about that product. If you know a lot about it, you can answer those questions in your review to gain trust.
Ask me anything about the Wealthy Affiliate promotion I do and I guarantee you 99% of the time, I'll have a quick answer for you and that's because I've been promoting this program for years and I know just about everything about it.
And if I am selling you a membership into it, the only way you'd join it is if you knew it would get you results, which is why in my reviews of this program, I'll always show my stats and success stories as PROOF. 
2) Owning the high ticket item you wish to sell helps a lot.
When I did a tutorial on how to do affiliate marketing on YouTube, this was one of the guidelines I specified as being very important. However, in the high ticket world, you'll very often find people who promote the product that don't actually own it.
Now I will say, just like I did in that YouTube tutorial, it is best if you own the product you're promoting because if a person sees that you actually own that product, it will make them more comfortable in buying it, especially if it is already very expensive.
The fact that you show the person you have the product adds huge trust so know how to promote products on YouTube.
And what if you don't own the product? Well there's a couple of options:
Find someone who owns the product, learn about the product and then review it (make it clear you don't own it, be honest).

Specify you don't own the product but say you researched it a lot and point to reviews of people who do own it.
3) Share your personal story about the product. 
A big reason why the affiliate product reviews I make sell is that I share my personal story about that product and how it's impacted me. Anyone willing to spend a lot of money on a high ticket product wants to know not just the specs of the product they are looking to buy, but how they impact the person who already bought it.
Personal stories in reviews create that extra trust you need to make the sale. Talk about the following things:
How long you've had the product.

Why you chose to buy it.

The results you've had after using it.

Proof of the results (maybe it's a weight loss product, show your before and after pic or maybe it's an expensive camera, show the images it produces).
4) Definitely share/screenshot success stories and positive reviews.
You don't just want to share your own personal positive review, but how others are happy with it too. Your personal experiences bears a lot of positive weight on making the sale, but the extra positive reviews, add even more trust to that.
5) Bullet point the pros (keep the cons to a minimum).
Any high ticket item you promote will already be a tough sell because of the price it costs, so giving people quick and positive reasons to get it, such as pros in bullet point form is going to get that confidence level up. 
How to promote high ticket affiliate products step by step:
At this point in the tutorial, you should already have a ton of knowledge about high ticket affiliate marketing:
You should already know what it is.

You should already know about the various affiliate networks you can join to promote high ticket items.

You should already know the pros and cons of promoting expensive products.

You should already be familiar with the 5 key points I listed above to use when you start promoting your first product. 
And now with all this background information already etched in your mind, it's time to start the step by step tutorial:
Step 1: Compile a list of high ticket items you own or know a lot about.
I am pretty certain that you already own a number of items that you like, which cost a lot. List them out.
This starting point is great because it combines the first 2 key points from above together (promoting products you know a lot about and products that you own). Let me give you my example…
I own a bunch of expensive products and know a lot about each one. Here is the list I made:
An Osmo Pocket camera ($350). Commission potential: $30.
An Osmo Action camera ($350).  Commission potential:

$30

.
5 drones ($399, $1,500, $1,500, $1,000 and $700). Commission potential: $30

,

$150

,

$150

,

$100 and $70.
A Samsung S10+ phone ($799). Commission potential:

$50

–$70.
Hypervolt hyperrice (It's a massage tool and it's $400). $45–$50.
A foot massager from Sharper Image ($450). $45–$50.
A back massager ($300).

$30

.
And I could keep adding more items on that list, but this is a good starting point.
Step 2: Filter out the list and see which products are popular.
The popular products are the ones you will want to target.
In my case, just about every product I listed is still popular and there's plenty of ways to check if the list you made has popular products. Here's a few:
Go on YouTube and type in the name of one of the products you listed. If it has many videos and tons of views in each video, it's popular.
Go to Google and type in the name of that product too. See how many search results you get. If it's 10,000,000 searches or more, it's popular.
Go to Google trends and type the name of the product. If you see a large line graph, it indicates it's popular.
Now these are 3 of many research options. If your product is popular, it'll show up as such on one or more of the 3 research options I gave you.
Step 3: Pick one high ticket item out of your list.
This is the one you'll start with to get used to the method.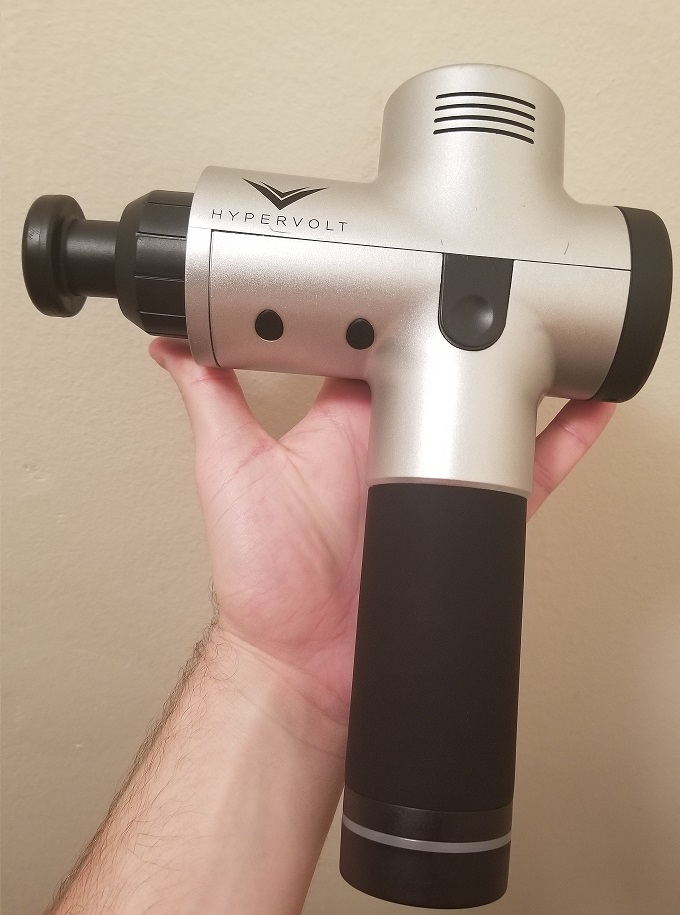 All of those items I listed, I have a lot of experience using and can write up a pretty good review on or even make a YouTube video review. And that's the end goal here. 
You'll want to also make your own list and see which item/s you feel you are most comfortable writing a review on.
For me, I'll choose the Hypervolt Hyperrice (right):
It's commission potential is about $40 a sale, and you can make the argument that it's not high ticket, but I feel very confident in making a review of this product that can sell pretty well and if I can make a good volume of sales, then those $40 commissions will add up very quickly.
Step 4: Sign up with an affiliate network.
And on that network, find that high ticket item you want to start promoting.
In my case (and yours most likely), Amazon Associates will have that item you already own, but through the Amazon Associates program, you'll be able to promote it.
Step 5: Get the affiliate link of the product you're promoting.
Now I have a video about just that with regards to Amazon Associates. Here it is:
In this case, I am using a boxing glove example, but it can be substituted for just about any product you wish to choose, and in my case it'll be the Hypervolt Hyperrice.
Once you get your affiliate link. Save it. 
Step 6: Create the affiliate product review.
There's 2 good ways to make reviews, especially if you're just getting started:
Option 1: YouTube.
You'll make a video/s about the product and let the algorithm do it's work to help that video get views (tips on how to increase that coming up).
Option 2: Creating a blog review.
Blogs will involve having to write a long review post about the product, share pictures, write about your experiences and so on. If you like writing and are shy about making videos, this may be a better option for you.
Step 7: Using the YouTube option.
My suggestion is to begin with this option. It is in my opinion the easiest place to start promoting high ticket items.
If you've never made a YouTube video review, I have a whole tutorial on YouTube and creating affiliate reviews, but I'll give you a summary to explain how I'd market the Hyperrice Hypervolt using YouTube (notice the points I bolded):
I'd record myself holding the product and explain the following things…
My experiences with this product. I'd explain things like…
Why I purchased it (maybe I had muscle aches).
How long I've had it.
The positive results I've had (faster healing).
I'd give bullet point details about it's best pros (lasts long, relieves muscle pain, ect…).
I'd also say how this product saved me money on physical therapy because I don't need to pay for it when I have this product.
If I also saw other positive reviews from places like Amazon, I'd say in the video to click the link in the description to read reviews and that link would be my affiliate link which would take people to the Hyperrice Hypervolt Amazon page where they can read them.
Overall, I'd try to keep the review to under 10 minutes but the main goal is to really get my experiences with this product across and how much I like it. 
Remember, personal experiences, success with the product (results) and sharing how others like the product is the core process to selling affiliate products and it doesn't matter if they are low or high ticket.
Step 8: Using the blog post option.
The blog post approach involves writing out the review of the product instead of making a video (although you can definitely mix both together, and do things like put the YouTube video you made on the blog post).
When it comes to writing out reviews, I also have a whole breakdown of how to write an affiliate product review that sells and in short, every bullet point I created above about how I'd make the YouTube video review of the product is exactly how I'd do it if I were writing the review, although instead of showing/saying it, I'd be writing it.
The only difference is, I'd add pictures of myself holding the product and show things like how it massages muscles on my body. Imagery helps written reviews a lot and I would definitely advise you use it in your reviews.
But again, for more details on exactly how to write a review, read that tutorial about the subject.
It's honestly a practice that is fairly simple to do the more you do it.
Downsides to doing blog reviews: 
Unlike YouTube where by publishing a video, you'd get views almost right away, if you don't have a blog and set one up with a single review, unless you know how to advertise it, it won't get visitors. You'd need to use the next option (step 9) to make that work.
However, if you have a blog that has a lot of articles and is about a year old, then you have a great chance of having that blog review get visitors. 
Blogging is a process vs using the YouTube option, but it's worth the investment and for me, is what pays the most affiliate commissions. Get coaching on how to make a highly profitable affiliate blog and if you'd like more details, learn how I use blogging to do affiliate marketing here.
Step 9: Promoting the product through pay per click.
This is an optional step in the promotion of high ticket affiliate items, but it's still an option I want you to consider, even though it's advanced.
Pay per click is basically a form of online advertising, where you go to one of several networks out there and basically create an ad for the high ticket product you're promoting and link that ad, either to your YouTube video review and/or to your blog review of the product.
The benefit of using this option is that you can get a lot of people who are interested in the product to see your review quickly and in masses, thus allowing you make commissions for that product faster.
I've used pay per click networks like Bing Ads to make lots of affiliate sales. and while there are other networks I recommend using, Bing Ads in my opinion is one of the best PPC networks for affiliate marketers to use.
But the downside is that if your review isn't that good and doesn't make sales, you'll lose money, and I explain the general idea behind successfully doing affiliate marketing with pay per click here.
Step 10: Once the review is set up, create more reviews.
As I said before, practicing selling high ticket items through the strategy above may be something you're shy about at first, but I promise you that if you stay consistent at making these reviews, the way I laid it out, you'll be making more of them, with more confidence and better quality overtime.
Plus you can always remake/redo/improve upon an existing review of a high ticket product you already have with future experience anyway.
But the other big point here is that the more reviews you make, will equal to the more exposure and sales you can make.
Now another cool tip I mention is that you should also consider reviewing products that you aren't promoting, but there is a brilliant strategy that makes this worthwhile and it is explained in this article on writing affiliate product reviews.
It is the section about the golden groups, and #3 is the one you'll want to read about for this.
Things to expect afterwards:
Now it is very common to not see all the reviews you'll make succeed and this still happens to me frequently, but through consistency, eventually some of the videos and blog reviews I set up get a lot of views and sales and that is why you'll want to also stay consistent with your reviews.
And some of the video reviews and blog posts may be all you need to make those big commissions and income.
In fact, the high ticket sales and success stories I shared with you above with the drones and Wealthy Affiliate come from a few blog posts and video reviews I've done. 
For the drones I sold, it was solely through creating reviews on my blog.

For Wealthy Affiliate, it was through doing a mix of product reviews on my blog and creating YouTube video reviews on my YouTube channel.