More on my bio and how I help you succeed at making money online:
Hey thanks for checking out this page! My name is Vitaliy and as I said in the video above, I am a full time online marketer who has been making a passive income from this business for many, many years.
Here is a quick report about some of the most recent stats of mine, before I show I show you others:
In short, this is what I help you do on this website (HelpingHandAffiliate.com) and over the many years since I started doing this full time, I have helped countless people start and begin doing this too (even complete beginners).
Before I get into the details of HOW I do this, let me just explain to you…
A short summary of my long history with affiliate marketing (and more proof of my success):
-A few years prior to discovering affiliate marketing (about 2004 to 2005), I experimented with different ways of making money online, such as doing:
Paid online surveys.

Writing articles.

Creating my own info eBooks.

And basically trying to earn a side income while I was in college.

Get rich quick programs and if you have ever tried one of these, you probably already know how these things end…
Basically every single one of those attempts failed miserably (and I lost a lot of time and money in the process). And this went on for nearly 3 years and I can tell you that these experiences, while at the time were quite depressing, I see them now as blessings and here's why:
It was through these failures, that someone I was in communication with at the time offered me a helping hand (his name is Doug) and he advised I start looking into a method of making money called the Bum Marketing Method, which actually turned out to be another word for affiliate marketing and that's how I first discovered this business.
It took me a few months to understand and start successfully applying this model, and it did slowly lead me to making a side income, all from home, while sitting at my desktop computer (laptops and smartphones weren't really around then).
The breakthrough that took me from making a side income to a full time income online: Wealthy Affiliate.
I found Wealthy Affiliate a few months after I discovered and began seeing success with The Bum Marketing Method.
It's creator was actually promoting that program to me (as one of it's affiliates by the way), and because I had already experienced success with it, I knew I could trust his recommendation and signed up with the program.
It just so happens that the creator of the Bum Marketing Method himself (Travis Sago) became a successful affiliate marketer thanks to the Wealthy Affiliate program and naturally by joining it, I would go through the same training he did.
It was this program that really helped me breakthrough not just to the next level, but several levels higher in the affiliate marketing world. What they taught (and continue to teach) is how to truly make this business become a long term passive income for anyone.
What started as a side income when I joined WA, where good days would have me make close to $200, turned into days where I would hit $1,000's and even more. 
From 2009 to about the end of 2013, I was making a six figure income in this business:
I used the training I received from this program and got involved with major affiliate networks like Clickbank and was also renowned as being a top affiliate for them: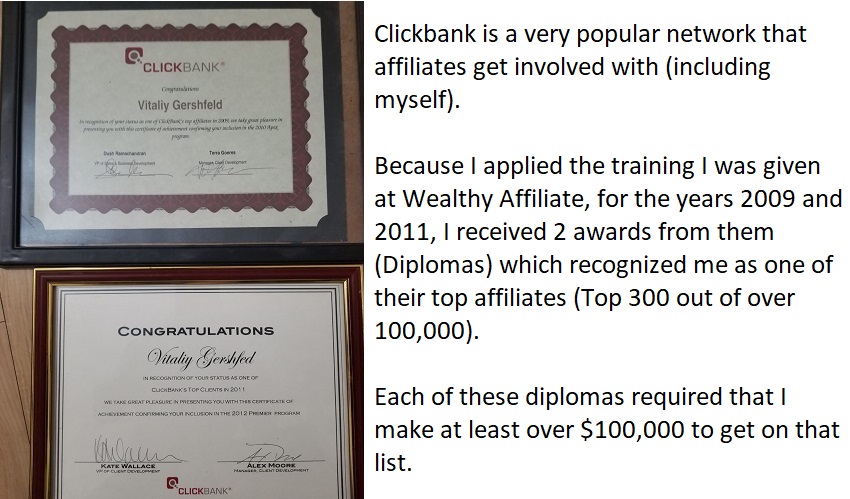 But then a big hit took place in 2013 and I lost everything. Here's what went down:
Complacency and laziness consumed me and the results I was getting from making big money with Clickbank began to die down because the hot markets I was making the money through were starting to cool down and eventually dry out.
But instead of taking the profits I had made and reinvesting them into other affiliate projects and continuing to work hard, I instead sat around, did nothing, and little by little, bills, living expenses, and life drained whatever profits I had made, until I eventually was back to $0.
And this dragged on for nearly a year…
It was at this point, that I went back to the training at Wealthy Affiliate (I had to

start fresh

again).
Because of the lesson I took from making six figure profits to eventually going back down to $0, I vowed never to make the same mistake of only relying on hot markets that had expiration dates to make money with affiliate marketing. 
This time around, when I went back to the Wealthy Affiliate training, I truly committed to doing it the way it was taught, which was showing how to do affiliate marketing and make a long term income from it, by targeting evergreen niche markets that had no expiration date and in succeeding through them, I could create a long term, passive income.
It took me about a year to get back on the successful affiliate bandwagon, but in 2014, I returned.
WA helped me restore my affiliate marketing business and while I had to shift just about everything to get back to success (new website, new projects, new promotions, a whole new effort basically), that ended up carrying me over all the way to today.
In other words, from 2014, to 2019 (and onward), I began to make a truly passive income from home.
Here are my income reports from 2014 to 2020 (they are updated yearly):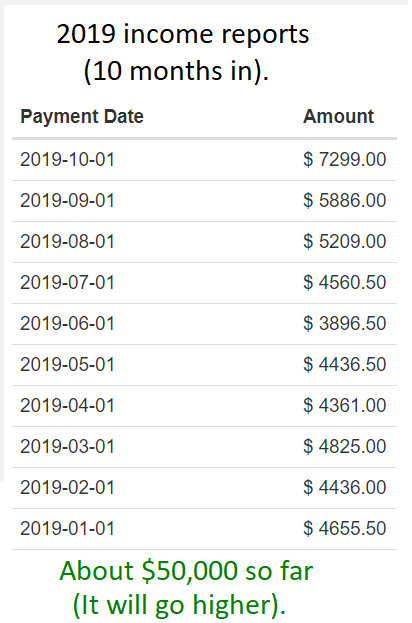 Before I show you these reports, let me first say that the profits I was making prior to 2014, involved me selling weight loss products from Clickbank.
After my downfall, and redoing the WA training, I decided to shift things around and began promoting the WA program itself, which offered me recurring commissions, something I felt was very important (and it is) to make a stable income.
So the following reports you are about to see, a large majority of them are as a result of me promoting the WA program (Just keeping it honest):
For 2014 I earned about $10,000.

For 2015, I earned about $30,000.

For 2016, I earned about $40,000.

For 2017, I earned about $60,000.

For 2018, I made about $70,000.

For 2019, I had the screenshot of it to the right.
For 2020, I'm going to hit about $80,000.
For 2021, I'm going strong and only moving up.
I will include a separate page where I will be listing all of my collected income reports for further proof, that will also be updated for anyone to see, but this is a brief overview of the success I had following my Clickbank downfall.
Update: The affiliate income reports page is up!
The mission of this website is to help you get the same success (without the slip ups I had).
There's no better way I can say is than that. I help you succeed in this business by offering you free advice, coaching and mentoring. 
In my experience, the best people to learn any subject from are not just those who are successful, but those who have FAILED and succeeded after failing, because it's those people who know which affiliate marketing mistakes to avoid and what to do correctly.
That's me when it comes to affiliate marketing.
At this point in this about page, you now know about my history in this business and the things I had to go through to see success.
Because I have seen and experienced so much when it comes to this, I can help anyone (I have and continue to) go from being a total beginner at affiliate marketing to a pro.
HelpingHandAffiliate.com is designed to help YOU avoid those mistakes myself and SO many make when they get into this business and to basically guide you in the right direction to experience the massive success affiliate marketing can bring, if it's done right and this is what I help you do…
And if you listen to my advice and take action, this is what affiliate marketing can do for you:
In short, it can make your life better.
This is something I have experienced and continue to do so because I put in the work to make this business work for me. 
For me personally, here are the benefits I enjoy from doing affiliate marketing:
1) I live debt free thanks to it (College has been paid for, credit cards are paid for, ect…).
2) It has helped me pay for school and despite graduating with a BA, I do affiliate marketing full time. 
3) I get to work from my own home (it's a small studio apartment, but still) and never have to rely on a boss or a higher up whatsoever. 
4) My bills are all paid for. 
5) I have been fortunate enough to climb the ranks of this world and meet some truly amazing people in the process, and here is a picture of myself with 3 other very successful individuals in this business, ALL of which I met through Wealthy Affiliate:
From left to right, you have Jay Niell, one of my closest affiliates and friends.
Next you have Kyle, who is one of the co-owners of the Wealthy Affiliate program, someone who has helped me along this journey more than I can tell you.
Then you have handsome old me. 
Next we have Carson, the second co-owner of the Wealthy Affiliate program, another honest and ethical individual who I am proud to call a friend and am lucky to know.
And then we have my buddy Richard, who helps me from time to time with websites (he's not in this business but he does road trips with me which I've also build a nature adventure blog for called TheNatureSeeker.com).
A quick mention about the Wealthy Affiliate guys:
I've met A LOT of people in this business and sadly, I cannot say that they are all good people. I've made my own mistakes in this business, but I've also run into scammers, and many unethical people left and right who try to screw over others to make commissions. 
It was the guys in the Wealthy Affiliate program who showed me this wasn't how it should be done, and through their actions and selfless help that they offered me and continue to offer their members, I am not only happy to say that there are ethical people out there like these, but I am truly proud to call them my friends and recommend their system to anyone starting in the affiliate marketing world.
These dudes taught me the ethical way to build a business that truly helps people and that information is carried through within this site, through the advice I give you.
One more mention of the benefits of being an affiliate marketer:
I personally enjoy traveling and can freely do so without having to "check" with anyone basically. Here's some of the most recent places I have visited, which were paid for by my affiliate marketing business:
For just 2019 alone, in February, I had traveled much of the western coast of the United States and here's just one of the many spots I visited:
That's a picture I took in Oregon. You should be able to see me on the bottom right of the picture and if you can and are wondering how I got that shot, the answer is via a drone I bought, something that affiliate marketing helped pay for too.
And in late 2019, I took this amazing trip to Canada, where I also saw so many amazing places, one of which was this one called Lake Louise: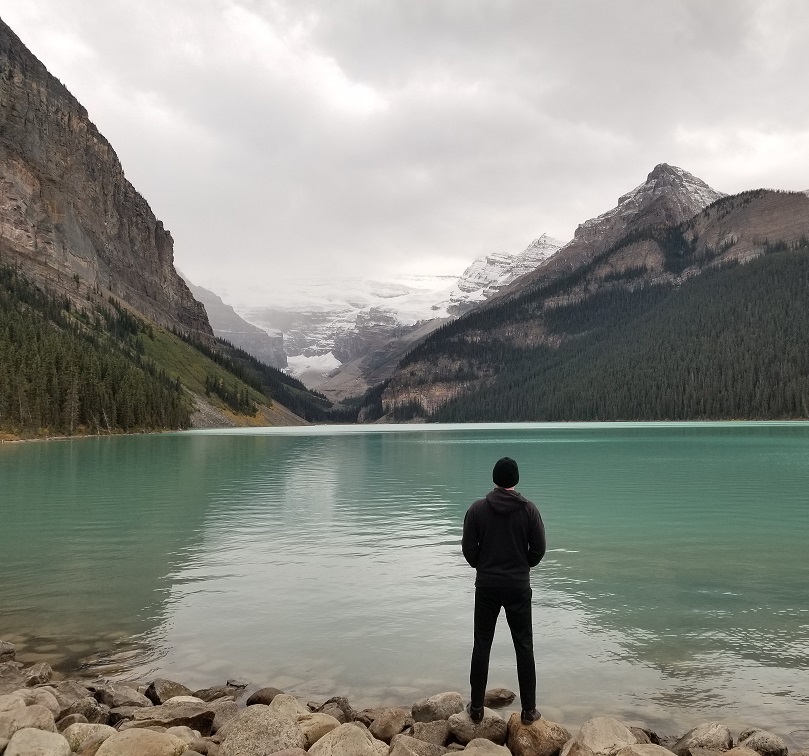 The ability for me to travel freely like this and know in the back of my mind that my affiliate marketing business is there in the background, working for me is something I hope you get to experience one day and with my help, and that is something I will help you accomplish. It is my goal.
You are more than welcome to ask me anything about this business, whether it be on this page or any other on this site and I encourage you to do so, because HelpingHandAffiliate.com is designed for just that.
Here is to your future success in the affiliate marketing world! 
Vitaliy
Creator of HelpingHandAffiliate.com