It's not easy to find a legitimate Wealthy Affiliate review that you can trust and whose author can tell it to you like it is. However, in my honest opinion, this is that rare review that will and it is updated for 2023.
To say that Wealthy Affiliate is a popular program is an understatement. There's countless blogs, videos and reviews out there talking about it and depending on whose review you stumble upon, you may either get the impression that:
It's either the best thing out there for making money online.
Or a heavily critical/negative review.
So what's really true? Well it depends on who you ask and the key is knowing the program in and out and being objective about it.
That's where I come in and here's my Wealthy Affiliate tale: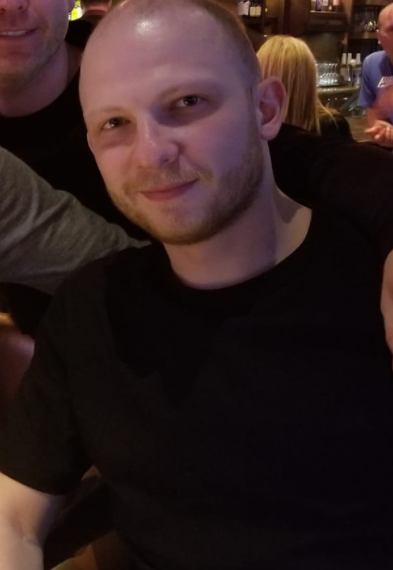 I'm one of it's oldest and most successful members and while that may make you think this review is going to be biased, it won't. Here's why:
While the program works and I have a lot of proof to showcase that (coming up), here's the bottom line:
I've been with Wealthy Affiliate for 14 years (now actually 15 since this post was originally written), have done very well for myself have seen COUNTLESS people walk through it's doors.
To the right people

, this program might be the best place to make money online with.
And in fact, there are many success stories in WA (including mine) where that is the case. I'll be showcasing this all throughout this review.
The success stories are people from all walks of life: Students, single parents, retirees, army members, truck drivers, teachers, stay at home moms/dads, you name it. In fact, here's one of the success story screenshots I have to share with you: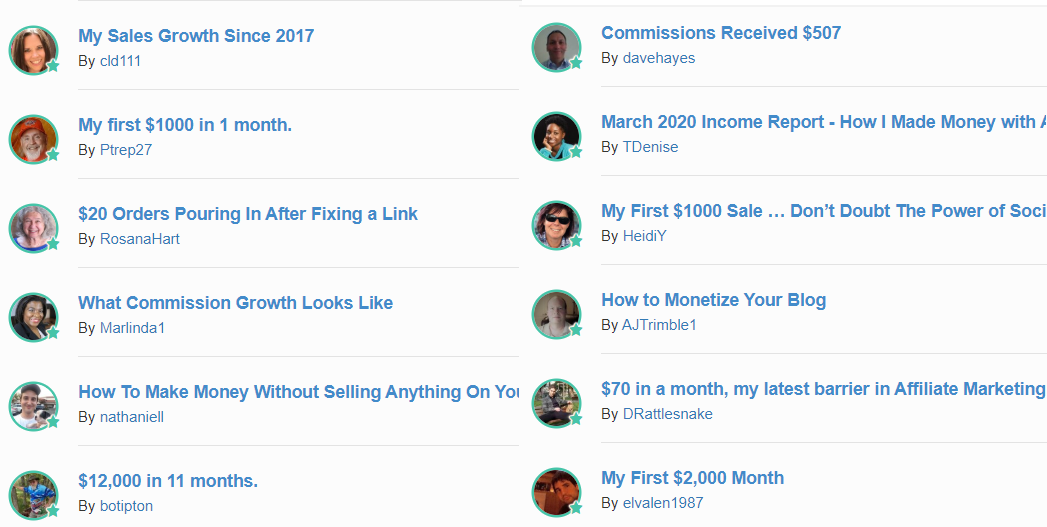 Me personally:
I make a full time income with this program.
I run my own home business and reached a point where WA has helped me make money while I sleep.
I have $0 in debt (college, credit cards, ect…) and I live a financially free lifestyle and am happy.
And I can tell you with 100% certainty that is something that WA can also do for you (if you actually apply what I'll share with you in this review).
But for the wrong people

, it could just be a waste of time and money.
There's lots of different people who come to WA, and everyone has their own subjective views, work ethics and so forth. Controversies aside (which I will address later in this review), what I've unfortunately found is that most people who don't succeed with WA have this happen not because of any shortcomings in the program, but really due to themselves as they simply do not want to work hard, they cherry pick, don't use the training properly and as a result, they fail (Is it really a surprise?).
My job in this Wealthy Affiliate review is to help you understand 3 main things: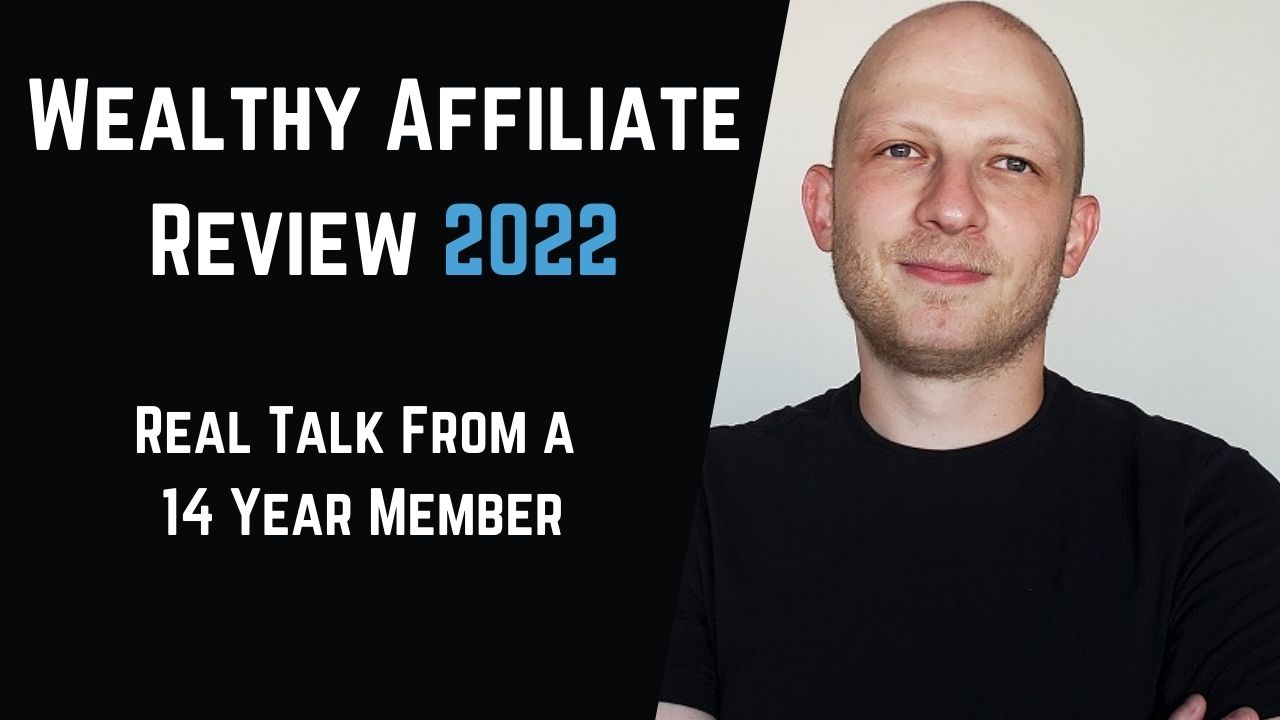 First, I want to show you everything you need to know about the program.
Second, I want to address the pros, cons, controversies and so forth.
Third (and final), to help you decide if Wealthy Affiliate is right or wrong for you.
The truth is, I am promoting this program, but at the same time, I don't want you to waste your time and money if it's not for you. But if it is right for you and you do join, I want you to know exactly what to expect and to do in order to become it's next success story and in this review, I'll also show you how I can personally help you do that too.
So if you're someone who is mildly serious about the Wealthy Affiliate program and making money online for a living, do yourself a favor and:
Read and watch this review of Wealthy Affiliate FULLY. Trust me, it'll actually jump start your success there (I'm not joking).

Let's begin:
First, here's my personal (video) review of Wealthy Affiliate: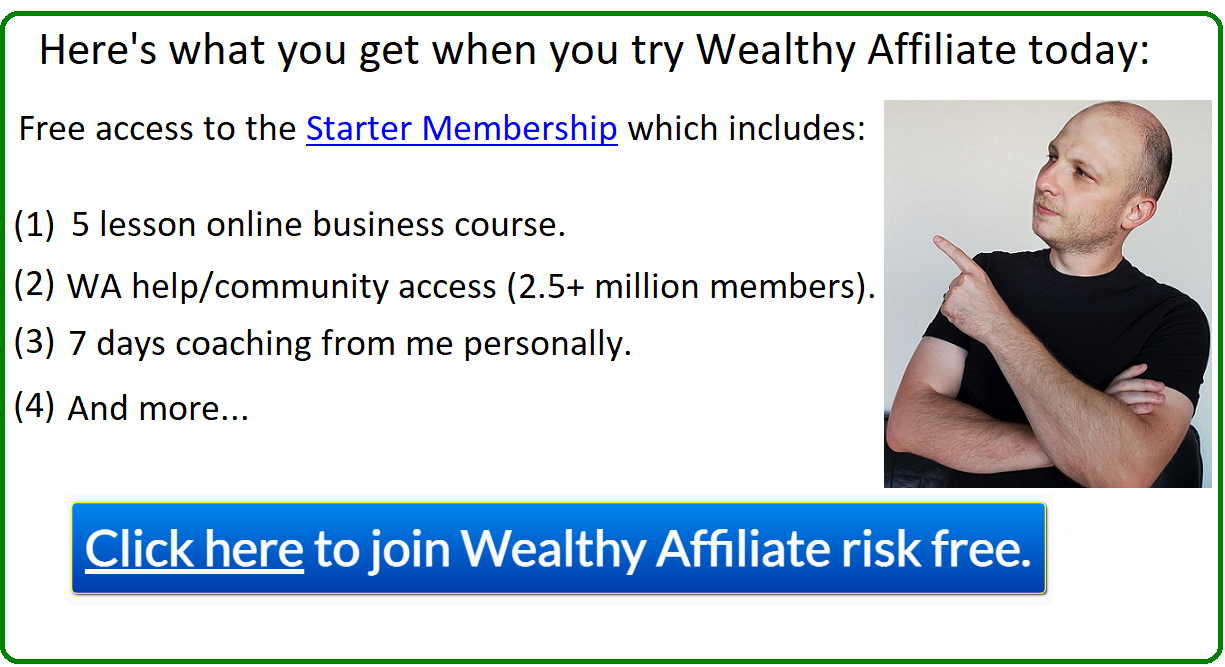 Now that video is one part of this whole review. But if you'd like to know even more, this is where part 2 of the review comes into the picture. In this section, I'm going to be going over everything about Wealthy Affiliate (more income reports, more success stories, details on how it all works, controversies, literally everything folks). So let's begin:
Wealthy Affiliate info:
Name: Wealthy Affiliate.
Owners: Kyle and Carson.
Price: Starter ($0), Premium ($49/month) and Premium Plus ($99/month).
What does it teach? Affiliate marketing, blogging and a lot more.
Success stories? Tons (more than any other program and I'll show you proof).
Tools, support and help included? Yes.
My rating for Wealthy Affiliate:

5 out of 5 stars

Recommended? Yes.
The Wealthy Affiliate program works but that's provided you apply what they teach and work hard. Combining that with the training there can provide limitless success (and there are many success stories which show that, more coming up in fact).
Pros:
You can try it free.
Beginner friendly step by step training (doesn't matter if you have 0 experience).
Tons of success stories.
Easy to use tools provided (hosting, keyword tool, ect…).
Helps you make an ethical online business based on your passions.
Excellent 24-7 support and help.
Expert coaching included (I'll show you how you can get my 1 on 1 help shortly).
WA has been around longer than any other program in the business.
Owners of WA are very ethical dudes (I know them personally).
Great program for learning blogging, affiliate marketing and more.
WA provides members with more benefits than any other program I've personally seen.
Cons:
No get rich quick scheme here (if you're lazy or looking for shortcuts, forget it).
Results usually take up to a year for most success stories.
Some training may require updates.
I'll address the individual complaints and rumors below in a separate section of this review, because some aren't really cons, but misconceptions people have about WA.
Now all of this I just shared basically gives you a 30,000 foot overview of Wealthy Affiliate, but again, I urge you to read this review fully, because this is just the tip of the iceberg.
My personal success story with Wealthy Affiliate (a 17 year journey):
When I first joined Wealthy Affiliate, it was 2007 and it was nearly 3 years into a failed journey of trying to make money online. Without getting into the details, here's what my bad experiences looked like:
I found one get rich quick program after another (and got scammed each time).
I was also lazy and trying to find shortcuts many times (that's totally on me).
And on top of this I was a broke college student not knowing what he wanted to do in life. That combined with all the failure I had trying to succeed online really weighed on me. I had a few sparks of success here and there, but 99% of my efforts didn't work out.
However, as much failure as I experienced online, to me, working a normal dead end job and absolutely not wanting to live a life like that, I kept believing that there had to be something online that I could find to help me succeed in this business, and eventually my persistence was rewarded: I found Wealthy Affiliate.
Now the great news was that I had finally found a program I could trust.
The "

bad news

"

though was that I still had to start from 0 and build things up.
It took me another 6 months of procrastination, but I finally began doing the training and a few months after that began seeing more consistent results online (this was in 2008). And that leads into the following:
Here is a year by year breakdown of my success with Wealthy Affiliate:
From this point forward, what I want to do is provide you with proof of my success year after year following what I had been applying in Wealthy Affiliate.
Note: What you'll notice is a fluctuation of profits year after year and I want to share some details on this and what to expect in this business if you have serious intention of making a long term income doing this (which is totally possible) and that is this:
You will have ups and downs in your online business, but one of the things that Wealthy Affiliate is awesome for is helping you establish a recession proof business that can withstand difficult times and you're going to see that with my personal income reports.
Let me preface this by saying something very important: I actually don't like doing this sort of "let me show you how much I make" but at the same time, this is a review of Wealthy Affiliate where I have to show proof it works, and thus I have to do this.
But this is in no way meant to be me "showing off". I am doing well, but I can do better and this is the program that's helped me get to this point and will help me go further. And yes, you can achieve this too:
2008-2013 income report (I'd earned over $350,000):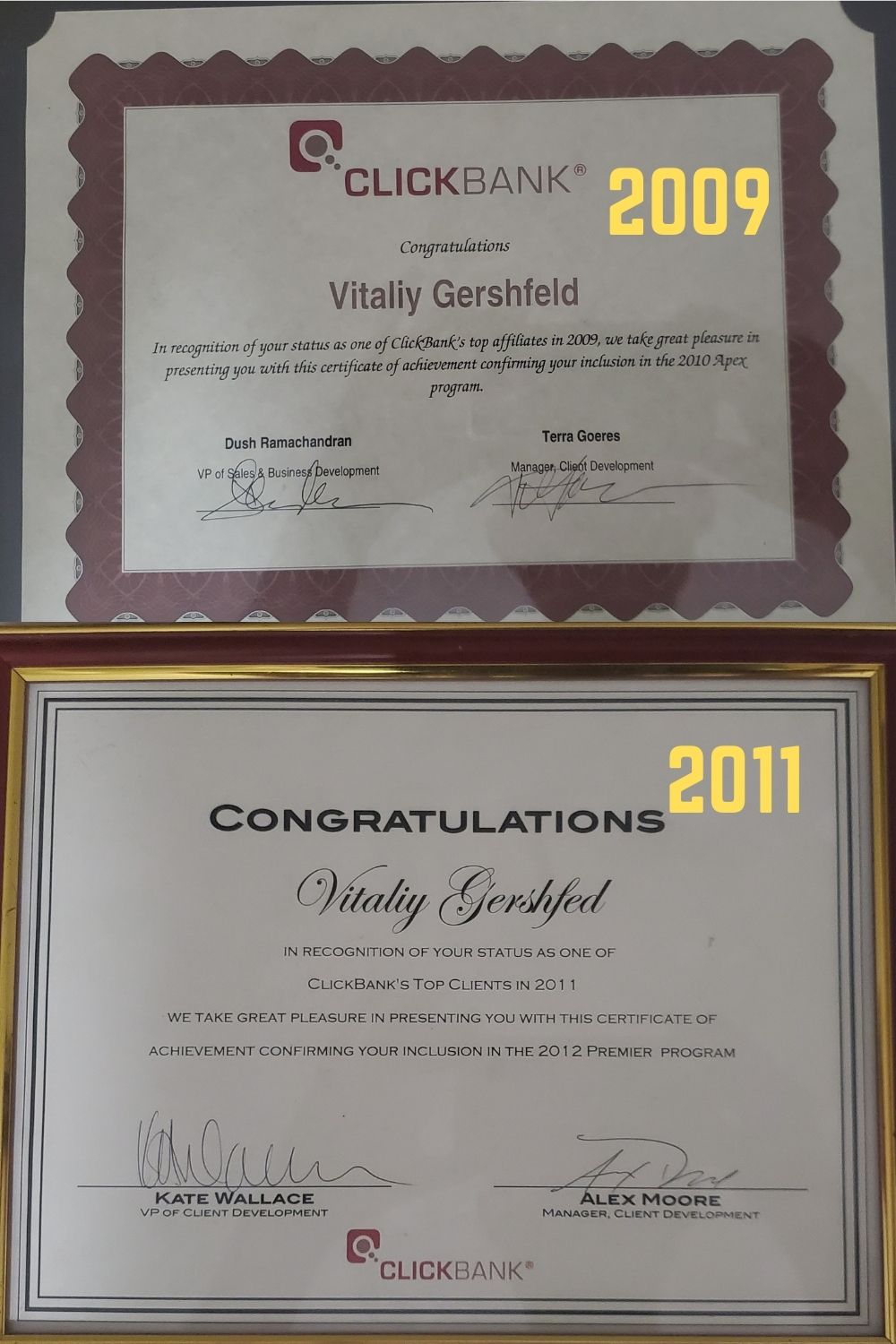 Just so you know, I only officially began keeping track of my income after 2014, even though I had officially started the WA training in 2008. The reason why I didn't keep track of my success during these 5 years is because:
1) I wasn't promoting WA at the time: I was promoting diet products as an affiliate on Clickbank, so I had no reason to do it.
2) And second, I didn't think I'd ever do this for the long haul. To me, the money I'd been making online for these 5 years was meant to help me pay for school and be a segway into a "normal career" later on in life. At the time, I just didn't think I'd ever make this a full time career (I'm glad I was wrong about that).
But I do want to provide you with proof and so what I've done is attached 2 diplomas I'd received during this period from Clickbank:
Basically these diplomas indicate me as being one of their top affiliates (on 2 occasions) and the minimal threshold to get even one of these diplomas is you have to earn over $100,000 in a year as an affiliate for Clickbank, which I did, twice.
2014 and mostly 2015 income report (About $30,000 earned):
Most of the income made here is from 2015 and you may be noticing that compared to previous years, there was a steep decline in profits. So what happened?
Well there's several things that occurred, but they were basically situations that were out of my control that forced me to change up what I was promoting and how I was doing it. Fortunately, the good news was that because I had already had so much experience from my previous success, I already knew what to do to get back on the wagon. The only thing is, it would take me sometime to do that, and you'll notice in the next year's report, the climb continued.
2016 income report ($70,000 earned):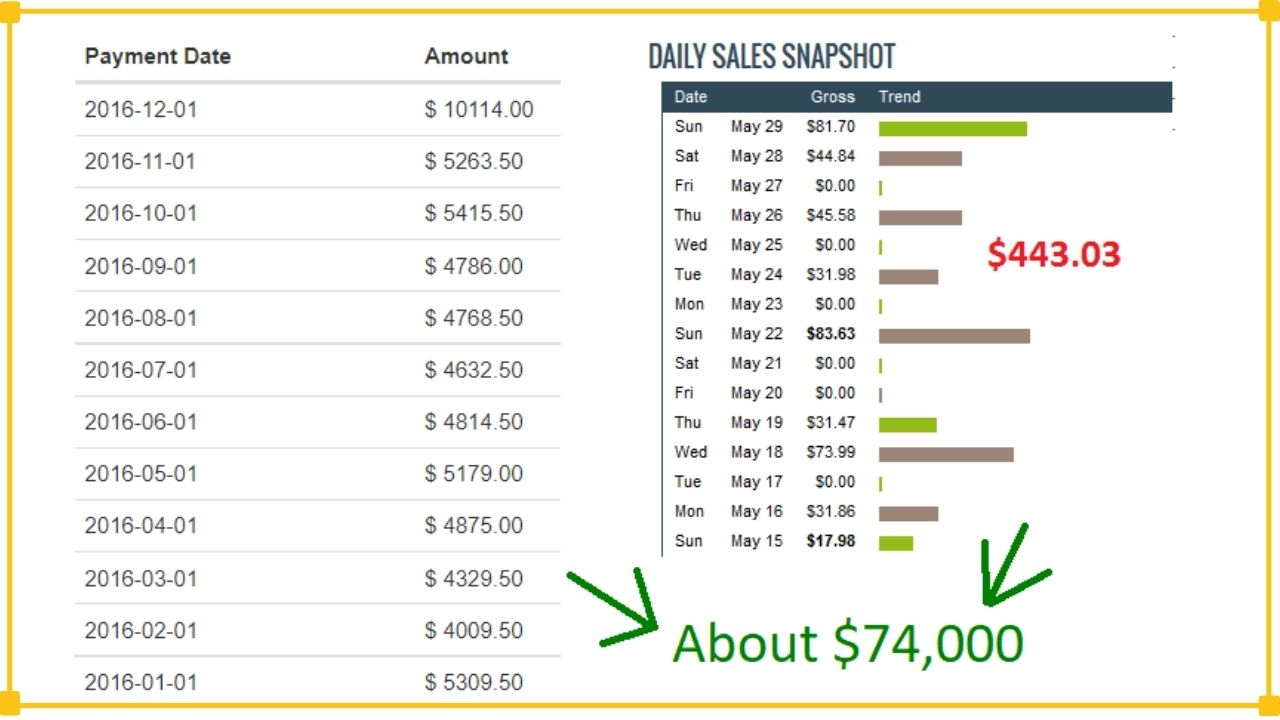 2016 ended up being quite a successful year for me. I had began to switch from promoting Clickbank products and products from other programs to promoting the Wealthy Affiliate program.
One of the reasons why I'd switched to doing this was because I already had a lot of packed experiences and success from the prior years to showcase why this program worked and to help others find it too. I can't deny that their affiliate program also better fit with my goals to make a more consistent, long term income.
2017 income report ($60,000 earned):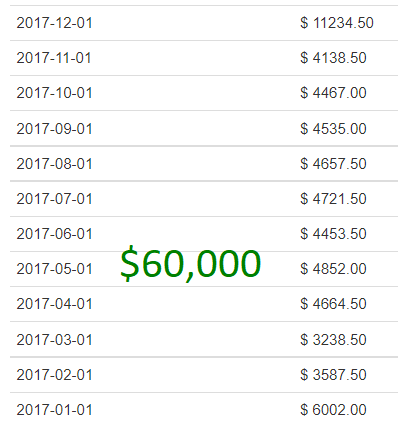 As you may notice, profits went down $10,000 over 2017 and I want to explain why that happened:
Firstly, I decided to focus pretty much entirely on promoting Wealthy Affiliate, so naturally effort in other promotions led to less profits being made.
Second, I had gotten a bit lazy.
Having worked a lot in 2016 to earn those numbers made me very lazy in 2017 and one of the consequences of not working hard is that it affects you in the long run, so for 2017, my sales did lag a bit, and I blame myself entirely for it.
However, $60,000 in one year is still a full time income for many people, so I'd be a fool to complain. If nothing else, this was a wake up call for me to get back on the wagon and work hard (and in the next year I did).
2018 income report ($65,000 earned):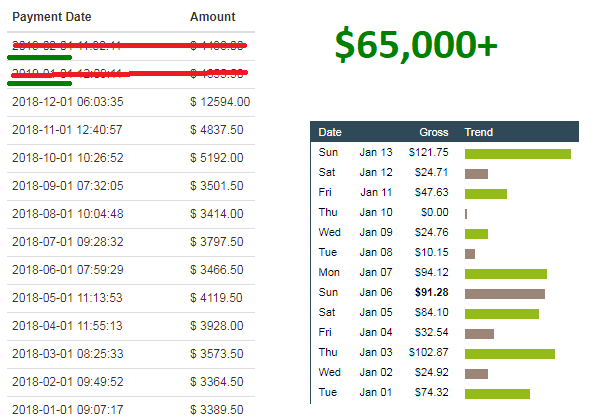 2018 brought a bit more in profits, but there were certain situations that occurred which capped my success. Never the less, I continued, reapplying what Wealthy Affiliate taught and continued earning as a result.
One thing to note is that what you're building in Wealthy Affiliate is a legitimate business and anything like that will have it's own up and down periods. Fortunately if a down period happens, the key is to keep doing what worked before, being patient and it will climb back up.
2019 income report ($66,000):
2019 may not have seemed like a big year compared to 2018, but like I said, I did wake up and worked harder. One of the things the Wealthy Affiliate program teaches is being consistent (I'll get to the details of what exactly it teaches very soon), but in this case, consistency involved me blogging much more on a main site I still run to this day that promotes the Wealthy Affiliate program.
By doing this heavily in 2018 and in 2019, I was basically "planting seeds" in the online business and they would really start to flourish much more in the latter half of 2019 and if you analyze the income reports for this year, that's exactly what ended up happening.
Because I'd already been through this process before more than once, I knew I had to keep my head down, keep working and knew that eventually my hard work would pay off. And that's what you'll notice in a moment when I show you the income reports for 2020, despite what ended up happening that year.
2020 income report ($76,000 earned):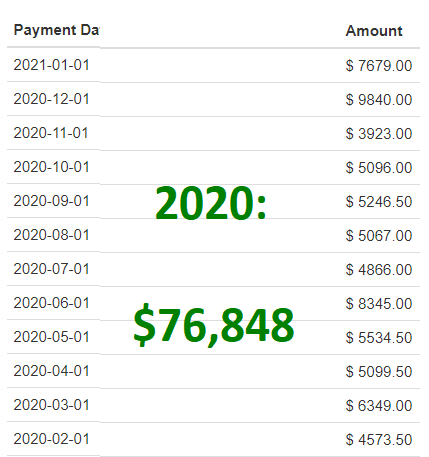 I don't need to get into the details of what the world experienced in 2020 (we all know what happened), but ironically enough, my online business grew more during that year than the few years prior. One of the reasons why was because the work I'd been putting in the years before was starting to marinate (seeds were sprouting).
And in all honesty, income wise, I was very fortunate to experience growth in 2020, despite all the stuff going on and in many ways, it was a blessing considering what so many people had to go through during this year.
But to be honest, at the same time, I did face a lot of external negativity because there were a lot of challenges in 2020, not just in the business world many of us had to deal with.
Never the less, I'd taught myself to remain optimistic and push ahead, and to be honest, that's really the most important thing you need to do anytime there's a negative influence affecting your life! Optimism and working towards your dreams will really help you get there folks!
2021 income report ($80,000+ earned):
In 2021, I had a lot more personal obstacles to overcome, but on the flip side, my online business profits were pretty stable (as you can see). Furthermore, I made an important decision in 2021 to grow secondary sites/blogs and other online projects using the Wealthy Affiliate training to diversify my income.
Without getting into too many details, here are some of the things I began doing:
Started a travel blog that promotes outdoor products via affiliate marketing.
Began doing paid advertising for my promotions.
Began monetizing my YouTube videos more.
These 2 additional projects added a bit of extra income on top of my main report you see here and my estimate for total revenue is about $80,000 for this year, but those extra things I just mentioned are still in their infancy stages.
And in 2022, I plan to focus a lot of time in "watering" those new branches of my online business and adding to it. The goal is to reach consistent six figures yearly and consistently grow my income from that.
New: 2022 income report (Nearly six figures earned!)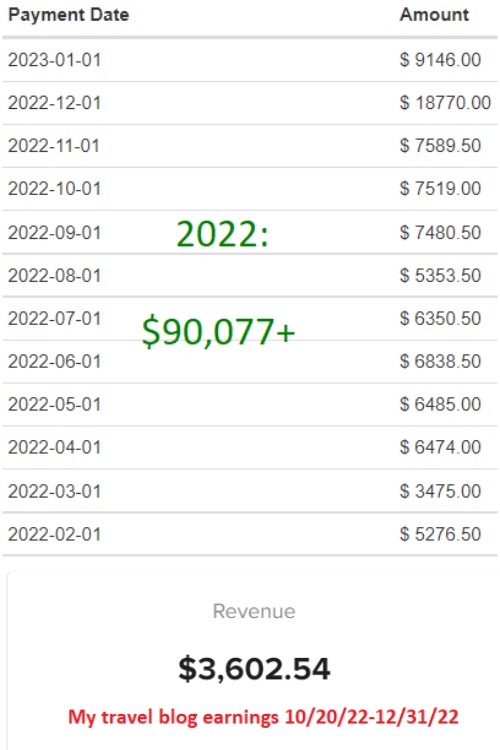 Over 2022, there were 3 main income generators for me:
1) My promotion of WA. I have posted the income reports right next to this ($90,000+).
2) My new travel site started generating a decent income after late October 2022 ($3,000+ to the end of the year).
It's basically a secondary income generator I started building a few years ago, but heavily grew it in 2022. I talk about it more below. It does not promote WA and makes it's money through affiliate products (in the outdoor niche) and display ads from a place called Mediavine.
3) I also made about $1,000 from being an Amazon affiliate.
Overall I am continuing my growth of promoting WA, but heavily focusing on growing my travel site so it's earning it's own full time income this year.
Again, the end goal with WA's training (for me at least) is to generate multiple forms of income. I am also getting into the freelance world in that I am going to be hiring people to grow new websites for me as investments for future stuff.
And again, this is thanks to the WA program. And just as well:
Here's another income report from other Wealthy Affiliate success stories: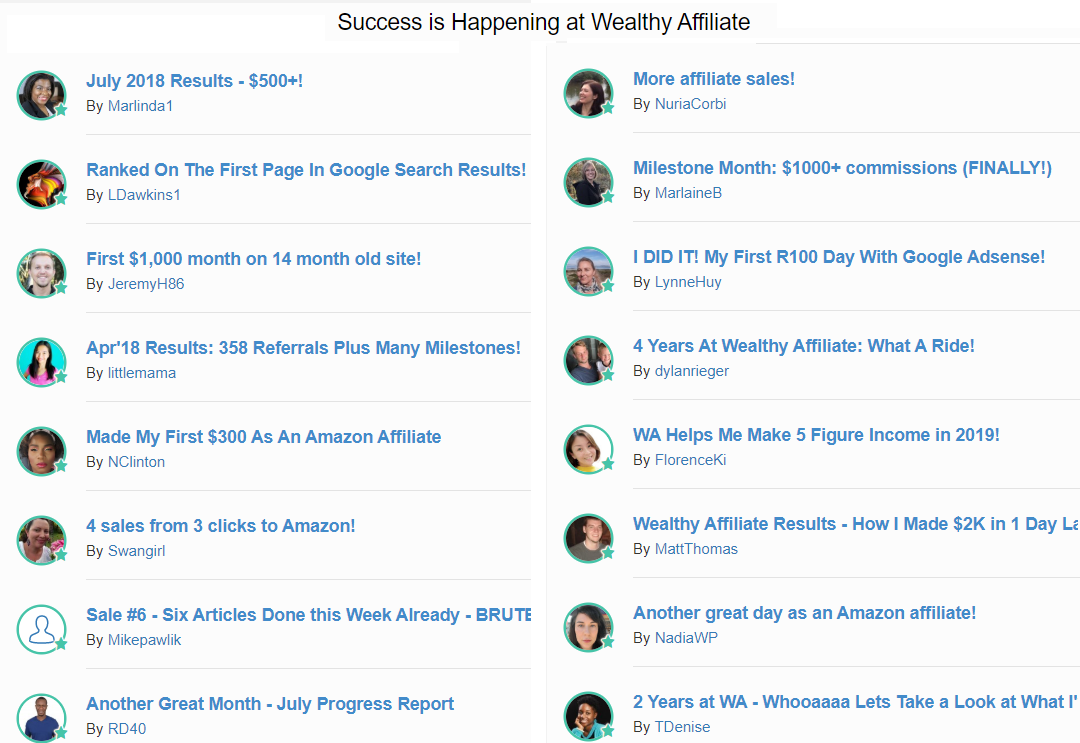 So now that I've shown you years worth of my personal income reports (and other success stories), it's time that I dive into how the details of how this all works and for that:
Let's go over the training in Wealthy Affiliate (what to expect):
There are 3 primary training courses in the program:
1) First up, there's the Online Entrepreneur Certification Course (OEC):
The OEC program is a course that helps people create profitable (long term) blogs in any passion they have in life.
Students in this course select a topic they love in life, create a website for that topic (WA supplies you with this), drive visitors to the site and then make money off those visitors via affiliate marketing or other methods taught in the course.
In my experience, the OEC course is perfect for 95% of people who join Wealthy Affiliate (especially beginners), because MOST people have some sort of passion or hobby in life and through the OEC course, you can take that passion and turn it into a REAL online business.
There are 5 levels to the OEC course, with 50 lessons in total. Each lesson is VERY comprehensive and has a lot of awesome information in both written and video form. In addition, every lesson in the OEC course comes with a list of tasks to complete.
The beauty of this is that you're creating your online business incrementally (piece by piece) and by following the flow and sequence of the training, you're never lost on what to do next.
Are there success stories of people using the OEC Course? Absolutely:
Here are links to specific success stories of people promoting all sorts of things through the WA program (and not WA itself):
All of these people are members in the WA program using the training to promote different things and if there's any link I highly recommend checking out, it's the first one that shows over 70 of them.
2) Second, there's the Affiliate Bootcamp: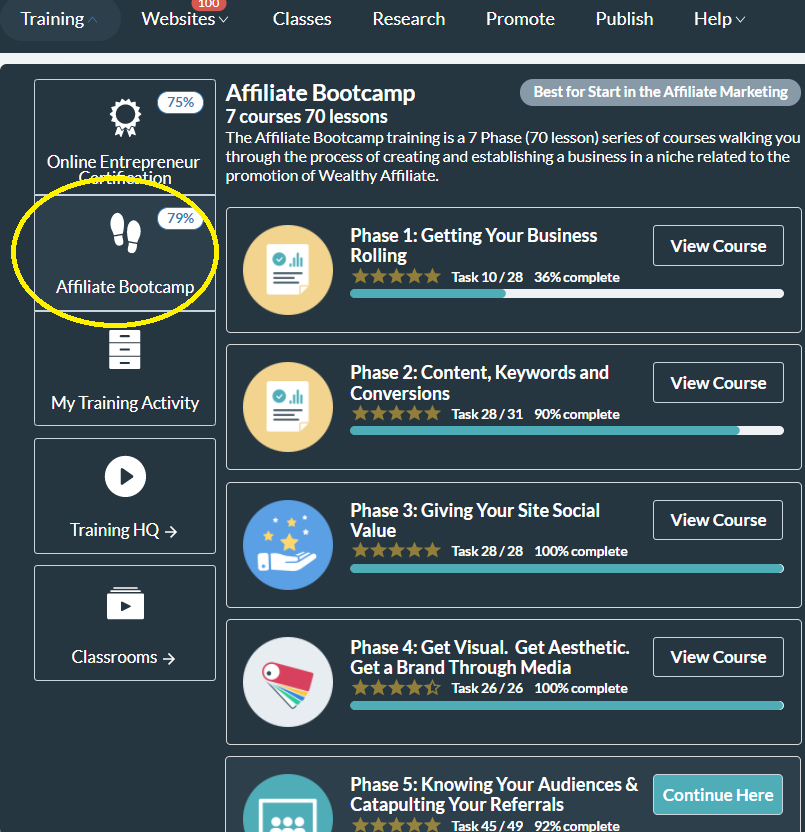 The Affiliate Bootcamp is basically a course that helps you become an affiliate for Wealthy Affiliate. In many ways, the Affiliate Bootcamp course works the same way as the OEC course does (choosing a topic to make a profitable blog on), but in this case, you are choosing a topic that is related to making money online (or something similar), and learning to promote the Wealthy Affiliate program through the topic.
There are 7 levels to this course (called phases), with 70 lessons total. Like the OEC course, each lesson in the Affiliate Bootcamp course is also very detailed and comprehensive and also has tasks to complete.
People who are not exactly sure about which topic to build an online business with can just start promoting the Wealthy Affiliate program through this course. There is also the option to first create a successful blog site with the OEC course first, and then as a second site, move into creating an Affiliate Bootcamp site.
Are there success stories with people using the Affiliate Bootcamp course? Absolutely:
In fact, there are a lot of Wealthy Affiliate promoters out there and this actually happens to be associated with one of the complaints I'll address later in this review.
Also I want to point out that the Affiliate Bootcamp training can (and is often used) to promote programs other than Wealthy Affiliate. For example, a lot of WA affiliates also promote things like Legendary Marketer and Clickfunnels (successfully I might add).
I personally choose not to do that, but the fact is, the training is flexible to promote anything whether you choose to promote WA, something else, or a mix of things, the Affiliate Bootcamp gives you that ability.
Side note (and a fun fact): Did you know that Russell Brunson, the creator of Clickfunnels actually got his start in Wealthy Affiliate? It's true.
Another very important thing to know is that there are many private success stories in Wealthy Affiliate who just work on their business behind the scenes and elect not to share their results, which I also happen to think is totally fine.
3) Third, there's the local marketing training: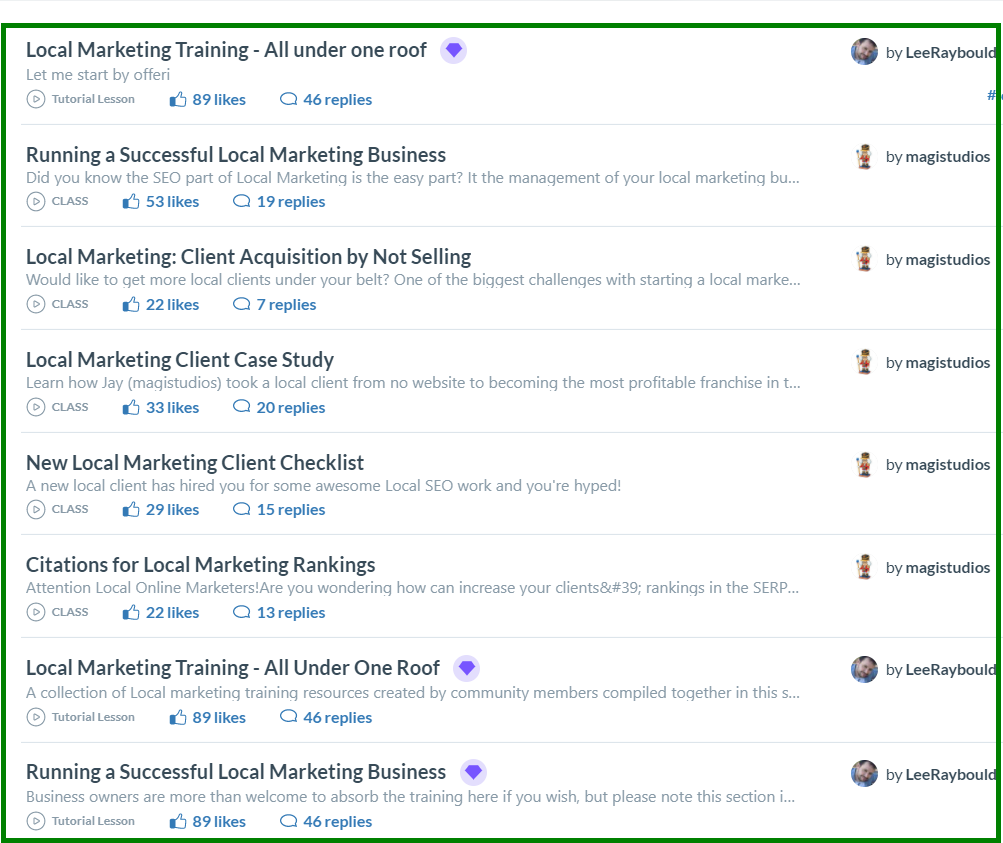 Local marketing is a business model where you are basically someone who finds physical businesses that need help marketing that business online and offer your services to them. This can include creating a website for them, handling their marketing so they get more clients and/or fixing their existing site/marketing to help their business get more leads/success from the online world.
For example: You find a local coffee shop and they hire you to make them a website and market it so more people who search up coffee shops in that area find that specific one.
Local marketing is a very lucrative business and there's actually a lot of high ticket programs outside Wealthy Affiliate which teach it, but they literally cost (at least) over $1,500. In Wealthy Affiliate, you get that same training for way less (I'll show you momentarily).
There are 10 classes in the Wealthy Affiliate program that teach you local marketing and they are hosted by a very successful local marketing expert called Jay who happens to also be one of the biggest success stories in the WA program as a whole.
Are there success stories with people using the local marketing training in Wealthy Affiliate? Absolutely, but there's few public ones. Here's at least one:

I've personally done local marketing work thanks to the training here and know a few people who have gone out and started their own companies (local marketing) helping clients and businesses succeed online. Local marketing work can truly produce you a side or serious full time income if you have enough clients and you can charge $100s and even $1,000s for the work you do (per client).
Additionally, here is a link to Wealthy Affiliate's Trustpilot page where the average rating for the program is nearly 5 out of 5 stars.
Which training program should I get started with in Wealthy Affiliate?
Start with Wealthy Affiliate's OEC course (it's free to try). Not only is it the MAIN one in the WA program, but it's also specifically designed for beginners to guide you to correctly choose which direction to go (Stick with OEC, move to affiliate bootcamp or something else depending on your goals).
Most people who get into Wealthy Affiliate are brand new to all of this and understandably are nervous or unsure about how and if this all works, and so the OEC course is perfectly designed to help you overcome those doubts and little by little, create your online business.
A preview of what happens after you join Wealthy Affiliate: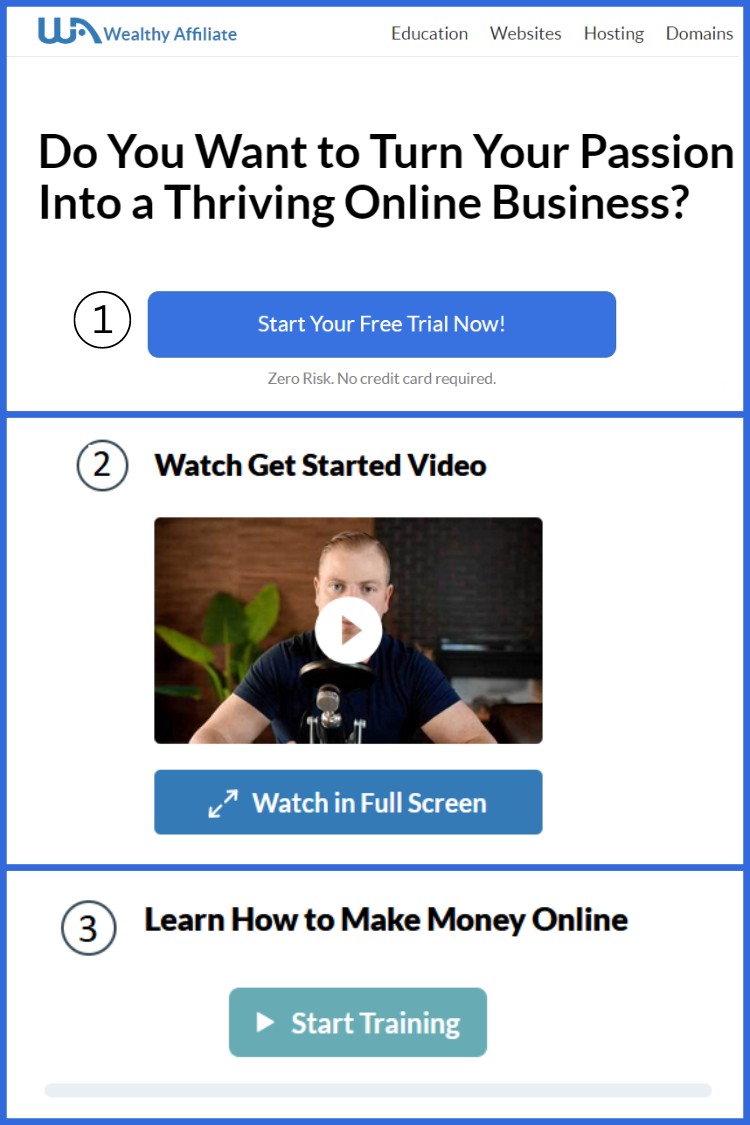 If you decide to join this program, I want to show you what to expect from the moment you sign up:
1) The first thing you'll be doing in the program is going through a welcome tour that is hosted by one of the creators of the program (Kyle). I'll talk about him later in this review because it's also very important you know who you're learning from.
2) Then you'll be taken into the main OEC training where you'll be introduced to the program and will get started with lesson 1. Kyle is the person who runs the 2 main courses in the WA program (OEC and Affiliate Bootcamp).
3) As you go through every lesson step by step, you'll be building an online business, whether as a niche website in a topic you love, or doing the Affiliate bootcamp.
4) You'll be creating a website in level 1 of the training. As you continue the training and build up your site, what's going to happen is that your website will be indexed by Google (placed in the search engine) and overtime attracting visitors by ranking for popular key phrases people search up on Google for the topic your website is based on.
5) As the website grows, more visitors will find your site, and what you'll be doing then is promoting relevant products to those audiences and the more people who visit your, the more sales you'll make.
6) You can then scale your site by further growing it using what Wealthy Affiliate teaches, and/or you can build up a secondary site or try one of the other main courses.
7) Slowly but surely, as you do the training, you will be building up success piece of piece and becoming a knowledgeable marketer. The skills you gain from this training can then be replicated again and again, whether on one site, multiple ones or for other marketing purposes to keep growing your overall online business. Click here to begin your Wealthy Affiliate journey.
Another Wealthy Affiliate success case study (a travel blog I run):
This is my travel blog I made using the WA training and what I do is promote outdoor related products on it as well as run ads. Here is a quick explanation of it:
It's a travel blog and in 2022, it received nearly 400,000 visitors (sessions).
I started really monetizing this site in October of 2022 and since (a few months), it's generated nearly $3,000.
Here is the proof: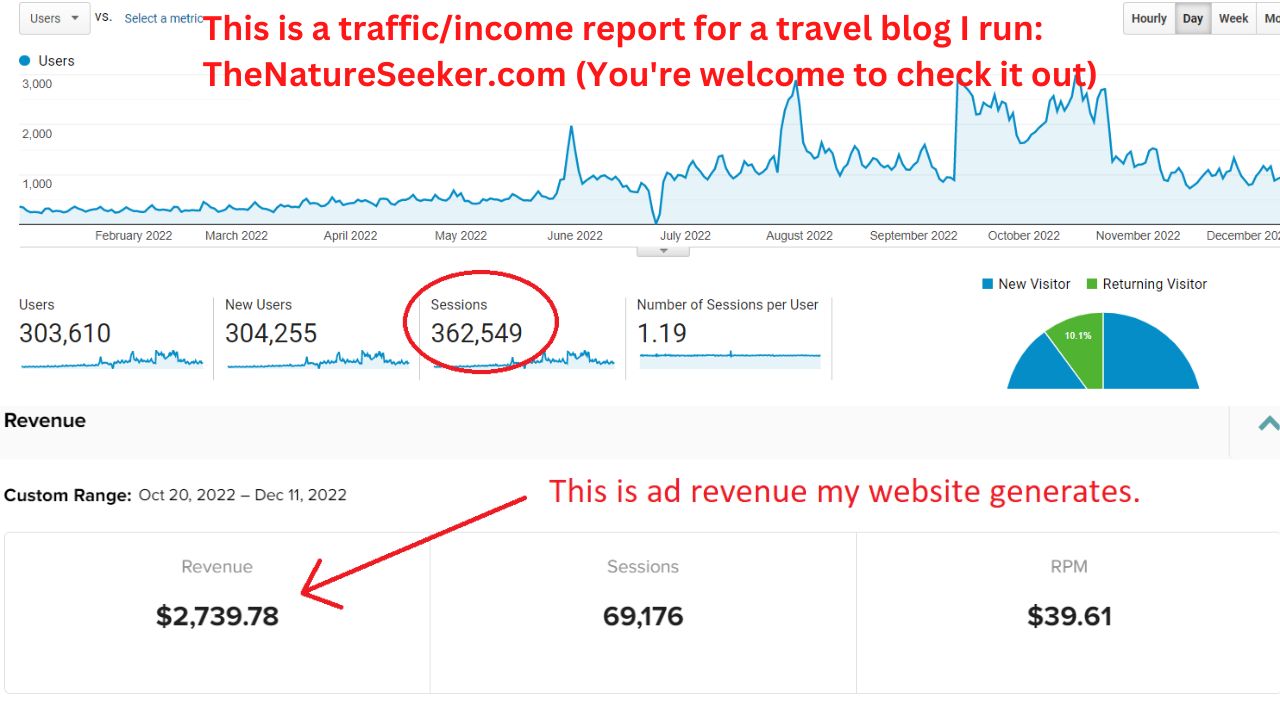 This website is also making me money daily and this is also growing. In 2022, this website began to really grow in many ways:
First the traffic rose (it does fluctuate, but that's normal for any site in this business).
Second, the income is rising and growing because so is the site (it's a proportional success).
Third, I am focusing a lot on this side project in 2023 and growing it.
This website applies the WA training and it's another branch of success added to my online business.
Try Wealthy Affiliate risk free here and start making your own success website today!
What to expect as you implement the Wealthy Affiliate training (how much you can earn):
What I want to do in this section of the review is explain a type of "what to expect" as you start doing the Wealthy Affiliate training so you have a preview of your future online business can look when you properly do what this program teaches.
The first thing you need to understand is that whatever training course you decide to do:
1) It's a step by step process and it takes time to work. And the slower you do it, the better it'll be because the better quality business you'll be building.
2) I would honestly advise investing at least 6 months into building your business because (again) it takes time. The first few months are always the hardest, but this is the normal way it usually goes for people. As you do the training, the business builds up and grows. As it grows, so does your success.
3) There is no limit to how far your business can grow or how much money you can make (it varies with everyone). Let me give you an example:
Let's say your website promotes different products, but the biggest one pays you $10 a sale.
1,000 people visit your site daily and 10 people buy the product. Thus you make $100 a day.
Each month, your site can earn $5,000 in passive affiliate income (and more).
Another way you learn to make money off your site is by placing ads on it. With a site that gets 1,000 visits a day, every month, it can earn about $500 in ad revenue (on top of the $5,000 in affiliate profits).
This can get to a point where your website/business can earn you money while you sleep and do other things in life.
Another beauty of this business model is that you don't need to own the products you promote. You can also promote anything you like as long as there's an affiliate program for it.
The 3 membership levels of Wealthy Affiliate explained:
1) First up is the Starter Membership ($0 to try):
In the WA Starter Membership, you can basically get your feet wet with what this program has to offer and in fact, you actually get a lot:
First up, you get access to level 1 of the OEC course (5 lessons).
Second, you get access to level 1 of the Affiliate bootcamp course (5 lessons).
30 free searches using the WA keyword tool (marketing research).
Access to the WA community (more details on that later).
7 days coaching from me (more details on that later).
2) Second is the Premium Membership ($49 a month):
The Premium membership is considered the best deal in the entire Wealthy Affiliate program because it basically gives you FULL access to ALL of the main training modules I listed above. In short:
You get access to all 50 lessons in the OEC course.
You get access to all 70 lessons in the Affiliate Bootcamp course.
You get access to ALL the local marketing training lessons.
You get 1 free domain.
You get free hosting for up to 5 websites.
You get unlimited access to the live chat, help and WA community.
You get unlimited help and coaching from me (again, details are coming up).
In short, if you want to get the FULL educational benefits of the Wealthy Affiliate program, Premium is where it's at.
3) Third is the Premium Plus Membership ($99 a month):
The last membership in the WA program is obviously the one with the most benefits. The short way to explain the Premium Plus membership is that it's every single benefit in the Premium program PLUS:
You get 2 free domains.
You can host up to 10 websites.
Expert classes from the top members of the Wealthy Affiliate program (I'm one of those experts). In each expert class, the person hosting it is a top 1% success story in Wealthy Affiliate that share their personal methods for success.
Additionally, members here also get access to more tools such as hosting for up to 25 websites (as opposed to 10 in Premium).
How do you decide which membership level to start with?
I constantly tell anyone who doubts this to start with the Starter Membership in Wealthy Affiliate. Why? Because it's literally risk free.
Not only does this membership give you a great inside look into the program, but you also get a lot out of that such as:
Great beginner training.
A website that you will create with Wealthy Affiliate's help.
A great tour of the Wealthy Affiliate to help you become more comfortable there.
And all of this will help you make an informed decision as to whether or not to upgrade. If you see this isn't something you want to stick around for, that's no problem as you can leave anytime without a single obligation.
And if you want to stick around, you can upgrade to premium, continue your training, continue growing your business and success.
What a lot of people do is: They start with the Starter Membership, upgrade to Premium, and when they have enough success and want to learn more, they upgrade to Premium Plus and go from there.
There is also an option to downgrade your membership, but this is only possible if you're a Premium Plus member, and want to go down to regular Premium. You can't be a Premium member and go down to Starter.
5 key elements that make Wealthy Affiliate a unique program for success:
What I want to do right now in this portion of the review is talk about what exactly makes Wealthy Affiliate a unique program, at least compared to what else is out there. I happen to have a number of recommended programs on this website but none in my opinion come close to what WA has to offer.
Besides the pros I listed above which summarize the main advantages, there's 5 unique things this program has that others do not.
I've personally reviewed, tried and been a part of many make money online programs over the years, while also being a Wealthy Affiliate member at the same time. This was done for review purposes, but also at times because I wanted to see if there was something better out there and to date, in my opinion there isn't.
But getting to the point, here are the 5 main advantages the WA program has over the competition:
The community is one of a kind for getting help/support.
You are provided with just about every tool you need (it's part of your membership).
The owners of the program have a very good reputation for success and ethics.
In terms of value for price, I don't think any other program beats WA.
You get expert coaching from me, if you join through me (included in your membership).
If these points are enough to convince you about the uniqueness of the Wealthy Affiliate program, then feel free to skip ahead to the next section of this review, but like I've said earlier, I do encourage you to read everything in this post, and what I want to do right now is prove every point I just listed (if you have any doubts, you're going to want to read this part carefully).
1) The WA community is the best for getting help and support: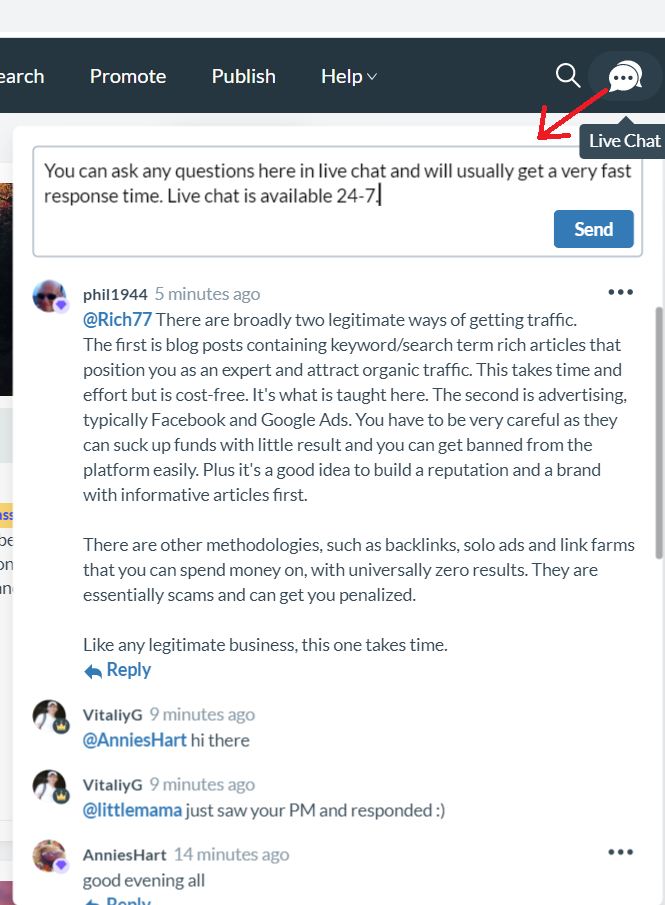 While the courses and training in the WA program are where you'll want to focus most of your time and energy on, the truth is everyone will reach a point where they'll have questions, will need help and so forth.
For this, support and help is pivotal and in the WA program, you have several ways to get it:
You have a 24-7 live chat (usually fastest for answering your questions but it can be dead sometimes).
You have a personal "Ask a question" feature in which you post your question and get answers fast.
You have a professional and fast response tech support for your sites called "Site Support".
You have a very warm and welcoming WA community that communicates, welcomes you and helps you from the moment you join the program.
I've rarely seen good support from outside programs, but in WA, even the good ones do not compare to the overwhelming access to help you get there.
If and when you have questions, you can absolutely count on WA's community to give you the right answers to help you progress forward, whether from it's live chat or one of the other support options available there.
2) You're provided with pretty much all the tools and ingredients you need to succeed:
Every single online business has a list of necessary ingredients it needs to thrive. Here's just some of those ingredients:
Website builder.
Hosting.
Keyword tool.
Support/help.
Great training.
Wealthy Affiliate supplies you with this stuff (and the quality of everything is very high). Here's a short summary of what you get:
Website builder: Very easy to use and helps you set up a new site in minutes.
Keyword tool: It's called Jaaxy and it helps cut down research time.
Support/help: Community, site support, expert help and my coaching.
Great training: Over 120 core lessons (plus 1,000's more).
SSL security for every website: This costs people $50/month per website but to Wealthy Affiliate members,

it's free

.
Hosting: Hosting in WA is excellent (it helps your websites load very quickly which helps with rankings). Here's proof: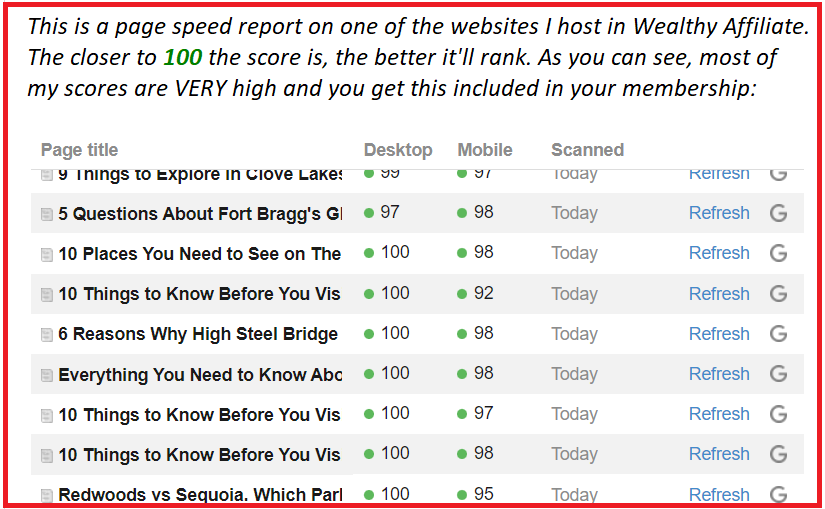 The only thing you will need to buy extra (on top of whatever membership you join at) is a domain name (website name) which is only $14.99 a year. Everything else is included as part of your membership and a lot of the set up is easy (such as making a website).
Now the thing about the value here is that compared to other programs, those other things I just listed are usually sold as separate upsells in other programs, so on top of your membership that you pay for other places, they hit you with extra costs and sometimes those extra costs can cost more than your actual membership in the program (I'm not kidding).
Good programs usually keep this to a minimum, while the plethora of bad programs out there sneak those upsells on your and end up profiting from it, while you pay 10x what you originally thought you were going to pay.
Wealthy Affiliate doesn't engage in such nonsense and gives you everything you need from the start (aside from buying the domain name).
3) Let's talk about the creators of the program for a moment (Kyle and Carson):
Both guys are super successful marketers and the creators of the WA program. Kyle mostly focuses on providing members with the training and Carson mainly focuses on the tech side of the program.
But both are VERY active in the community helping people. In my case, I've known them since the moment I joined in 2007 and I have to say that my experiences with them have been nothing but positive.
Kyle for instance has helped me out a great deal over the many years I've been there and even when I wasn't promoting the WA program like I am now. Carson has also been there for me many times and has helped me improve my website speeds and quality.
Both of them are very nice, calm, understanding, professional and helpful with every member that I've seen and from the moment you join the Wealthy Affiliate program, they will welcome you once you set up your profile there. You can then communicate with them and ask them questions.
What makes these guys different than other programs? Well unfortunately a majority of the owners in most programs I've seen simply forget you when you join (basically leave you dry) or aren't very helpful when you ask questions. Here, you aren't forgotten and the help is always there from the community and the owners of the program. I've personally met these guys several times and I am very blessed to know them.
4) No program has more value for the price than Wealthy Affiliate in my opinion:
When you consider the value of the community, the courses, the tools you get, and more, there's really no other program out there that compares to WA in my opinion and to come to this conclusion, you would have to see what else is out there like I have. I've literally explored countless programs to realize this (over and over again). And that's one of the main reasons WA has been around longer than any other out there.
5) You get expert coaching from me (all included when you join Wealthy Affiliate):
On top of everything I just listed, an additional benefit you get from joining the Wealthy Affiliate program (from this page you're on) is that you get me as your referrer and coach. I do promote Wealthy Affiliate and I do make a commission if you join through me, but:
There are no extra costs for my coaching (you get it included).
You also get that 1 on 1 attention from one of WA's top members (myself).
My referrals get priority help.
I have a 100% response rate.
I've helped countless WA members with their online businesses.
How it works:
Once you join WA through me, I'll leave you a special welcome message. Once you respond to it, the coaching is activated.
Now I have to mention this: As much as I'd love for you to join under me…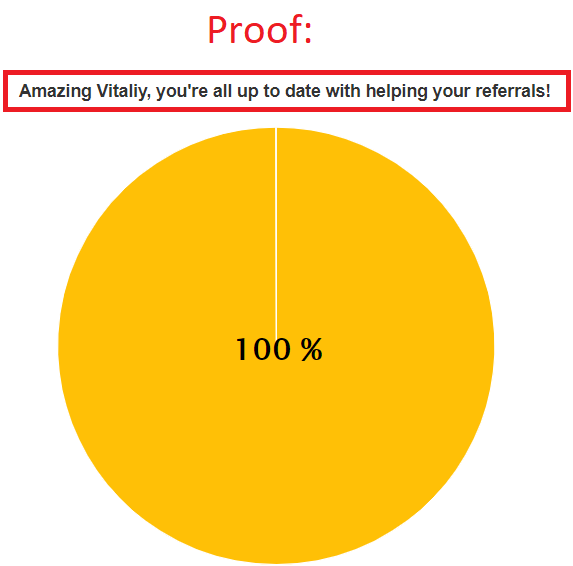 1) That's totally your choice. If you want me to be your coach, join here.
2) I'm also someone who is nice, but keeps it real with everyone. I'm happy to help you, but if you're not willing to do the work and apply what WA teaches or what I recommend, then let's not waste each other's time.
I've worked with and have helped countless people over the years in the Wealthy Affiliate program and like the community, I'm there to answer your questions and help you progress.
The perk here however is that by joining through me:
You get me as your coach (a top expert's perspective).
And my referrals always get priority 1 on 1 support.
As you can see, I have a 100% response rating from WA.
When you start the training in WA, it's normal to have doubts and questions, but the fact is, when you have someone's expert help (who has been through this like I have), it's kind of like having a GPS helping you move forward to your inevitable success.
If you do join Wealthy Affiliate through me, absolutely use my coaching and ask me questions. I love working with people who have ambition and want to make this work. Here's some extra proof for you: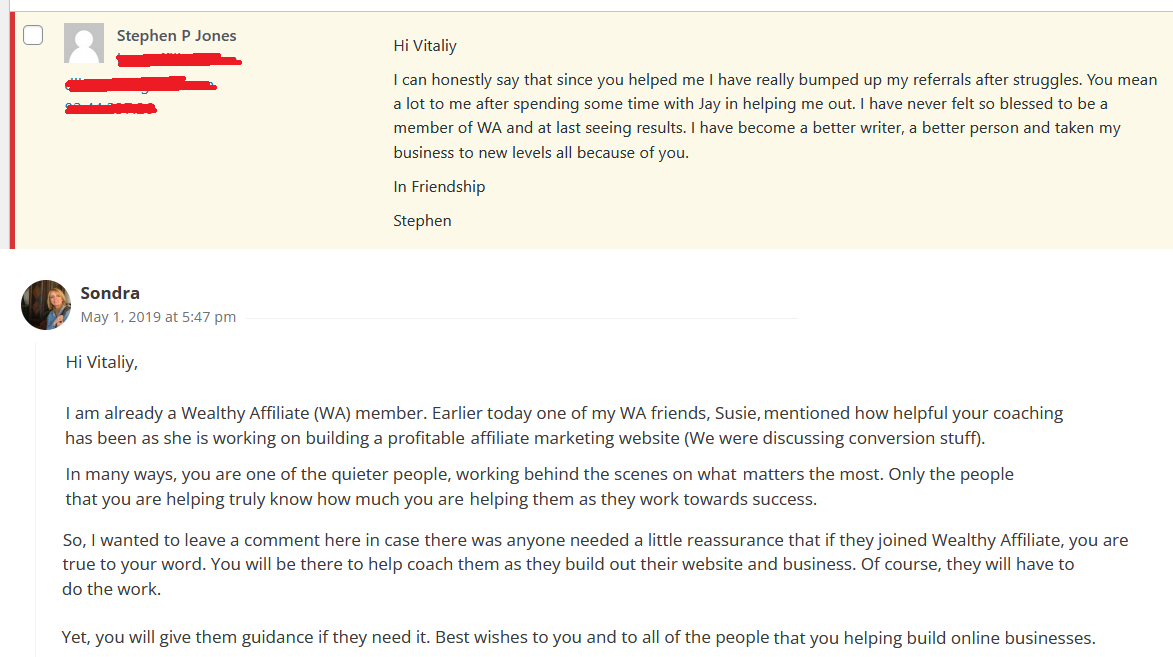 And if you have any doubts about that, feel free to try Wealthy Affiliate risk free and see it for yourself and/or ask me a question below and you'll see I'm real 🙂
Now let's address the most common Wealthy Affiliate complaints out there: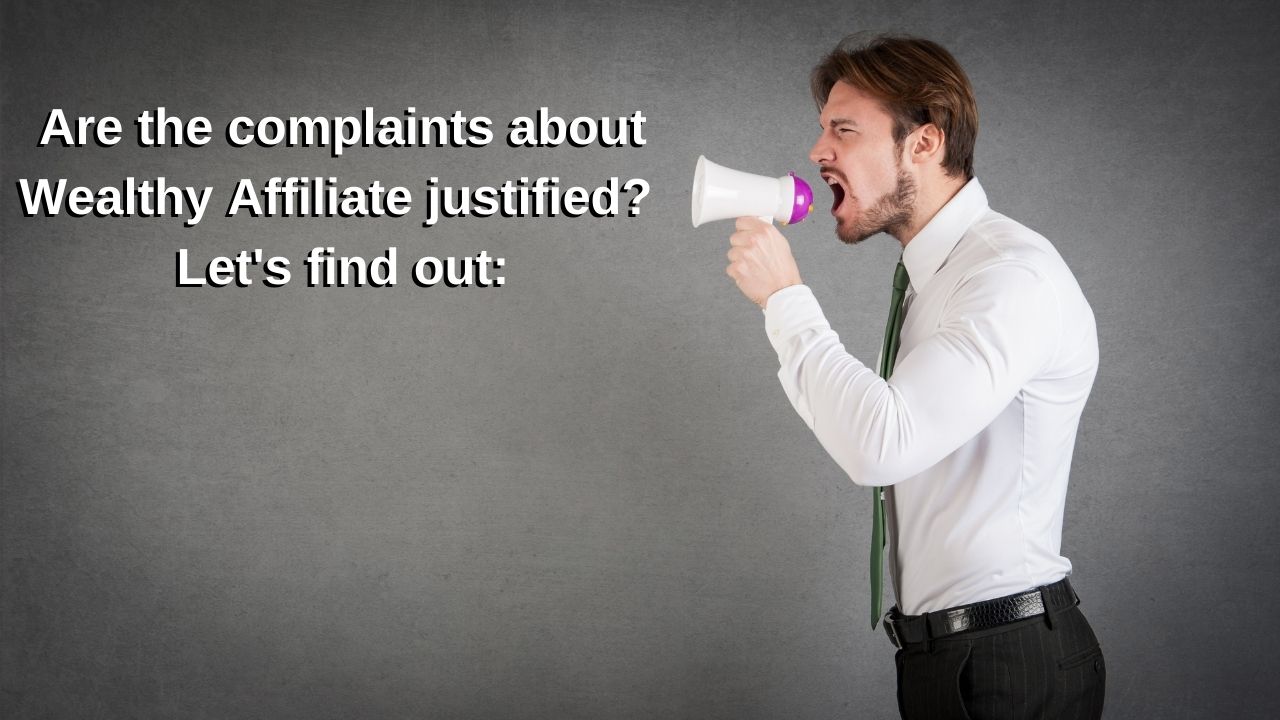 It's that time in the review folks. As much as I praise this program, I can't deny that there's people who think differently, complain about it, call it a scam and so forth.
In order to address whether these accusations are real or not, I'm going to list the most common complaints I've seen and give you my take on them. There are some Wealthy Affiliate reviews out there which in my opinion have merit with their criticisms such as:
There are certain similar complaints and questions raised in both those reviews as well as what I see from opposing views, and it comes down to the following claims:
1) The Wealthy Affiliate training is outdated.
Claim: Much of the main WA training is from 2015 and it's now 2022, so it has to be crazy outdated right?
Truth: In terms of the date, yes, but there's 2 counterpoints to this:
First, that same training still works and I operate my main blogs based on it, including the one I showed you above where I got over 100,000 visitors. The thing people do not understand is that SEO and blogging doesn't magically rearrange every year and what worked years before can still be the most updated thing there is.
Second, the training videos and content IS being updated in the program, but what you see is that the tips, strategies and advice is still pretty much the same. That's because it's always been this way folks.
Long story short, the WA training is still as 100% applicable today as it was when it was released years ago (even though it is being updated with new videos).
2) People do not believe all the WA people's success:
Claims: I see people make complaints that they don't believe all the success in WA is true and that most people who say it are just promoting it.
Truth: Folks, I've shown you screenshots of the success stories (you decide what to do believe). These are people who publicly (within WA) share what they're getting. I also know a lot of private folks who have had success with this program that don't talk about it publicly.
3) You can only make money from Wealthy Affiliate by promoting it:
Claims: There's several claims to address here including…
Wealthy Affiliate reviews are everywhere and in these reviews, the people just promote the program and often bad mouth other programs to piggyback off them. Certain people claim that WA's training teaches this. Other people also claim that no one makes money in WA unless they promote the program, thus it's a pyramid scheme.
Truth: There's a lot of inaccurate claims out there that require someone experienced like myself to clarify them. So here we go:
1) First, on the subject of Wealthy Affiliate reviews being VERY common to stumble upon, that's true. Lots of people promote this program to make money.
2) Second, on the subject of Wealthy Affiliate reviewers bad mouthing programs to push Wealthy Affiliate, there's lots of missing context:
Wealthy Affiliate does NOT teach people to bad mouth programs. They literally have a lesson in the Affiliate Bootcamp called "Don't leave money on the table" where they talk about promoting other programs that are good.
Next, there's WA members I know who use the bootcamp training to promote other programs (Legendary Marketer is a popular one even though I personally do not like it).
Finally there's lots of bad programs on the internet and I have some reviews on this site exposing them. When they're bad, you gotta call them out, lest they scam people. When they're good, I recommend them (see my recommended programs here, and I don't even promote many of these). That's me speaking on my behalf.
Another important point is that many people who make the "you just badmouth other programs to push Wealthy Affiliate" rarely, if ever can point out where I'm actually wrong on my reviews (they basically have no facts behind their accusations) and when I ask them specifics such as "where am I wrong on so and so review", what usually happens is that they vanish and never respond to me.
Now that's me speaking on my personal behalf with regards to this. There are other sides to this. What do I mean? Well:
There are unethical people who pervert the WA training and write lies to benefit themselves. WA does not teach unethical business practices. It's unethical people who do this and end up giving the program a bad name. I've seen certain people make ridiculous "get rich quick" claims about WA to get referrals in when it's not true. People like that have never lasted long in the business by lying.
I've had many debates/arguments with people who have accused me of this stuff. I've always returned with my own points and to this day, I have never had anyone who complained about me follow up on my responses, and that's because they have no arguments. They just hear some stuff about WA from someone else and think they know what's up.
3) Third, on the subject of people only being able to make money in WA by promoting it, this is not true.
I've shared many success stories in this very review alone where people are making online businesses in various niches not related to promoting Wealthy Affiliate (and are making a full time income with that). I personally know several friends who are WA members that have multiple sites, most of which don't even promote WA that make them a good six figure income.
4) You can't make money with the Starter Membership:
Claim: The $0 Starter membership is impossible to make money with.
Truth: This is 99% true. Unless you're very experienced, you will not be able to make money with the Starter Membership. This is an entry membership into WA to help you get started with the program and take initial steps to build your online business.
As a beginner, if you want to fully experience the training, then the Premium program in Wealthy Affiliate is where I recommend you get it. Starter is meant to help you see the WA program and it's benefits and then decide if you wish to go further. Few programs give people such flexibility and choice, but WA is one of them.
5) Bad SEO training:
Claim: WA doesn't teach backlinking, good SEO, blah blah blah.
Truth: Good SEO training is subjective and for me, I've tried different approaches to it other than what WA has taught me. What I noticed, especially in 2021 is that the sites I followed "mainstream SEO" advice on didn't do very well and I was even hit with a few Google updates. I also believe long term, many of the sites making these claims won't last in the long run.
If 2021 taught me anything, it's that the approach Wealthy Affiliate teaches for SEO, which shortly put is: Stop manufacturing SEO by trying to play it. Instead produce good content on topics you love and everything else falls into place (rankings, backlinks, traffic and success). That formula has always been my pillar for SEO success.
6) Let's talk about who Wealthy Affiliate is NOT for: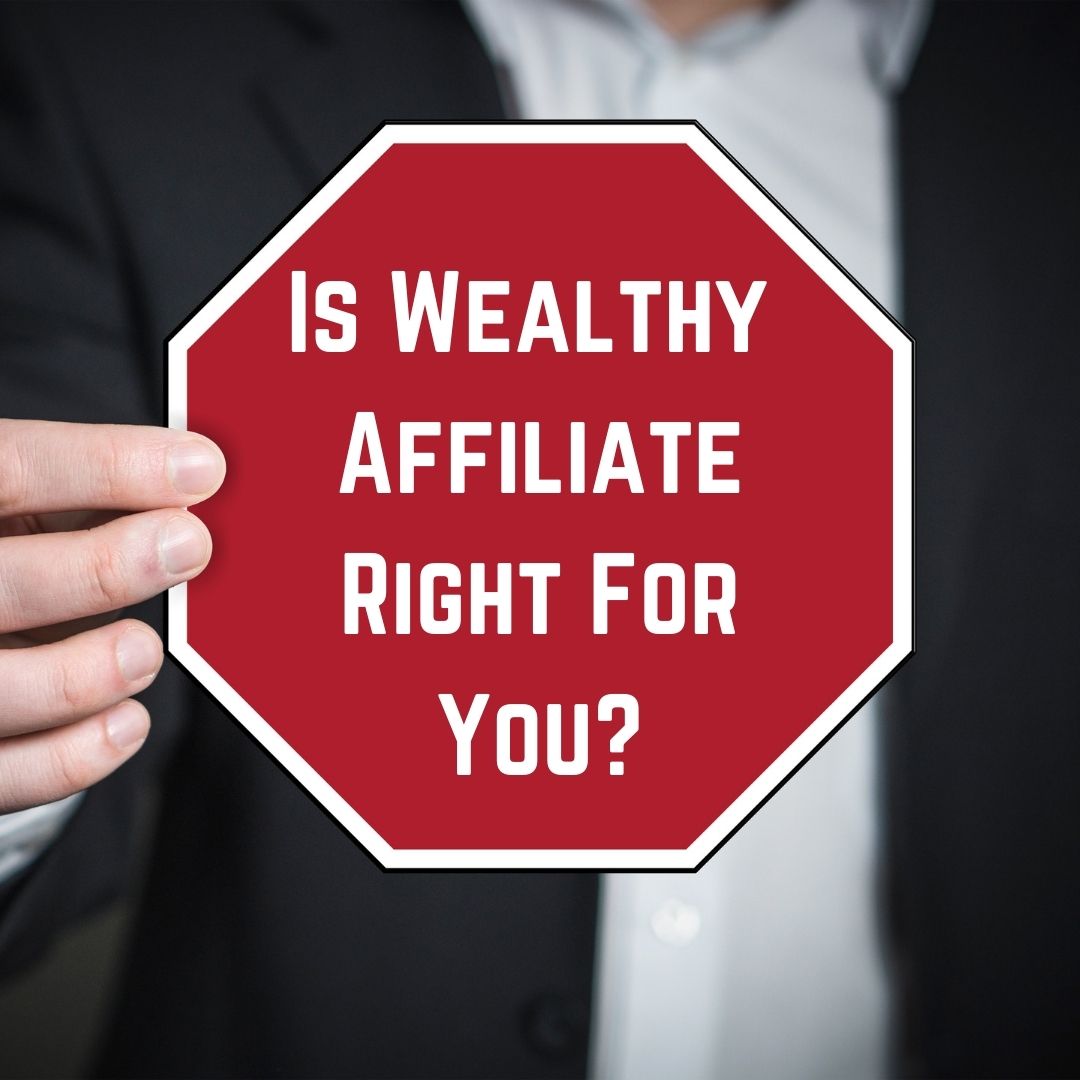 This last thing isn't a specific complaint, but a generalization and it's something that needs serious addressing. A lot of people who are not a good fit for WA join it and I want you to make sure that you're NOT wasting your time if you do.
In short, Wealthy Affiliate is not for you if:
You're looking for a get rich quick scheme.
You're not flexible in learning something new.
You're not ready to work hard on your business.
You're not someone who follows specific steps and applies them.
You lack ethics and don't care about how you make money online.
And finally, what I want to share is some specific details about the kinds of members in these categories I've run into over the years (prepare to be shocked):
1) I've seen members join this program after having one bad experience after another elsewhere that literally didn't want to learn anything in WA because it wasn't the same as the other programs (that didn't work for them).
2) I've seen members who joined WA wanting to make money online quick start spamming promotions, get warnings to stop, not stop and get banned, then act surprised that they did when they clearly violated the rules of conduct there.
3) I've seen members join WA, claim they were scammed by them, only to find out that they were literally scammed by an entirely different program and think it was WA when it wasn't!
In fact, I had one referral who joined under me claim because of WA, they lost $600. Well that was impossible since there's no charge in WA for that amount. Turns out they got scammed by a different program, thought it was WA and I tried to help her get her money back. They didn't listen to my advice and I eventually couldn't help them further. After countless messages back n forth, I said my peace and left it at that.
4) I've also seen members request a refund for being a FREE member. Let that one sink in folks.
5) I've also seen members join WA tell they "did all the training" in a week or month and when I looked at their site, turns out not only did they lie to me, but they engaged in bad ways of marketing their website that would ultimately lead to failure. I can tell these things very quickly and when someone is doing the work and when they aren't.
6) Another (rare) thing I have seen from members is that they are surprised that billing is recurring (month to month).
7) I've also had situations where members went Premium and then wanted to go back down to Starter (a free member) be surprised they couldn't keep their Premium benefits as a Starter member (free hosting, 10 websites, unlimited help, full access to the training, ect…).
Firstly, you cannot downgrade from Premium to Starter (You can downgrade from Premium Plus to Premium though). Some people have done this by accident and I can understand that, but I have also come across members who have tried to downgrade on purpose to game the WA system (that's not cool).
I have many more cases that fit into the above categories I could tell you about, but I'm sharing these TRUE stories because many of the people in these categories are also the same people who go outside of Wealthy Affiliate complaining about it and saying things that aren't true.
Like I said in the beginning of this review, MOST people I've run into who do not succeed with this program have this issue because of their own personal faults and not following the training.
I have to say it: Personal responsibility is a BIG part of your success online and that's just the truth. If you join this program, I don't want you to waste time and start over and as long as you follow the training, apply it and ask me questions, I'm very confident you'll get results with Wealthy Affiliate.
Other questions about Wealthy Affiliate you often see online:
Is Wealthy Affiliate legit?
Yes Wealthy Affiliate is 100% legitimate and I have been there for over a decade. You can even try them for free if you have some doubts.
Who owns Wealthy Affiliate?
There are 2 owners of the Wealthy Affiliate program: Kyle and Carson.
Is Wealthy Affiliate free?
Yes you can try Wealthy Affiliate for free through the Starter Membership. However there are 2 upgraded memberships after: Premium and Premium Plus that cost monthly ($49/month or $99/month).
Conclusions on this Wealthy Affiliate review:
By this point in the review, I hope I have explained everything I promised you and by this point in time:
You should already know what Wealthy Affiliate is.
You should already know it's pros and cons and how it works.
What to expect from WA once you do join and how to proceed to succeed at it.
How long it takes to succeed and what to expect as your business grows.
You know which membership is the right one for you to start with.
You should already know the complaints out there and now know whether they're legitimate or not.
And finally, you already know if this program is right for you or wrong for you to join.
And even if you still have some doubts, I encourage you to still try the program's Starter Membership and decide for yourself afterwards if this is right for you or not as this option presents 0 risk.
The last things I want to say…
Let me conclude by saying that if you read this entire review so far, then in my personal opinion, you are perfectly fit for this program and already have one of the main qualifications to be it's next success story: Patience and not rushing.
I didn't write this super long Wealthy Affiliate review to bore you. I did it to share with you everything I know, have seen and experienced from Wealthy Affiliate. Because of this program, my life truly did change for the better and if you join, I want you to follow in the footsteps of myself and all the other success stories so you can become a success story yourself.
This program provides you with everything you need to do that and the only thing left is for you to apply yourself and the training to get to that point. As for me, I would be very happy to work with you inside the Wealthy Affiliate program and assist you with my coaching as you're on this journey.
Know that you're not alone, that you have everything you need, including the necessary help and expert guidance to become a success and that even if you're not sure that you can do this, just remember one thing:
Everyone in WA started as a beginner, including me and we all got to this point because we applied the training. By following in our footsteps and applying what I've shared in this review, I'm confident that you are already on the right path and success really is on it's way to you.
Thanks for reading and if you have ANY questions, let me know below!