I joined the very basic level of the Entre Institute to see if they offered me enough quality training and value to justify spending more money on their other packages. Long story short, after seeing what I saw, I wasn't convinced it was worth it and in this review will explain what you should expect from this program if you decide to join it too.
A summary and quick overview of Entre Institute:
Creator:
Jeff Lerner.
Prices:
$39 for the most basic membership (where I joined).
$297 one time for membership to the Elite Entre membership.
$3,997 for the entire Entre Digital Course.
What does it teach?
Entre Institute teaches 3 primary ways to make an online business: Affiliate marketing, making digital courses and also creating and running a digital agency.
The membership I joined basically pitched me a series of training videos showing the money making potential of each of these online businesses and that if I purchased the Entre Digital Course ($3,997), I would learn about all of this.
Later on in the review, I'll discuss the details of these things.
Rating:

2 out of 5 stars.
Do I recommend Entre Institute? No! Here's why:
There's 2 things that rubbed me the wrong way about this program:
First, they email and call you too much once you sign up to try and get you to talk to their "coach". I disliked this a lot and felt like I was being spammed too much. I think their coach is going to try and also sell you into the $3,997 opportunity (it's normal in these businesses).
Second, the $39 membership is really just a presell to buy the main Entre Digital Course for $3,997 and I disliked that pretty much what I got in this membership was a lot of hype and talk about the potential of making an online business vs getting what I consider good training content on the subject.
In short, to me, it felt like all roads in the program lead you to $3,997 purchase and while I'm sure there's good content (likely not a scam) in that course, you just don't need to spend this much on such material and I'll show you why shortly (the reasons 3 below will explain this).
Alternatives? Yep!
The good news is since I know about all 3 subjects personally, I can tell you how they work and explain why you don't need to spend money on how much Entre Institute charges for this.
A video review of Entre Institute:

Full review of my experiences with Entre Institute:
Before I joined:
1) First it begins with an ad I saw on YouTube from Jeff Lerner pitching me his The Millionaire Shortcut eBook. I got that, read it (it was short) and this introduced me to Entre Institute.
2) I decided to dip my feet into the lowest membership of this program to see if it offered value, because Millionaire Shortcut didn't really do that. It just hyped the subject of making online businesses and how Jeff's program can help you succeed there.
Once I joined Entre Institute, here is what happened:
1) For starters, I was pitched the $297 OTO to join their Elite Membership. I declined because I didn't trust the program enough to do it.
2) Second, I started getting call after call (3), text after text (at least 2) and email after email about me scheduling a coaching session and welcoming me to the program.
Folks, one email is enough. What they did it could be construed as spamming and I literally told the rep that called me (after the second time) to put me on their do not call list (and they still called me after one more time). They were trying to get me to schedule a coaching presentation with the guy who was given to me once I joined. I really regret giving them my number.
And so this all happened right before I even stepped foot into the Entre Institute program and this experience was already off to a bad start.
Inside the Entre Institute program. The training (If you can call it that):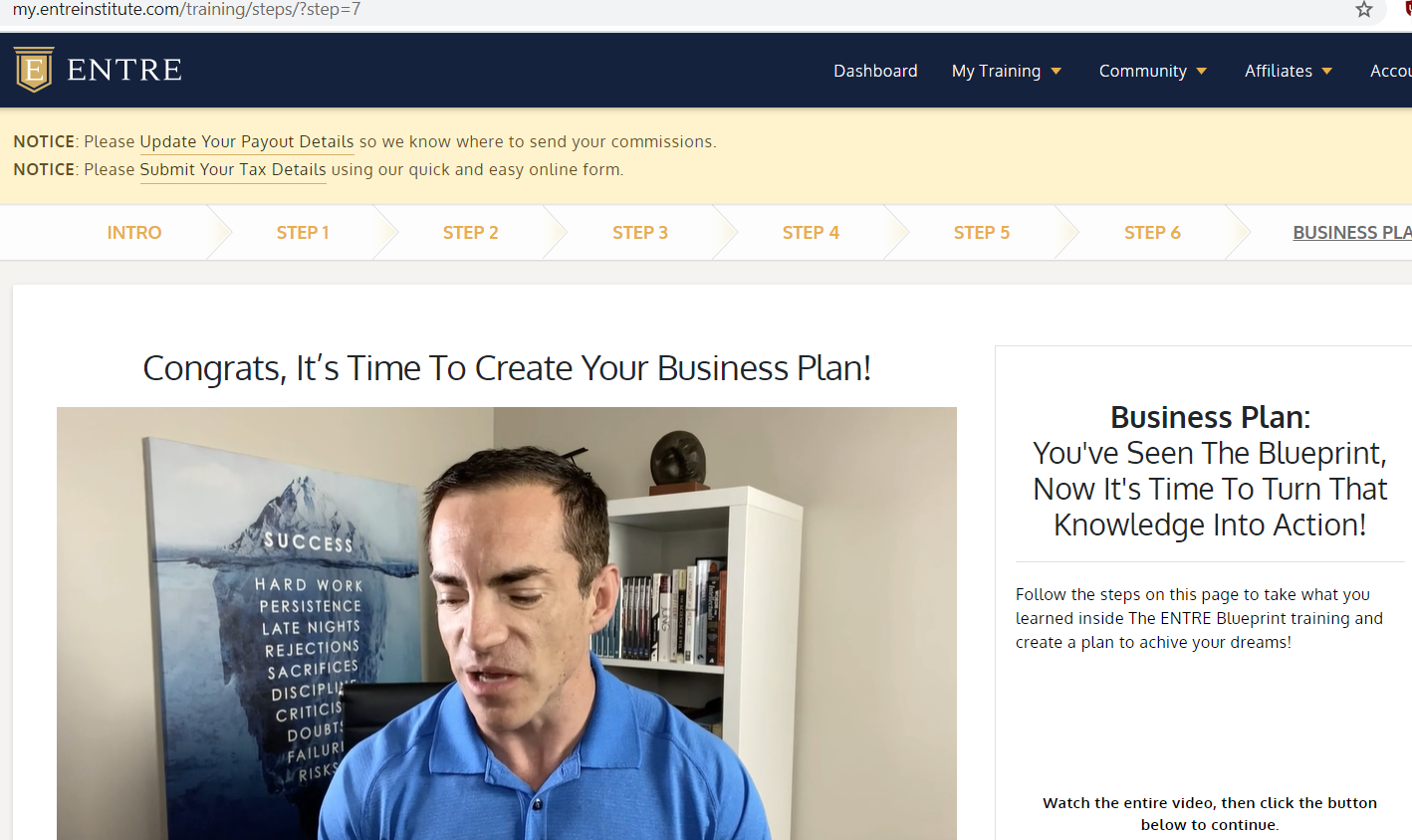 So the $39 program I purchased gave me 6 steps of "training" and in this training I was shown the possibilities of building an online business in 3 different fields:
1) Affiliate marketing:
You're given some OK content on what it's like to sell products for Clickbank and other places as an affiliate and the advantages of running an online business in this field.
You are also given a free eBook on this subject that basically enforces those points and are also shown how you can become an affiliate for Entre Institute as well as the high ticket affiliate commissions you'd get if you started promoting them.
Being that I know tons on this matter (see my affiliate income reports), I can vouch for some of this information, but to be honest, most of in this field was the talk of the potential, not so much getting started or info I could use if I were a total beginner.
Here's some other courses on affiliate marketing I would recommend over the stuff in Entre Institute (because of the prices):
2) Creating a digital marketing agency:
As you progress through the 6 steps, this is the next thing taught which is how you can make an online business by going to businesses who need work done for them in the marketing field. You're shown a list of things you can offer and charge businesses for in marketing work and this can create your own digital marketing agency.
You're also shown how the Entre Institute offers you the education to get this material to then pitch to business owners so you can make money from it. There are also other programs like this out on there which I've reviewed and here are some:
3) Making your own online courses:
In this final area of "training" in Entre Institute, you're shown the money making potential of making your own online courses in any niche you love (here are evergreen niches and here are 5 micro niches for ideas) and then doing things like creating eBooks, courses and so forth, then driving traffic to those offers and making money from that.
Additionally, you also get pitches about the way to make money in this business through traffic generation and learning things from Entre Institute like:
And this brings us to the pitch to get Entre Digital Course: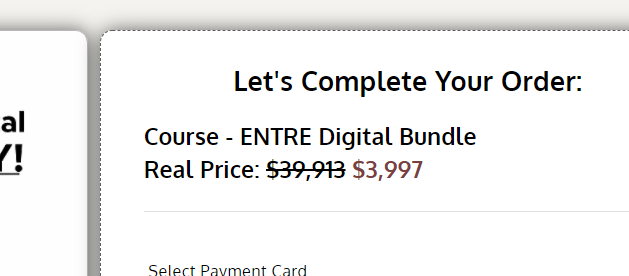 Once you're done going through the 6 steps, you are taken through a 2 hour webinar by Jeff Lerner who pitches learning the details of all of these types of online businesses and getting help from his team and community to start.
The price? Well it's $3,997.
And this gives you full access to Entre Institute and all of it's training. Is it worth it?
Possibly, but I'm not recommending it because all of this stuff is in Wealthy Affiliate anyway for only $49 a month (I'm serious).
Conclusions on Entre Institute (3 reasons I'm not going further or recommending it):
Reason 1:
The first problem here is that while Jeff is great at showing you the potential of this stuff in his 6 steps, I never really felt like I got much value and training out of the $39 membership and because I'm experienced in this stuff, I don't let the emotional marketing get to me and
Jeff is great at showing you the emotions associated with making money. My advice is not to let this marketing let you decide your purchasing decisions.
Reason 2:
I really disliked all the calls, text and emails I got.
This may not be a problem for you, but for me, whenever I join programs, trust me, I won't forget that I joined (I literally paid to be there) and I'll start on my own. Being called up, texted and emailed over and over to start is too pushy for me.
My opinion is that they're trying to get the coaching call and sales pitch to get you to buy the Entire Digital Course asap (And if it's true, I do not like that).
Reason 3:
Assuming that the entire course is legit, it's still too expensive and I gave you 3 options to consider instead. My top choice is Wealthy Affiliate because:
A) You learn all there is to know about affiliate marketing. I am literally a full time earning affiliate thanks to their training today.
B) They provide countless hours of training on making your own digital agency in their local marketing courses ($49/month offer) and this is created by a literal man who does it himself.
C) And third, you can absolutely use the online business training in Wealthy Affiliate to build your own courses, make your own eBooks and sell them online through the teachings provided.
In other words, all the stuff that Entre Institute could offer you for $3,997, Wealthy Affiliate does for much less and if you don't believe me, you can try them for free to see that for yourself.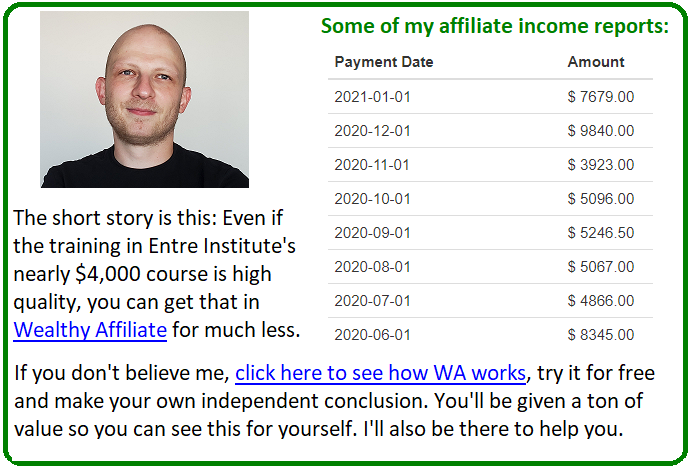 So Entre Institute is a no for me and I'm debating whether to get a refund or not. Until then, I look forward to your thoughts on this review of the Entre Institute.