In my most recent post, I talked about affiliate training programs and how difficult the good and great ones are to find. Well Affiliate Lab in my opinion belongs in that rare category and in this review, I want to take you through:
A summary and review of Affiliate Lab so you know:
Exactly what will happen from the moment you buy it.
To the moment you start applying what it teaches.
What to expect from doing that.
And finally other alternatives to Affiliate Lab if it's too expensive for you (this may be surprising to you).
What is Affiliate Lab? A quick summary: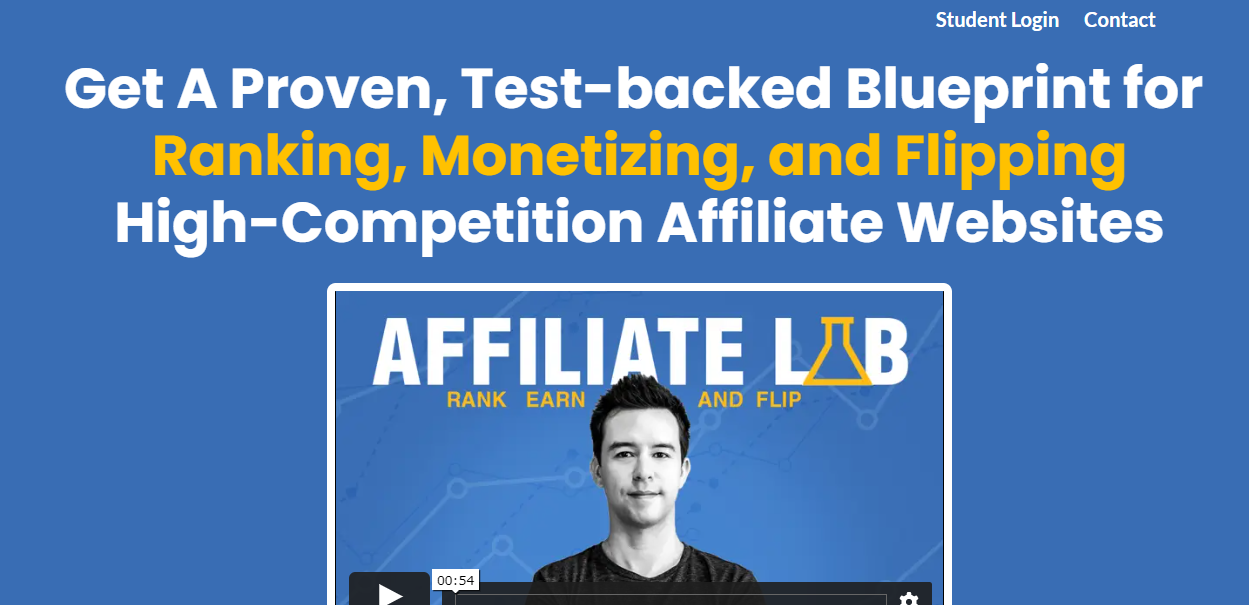 It's a program created by a man named Matt Diggity. It's a program that combines affiliate marketing training with SEO (ranking websites). And there's basically 2 stages to it:
Stage 1: You learn to build blog websites and then rank them to get traffic so they start making money through affiliate promotions (It's exactly what I do for a living by the way).
Stage 2: Once the affiliate site is making a decent income, you can elect to FLIP and sell that website for 20-30 times it's monthly earnings, make a big paycheck from the sale and use the money to repeat the same formula on a different site.
How much does Affiliate Lab cost?
It isn't cheap, but here are 2 options (to start):
$997 for the entire training blueprint.
2 payments of $597 for the same thing.
I am also speculating here, but I assume you'll also need to buy a domain name, hosting and other tools to apply the Affiliate Lab training. I say this because even in other good programs, third party tools are pretty much mandatory to make this work. For instance:
You can't have an affiliate site without a domain name.
You can't have a domain name be up without hosting.
It's recommended you get some SEO tools to help your site rank.
It's also recommended to get a decent keyword tool to help with the site ranking and keyword research.
Even my top recommended affiliate marketing training program (Wealthy Affiliate) has these requirements and in terms of how much extra you need to pay, it varies depending on what the program you're involved in recommends you get.
With Wealthy Affiliate, I'd say it offers some of the cheapest prices for the best deals, and you can get a domain for $13.99 a year with free hosting (on the WA platform). Other tools in the WA program are also included, so that saves you a lot of extra money.
I can't comment on Affiliate Lab in this regard because I did not see a similar offer, thus I am left to assume you may need to buy those other things separately.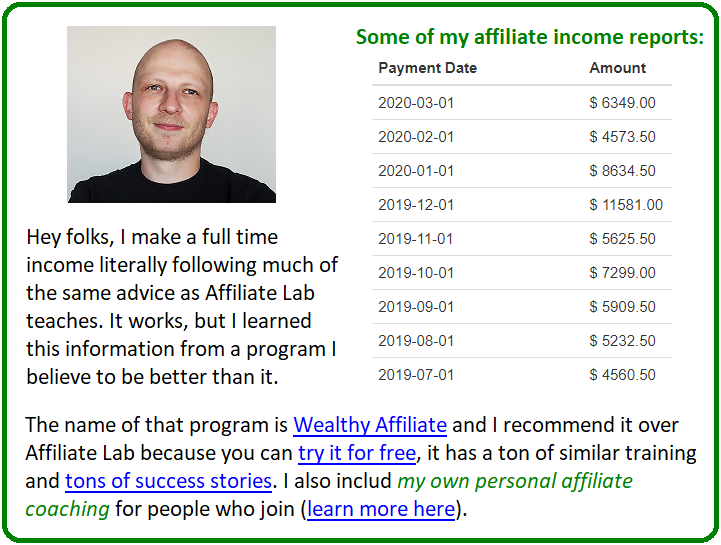 What type of training is specifically provided in Affiliate Lab?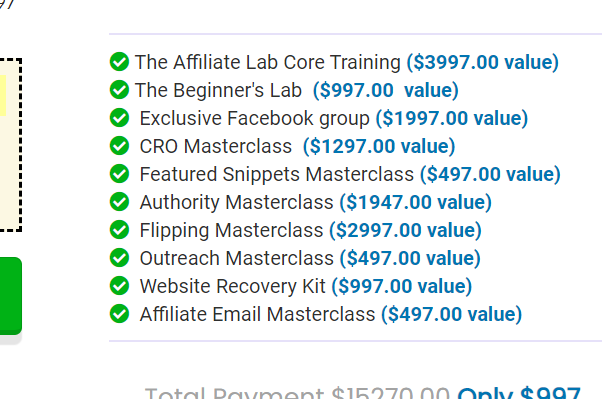 From the research I gathered, the following subjects are covered in the Affiliate Lab training:
Niche research (to help pick an ideal one).
Keyword research.
Backlinking.
Quality content.
Authority website creation.
Traffic generation.
Search console setup (for helping with Google ranking reports).
I attained this information from a few sources, the best of which is this one.
There are well over 100 lessons on all of the material above (and more) and it's designed to help you create an affiliate site that gets traffic via search engines and gets to a profit generating point that it can make you a good passive income, which you can then flip for even more rewards (the 2 stages above). Additionally, the above screenshot of the Affiliate Lab checkout cart, explains what is offered.
I did not buy Affiliate Lab's training, but after seeing all the information it provides, it's basically 90% similar to what Wealthy Affiliate teaches too, so it's really familiar territory for me and a subject I know a great deal about (about me).
And because I'm such a fan boy of Wealthy Affiliate (I say this proudly because they helped me get these types of affiliate income reports), this actually pays huge homage to Affiliate Lab, since if great training is similar across 2 programs, it shows their legitimacy.
Does the training in Affiliate Lab work?
While it takes time to build up a successful affiliate site, I am confident in Affiliate Lab's training to help you with this, so the answer is yes.
Like I said before, after browsing through the training from the sources I researched, it's very clear cut and almost identical to what I learned in Wealthy Affiliate, and because that type of training worked for me and many others, I can confidently attest that it will also work for you with Affiliate Lab.
Pros:
Truly legitimate training in affiliate marketing and SEO.
Good tools provided to help you get going.
Very good for beginners.
Website flipping can really deliver big profits.
They updated their refund policy and now offer a 30 day guarantee.
Cons:
I don't like that its very expensive.
I think you'd get a better deal from Wealthy Affiliate on the same subjects vs Affiliate Lab.
Conclusions on Affiliate Lab:
The most important positive thing to note about Affiliate Lab is that it YES, it works, both on the part of creating a successful affiliate site to the part about flipping that site, but it does take a lot of time to get to both points.
The most important "negative" things to note about Affiliate Lab is that it is expensive and that if you're tight on money, I'd go with Wealthy Affiliate (in any case to be honest).
5 reasons I suggest Wealthy Affiliate over Affiliate Lab:
90% of the material is the same (if not more).
You can try it for free.
A refund policy is actually offered if you upgrade (30 days).
Larger, more comprehensive community/help (2.5 million members). My coaching included.
Important and necessary tools provided with your membership (keyword tool, website hosting, and many others). Thus you save money.
Learn everything about Wealthy Affiliate here but in short, I didn't have many issues reviewing Affiliate Lab despite not getting it because so much of it is so closely similar to Wealthy Affiliate's training that it almost felt like I was reviewing Wealthy Affiliate all over again.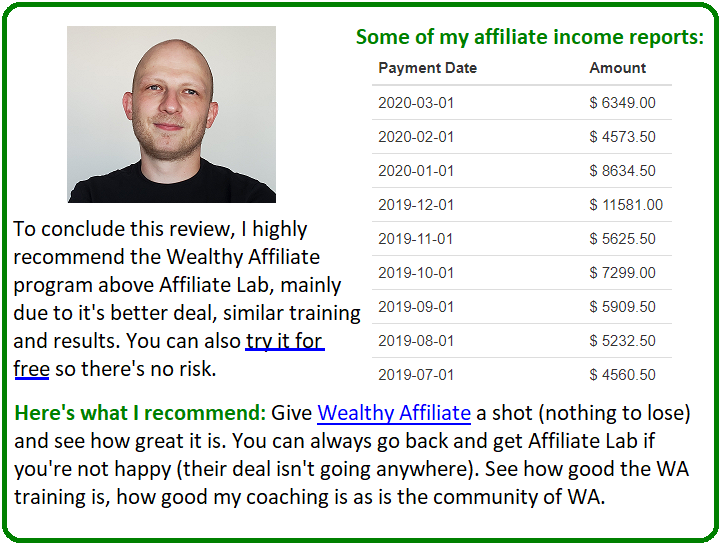 I do like Affiliate Lab and despite the pricing, I am confident that any person who uses their training honestly will get results from it. Like I said, it's blueprint is nearly identical in 90% to Wealthy Affiliate and that is a major compliment to it.
Additionally, I can also tell you the same thing about Wealthy Affiliate, but with it's many extra perks, for a far lesser price, it is why I recommend this program over Affiliate Lab.