If you've heard of Savage Affiliates and/or have seen Franklin Hatchett's videos on YouTube (or his ads), then you may be reading this review now at a crossroads, wondering if it's worth buying and if it'll make you a successful affiliate.
I'm not one of those reviewers who will keep you waiting until the end to give you an answer to that, and therefore:
Here's the 5 things you need to know before you buy Savage Affiliates:
The first 2 are positive (

pros

), and the next 3 are questionable and possibly negative (

cons

):
It is overall a legitimate affiliate marketing program (not a scam).
Yes it can make you a successful affiliate if you truly apply the methods.
The total cost of using this program may double, triple or go even higher.
There's promotions of Clickfunnels and Legendary Marketer (expensive upsells).
If you're just getting started with affiliate marketing, I honestly do not believe you can get as much value for a good price out of Savage Affiliates as you can out of a better program (in my opinion), like Wealthy Affiliate.
Through the experiences I've had researching Savage Affiliates, Franklin Hatchett and all that I know about the world of affiliate marketing (which is a great deal, not bragging), these are the 5 most important things I want to get across in this review of the program.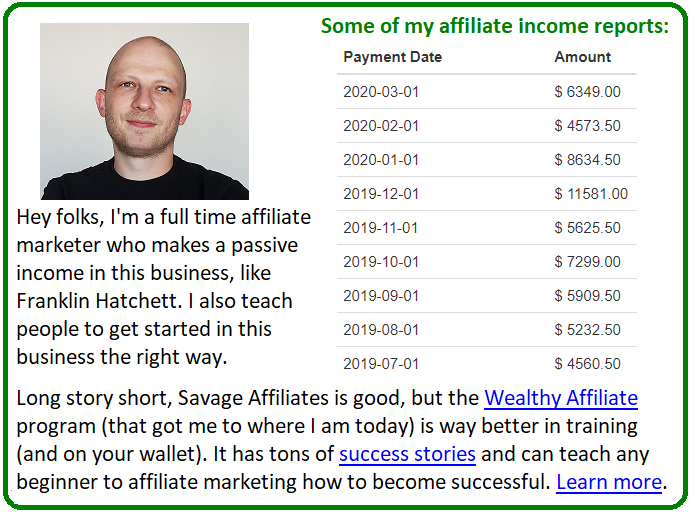 Before I get into the details of the 5 things, let me give you some basic previews of what you can expect to learn from the program before you get it so you can decide if it's for you. We'll begin with the most obvious stuff:
What is Savage Affiliates?
It's a pretty good affiliate marketing training program created by a man named Franklin Hatchett. He runs a pretty successful affiliate business, and has for years and you can find a lot of his content on his blog, his YouTube channel and Facebook page.
In short, Savage Affiliates is a blueprint into the mind of Franklin Hatchett and basically copying how he does affiliate marketing. He shares all his knowledge about the business in this program so you can mimic it too.
How much does Savage Affiliates cost?
There are 2 memberships to Savage Affiliates:
Standard: $197
Super: $297
Obviously, the Super membership level of Savage Affiliates comes with more perks and benefits and rather than explain them, I just took a screenshot of the comparison on the page itself so you can see it (I've also included a none affiliate link to the program if you wish to buy it):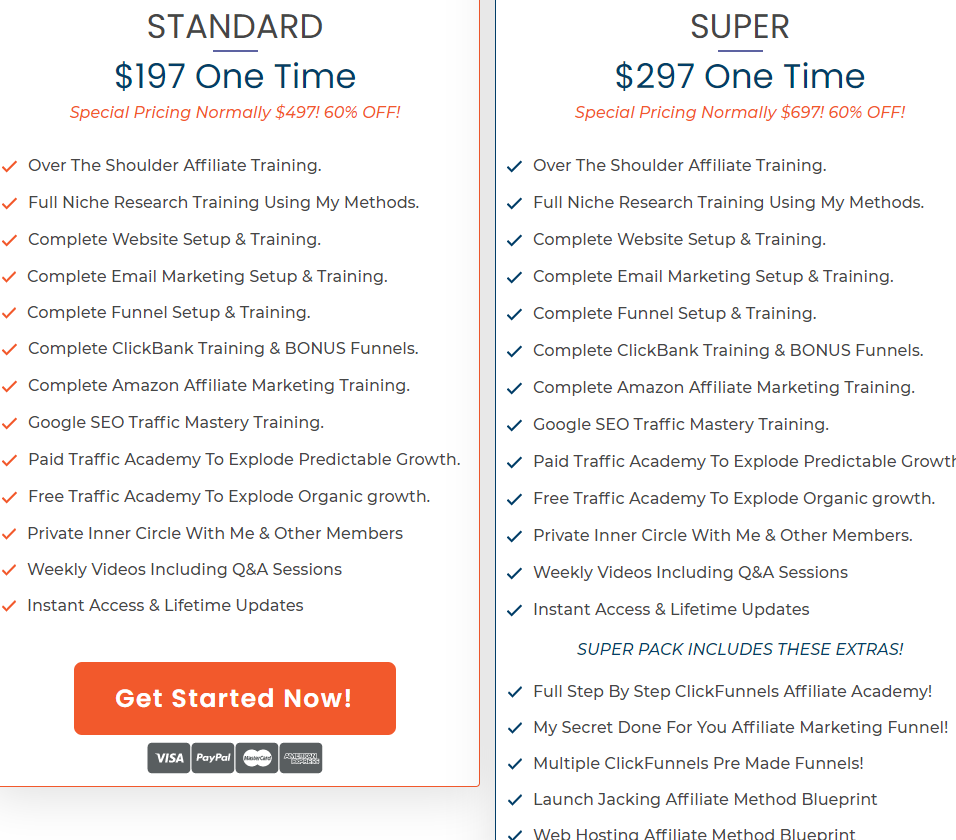 However, this pricing is for the program itself, and doesn't include the upsells to things like:
Clickfunnels: $97-$297 monthly.
Legendary Marketer: $30 a month to possibly over $10,000 in upsells.
And that's a major thing to consider and why I said the price of Savage Affiliates can double, and triple easily and it's one of the cons of the 5 things about this program that doesn't make me want to promote it. But I'll explain more later.
What Savage Affiliates teaches specifically:
The program provides a step by step guide to creating your own affiliate business and learning which products are worth promoting and how to promote them through several channels, including:
Note: The links above I just included are my tutorial on each subject which you can check out for free and if you enjoy the content, know that it's Wealthy Affiliate that gave me knowledge on all of this and is a preview of what you can also expect to learn from the program.
Anyway, moving back to Savage Affiliates:
And you learn this material through the nearly 10 modules of training available, and each module carries it's own series of lessons. Support on a private Facebook page is provided from what I gathered and you can get help from other people of Savage Affiliates, and I assume Franklin is one of them.
Now I am writing this from a point of view as someone who has NOT purchased the program but knows the affiliate business VERY well and this type of program, while good is not something I've never seen before.
I've seen enough of an inside look from Franklin's webinar promoting this program (called Passive Income Mastery CB), to other YouTube reviews and blogs giving an inside look, and based on the content they showed me, I was easily able to fill in the blanks and draw my conclusion about the program that way.
Does Savage Affiliates actually work? The answer is yes.
Despite not promoting it or recommending it, I cannot deny that Franklin knows his stuff and I can definitely tell you that the program can deliver you results.
However, the reality of any good affiliate marketing program is that it is based on realistic blueprints and that means it WILL take you a lot of time to get results with them.
With Savage Affiliates, I'd devote at least a year into the training and application of that training if you want to get the results and by the way, even with the Wealthy Affiliate program, which I DO recommend, I also will tell you the same thing which is:
Wealthy Affiliate works and I recommend it more, but you will need to also devote at least a year to the training and application.
Programs that teach realistic ways to get results with affiliate marketing also take time to get those results with and it's one of the ways to tell apart the good and bad programs out there (bad ones always say fast results or some related nonsense).
Why the cons of Savage Affiliates may outweigh the pros:
By this point in the review, I think I already made the 2 pros of Savage Affiliates quite clear, and they are:
Why the program is legitimate and teaches good ways to do affiliate marketing across different realms (no scam).
Why it gets results if you apply the training and devote a good deal of time to it.
But remember, the remaining 3 parts of this review were either neutral or negative and that depends on your interpretation of them. I personally think these 3 things make the program a no go for me personally, but you might feel different, so let me write this part up in a way is unbiased as possible and help you decide:
Points 3 and 4: The total cost of the program going far higher ($97 on top and way up after that on top of Savage Affiliates):
While the 2 membership levels of Savage Affiliates are under $300, expect to be pitched third party programs as part of your training when you go through it and if you buy it, your total costs will literally skyrocket, on top of the amount you pay to start Savage Affiliates.
A) First we have Clickfunnels (Plus $97-$297 monthly):
And you don't need to look far to see that as Franklin literally lays out that Clickfunnels is part of his training, and I know Clickfunnels very well.
I am one of the few affiliate marketers who chooses not to promote it and that's because I'm one of the few people out there who understands that you DON'T need it and will not promote it because I don't feel it serves customers as well as it's affiliate program does and if the program can't deliver a good service for a good price, then forget it, I won't promote it.
The main attraction of Clickfunnels in my opinion is it's affiliate program, not the service it provides, as you can literally recreate it's features through cheaper and free means. And people like Franklin promote Clickfunnels because he can make a great passive affiliate income in the process from it.
B) Second, we have Legendary Marketer (Plus $30 a month to over $10,000 in total costs on top of Savage Affiliates):
Legendary Marketer is an even bigger no no program in my opinion that may also be promoted. In one of Franklin's webinars, he mentions how one of the bonuses of joining his program is that he'll reveal to you one of his $1,000 commission promotions, and that's code for high ticket systems, which in this case is Legendary Marketer based on my research: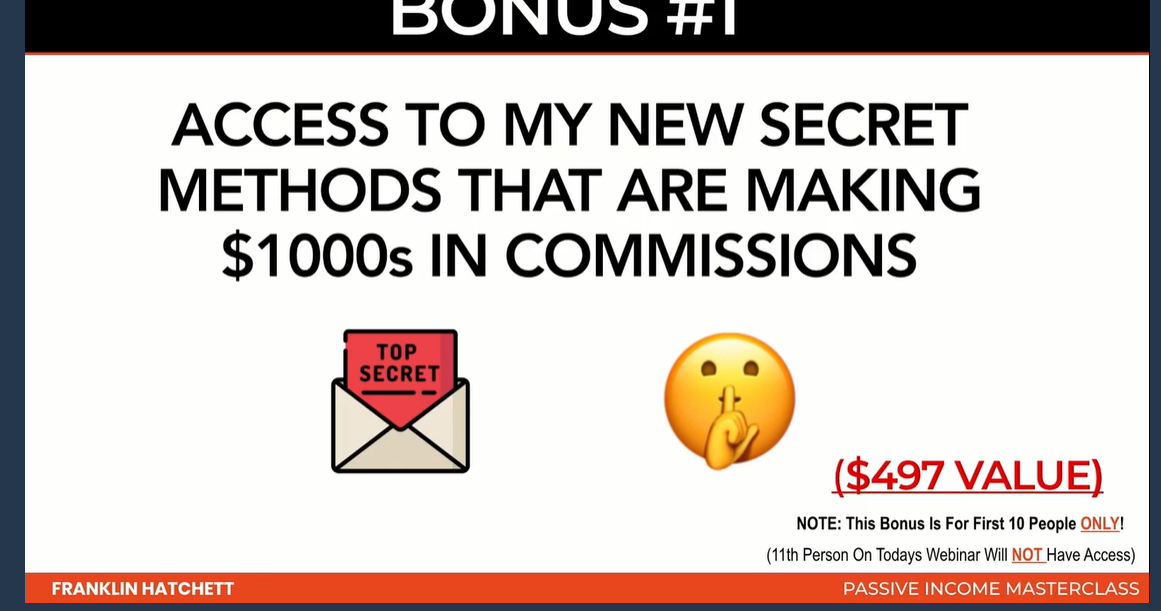 I had some insider experience there before leaving, but overall, I lay out my position on ethical high ticket programs to promote as an affiliate marketer and unethical ones. And in Legendary Marketer's case, it's price is what I don't like.
Point 5: You can save so much money and still get amazing training from Wealthy Affiliate:
This was the last thing I mentioned on top 5 list of things to know about Savage Affiliates. Now Franklin likely feels differently than I do about promoting Clickfunnels and other programs and like I said, this is subjective, but considering how:
Programs like Wealthy Affiliate teach you all of these things for a $49 a month price, I feel more comfortable promoting it and the all under one roof training it offers, vs 3 different programs (Savage Affiliates + Clickfunnels + a high ticket program), that can have you spending so much more for learning similar material.
More on Savage Affiliates:
Is Savage Affiliates worth it?
No in my opinion. Savage Affiliates is legitimate, but there are expensive add on upsells to use and there is more training in other programs for less on this same topic.
Conclusions on Savage Affiliates:
The most major conclusions are literally the exact same 5 things I said when I started this review:
The program is good.
You can get results.
But the cons that come with the program (my subjective view) that are:
The 2 big programs pitched on top of Savage Affiliates once you join (Clickfunnels and the high ticket program).
Plus Wealthy Affiliate having all of this type of material available for one low monthly price, makes the deal for consumers looking to start affiliate marketing far better with this place than with Savage Affiliates.
Going further with the benefits of Wealthy Affiliate:
1) If nothing else, Wealthy Affiliate has a starter membership you can explore risk free to see the things I'm talking about.
2) Further, with that free membership, you can also get a free site, awesome support and my coaching for 7 days.
That's what I recommend you do, since the deal of Savage Affiliates isn't going to go anywhere. I recommend you start with Wealthy Affiliate, see how you like it there and then decide on moving into Savage Affiliates or not.
You already know my opinion of the program and what to expect when you join it, but at least with WA you risk less, initially and long term.