This Millionaire Shortcut review isn't one I'm happy writing about and here's why: I got the eBook and I'll be honest, I wasn't impressed by it at all. Furthermore, I went further into what this book pitches after you read it and that was even worse in my opinion.
But overall, here's what I want to cover in Millionaire Shortcut review:
You're going to get the Millionaire Shortcut summary (what I understood from it).
I'll explain how it teaches you to become a millionaire.
What the "shortcut" really is (Spoiler: In my opinion it's a lot of hype).
What actually happens after you get this eBook (it's really the tip of the iceberg in a bigger sales funnel).
Why I don't recommend it (and what's better).
Product info on the The Millionaire Shortcut book:

Name: The Millionaire Shortcut.
Creator: Jeff Lerner.
How much is it? It's free (just enter an email).
How long is it? 15 pages.
Rating:

1 out of 5 stars

What does it teach? Making online businesses via copying successful people at it basically.

Recommended? I personally say no, but it's not a scam and it's free to read so you can do that and make your own judgement.
Better alternatives? Oh yes (details below).
The Millionaire Shortcut summary:
It's only 15 pages long and frankly, not every page has a lot of content on it so it's a quick read. I do think it's very hyped, but the general idea is OK. The basics of this eBook are:
1) Jeff Lerner talking about who he is and how struggled to succeed at making money.
2) How he found out about making money online, that it's one of the best ways to become successful and how he then found mentors to teach him this.
3) He copied them, became a success and now helps others do this too by copying HIM specifically.
4) This then segue's into the next stage of Jeff's funnel which is introducing people to Entre Institute, which is the main program he runs where he teaches people these things.
And that's it. That's the Millionaire Shortcut summarized.
Who is Jeff Lerner?
Jeff Lerner is the author of the eBook and co creator of Entre Institute. He is basically a successful online businessman who teaches people his ways (he also has a popular YouTube channel). You have probably seen his ads promoting The Millionaire Shortcut eBook and/or 3 other options:
I personally first saw him on YouTube and then MANY times on Facebook Ads.
Pros:
The eBook is free.
Digital real estate (making money online with websites and so forth) is a real thing, but depending on who you get advice from determines a lot.
Cons:
Too hyped in my opinion.
Content in the eBook is the very vague/broad in my opinion.
Millionaire Shortcut is just step 1 to a larger, high ticket sales funnel (Entre Institute).
I think Jeff and his Entre Institute is legitimate, but there are options in my opinion.
Where exactly is the "shortcut" in The Millionaire Shortcut?
Hype

vs

reality

:

From what I understood, the "shortcut" part is copying people who are successful online (in this case copying Jeff) and because what he teaches people is making money online and the investment and profit from this is huge, it's basically a shortcut to becoming a millionaire vs doing traditional things.

He's technically right and I happen to somewhat agree about this. I personally make money online and I can attest to the fact that if you wish to be successful (online business or anything), find people who are good at so and so, do what they do and rake in the results.

However, aside from the SUPER general explanation, there are in my opinion many holes in the messaging of The Millionaire Shortcut. In my opinion, even if you do things right and copy the right people, there is still a lot of time, hard work and effort needed to succeed at because I literally do this same stuff Jeff teaches, I can tell apart hype from reality.

In my opinion, there is much more hype in the Millionaire Shortcut. Once you start doing this business, that's when you'll understand the reality (but if you work hard, you can make some serious money and live a great lifestyle as I have personally experienced myself).
What The Millionaire Shortcut takes you to (and why I'm not happy about it):
Again, all that the Millionaire Shortcut really does is excites (or hypes in my opinion) readers to sign up with Entre Institute and if you want to copy Jeff and make money online, that's where you'll get the real training.
But before you actually do that, there's two more things you need to do:
1) First you need to go through the introductory program of Entre Institute.
That is $39 and I personally paid that money to see what's inside. Altogether, there isn't really much training, but just more information about making money online, specifically through 3 methods: Online courses, affiliate marketing and local marketing.
These 3 business models are absolutely legitimate (I use 2 of them personally and make money online especially with affiliate marketing), but it's really just information about how amazing these businesses are (My full Entre Institute review).
To ACTUALLY get started, this is where you need to go to the next stage:
2) The full Entre Institute Digital Course (

$3,997

):
While I am confident Jeff Lerners digital course is legitimate at teaching these online business models, I am honestly not going to spend this much money on it. One of the main reasons why is because I can literally list a number of recommended programs here which cost way less and teach you this.
And out of that list, I would say the top choice is Wealthy Affiliate (much of the same training, for MUCH LESS). Shortly put: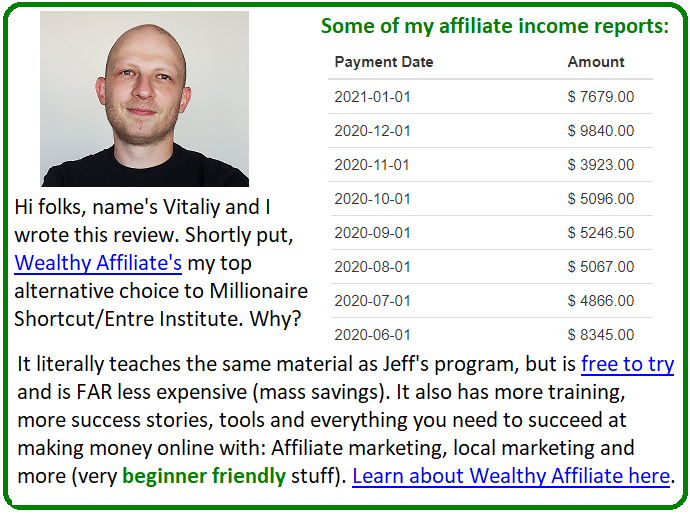 My conclusions on The Millionaire Shortcut:
So my conclusions on this is broken down into 3 parts:
1) First: I didn't really like reading the eBook.
Maybe it's because I know how this all works and whenever I read stuff that's a bit over the top in my opinion, it just ruins it for me.
2) Second, I wasn't happy with the introductory experience I got at Entre Institute:
I really gave Jeff's introductory program a shot and I wanted to like it, but I just couldn't. Again, you can read my full review that I linked above, but what I didn't mention here was that when I joined (spent $39), I got a lot of spam emails, calls and texts. That really pissed me off and I never like it when programs do this.
Furthermore, for paying $39, I would expect some level of quality training and instead, what I got was a lot of video content on making money with 3 business models but how I'd need to upgrade.
If the introductory program was free and not $39, I would have been much more open to giving this a higher score but in my opinion, instead I spent $39 to basically learn how much I could make by spending more on the full program.
3) Third, paying $3,997 is too much in my opinion (and there's cheaper options):
Again, the business models taught in this program are legitimate and frankly, despite my subjectively bad experience with the Millionaire Shortcut and Entre Institute, I still think both Jeff and his program are legit but just not enough to justify spending money on a high ticket program like this!
Do I think that if you buy the $3,997 program and apply it, that you'll succeed? Yes I do.
But are there

better alternatives

than spending $1,000's on this? Oh yeah:
The alternatives? Why Wealthy Affiliate is the easy choice: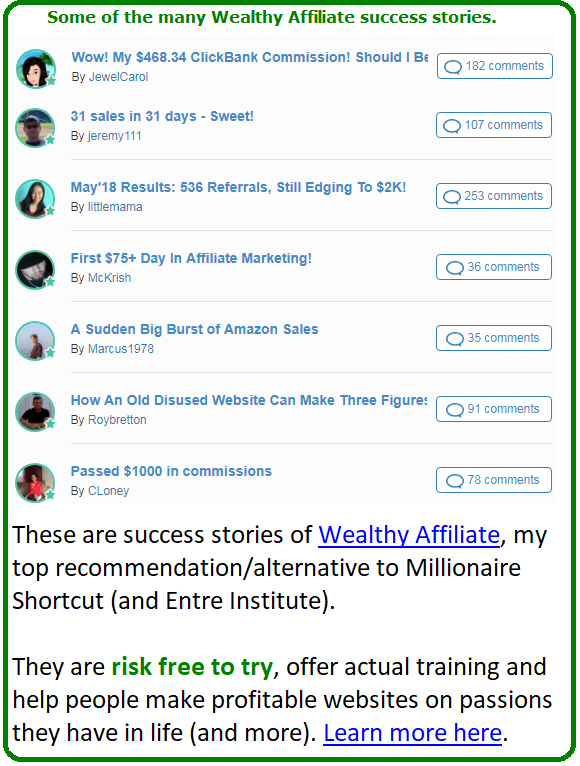 The bottom line is this:
The Millionaire Shortcut and Entre Institute teaches making money online via 3 methods.
Wealthy Affiliate literally teaches this same material, but it's free to try (and you actually get real training). There's also more success stories, more training, more tools and support. It's a very beginner friendly program.
Wealthy Affiliate is where I personally learned this stuff Jeff teaches, and so I know you don't need to fork out $3,997 to do this. Now to be fully transparent, I am promoting Wealthy Affiliate, and there are 2 upgraded memberships, one of which is $49 a month, but I fully endorse that if you are looking to make money online, that you:
Read my Wealthy Affiliate review here (I recommend you read it fully).
Make your own independent decision on whether or not to join it.
If you do decide to join, try the free membership (no risk and you can see for yourself what's up).
Decide later if you wish to upgrade.
As for The Millionaire Shortcut, like I said earlier in this review, if you wish to read it, I actually endorse that since it actually is free. Give it a shot if you want and draw your own conclusions.
But just keep in mind what I said it leads to and then decide if that's for you. If its not, you at least have one or more good alternatives that teach you the same stuff.