Pinterest is one of the more easier platforms to attain SEO success on (vs places like Google) and in this post, I'll be showing you 5 ways to do that. Whether you're seeking to grow a personal or business page there or utilize this platform to grow a blog outside of it, these tips will help you either way.
I've been using Pinterest for over a year now to do the following things:
1) To help grow this very blog on affiliate marketing.
Through Pinterest I've been able to get more backlinks and this has helped this blog get faster authority through bigger networks like Google. Through that process, my site's traffic growth and SEO results (both on Google and Pinterest) have sped up.
2) To help grow my nature blog (this is huge).
If you're into travel, you need to use Pinterest to grow your blog. I can't make this clear enough! And even if you don't have a blog, you can and still will want to use Pinterest to grow a following there directly.
Because travel is such an image heavy niche, it's perfect when used alongside the Pinterest platform and through it:
My nature blog has gotten countless backlinks, a lot of followers and my Pinterest channel overall, through the SEO tips I'll be showing you here has been getting a nice flow of traffic, visitors and this has also helped then nature blog grow substantially over the past year (It's called TheNatureSeeker.com).
Today, about 10%-20% of my travel blog's traffic comes from Pinterest and it's generated on auto pilot at this point (and slowly growing even though I barely do anything anymore).
My goal with this nature blog is to:
Do affiliate marketing with it (promote a program called Wealthy Affiliate).
Run Mediavine ads on the site once traffic reaches the necessary quota. In the process, it'll be able to generate up to $5,000 a month or more.
For those who new to Pinterest SEO, here's 4 things you need to know:
1) The goal of Pinterest is to create images or videos (both are called pins) that get visitors.
2) The SEO strategies I'll be showing you in this article do that intelligently so your pins appear higher on Pinterest's search bar.
3) The higher your pins appear, the more audiences you can attract to your pins, and get more traffic from that, as well as better results in the process.
4) Getting more traffic to your pins means you can get more visitors to your blog, website or perhaps something you're promoting and thus you can make more money from that.
5 things you can expect from using these SEO methods on Pinterest:
You'll get more likes, saves, shares and repins.
You'll get more backlinks from Pinterest to your blog.
You'll get more traffic from Pinterest overall.
You'll be able to grow your Pinterest page quite effortlessly.
It'll actually be a simple process, but it does require repetition.
Here are the 5 SEO methods you need to start using on Pinterest to get these results:
Target a specific keyword and use it in the title of your pin.
Target the same keyword and use it in the description of the pin.
Create a very relevant image for better exposure on Pinterest.
Create a very relevant video and use keyword tags to get more exposure.
Link your pin to a relevant blog or website you're seeking to grow (backlinks).
In order to fully grasp how important these 5 SEO methods for Pinterest success are, I need to give you more context, and so in the next sections of this post, I'll be diving into these details, so be sure to read them fully!
Understanding how Pinterest SEO works (the general idea):
You'll notice how most of the tips above involve using keywords. Let me explain what it means and why it's important:
Specific keywords are terms that are popular across the internet. It could be a popular term people search up on Google, YouTube, Facebook, Pinterest, ect…
For example:
How to get rid of cellulite (popular keyword term).
Different fat loss products (each product could itself be popular).
Drone models (each model could be a popular search term looked up online).
When you start using these SEO tips for Pinterest, my advice is to pick a niche you really like (here are 10 niches in 2023 that are popular for example) and create pins on everything and anything related to the niche.
In my case:
I'm going to be using my nature blog for reference and in the context of this SEO tip, what I am trying to do is:
Target specific and very popular nature locations people look up online.
Create pins for each location using these SEO tips.
In the process, I can quickly grow a Pinterest page, followers and get traffic.
Here's how that works:
I'm going to be 1 targeting a specific spot people love to visit: The Catskill Mountains.
My goal is to create 1 or more pins with images and videos of the Catskill Mountains so that when people go to Pinterest search and type in "Catskill Mountains", my pins will show up near the top of their results.
In the process, I can get those people to click on my pin/s, save them, or click on them to visit my blog (my blog post on the Catskill mountains). That's the whole goal of this SEO process.
1) Target a specific keyword and use it in the title of your Pinterest pin:
In my case, I'm going to target the following keyword: Catskill Mountains. I'm going to use that keyword in the title of the pin I create later but I'm also going to make it look a bit fancier than just "Catskill Mountains". I'll say something like:
"The 10 Most Epic Spots in The Catskill Mountains" 
That title is perfectly fine and as long as it uses the keyword "Catskill Mountains", it'll already be doing the SEO work that's intended.
2) Target the exact same keyword in the description of your pin:
SEO on Pinterest doesn't just end at the title. You also have an opportunity to leverage it in the description of your pin and you do get enough space to write at least 1 paragraph for that. In this case, here's something I can write:
"I've explored the Catskill Mountains for years and discovered amazing adventures few people know about. Check them out here"
Notice how the keyword is already in that short sentence, but it's enough for the SEO impact to be made.
3) Create a very relevant image (this will be the pin that people see):
In my case, I have a whole library of images of the places I've visited, so finding one or more images with the Catskill Mountains isn't difficult for me. What I'll do here is:
1) Dig up a picture of the Catskill Mountains that I find to be most beautiful.
2) Head over to Canva.com and edit that image so it's in the frame of a Pinterest pin (long rectangular shape). This will make it easier to upload the pin later to Pinterest.
3) Through Canva, I can also edit the image and place RELEVANT words like "Catskill Mountains". This will visually attract people to my pin when they see it, so you can actually get clicks and better SEO results.
This is something you'll have to practice, but I'll be putting out a how to on making beautiful Pinterest pins in the future.
4) Create a very relevant video and use keyword tags to get more exposure:
Pinterest videos are like a trojan horse to SEO success on this platform folks, and I highly recommend you use them! Basically with this SEO tip, you pretty much do the same thing as you did with the images tip above. In my case:
1) I'll dig up a video of my in the Catskill Mountains that I think people will like.
2) I'll again go over to Canva.com, upload the video and make it no longer than 10 seconds long (long videos don't do much for Pinterest, so stick to 5-10 second videos for better results).
3) I'll again edit the video on Canva so it says the words "Catskill Mountains".
4) Video pins on Pinterest offer you an extra thing regular images don't which is "tags" you can add to your video to help it get more exposure. Tags are literally any related keywords to the pin. In my case, I'll use the following tags:
Hiking, Upstate New York, New York, Mountains, trail hiking, and anything else that is allowed.
As you type in these tags on Pinterest, you'll be given suggestions of tags you can use and this will help you choose the most relevant ones. This in turn will help your video pin get more exposure on Pinterest, more potential saves, likes, repins and better SEO results.
You can get way more exposure with a video pin on Pinterest vs image so I highly recommend using video pins.
5) Link your pin to a relevant blog or website you're seeking to grow (backlinks):
This is for people who wish to grow a blog or site outside of Pinterest (and I highly recommend you do that if you aren't already). All you do here is link the pin you create to a relevant blog post. In other words, for me:
I'll link the pin/s I make on the Catskill Mountains to a blog post on the Catskill Mountains. In doing so, I can get more backlinks from Pinterest and improve the SEO quality of it.
People who do online marketing here can also directly link to an offer they are pitching. I personally like growing a blog alongside a Pinterest page and then promoting from the blog itself.
Here is an example of how one of my top pins on this very keyword is doing: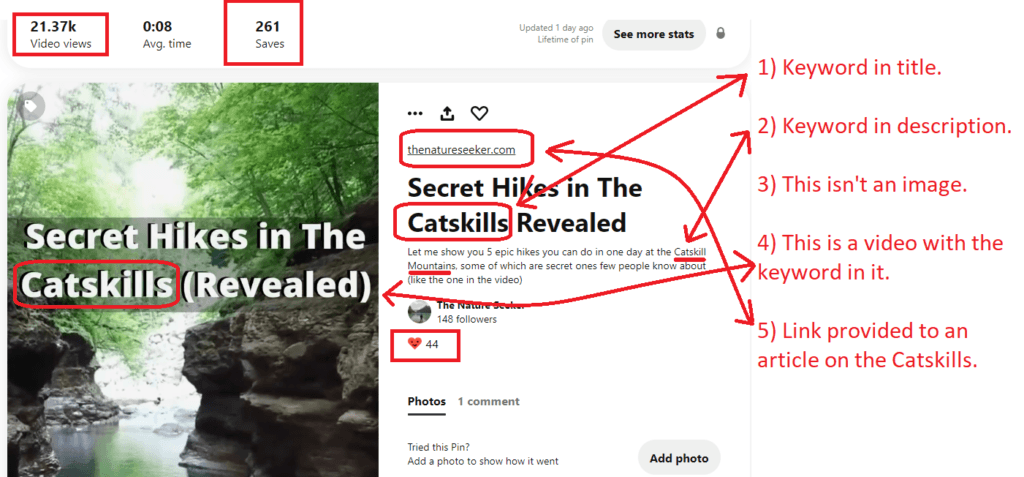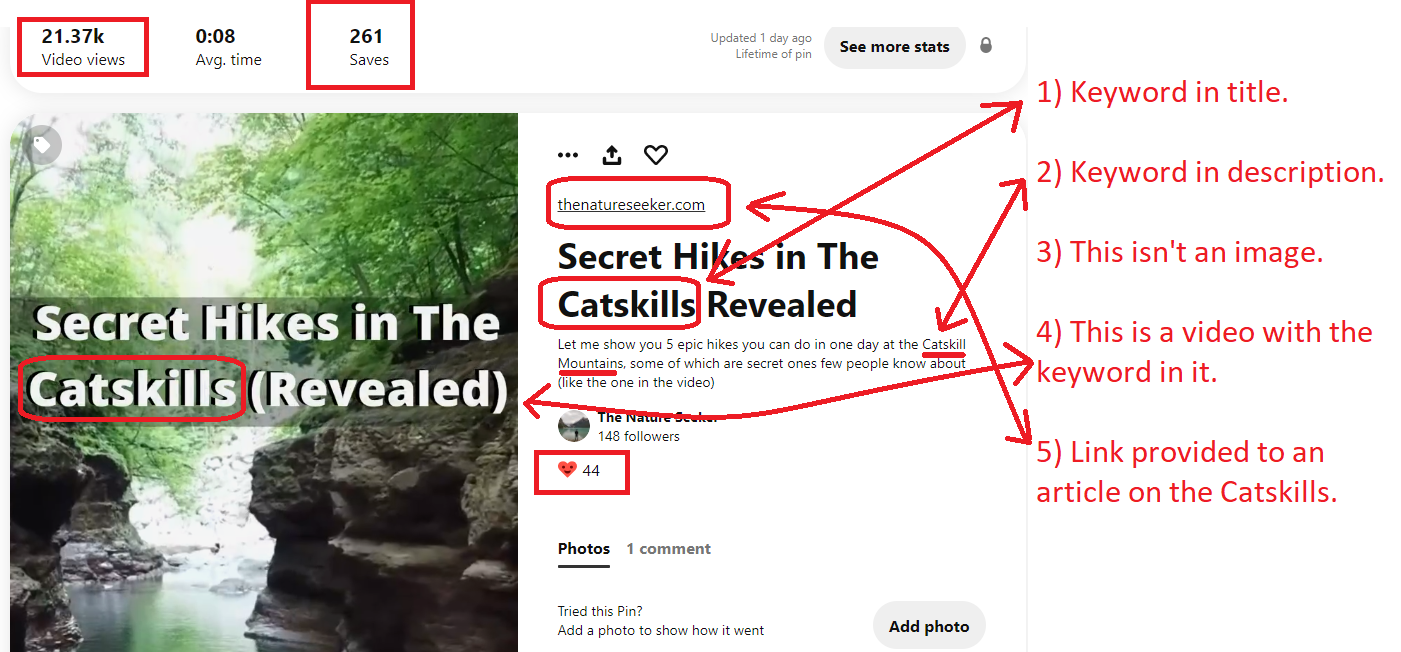 Growing your SEO results on Pinterest: Repetition is key
Once you create 1 pin, you shouldn't just stop there. Continue to grow your Pinterest page by making more and more pins. My current Pinterest page has at least 100-200 pins, and it's a mix of images and videos, each linking to different blog posts I've written.
By creating more pins that follow the SEO advice I've given you here, you will be able to get more followers, more exposure and thus your future pins will have an easier time ranking on Pinterest in general.
Today, I can confidently tell you that I have numerous pins that appear very high on Pinterest's search for some really competitive terms, which in my case are nature locations you'll find tons of other pins for. Because I had good quality pins, good SEO practice and grew a Pinterest channel that gets likes, followers, saves and repins, I have an easier time ranking for the more competitive nature destinations.
So if you want to consider this as a 6th SEO tip to be used for Pinterest, that's fine, because it really is necessary for success.
Growing your SEO success (and profits) outside of Pinterest:
If you're like me and you want to make money from Pinterest, these SEO tips I've given you will help with that. And if you're linking your pins to a blog, it will also help that blog's SEO success grow.
However, I advocate going beyond these realms and also starting a YouTube channel, social media page and growing those channels, so you can further grow your online business. For example:
I do all of these things alongside my Pinterest channel because I can get more traffic from these other sources, link them back to my blog/s, grow them and make more in the process.
This may seem like an overwhelming feat at first, but diversifying your online portfolio like this is one of the best ways to make a long term income in this business.
If you're someone who is seeking to do this, I recommend the Wealthy Affiliate program which will teach you this stuff in the process sequence of steps:
They'll help you with making a niche blog.
They'll help you grow a YouTube page.
They'll help you do PPC ads.
They'll help you do social media marketing and yes, this is where you'll learn about Pinterest.
As for the SEO tips I've provided you here, I hope you use them because they really do work! You will have to go through a learning curve when you start, but this process becomes very simple overtime and almost entirely automated.
Like I said before, many of my pins now get so many shares, repins and likes, that the marketing of my Pinterest channel and blogs I link it to are done on their own. You can reach this same level too.