Both solo ads and PPC are paid methods used to drive traffic to your site, affiliate offers and so forth. But which option is better for you to use? Well in this post, I want to square off both methods vs each other and tell you why (without any ounce of doubt), that pay per click is better for you to use. In fact, there's 5 reasons for it.
I'll explain very shortly, but just so you know, I'm someone who has a lot of experience in online marketing, specifically pay per click (six figures in profits). With solo ads, I have always been very critical of using them because of the 5 things I'll share with you in this post.
Now before I explain what they are, it's important to first know what each of these methods are because I often run into people who know the gist of solo ads and PPC, but when they start asking me questions about these methods, I realize they don't have a clue about either method, and so:
Here's what solo ads are:
Its when you buy traffic and clicks from people who have existing email lists.
Basically you pay whoever has an email list with your niche audience in mind a certain amount of money, and then they send out an email blast to their list, promising you an X number of clicks to your offer for however much you pay.
Depending on which solo ad provider you go to (there's individual ones and entire platforms like Udimi), the cost of buying solo ads can be $50 for something like 10 clicks all the way up to $5,000+ for 1,000 clicks.
Side note: You can also become your own solo ad provider. Programs like Your Web Traffic Agency help you set these things up.
The entire premise behind solo ads is that you're buying "targeted traffic" from people with a high quality email list "ready to buy" and this is a much faster way of making money online.
Typically, solo ads are used by affiliate marketers.
Here's what PPC is: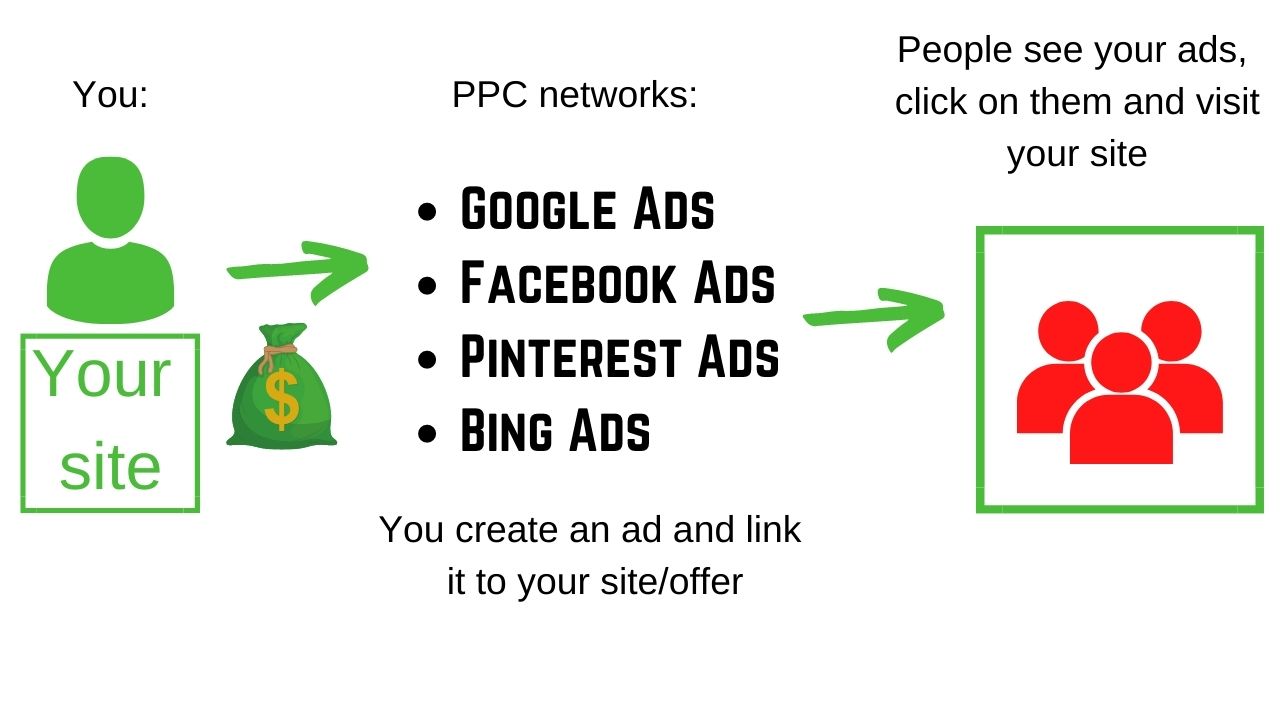 It means pay per click and it's the process of you setting up ads on one of the major search engines or social media sites out there (Google, YouTube, Facebook, Instagram, ect…).
Once you set up an ad and it runs on the platform, you will then get clicks and pay a certain amount for each click.
How much you spend on pay per click varies on many factors (it can be very cheap or it can literally make you go bankrupt), but overall, the idea is still the same:
You get faster traffic through paid means to your offer.
Pay per click ads are used by a wide range of marketers, ranging from affiliates to people running personal businesses.
Where solo ads and pay per click are similar:
They are both paid forms of online advertising.
They can both cost you a lot of money.
They can potentially lead to fast traffic and potentially fast sales/income.
You don't need to build large websites to use either solo ads or PPC, just a 1 page site and a good online sales funnel typically is enough.
However, once you start looking at the details, the contrast between solo ads and PPC is very stark, and so with that said, let's get to why:
5 reasons why using pay per click is better than solo ads: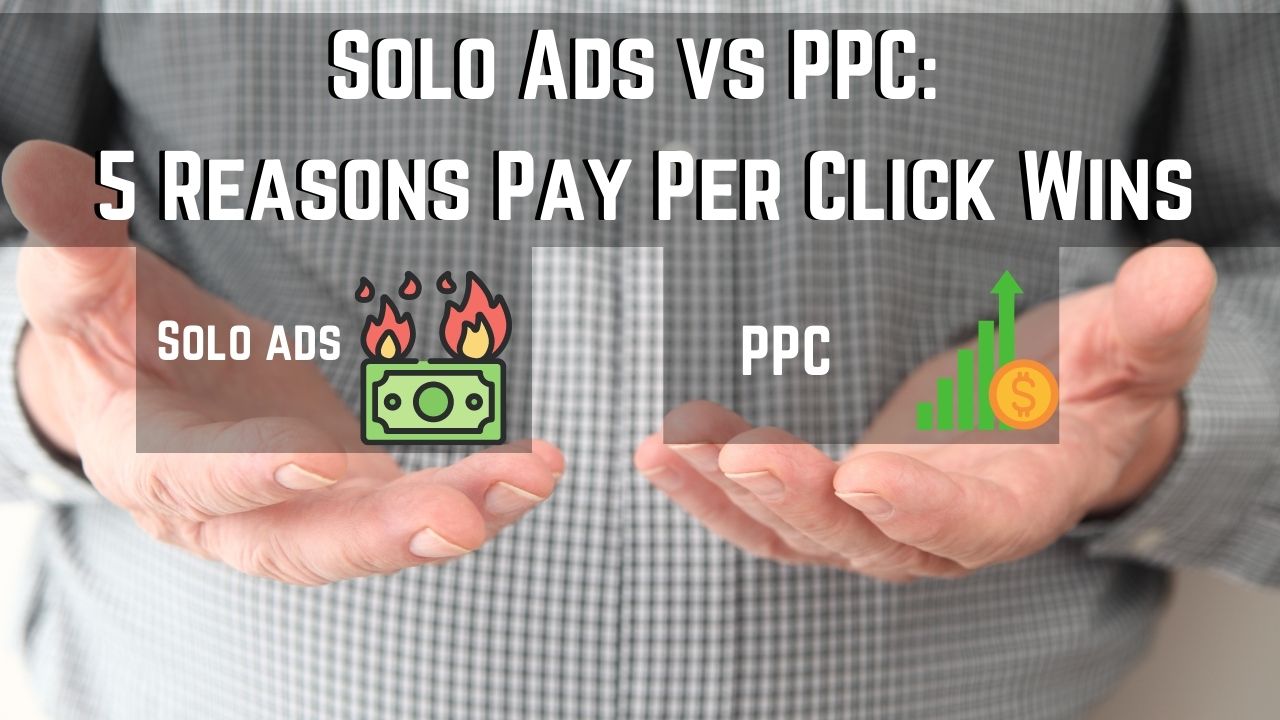 There's a wider range of niche audiences to reach.
You can spend far less on PPC ads than solo ads.
There's far more control over the quality of clicks and traffic you get.
Less odds you'll get cold leads and junk leads with PPC vs solo ads.
You can get more clicks, more reach and better results with PPC.
Now if these 5 points aren't clear enough as it is, don't worry because I'll be explaining each of them in a moment, but just so you know, if you're completely new to either of these methods and don't even have the money to put into it, then my advice is to avoid both of them and focus on blogging or some sort of other free generation techniques.
Furthermore, if you need training, you can get ALL of that (including paid ads) in Wealthy Affiliate. But enough about that, let's get to the detailed reasons why PPC is better than using solo ads:
1) There's a wider range of niche audiences to reach: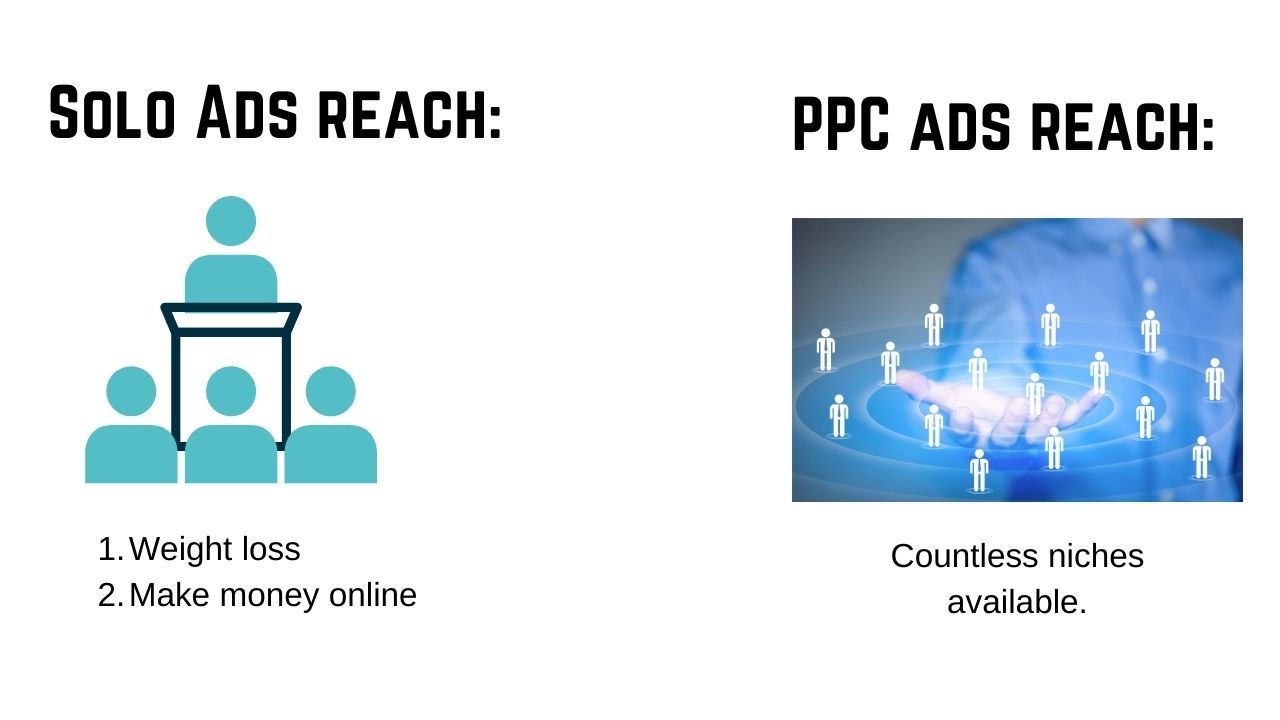 Solo ads typically provide you with the ability to promote a limited set of offers ranging in topics and niches pertaining to things like:
Making money online (affiliate marketing, MLM offers).
Dieting and health related topics.
Aside from that, you'll be hard pressed to find anything else outside of these 2 topics and while you can certainly find a lot of sub niches from these 2 topics, it's still very limited overall.
With PPC, you have these 2 topics, and far more.
Think of this way: ANY offer you have in mind, you can promote through PPC and find a relevant audience interested in it. For instance:
Love mountain bikes? Great, you can promote them across various PPC networks.
Love outdoor niches like camping? Perfect, promote that stuff through PPC too.
With solo ads, such topics (and a plethora of others) would not be possible to promote your stuff to. Solo ad providers usually offer you the opportunity to promote ANYTHING you want to their list, but because the nature of solo ads revolves around the above 2 topics, you'd be throwing away your money needlessly in promoting anything outside of those 2 topics, so don't bother.
2) You can spend far less on PPC ads than solo ads (and you can get better results):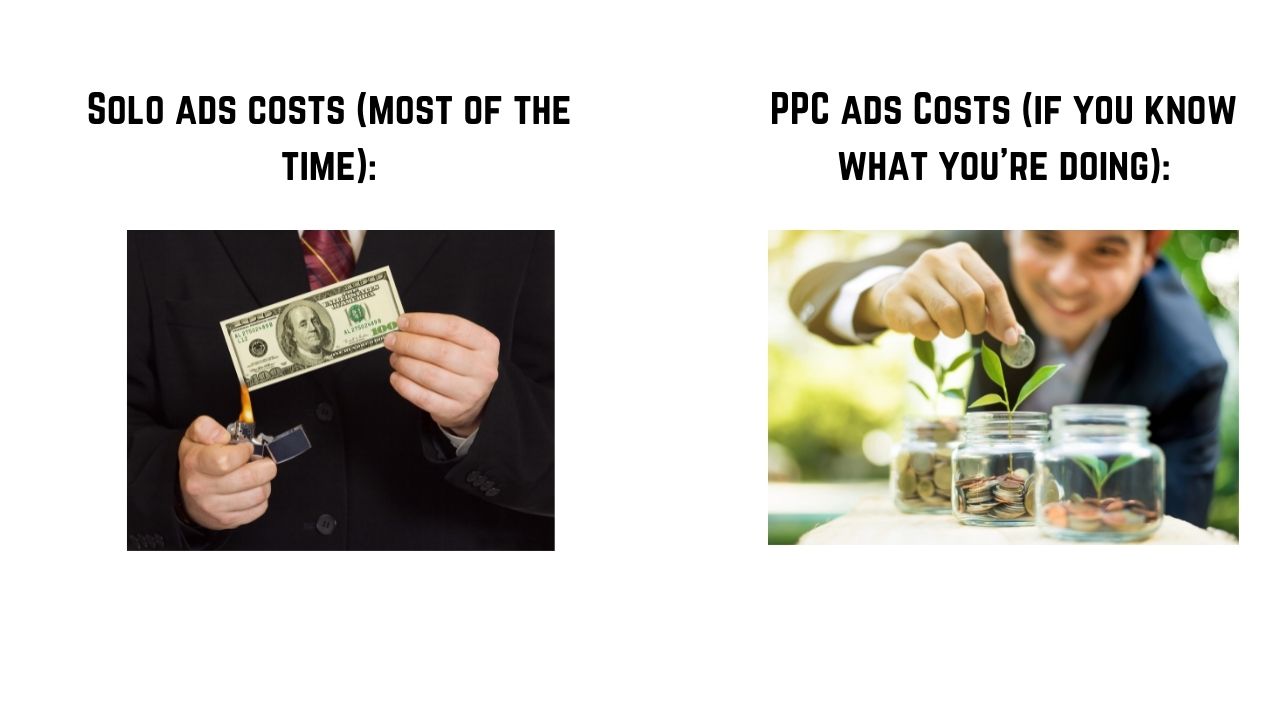 Because you can literally control your PPC costs, you can save more money on them than you would with solo ads.
With solo ads, it's sort of like buying a kind of "retainer". You have to pay a minimum to be guaranteed at least a certain number of clicks.
Now this is not a set rule and in certain circumstances, PPC ad costs can exceed what you'd pay for solo ads and it depends entirely on 2 things:
The niche you target (more competitive = higher cost for PPC ads).
How much you know about making good ads (less education in how to do PPC = higher costs for you).
But still, even if you dig into the details, PPC both on the surface and especially in the details will cost you LESS than solo ads and it can also lead to better results for the next reason I'm about to talk about:
3) You can get far more targeted clicks through PPC than with solo ads:
There's no question about this (feel free to debate me below if you don't agree).
With PPC networks, most of them allow you the ability to carefully plan your ad, your targeting, finding your niche audience based on it's age, demographics and even the keywords you only want your ads to show for.
This gives you so much microscopic control over the type of traffic you get, ensuring that ONLY the right people see your ad. There's a reason why certain pay per click ads I've run have gotten double digit clicks (CTR) and double digit conversions, for both opt ins and sales:
It's because I ALWAYS carefully set up my ads to get the right audiences to see them.
With solo ads, all you really get are "buy my solo ads and get super targeted traffic", but aside from that, there are no details on what this audience is.
Typically, you'll find solo ads to be a trash heap of low quality traffic marketed as being high quality traffic and in SUPER RARE circumstances will you ever find a decent solo ad provider who truly sends valuable clicks through their email list (and that can cost you a ton more than PPC ever could).
4) There's less odds of getting cold and junk leads with PPC vs solo ads:
When I said that solo ads are a trash heap of low quality traffic, I wasn't kidding and I'm certainly not apologizing for saying that either. When you have enough experience and see how many people foolishly spend all of their hard earned money on solo ads and the promises they market themselves as, you can't help but come to this conclusion.
Again, in RARE circumstances, you can find a decent solo ad provider, but the less experienced you are, the more odds that it'll take you more time and money to find that jewel of a provider (it's not worth it people) and in 99% of cases, solo ads are full of junk clicks, cold clicks and even people who have no clue how they got on someone's email list that they are now getting offers from and think they are spam.
With PPC, if you're inexperienced and not careful, this can happen to you too (PPC click fraud is also a hovering issue sometimes), but because you have control over how your ad setup and targeting go, you can actually prevent this from happening to begin with.
With solo ads, it's like rolling a dice and only 1 side of it can make you lucky. The other 5 screw you over.
5) You can get more clicks, more reach and overall better results with PPC vs solo ads:
The number of clicks your ad or offer gets shouldn't be your top priority with paid methods of marketing. Instead, the QUALITY of the traffic and clicks you get should be the top priority and with PPC, you have the ability to get that.
When that is your top priority, you can SCALE that to get more of the same types of quality clicks, pay less for them and on top of all this, get MORE of those clicks than you ever would for a solo ad offer you buy.
Conclusions on solo ads vs PPC:
For many years, I've been using these pay per click networks for affiliate marketing and have a ton of case studies I've put up to showcase how to use them to get results with. For example:
For Google Ads and Facebook Ads, more tutorials will be up soon.
But overall, I hope I made enough of a compelling case for you to use PPC over solo ads and if you not, there's a few other things I can recommend to you:
1) First, here is a post on using solo ads for affiliate marketing (and why it's a bad idea).
2) Second, every single serious marketer I know, including people like my affiliate coach, the owners of Wealthy Affiliate (super successful marketers), marketer friends of mine who run their own passive affiliate marketing businesses and more, and even people I don't really recommend offers, all say that solo ads are garbage and a waste of time. If the top dogs are saying this stuff, what do you think that means?
3) Third, if you're someone who (again) is not experienced in paid traffic to begin with or worse has no money to even get into it, save it, don't get into PPC or solo ads for that matter.
Instead get into building a niche blog off your passions and interests, get free traffic to the blog, and scale from there. The beauty is that this is what you'll learn from Wealthy Affiliate, where most of the success stories I listed in point 2 got their success from as well.