There's numerous reasons to get the Top Earner Transformation program and in this review, I'll be showing you what they are, but also sharing why for the price it costs, you'd likely be able to get the same info elsewhere for way less.
Top Earner Transformation info:
Name: Top Earner Transformation (formerly known as Secret Affiliate Marketing Hacks).
Owner: Zack Crawford.
Price: $997.
What does it teach? How to create an affiliate marketing business.
My rating for Top Earner Transformation: 3.5 out of 5 stars.
Recommended? If you can afford it and dedicate yourself to doing what Zack teaches, yes.
In a moment, I'll be diving deeper into the Top Earner Transformation program to show you details of what you learn within it's training and what to expect from doing that.
But before I do this, let me share some important things about this review:
I didn't buy the Top Earner Transformation program.
I already do affiliate marketing on my own, and know a ton about what Zack teaches.
I also researched this program from numerous sources that show what's inside Top Earner Transformation.
Overall, the program is great in many parts, but it's pricey elements are why it might not be for everyone.
For alternatives, I have a few suggestions, but here's my best one:

Pros of Top Earner Transformation:
14 day money back guarantee.
Legitimate affiliate business course.
Covers a wide variety of legitimate ways to build your affiliate business.
Zach is very upfront with how he teaches things.
There are success stories.
There is a good roadmap to success and organized training to do it.
Cons of Top Earner Transformation:
Pretty expensive course.
There's more stuff to buy like Clickfunnels.
A lot of the material is pretty advanced early on (like paid ads and email marketing).
Let's dive deep into the Top Earner Transformation program: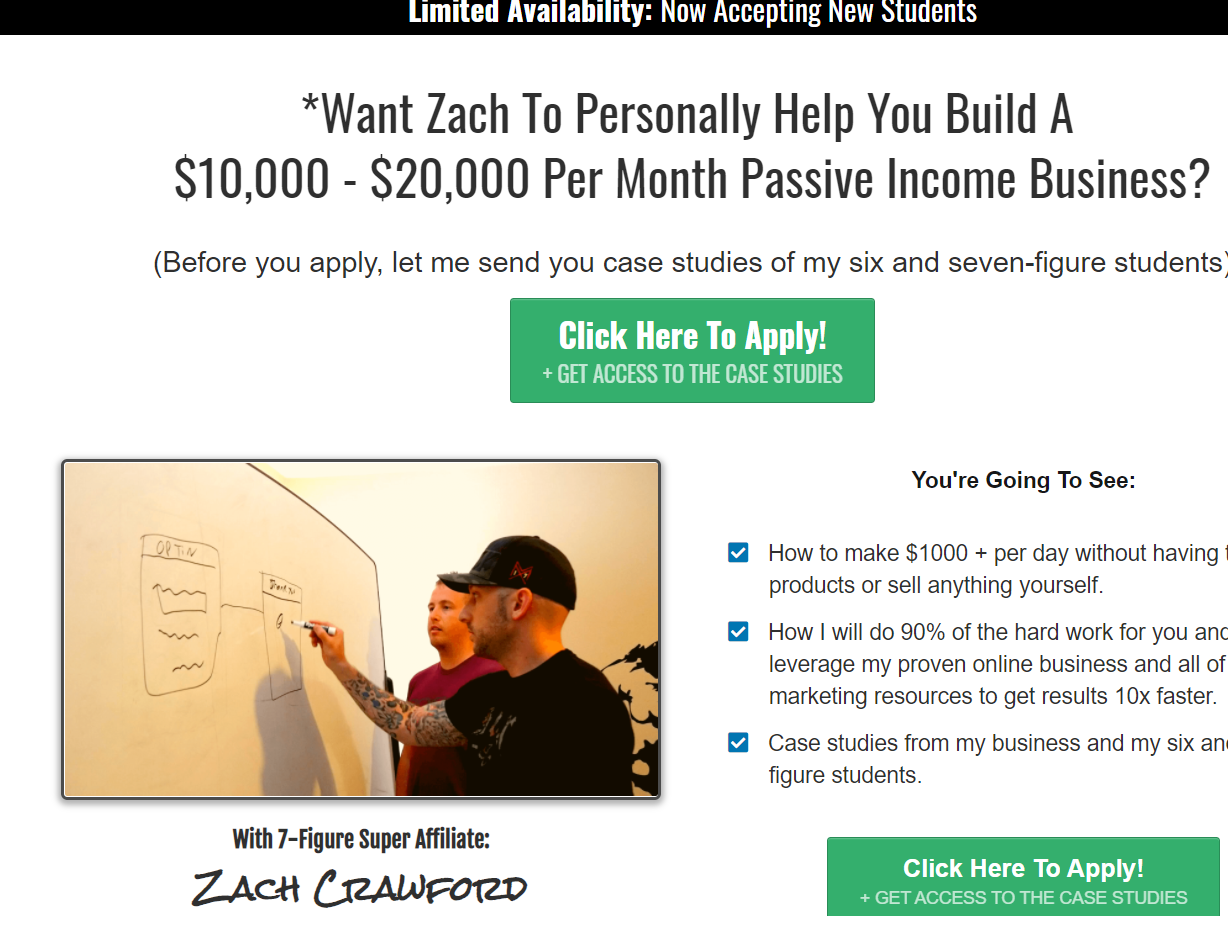 The first thing you need to know is that this program is legitimate, as is it's creator: Zack Crawford.
The second thing to note is that this program is an evolved form of Secret Affiliate Marketing Hacks. For whatever reason, instead of this program being a 2.0 version, it was just entirely renamed into Top Earner Transformation.
In a nutshell, if I were to give you a 1 sentence review of this program, it'd be that it's a multifaceted way to build an affiliate marketing business.
The entire program's training is provided in video.
There are 5 modules (chapters) of training (plus an introduction section prior to the modules and more bonus training after the modules) that gets into everything you need to know.
Here's a brief summary and breakdown of each module:
Chapter 1: Mindset training (being successful).
Here you'll get mindset training which includes an introduction lesson, book recommendations like Expert Secrets.
Additionally, you'll also get 3 sections of training which basically encompass how to change your worldview to become more successful in life (specifically business in this case).
Chapter 2: MMO fundamentals (making money online).
An introduction video + 4 section videos on basics of making money online, including affiliate marketing explanations, Clickfunnels explanations, picking profitable products to promote (high ticket affiliate marketing products included), and most importantly how to pick a niche you like.
There's also training about "creating assets" which would be a website, likely autoresponders and other important tools (basic affiliate marketing tool fundamentals).
I would say Chapter 2 is where you really start to make things happen in terms of action. Niche selection is in my experience a pivotal fundamental to get and start at. It's good that Zach teaches this VERY early on (one of the many signs of good training).
Chapter 3: A chapter devoted to sales funnels.
It's officially known as "Building Your Magnetic Conversion Engine" which is code for online sales funnels where you get visitors through multiple means, and then get them to become buyers (conversions).
Here you get another introduction video first to the concept, followed by 5 module training, which covers:
Online sales funnels overall.
Clickfunnels stuff.
Email marketing.
How to create value in your content and offers to get people to click, opt in and convert through your funnels.
Chapter 4: Everything traffic (known as Traffic Mastery).
This chapter is 1 introduction video and 3 section videos on everything involving traffic generation. A lot of it includes content on YouTube traffic generation as well as Facebook Ads, social media stuff and more.
I typically focus a lot of my traffic generation techniques on blogging, YouTube affiliate marketing stuff and I also do a lot of paid ads through places like Bing Ads and most recently Google Ads, and I liked what I saw in this chapter.
Chapter 5: Scaling your business and profits to six figures.
There's several sections of training here covering how to increase conversions through things like offering bonuses, product launches and an extra layer of traffic generation through Facebook Ads training.
Done for you material to help promote Top Earner Transformation (TET):
This training follows up after the chapters and here you are provided with email swipes to use for referrals, pre made funnels to make the process easier and more. A lot of this is certainly done for you things you can use to do things like promote Zach's program.
By the way, huge credit to the following sources for showing me this inside look of TET:
Conclusions on Top Earner Transformation:
I know I said the price of Top Earner Transformation is high, but the value of the program is excellent on many fronts. It really mimics a lot of the same stuff I learned in the same format when I was learning this material from Wealthy Affiliate.
However, my 3 biggest issues, which I pointed out in the cons above are (1) the price, (2) buying more expensive stuff like Clickfunnels and (3) getting too involved with email marketing and paid ads early on. I don't think the latter 2 things in that list of cons is necessary to spend money on if you're a beginner.
You can absolutely build a legitimate, highly profitable affiliate marketing business without those 2 last ingredients. A lot of marketers make it seem like it's necessary, but it's not.
You CAN get into them later, but I'd rather you get the choice to do it AFTER you have good success with lower risk methods like blogging, than be pushed into it early on and possibly lose a lot of money if you don't profit soon.
This is why I would say the best alternative for Top Earner Commission is actually Wealthy Affiliate, which is free to try, and far less expensive than TET overall. There's no need to buy Clickfunnels or expensive upsells either, so you save more money, and at the same time, get high value training (in higher amounts than TET) to build a wildly success affiliate business too.
And if you choose later on, you can get Clickfunnels, get into email marketing and whatever else (it'll be your choice and optional, because you'll have other ways you already build your success off).
So the short story is: TET is good and if you can afford it and devote yourself to Zach's training, do it. But if you're tight on money and are looking for other options, you'll literally get more from Wealthy Affiliate, and for much less (and still be able to do everything TET would teach you).