Wealthy Affiliate has a new tier membership called Premium Plus and being a member of it from day 1, I'd like to give you my review of it, help you understand it and decide if this is a membership that you need or not.
Basic information on Wealthy Affiliate's Premium Plus membership:
Price: $99 a month or $995 a year ($200 off in savings).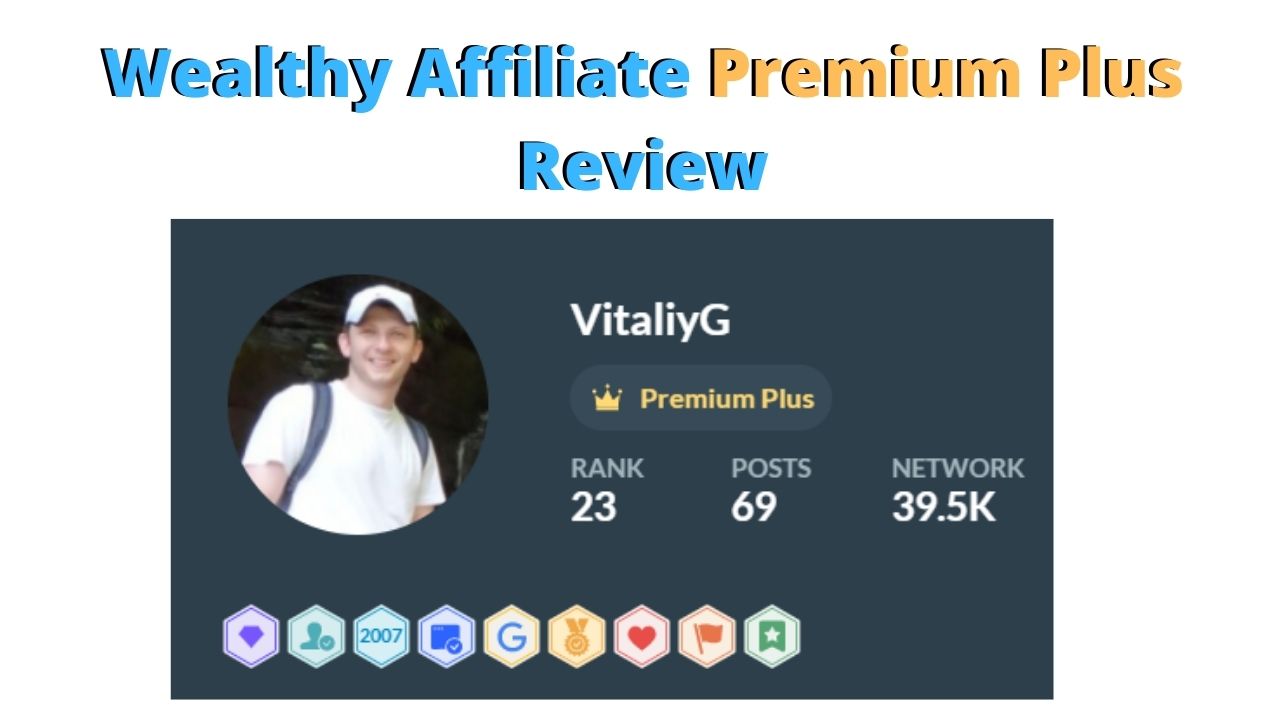 What is it? It's a new membership level that was introduced to the Wealthy Affiliate program in late 2020. It offers many more benefits and perks than the 2 levels of WA that are underneath it (Premium and Starter). This is what I'll explain in detail further down in this review.
Do I recommend Premium Plus? Ultimately yes, but I don't want people spending money on a membership like this unless they:
A) Understand it.
B) Use it as it's intended (to make sure you aren't wasting money).
C) Decide if the other 2 levels underneath it aren't enough.
And this is what I'm going to be doing in this review.
A summary of what the Premium Plus membership of Wealthy Affiliate is:
To best explain it, I have to give you a brief summary of the 2 membership levels underneath it. This will give you perspective and help you see if it's for you or not, so we'll start at the beginning:
First you have the Starter membership: 
Think of this as a "getting your feet wet" in the affiliate and online business world. You get beginner level training to basically start a business with affiliate marketing and get a great introduction into Wealthy Affiliate, it's community and benefits.
Then you have the Premium membership (not plus):
This membership builds off the Starter level and basically gives you ALL of the training that Wealthy Affiliate has created. In short, whatever you need to build a passive income out of affiliate marketing can be found within the Premium level content. You also get tons of other perks included with this membership to the community, the tools and help.
In short, I'd say the Premium level membership is the most recommended level for anyone has serious intent to build an online business because it will give you more than enough training to do that.
Note: More information and info on these 2 memberships is explained in this review of Wealthy Affiliate.
Note 2: Let me be clear about something very important and that is that the Premium Level Membership is more than enough to have people see success in this business. Joining the upper level is like the "next step" after that.
And finally, we move into Premium Plus (the newest membership):
This membership builds off the regular Premium membership, meaning you still get all of it's benefits of that level. But the extra perks to this level isn't something I can summarize quickly like the other 2 memberships. Instead, I'm going to break it down like this:
There are 2 major perks to the Premium Plus membership:
1) The first biggest perk to this level explained (Value $10,000 easily):
Out of the 2.5 million members of Wealthy Affiliate, there are a lot of success stories and it's really members who have used the Premium Level training to reach success.
But that out of that number of success stories exists an even higher echelon of success stories, and this group of people are basically the top dogs in the program (this includes me) and in the Premium Plus level of the program, this small group of people share their biggest secrets to success in the online business world.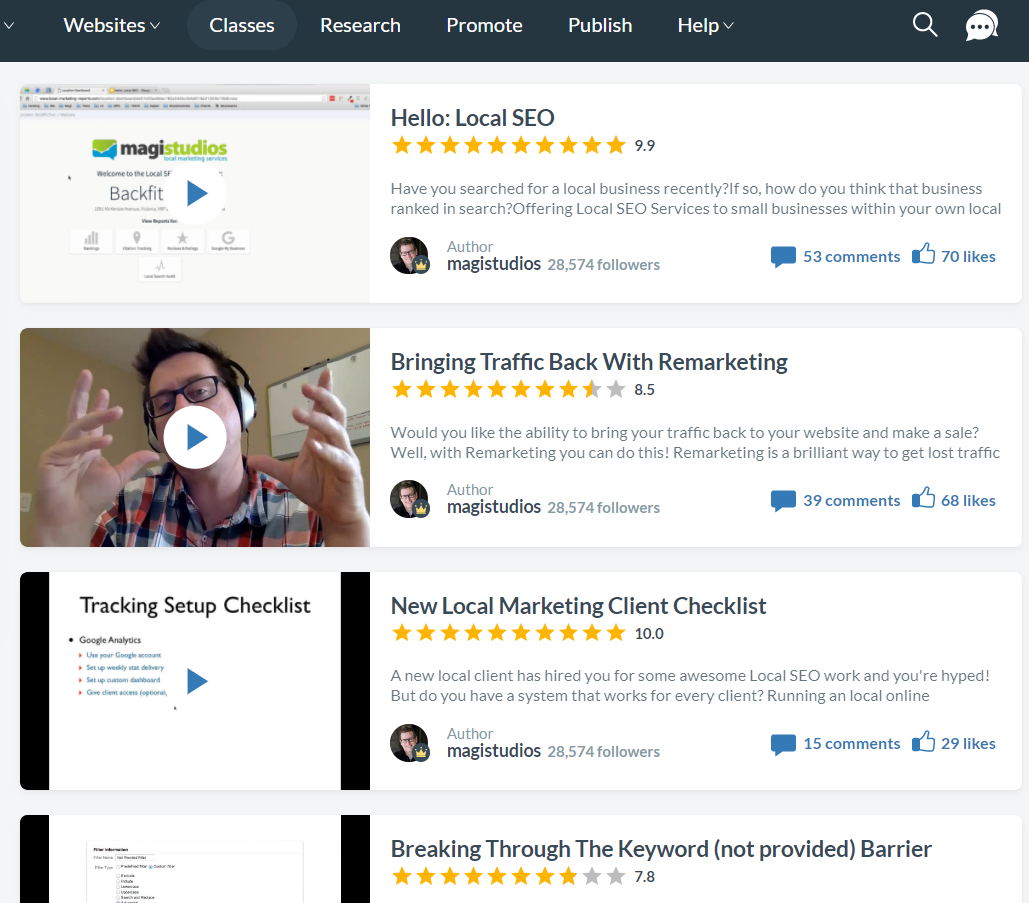 We're talking 6 and 7 figure earners and in fields that cover the following subjects (and more):
Niche marketing.
Local marketing.
Pay per click marketing (Google Ads, YouTube Ads, Facebook Ads, Bing Ads ect…).
And whatever else you can think of related to online business, it's very open ended and wide (See right screenshot as an example).
The thing about this membership and classes is that it's actually built by a small group of success stories (myself included) who have that exclusive ability to share this stuff by the owners of Wealthy Affiliate (they also post exclusive content in Classes), not just some regular people.
This means that whatever you see in classes is already proven to work in the real world and the amount of training and content you get here is immense, so be prepared to take a ton of notes and be blown away by the awesome stuff you learn. Even as a member of this level, and even one of the people who shares his own knowledge there, I also learn a ton of new stuff from the other people who post there.
The value of this alone is $10,000 plus, if you consider all the high ticket info programs out there on the same subjects which give you access to similar experts, but in the Wealthy Affiliate program, it's only $99 a month or $997 a year, so the savings speak for themselves.
This is also a level that continually grows with such content, and Premium Plus level members get first hand access to any new training that comes out here.
2) The second biggest perk is the extra tools, credits, and savings included with your Premium Plus membership ($1,000's in value):
1) 200 credits are provided to yearly members. Credits can be exchanged for money (You need to be an active affiliate for WA to do this). But you can also use the credits in WA to buy websites.
Value: $200 a year.
2) You get extra hosting. This is for 50 websites and it's perfect for people who run multiple websites or an agency and need that space/availability.
Value: $1,000's a year.
3) Unlimited access to Jaaxy Enterprise included. Jaaxy is an add on keyword tool that is connected to the Wealthy Affiliate program. It's also available separately to get and has 3 levels, the biggest of which is Enterprise, which in short, gives you unlimited access to do some serious keyword research and find the most profitable ones.
As a member of Premium Plus, you don't need to buy Jaaxy Enterprise as it's part of your membership perk!
Value: $500+ a year.
More perks are included to this membership which carry their own savings, but these things I just explained are without a doubt the biggest highlights.
Wealthy Affiliate Premium Plus (Should you get it?):
There are 2 answers which point to yes:
1) The first is for people who have the money to invest in this level, and the ambition to actually use it so you get the benefits out of it. If this is something you are ready for, then start out with Premium Plus here. If not, then you have the second answer to rely on:
2) The second is for people who go through each of the 3 levels and upgrade when they are ready. This is really when I recommend you start out, meaning:
Go with Starter, see how it works.
And if you enjoy it upgrade to regular Premium, see how that works.
And if you enjoy that, then upgrade to Premium Plus.
This might be the more affordable and comfortable route for most people. As great as Wealthy Affiliate is, its very important in my opinion that people first get a good, quality feel of the program, it's training and benefits before they are comfortable in upgrading, which is why this route is perfect for that type of person.
As I said earlier, I've been with Premium Plus since day 1 and even though I am a veteran member of this program, and certainly recommend it, my flow through the program was more along the lines of category 2.
With all of this said, I hope my review of the Premium Plus membership of Wealthy Affiliate has been clear and answered your questions about it. If not, you are very welcome to ask me below!