In my opinion no, and in this Project Profit Academy review, I'll be explaining why that is. Based on everything I have seen, there are way more cons to note about this program than pros.
Project Profit Academy info:
Name: Project Profit Academy.
Creator: Brenden Mace.
Price: $1,997 or $1,110 twice.
What does it teach? Various ways to do affiliate marketing.
My rating: 1 out of 5 stars.
Recommended? In my opinion no, and besides the price being one of the reasons why, there's more you need to know.
Let me just say a few important things before I continue with this review of Project Profit Academy:
1) I didn't buy it, not just because of the high price, but also because it's made by Brenden Mace.
2) I've gotten several other of his programs before and really wasn't happy with the value I got. Reputation is an important factor in my buying decisions and while I know Brenden is successful, I've found a lot of his trainings to be very hyped, his program's value to be pretty low and there being a lot of upsells (usually) to deal with.
3) With regard to Project Profit Academy specifically, I have researched it through various, trusted sources and will be sharing them with you in this review so if you wish to see more details, you're more than welcome to. Of course, if I am ever wrong on this stuff, you're welcome to correct me below in the comments section and I'll be happy to update things.
Alternatives?

Yes: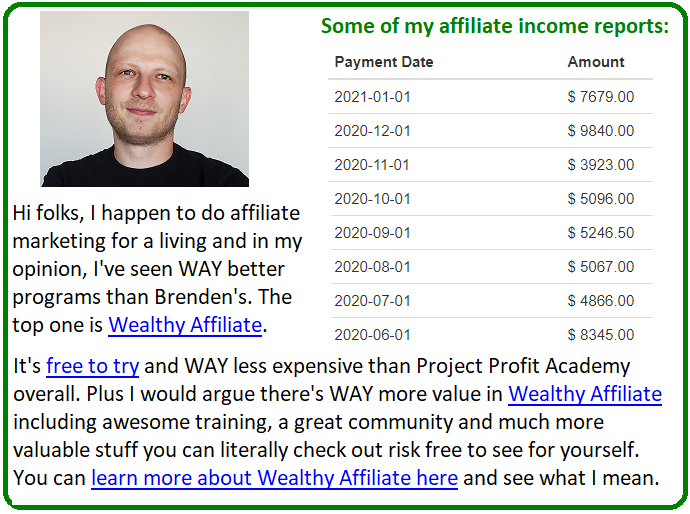 Getting into the details of Project Profit Academy:
So to start, this is basically an affiliate marketing course and you learn several ways to do it. Affiliate marketing is the process of promoting products online for commissions and there's several strategies to do this.
In Project Profit Academy's case, there's several methods taught:
1) Email marketing: You steer people through PPC and solo ads to squeeze pages, collect emails and promote affiliate offers.
2) Making video product reviews on YouTube and offering bonuses (incentives) and in Project Profit Academy's case, there is another marketer who makes a "guest appearance" named Jono Armstrong.
I've also had some experiences with him and I'd say he's a better marketer that offers more value than Brenden, but I've had my disagreements with his methods too, particularly those he teaches in his Ministry of Freedom program.
3) There are also opportunities to promote Brenden's past and present programs and while I personally would never see myself doing that, it's an option for you to potentially make high ticket affiliate commissions.
4) Additionally, there's other methods covered like Project Launch Jacking, you get email swipes to copy and paste to promote Brenden's program and more.
Overall, when it comes down to it, Project Profit Academy is presented through 20 video training lessons that span for several hours. Based on everything I've seen, there is some value in the program, but for $1,997, 20 videos doesn't cut it to be even close to getting a recommendation.
To show this, let me present you with an alternative called Wealthy Affiliate, where you can learn affiliate marketing too, and also try it for free in which you get a 10 lesson course (hours worth of content and training), among other valuable resources, tools and more. This alone already surpasses the value of what I've seen in Project Profit Academy (and for far less).
And by the way huge credit to this Project Profit Academy review and this YouTube video review of Project Profit Academy for showing me whats inside this program.
Pros of Project Profit Academy:
Some content and material has value.
The general gist of the training works.
Cons of Project Profit Academy:
I don't have much confidence in Brenden Mace overall.
The program is extremely expensive in my opinion.
A lot of the training on PPC and solo ads is extra money to spend (and not for beginners either).
No refunds (seriously?).
So on the checkout page, it's a Clickbank product, but when you click to buy it, it goes to a Warrior Plus checkout (strange).
You can find much more valuable training/content from other programs than this in my opinion, and I'm not just talking about Wealthy Affiliate, but more programs in my recommended section too.
Ok, let me explain why I have doubts about Benden Mace:
I've reviewed a few of his other programs before: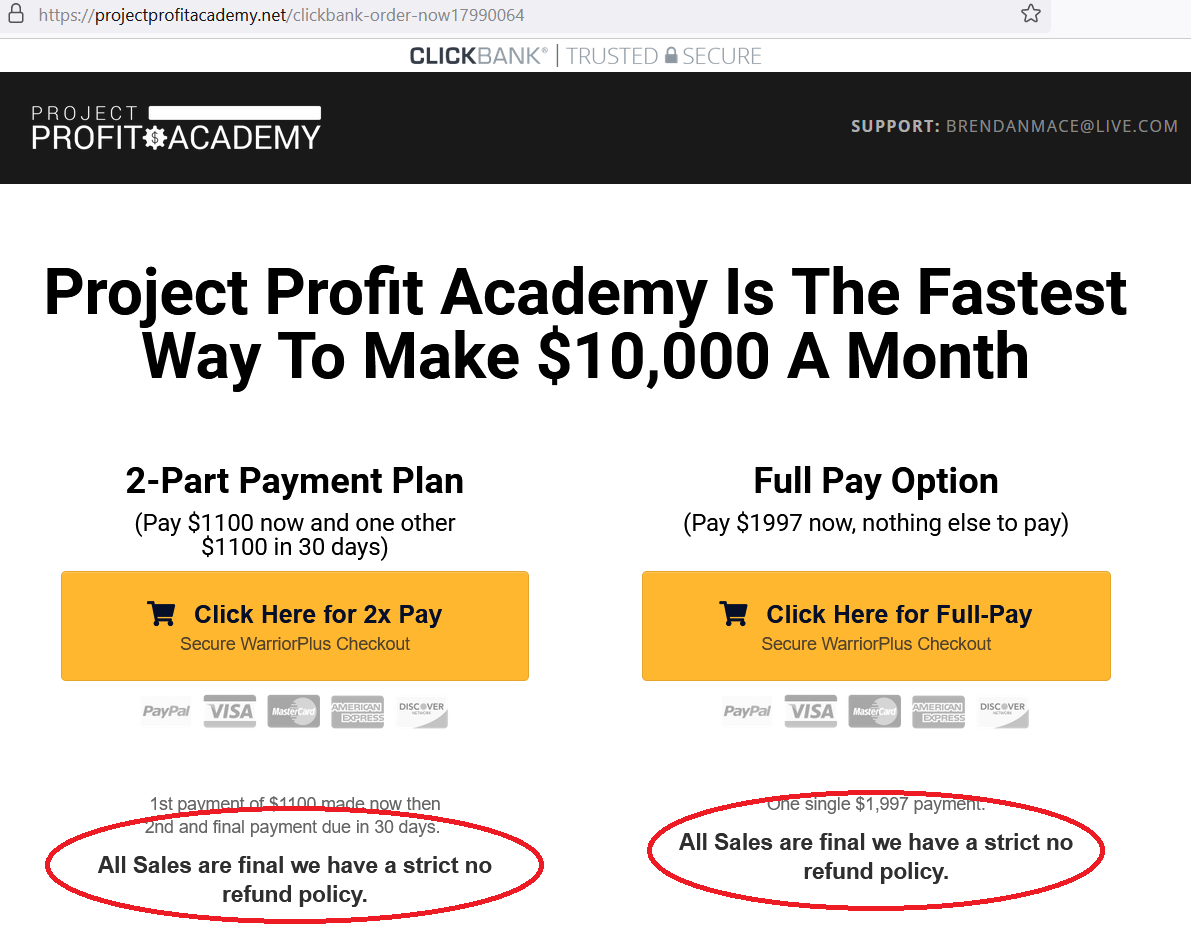 Out of this list, I've purchased 3 of them, with the exception of Beast Funnels, but my experience was average at best. And furthermore, these programs cost a lot less than Project Profit Academy, so I wonder why it's even worth buying this program for such a high price when there's already affiliate marketing training programs made by the same creator anyway.
But even in that case, I'm not recommending any of them. Why?
Well for the most part, there was a lot of hype used to sell these programs in my opinion, with a TON of upsells pitched afterwards in some cases, and the value of the "training" and stuff I got from the program was extremely low in my opinion. I wouldn't recommend either program to beginners, experts or anyone for that matter.
Conclusions on Project Profit Academy:
I won't say that either of those programs, or even Project Profits Academy is a scam, but the point of me even talking about my experiences with Brenden is that reputation is a HUGE driving factor for me, meaning that if I have bad experiences with a person, I'm unlikely to recommend what they release and vice versa.
In Brenden's case, while I've only gotten 2 of his programs so far, I've regretted doing so both times, and based on what I've seen from other reviews on Project Profit Academy and that Brenden also has released more programs than these 3, just doesn't instill much confidence in me overall.
There's better alternatives folks:
We also have to understand that there's already alternatives out there for teaching you affiliate marketing, for less, and through means that in my opinion deliver way more value to you!
I've already provided a list of recommended programs above, but if you're stuck on which one to choose, my advice is Wealthy Affiliate, simply because it's free to try and offers more value than even the top recommended programs I've seen/tried, and this is good for anyone who is a beginner, because if you have any doubts or just want to see what this business is about and requires to succeed, you can try that risk free and decide if you wish to stick around or not.
Affiliate marketing is a business that takes time and effort, and there's certainly "shortcut" methods out there like using solo ads and PPC ads, but trust me when I say that the faster methods carry a ton of extra risk and Wealthy Affiliate will show you other ways to make this business work. It takes time but the risk factor is very low and you can grow a seriously good, profitable business using their training.