I've been making a passive income with affiliate marketing for over 10 years. In this post, I'd like to show you 11 ways you can do the same.
For the many years I've done affiliate marketing:
I've built full time incomes and businesses out of it.
Lost it all multiple times.
Was forced to rebuild everything from scratch.
And eventually learned how to escape that up and down cycle to finally make a passive income at it.
The last thing is what I want to teach you to do without going through the mistakes I did.
This is what a passive income with affiliate marketing looks like: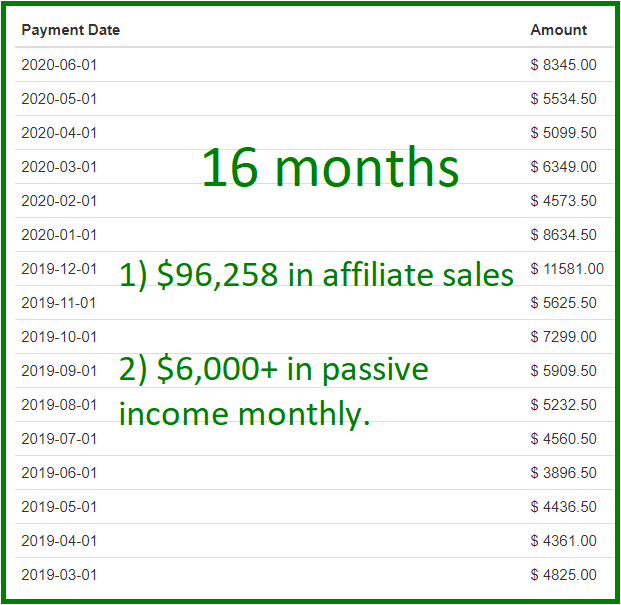 Every single month, I am making several $1,000's.
Certainly it's not a fixed income as the numbers fluctuate, but having an extra $4,000 to $6,000 in consistent earnings every month certainly helps with a lot and this is possible to do if you know how.
Before you can start making a passive income with affiliate marketing, you have to understand something:
While most people fail at affiliate marketing because of these common mistakes, the few people who do succeed, still often have to face the same cycles and learn the same lessons I did, because for the most part, without learning from the mistakes of other affiliate marketers, we are likely to repeat them ourselves.
My goal in this article is to help you avoid these cycles and to get that first affiliate business of yours up and running, and eventually turning it into a passive income generator.
It isn't easy, nor is it quick, and while there are a few ways to do it, I'm going to suggest one that has personally worked for me to get me to this point:
Here is how you build a passive income with affiliate marketing (the core):
Use a workable blueprint that teaches you the process so you can get started.
Begin with blogging and (optional) YouTube (free methods of getting started) for only 1 affiliate business.
Grow the 1 affiliate business to the point that it's making passive income for you.
Expand and diversify the business via the following ways (this is where we'll get into the 11 ways shortly).
This is the process that made me reach passive income levels with affiliate marketing.
The other times I had success and failed, it was because all 4 of these above requirements were not in place. And the 11 methods you'll be reading are all designed to help that core process grow.
So let's get into that now:
The 11 ways to build a passive income with affiliate marketing (summarized):
Create an affiliate niche blog on 1 evergreen niche topic.
Create a YouTube channel on the same affiliate niche topic as your blog.
Sell high ticket affiliate products.
Sell recurring affiliate commission products.
Create an email list.
Try pay per click networks.
Make your own product/affiliate program.
Make a new site and grow that.
Hire writers to grow your existing blog.
Offer consultations in affiliate marketing to others seeking to get involved with it.
Retargeting.
Let's get into each of the 11 passive income methods in detail:
We'll begin with the one I consider to be the most stable and with the best potential to bring in a passive income in the long run:
1) Create an affiliate blog on an evergreen niche(Start here!):
I've preached this over and over, and I'll say it again:
The best place for any beginner affiliate marketer to start is with a single niche blog on a subject they like.
And if that niche is an evergreen niche, then you are truly on your way!
Note: There are also things such as micro niches, and they can carry more immediate benefits, but they are harder to find. Ideally, evergreen niches are the better way to go long term.
This starting point will give you the most important skills, success and even passive income you'll need to create success long term.
It may even be all that you need.
I help you find affiliate niches here, but the main point of doing so is that out of all the methods I've tried, seen and experimented with, the blog option is best because:
It is your property.
It can grow and get free traffic.
You are building a real online business and attracting an unlimited amount of customers.
You cannot get shut down like with the other methods unless you do something illegal (like hacking or violating privacy laws).
My biggest passive income streams have come from blogging and they still do (and are growing)!
Beginners are best suited for this.
You are building your affiliate business with PASSION and AMBITION (guess what that does to your success odds?).
And I know experts who have bought houses, and live a great life to this day, because of the income their affiliate blog generates.
Make sure that when you start affiliate marketing, that this is where you start from (see my coaching details for help with affiliate marketing).
How a passive income with a blog looks like: 
Imagine having 10,000 visitors a month to the blog.
The blog makes 100 sales, for which $50 commissions are earned.
Therefore, the blog makes $5,000 monthly in passive income affiliate sales.
2) Make a YouTube channel on the same affiliate niche topic (Also do this if you're a beginner):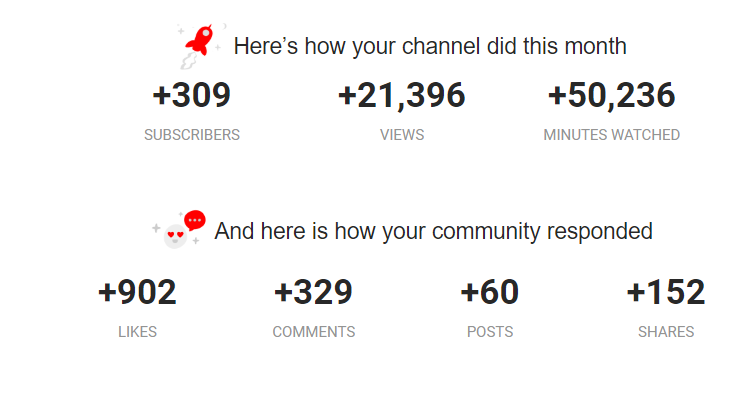 Every bit of benefit you can get out of a blog for affiliate marketing, you can also get out of YouTube.
And I absolutely want you to seriously consider starting a YouTube channel in the same niche topic you chose for your affiliate blog, and to grow both places together to build your passive income in affiliate marketing.
I held off on doing this for years, but ever since I started, I regretted not starting sooner because YouTube can do amazing things for your affiliate sales and business.
For example:
You can get traffic way more quickly.
You can get more traffic to a video than on a blog (sometimes it's vice versa).
You can directly do affiliate marketing through YouTube videos.
It can become much easier to make video content vs written content on a blog.
Video content is becoming more and more popular, so leveraging the video content networks is a great way to ensure your business's stability.
I've attached an image of my main YouTube channel's stats and this is something I've added to my affiliate business. Adding YouTube to the mix has helped me increase my passive income results with affiliate marketing.
How a passive income with a YouTube channel looks like:
My YouTube channel gets 20,000 views monthly.
It does direct affiliate marketing and makes 100 sales which earn $20 a pop.
Many of my YouTube videos focus on product reviews and get traffic/sales monthly.
The YouTube channel alone brings in a passive income of $2,000 a month.
3) Sell high ticket affiliate products:
High ticket affiliate marketing can be a very unethical if you promote the wrong things, but there's plenty of legitimate products you can include within your blog and YouTube video promotions to pitch to people and they will buy if you know your niche audience and know how to do product reviews.
I've sold multiple high ticket products to people because I reviewed products well and high ticket sales can certainly add some nice income to your already passive income results.
How a passive income with a selling high ticket items looks like:
A site makes 5 high ticket affiliate sales a month, each worth $500.
The site therefore makes a passive income of $2,500 monthly.
4) Promote affiliate products that offer recurring commissions.
If you can find an affiliate promotion that fits perfectly with your niche and promote it well, this may be one of the best ways to build your passive income stream with affiliate marketing.
Think about making 100 sales for an affiliate program that pays you $50 a month.
By accomplishing that, you can basically ensure you earn $5,000 a month no matter what the status of your affiliate business is. That is passive income that is stable.
One of my major pitfalls with this business was that I was promoting one time commission products and even though I was able to make great sales numbers for that, when the niche petered out, as did the sales, eventually this dropped me to $0.
And so I began looking into recurring commissions as a new way to do affiliate marketing. This is what got me seriously involved with promoting the Wealthy Affiliate program with which I now coach people in.
And no matter how bad or good my income rose, having a stable stream of recurring commissions coming in monthly kept my business and livelihood afloat.
How a passive income with a recurring income looks like:
A site gets 5,000 visitors a month and makes 10 sales, worth $50 each.
The blog every single month will now make $500 every month in passive income.
The next month, it gets another 10 sales and adds another $500 to the stream.
Over 2 months, the blog is earning $1,000 in passive income.
This continues to grow month after month.
5) Create an email list:
So many affiliate marketers like to preach about doing email marketing and the benefits they carry and I would agree, but in my experience, an email list should only be looked into when the affiliate marketer has established experience through making money with their blog and YouTube channel.
The skills they'll get from that will help them keep an email list entertained and coming. But overall, adding an email list to an already existing affiliate business will greatly help to grow and stabilize your income.
Having a website and YouTube channel is great, but adding an email list to collect a portion of your visitor's info will also help long term in marketing to them.
How a passive income with an email list looks like:
50,000 people visit a blog monthly.
1,000 people sign up to an email list from that number.
10 sales are made off that email list for an affiliate promotion that pays $100 each.
The email branch of the business brings in an extra $1,000 a month in passive income.
6) Try pay per click networks: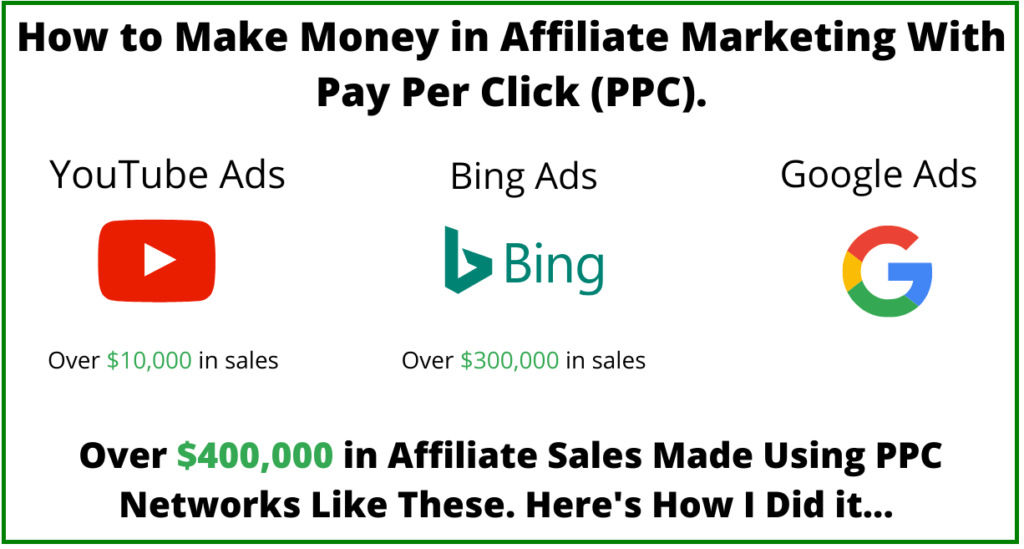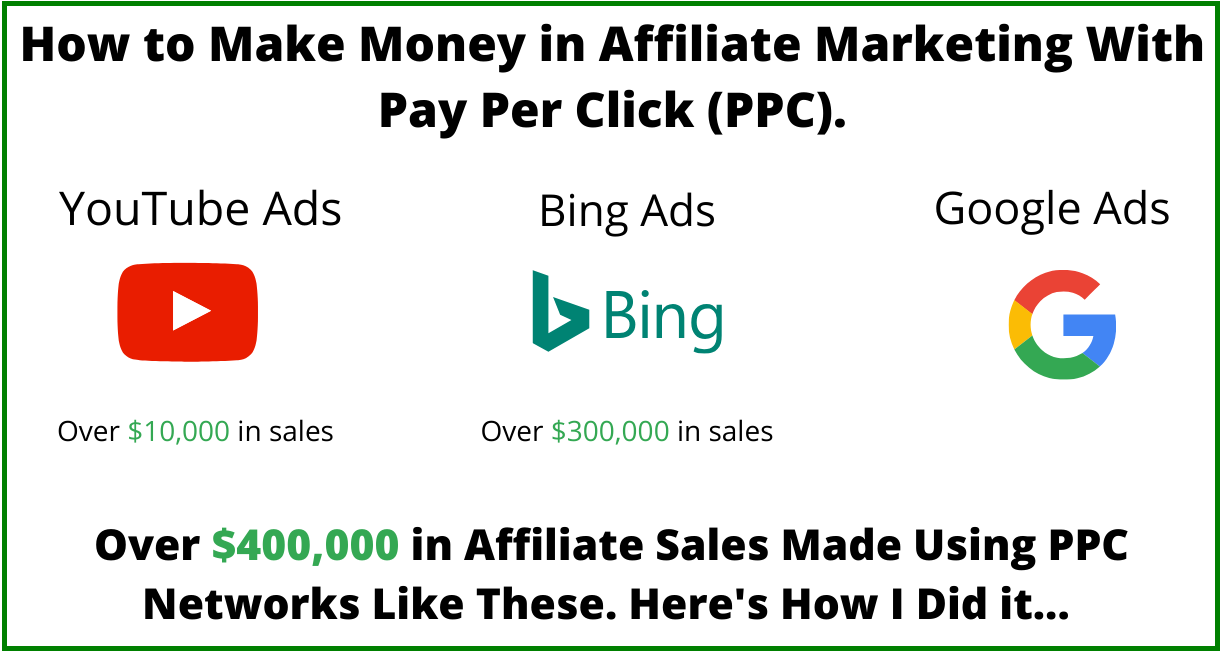 Once you're more advanced and your blog and YouTube channel makes you good money, then start looking into pay per click.
This can be an awesome way of scaling your affiliate business to go to that next level of passive income results.
I had a few great moments with pay per click affiliate marketing before I moved into blogs and YouTube, and was making great commissions with 1 page websites.
But I learned those times wouldn't last if I didn't have a nest to rely on, which is why I began focusing on the blog and YouTube channel.
But either way, pay per click offers many benefits (and a lot of gamble too), and if you understand how it works and how to grow your affiliate business through places like YouTube Ads, Google Ads, Facebook Ads, Bing Ads and so forth, and you can get 1 or multiple ads making you money at a profit, that can itself be your passive income.
But don't make the mistake of ONLY relying on this! I did and that's why I went broke. Rely on your blog and YouTube channel primarily and do PPC on the side and if you do, read this post on the best PPC network to start affiliate marketing with first to understand which one suites your business best.
How a passive income with a pay per click looks like:
One ad on YouTube Ads brings in 5,000 views to a video promoting an affiliate product.
The ad costs are $100 a month.
Out of the 5,000 views, 5 sales are made, which are worth $100 each.
Each month, that ad makes $500 in revenue.
Minus the $100 in ad costs, the ad's profit is $400 in passive income every month.
7) Make your own product/affiliate program:
If you understand niches and how to solve problems for large niche audiences, then I'm telling you that making something like an info product and putting it up on Clickbank or other places that offer affiliate programs will be an awesome passive income generator for you.
Imagine knowing a lot about dating and making a great quality eBook that sells for $30. Put it up on Clickbank, give affiliates $20 a pop to sell it and watch your passive income stream grow.
And the better you treat your affiliates (unlike how Amazon treated their affiliates for example) will ensure you get more and more incentive for them to promote your product.
And if this isn't your thing, take your existing blog and YouTube channel, create an info product and sell it there. That's another way you can do things.
How a passive income with a running your own affiliate program:
You put up a product that costs $50 on Clickbank and have 100 affiliates promote it.
You give affiliates $30 for it, which means you keep $20 for every sale they make.
Every month, the 100 affiliates bring in 1,000 sales for the product.
You therefore earn $20,000 a month from doing this in passive income.
8) Make a new niche site and grow that:
You can definitely have passive income coming from more than one source/website, but before you get involved with a new site, new YouTube channel and so forth, ensure your first one is making that income before you going into another.
How a passive income with another niche site looks like:
If your first site brought in $5,000 in passive income.
Your second site can do the same, and double that passive income to $10,000 a month.
9) Hire high quality writers to grow your existing blog:
Sometimes writing blogs can get tiring and if you're already diversifying into other realms of marketing, you may not have the time to continue blogging. In these cases, hiring a writer to continue to grow your site by paying them to write content is the way to go.
It is also highly recommended to do this if you run multiple affiliate sites too. Yes you have to pay them and know which ones to trust, but having these types of people on your side is an ASSET to your affiliate business and the continuation of your passive income stream.
How a passive income with a writer looks like:
You hire 1 writer to write 10 articles for your blog every month.
You pay them $50 an article and spend $500 on it.
The writer's work brings in 5,000 extra visitors a month to your site.
Out of that 5,000 extra visitor count, 10 new sales are made, each with an affiliate commission of $100.
You are making $1,000 in revenue, and paying your writer $500.
You are therefore making $500 in passive income every month from doing nothing but paying your writer to do the work.
10) Offer consultations and coaching to people getting into this business: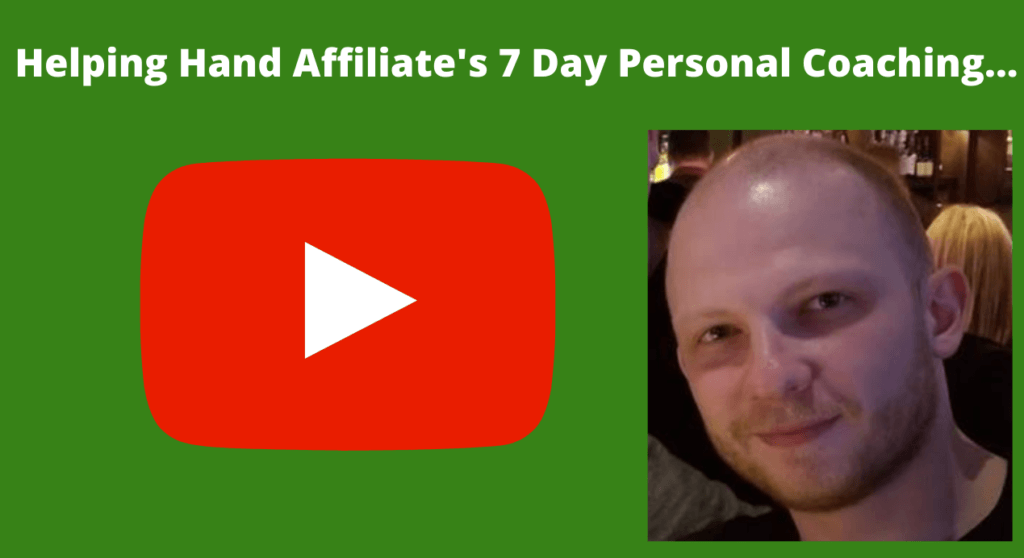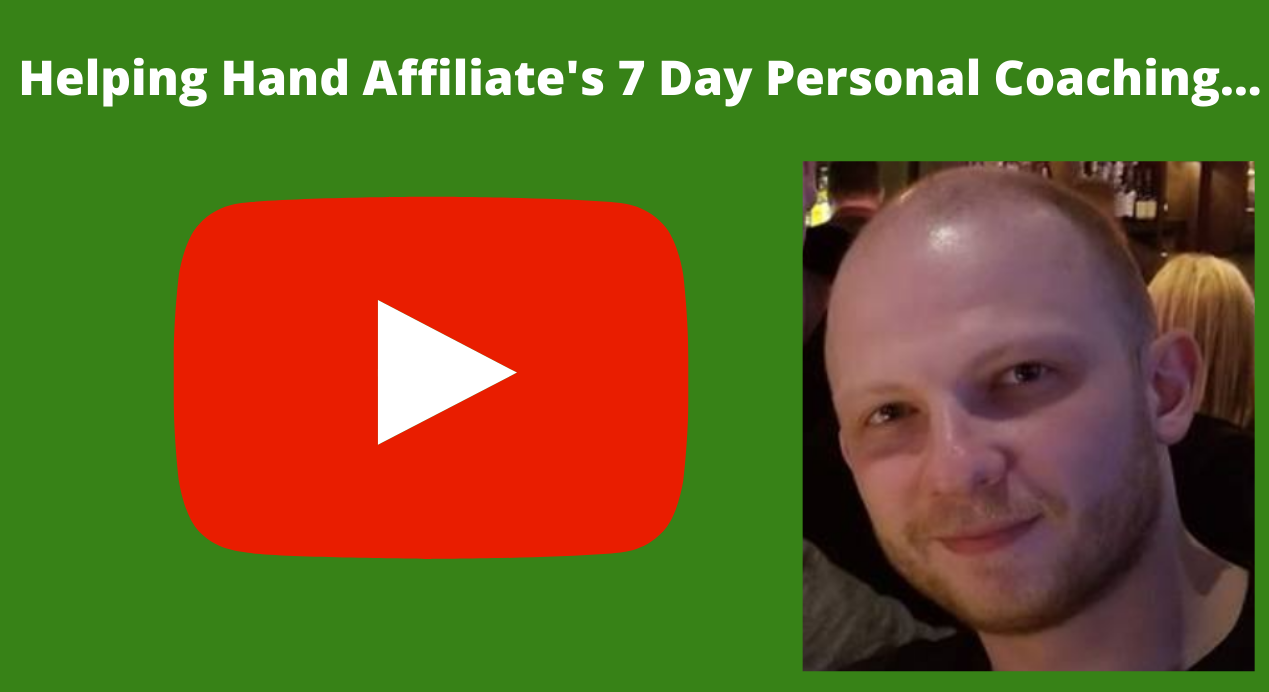 When you already have an affiliate business built on any niche, you already carry the experience of successfully doing affiliate marketing as a whole and you can take that and create a consultation or coaching business out of it to help beginners get started.
I started doing that on this website where I also offer affiliate coaching and you can either refer them into programs like I do with Wealthy Affiliate and coach them there, or charge a lot to teach them 1 on 1 affiliate marketing like this guy does.
That's an extra bit of income you can add to your stream too!
How a passive income with coaching looks like (real life example):
I have a friend named Jay who runs a program called Affiliate Coach.
He charges $275 a month for the services.
Let's say he has 50 clients. $275 X 50 = $13,750 every month in passive income.
11) Use retargeting to get more traffic back to your site (and get more sales):
Most people who visit your website, social media channel and anywhere where you have a presence and sell affiliate products will leave it for multiple reasons.
With retargeting, you can recapture the attention of these "lost" visitors and get them to come back to your site and buy your promotions. This can improve the odds or potentially lost sales, improve the sales overall and grow that passive income.
How a passive income with retargeting looks like:
50,000 people visit your site, but 40,000 of them leave.
You use retargeting to get 10,000 of those people back to your site.
Out of those 10,000 people, 100 people buy your affiliate promotion that pays you $50 a pop.
From retargeting, you will make an extra $5,000 in passive income monthly.
My final thoughts: Do not try to do all 11 methods at once!
1) Understand that you don't need to have every single method in place to build passive income.
But every method I mentioned is legitimate and helps you grow your affiliate business to improve the odds that it makes a passive income.
2) Don't make the mistake of trying to undertake everything at once.
This is because you won't be able to handle it without the right experience and help. Focus on building your affiliate business with methods 1 and 2, and from there decide which of the remaining 8 options suite your business tastes best. For me, what I currently do is the following:
I run multiple niche blogs that make me money.
I run 2 YouTube channels, one of which is brand new, and the other makes me money.
I run multiple pay per click ads on YouTube Ads, Bing Ads and Facebook Ads, some of which make money.
I have a single writer for one of my other sites.
I offer consultations, coaching and help with affiliate marketing for beginners.
I'm also starting retargeting.
This is what best suites ME personally, but you will have to decide what suites you best, and to do that, get started with the first 2 methods on this list, and with your experience and choice, you'll be able to intelligently pick where to diversify and expand into next.
Why you need to diversify your affiliate business to ensure it passively makes money:
One thing I've learned over my failures is that many things I used to rely on to make money in affiliate marketing can be shut down on you in an instant.
YouTube channels can be destroyed by complaints or unjust reasons.
Ad accounts can be suspended on pay per click networks (see my Google Ads example).
Economies can fall and cause people to stop buying stuff online.
And so on.
And these things are normal but often rare. Yet, by having more diverse forms of incoming coming into your business is how you will maintain your success in it.
I've sadly known more than one successful affiliate marketer who basically quit because they didn't diversify. They were too caught up and stubborn in trying to fix their affiliate business and grow it anew, but because they didn't diversify, they basically did themselves a disservice.
In short, what I said earlier about how to grow your affiliate business to passive income levels following those 4 parts is what they didn't do. And the people I know who did, still have their businesses exist today and make them money.
And these 11 legitimate methods will certainly help you do that!