In this article, I will show you a simple step by step process to doing product reviews on YouTube specifically by following a very straight forward format that anyone can use and it can be applied to any product you wish to review.
1) Whether you're an affiliate marketer like myself (I've earned over $40,000 from doing YouTube product reviews).
2) Or whether you're someone who just wants to make product reviews in general, without promoting anything.
You'll still be able to use the step by step format I provide you regardless, and it will work across the board because I have seen it work time and time again. You'll be able to create awesome product reviews with it, get a lot of views from YouTuber viewers and if you choose to, make good money from it in the process.
Here is the simple step by step process to creating awesome product reviews on YouTube:
Review products you own or know a lot about.
Record yourself (if possible) reviewing the product.
Explain your experience with the product and cite other people's experiences too.
Keep the video short (ideally) but clear and explain if its good or not.
Recommend the product if it's good and if it's not, recommend something better (use a call to action).
Use good keyword research methods and thumbnails to get views.
Rinse and repeat by doing more product review videos.
Grow a good YouTube channel, subscriber base and really consider making money from it (if you haven't already) since following this format can be very profitable.
That's how I've been doing it for years and again, the amount of money I've made in the process has already exceeded $40,000. And since I do affiliate marketing, if you'd like to know more about that, with regards to YouTube specifically, here is my complete guide to doing affiliate marketing on YouTube.
In a moment, I'll be citing 4 different product review video case studies I've made that have made me money and still do to this day. I'll also explain why they work and how they use the 8 steps above.
Important tools to use if you want to make great video product reviews:
You want your videos to be clear and there are a few tools I recommend you use (if you don't already) to make that happen:
If you're reviewing a physical product you own, use a good phone camera.
If you're reviewing a digital product that you have to show on a computer or phone screen, get yourself a decent screen recording tool. Here's a few options I recommend:
1) ShareX. It's a free tool and you can record your screen and voice on a computer.
2) Logitech camera. This is a far greater tool for recording your screen than ShareX, your face and more. The videos produced from this tool are pretty awesome in quality.
3) Yeti Mic. A great tool for recording your voice if you're doing reviews of digital products.
These are all basic entry level tools I highly recommend to enhance the quality of your product reviews and they are optional, but I assure you, a better quality review that people can clearly see and hear will improve your results.
Video explanation of how to make product reviews on YouTube (with examples):
Details on why each of the 8 steps of the product review process work:
1) Why reviewing products you own or know about works:
Simply put, there is a stark difference between someone makes a product review on something they know vs what they don't know squat about. Your viewers will easily trust you more when you show them you know about the product and that can be as simple as:
Showing them you own it.
Or if you don't own it, showing them you know about it a lot.
No one wants to watch a video on a product they are interested in if the creator can't deliver good content on that subject and if you have one or more of the factors above, you are more likely to get that trust from the viewers and if you're promoting as an affiliate, that trust will go a long way in helping you make the sale from it.
Whether you're doing product reviews on a blog or YouTube channel, and whether or not you own the product you're reviewing, this rule is golden.
2) Why recording yourself reviewing the product also works:
People have an easier time trusting someone they see in a YouTube video, especially if they're looking up a product they are thinking of buying.
You may be someone who is new to this game and might be shy to show your face and you can get away with just recording your hands or doing a screen record without showing yourself, but at some point, I do recommend you start showing your face too because it will produce better feedback from your YouTube viewers.
People who take the risk of showing their face when doing product reviews simply get more respect from viewers and that respect equates to better trust and that itself is already a great ingredient for making good product reviews.
3) Why explaining your experience with the product or citing others experiences works:
A huge chunk of the product reviews you make on YouTube come down to explaining the experiences with the product. Just about anyone seeking product review videos on YouTube is going to wonder if anyone has used the product they are thinking of buying and what their results were.
If you are that person and you can deliver that information.
And if you can also produce research info on how others also like that product.
Then you pretty much have most of your review blueprint already set up and done.
4) Why keeping your video short, clear and to the point (if the product is good or not) works:
In the mind of just about every person researching a product on YouTube, the following question is always present:
"Does this product work or not?"
And your review should answer that clearly. And if you can keep that answer simple and short, then you will likely get a good result from it.
Shorter videos also tend to have a longer retention time from viewers so if you can keep a video under 5 minutes, that's awesome, but don't feel the need to rush your review either.
The quality review, no matter how long delivers better, than an unconcise, fast one.
5) Why recommending the product if it's good or not if it's bad (and recommending a better one) works:
Think of this part of your review as the conclusion. By this stage in the review, you already answered if the product you're reviewing works or not, and usually from a consumer stand point, at this stage of the video, the following question comes up, which is:
"Now what?"
Meaning, that if the product is good, you tell people that it's great and that they can get it in the link in your YouTube's video description, so now they know where to go to buy it.
And if the products ISN'T good, then your video needs to make clear what is good and then say the same thing which is: You can get this better product in the link within the description of this video.
Make sure you actually use what is known as a "call to action" throughout your videos to let people know: Hey, go here to get the product.
People need that "next step" after their research is done to complete that cycle of product research and this part of your video gives that to them, making your product review even better.
6) Why using good keyword research methods and thumbnails works:
You obviously want people to see your videos, so you can potentially make more money from them, and 2 ways to do that is to:
This will get your YouTube videos more views.
7) Why rinsing and repeating the process of making product review videos works:
If one product review video you make worked, got views, likes, sales and so forth, then why wouldn't you want to repeat that and review more products? You'd basically be scaling your profits, so do it.
8) Why the last step to basically growing a YouTube business works:
If every step of the product review process you've used got results, and making more videos following the same format did the same thing, why wouldn't you want to leverage this opportunity and make good money with a YouTube channel?
Lots of people can be found online who make a great side or full time living doing this and in many cases, they still live the same lives they did before they started this, but an extra side income from doing this doesn't hurt.
There's also nothing wrong with just monetizing your YouTube videos and not promoting anything if you're the type of person who isn't into that stuff.
4 case studies of my YouTube videos (product reviews) that work:
I will include external links to each video here, but I'll take some screenshots and explain why they worked so well:
1) My video reviewing Wealthy Affiliate (an oldy but it earned me over $17,000):
One of the very first YouTube product review videos I made was this one and this way back when I didn't have anywhere close to the experience of making product reviews like I do now.
With this video, I was reviewing the program that taught me affiliate marketing, that is Wealthy Affiliate. The video has over 23,000 views and from my estimate has earned over $17,000 in the sales it's made for me.
While the video is far from perfect and the quality of my voice wasn't that clear, I made some sales from it because I stuck to the principals above, which was:
I own the product (I'm a member of the program).
I show it works (I showcase my results).
I show success stories (other reviews are positive).
And I basically let people know that it works.
These ingredients in the video made it work and it still does to this day. Here is a link to this Wealthy Affiliate review video.
2) My video talking about making money online from a website called Munch Eye (Made me several $100):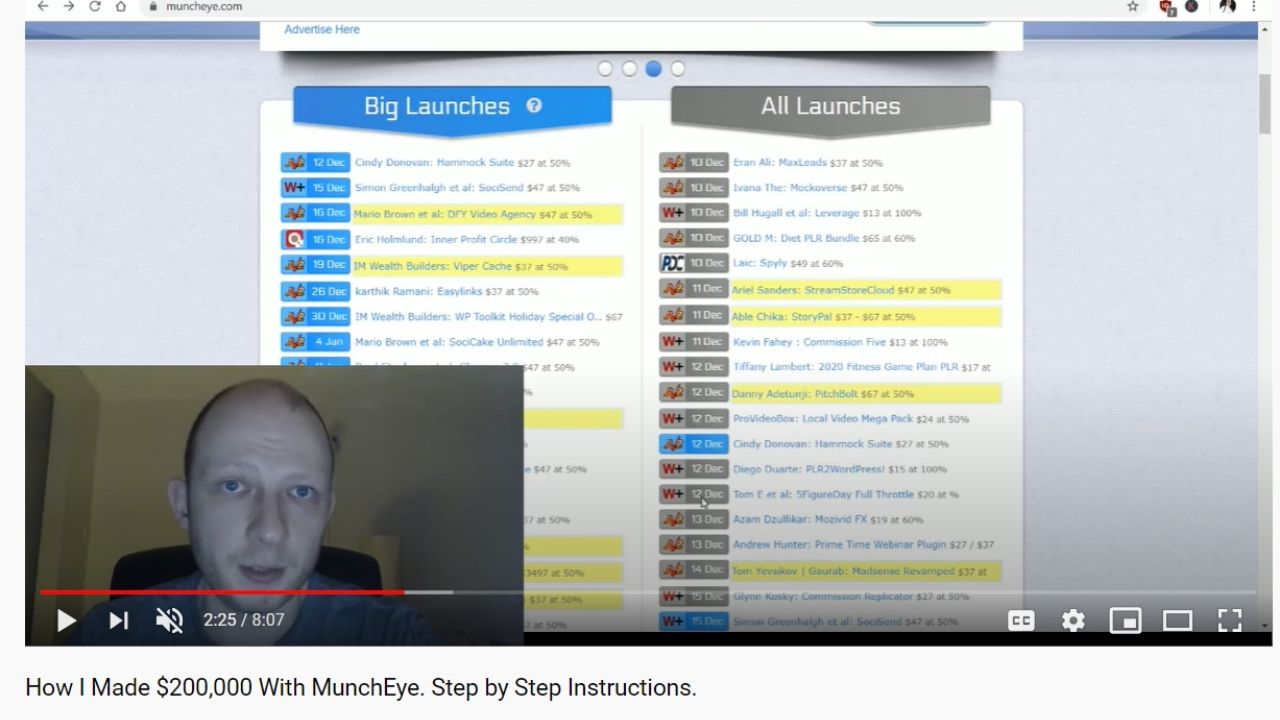 This video basically reviewed a quasi product/service website that you can promote make money online products from and I was simply showing people how to make money from it.
It is basically a product review video in the sense that I show people how to make money from it in the same way I did.
Now this video works, and again, despite the fairly low quality sound and video (again, I wasn't as advanced) it still gets results because:
I show my money making results with it (proof).
I show authority and experience (this gets people to listen and watch).
I show people how to get results too, which makes them want to follow in my steps (join Wealthy Affiliate).
I show my face here too (legitimacy).
If you'd like to see this video on Muncheye, here is the link.
3) My video reviewing a program with negative experiences (Made me several $100's):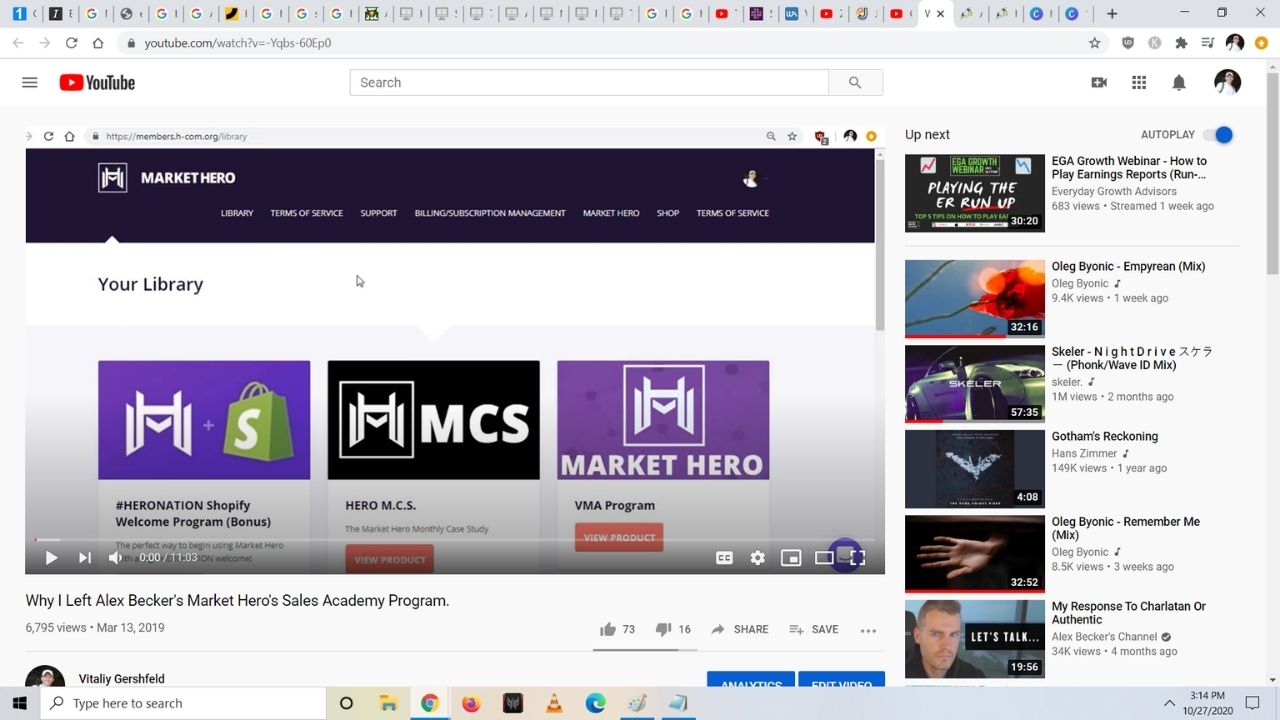 Some of my product reviews aren't positive and this is one of those cases where I took an experience that was negative and did what I said in this tutorial which was: Recommend a better option.
Basically I was part of a program called Market Hero to learn more ways of making money online and it was a negative experience and I literally explain that in the video whilst laying out the better choice.
Remember, your viewers will want to know "What's next?" or "What now?" and this videos shows that. It works because:
I did try the product (proof).
I explained my honest experiences (evidence).
I gave it a fair review (honesty).
I showed people a better option and why it works (more proof).
Here is a link to that video review so you can see how I did it.
4) A straight forward tutorial on how to make money with a specific service made me several $100's:
One of my most viewed videos on my channel is the one about making money with Bing Ads and I basically lay out every step of how I did it.
In it I also tell people about joining the same program (that I promote) to learn this too.
This video works because:
I honesty review the service (Bing Ads).
People can see my face (honesty).
I tell people exactly how I made money from it.
I give them the step by step process (evidence).
I show them how much I've made with this (more evidence).
I give them a blueprint to do the same thing (sales pitch).
If you'd like to see the video on this, click here.
Now you will notice that the older videos on this case studies are not "perfect" in the sense that they don't follow all of the steps I laid out in this tutorial, but at their core, they deliver the most important things which is they show I know what I'm talking about and that makes your videos on product reviews sell.
As you follow my videos to the ever most present time, you will see that the quality improves, the sound improves and the confidence improves staggeringly and it shows in the like, and subscriber numbers I've attained since.
Other examples of how to make product review videos on YouTube available above:
I included some other examples of various products I own and can review for reference above, but the 4 case studies you just saw are based on real life examples so you can see that the format I teach works.
Using other people's videos for your product reviews (another tip):
I wrote about this topic in this post on how to make money on YouTube without making your own videos and it's strategy 4 on that list, but basically you will use other people's videos on your blog posts the same product and this is only really recommended if you can't make a good review video yourself.
Getting started and making your own product reviews on YouTube:
I suspect most people who read and watch this tutorial are going to be people that:
Just read this stuff and don't do anything.
People who will want to try it but will be shy.
People who are new and will have doubts about starting.
Perhaps 1% of you will actually try this out.
I encourage you to at least make 1 product review video and to begin with something you own. Trust me when I say, your first video won't be awesome, but having a good starting point is still more than enough to get results.
There's a big reason the first case study I shared with you shows a pretty horrendous quality video (and sound) and it's because I also had to get started somewhere and that was my first time. But like I said with every tutorial I make: Repetition is what's key here.
I promise you that the more you do this, the easier it'll get and your confidence with every new product review video you make will show. Just get that first video out and go from there and if you have further questions about this or wanting to make money from them, see my coaching offer how I can help you and/or the Wealthy Affiliate program where this is offered.