Every single year, affiliate marketing grows, both in popularity and opportunity and if 2022 is the year you want to seriously start an online business in this area, I'm going to show you how to do that and succeed with it in this post.
Note: This blueprint was originally written in 2020, then updated in 2021, and now updated for 2022. Long story short, the earlier you start with what I'll be showing you here, the better it'll be for you, for the following year and frankly YEARS. I'm going to give you a blueprint to follow in:
Creating a successful affiliate marketing business in 2022 (via 2 ways):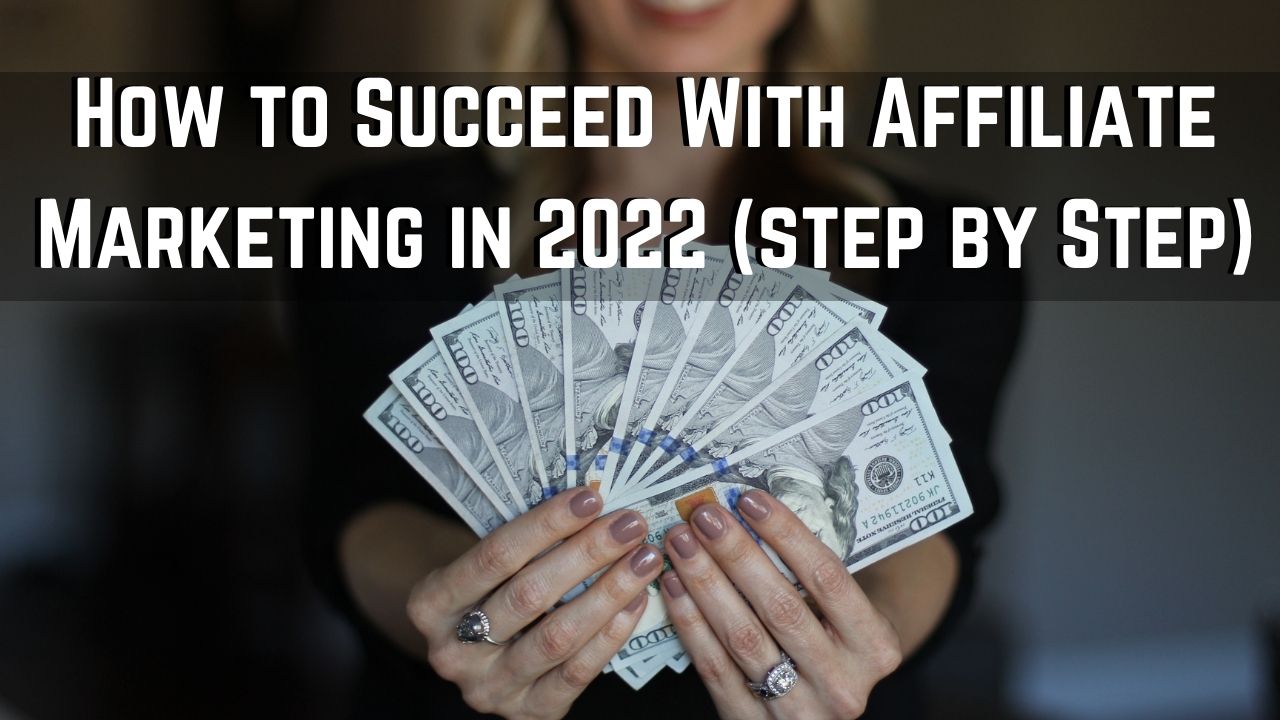 Through YouTube.

And through blogging.
These 2 options are standout winners out of all the other options when it comes to what type of affiliate business you should start and if you begin early in 2022 and follow the blueprint I'll give you, you can expect it to prosper by the end of 2022.
I'm asking you to give this a year and follow the blueprint for that long.
Besides this blueprint, I will also give you a special offer to help ensure you follow through with it, and get my help if you're interested.
This will be info on my affiliate coaching, which you can learn about here if you're anxious.
Anyway, let me get into the details.
Let's start with the following:
5 things to do to see success in affiliate marketing in 2022:
Choose an evergreen niche you really like.

Create a blog/YouTube channel for this niche and become an authority at it.

I want your blog to get at least 50,000 visitors before the end of 2022.

I want your YouTube channel to get at least 50,000 views on all the videos you make and get at least 1,000 subscribers.

I also want that blog/YouTube channel to make at least 100 affiliate sales before the end of year.
I am going to give you a special guide to help you choose your own unique niche to do this with in a moment and that will be the topic which you will create an affiliate business out of this year.
Here is the goal of this 2022 affiliate blueprint:
The main goal explained:
What I am trying to do here is to help you create a real affiliate marketing business that has long lasting benefits. If you follow through with the blueprint I give you here, there is a good chance you may be able to see a side income by the end of 2022 and potentially a full time income well into 2022 from affiliate marketing.
And if you find this article towards the middle or end of 2022, don't think that you're late. Just start whenever you start and follow the same blueprint.
Before we begin this blueprint, here is an important message:
You may see more initial results from doing affiliate marketing on YouTube initially because the results there come more quickly.
However it is with blogging where the more long term potential exists but the results of it will only really start to show after about 6 months, so when you follow my blueprint and apply it to blogging, do not expect results to come as quickly as they would through YouTube, but in the long run, it has more potential and freedom than it.
My ultimate goal is to help you build an affiliate business using both these options.
First I'll show you how to create an affiliate business out of YouTube and blogging separately, and then I will explain how to combine both of them. Lets start…
1) Succeeding with affiliate marketing in 2022 through YouTube:
Here is the quota I want you to complete by the end of this year:
1) I want you to create a YouTube channel (this should be no problem for ANYONE).
2) I want you to dedicate your YouTube channel to just one major evergreen niche topic you like (this niche guide will help you choose).
3) I want you to join 1 major affiliate network that will allow you to promote products in the niche you chose.
4) I want you to create 25 videos that cover topics in your niche. 
5) I want you to create 25 product review videos on YouTube that cover products you're promoting in your niche.
See my YouTube affiliate marketing guide for help on doing this.
An example of this strategy done right:
Let me give you an example of how these 5 steps could be completed by choosing a specific niche, which will be how to build muscle.
1) I'll create a YouTube channel as it's the easiest step.
2) I'll dedicate the channel to only talking about the niche subject which is building muscle.
3) I'll probably sign up with one of these affiliate networks: Amazon Associates, The Vitamin Shoppe, or GNC (one is enough).
4) I will create 25 YouTube videos covering muscle building subjects ranging from:
What types of workouts are best for building muscle.

Which supplements are best to use.

Which supplements aren't good.

And anything I can think of.
For this subject, it wouldn't be difficult to come up with 100 videos and for most people with niche ideas, you may have a similar "problem". If you pass the 25 quota, go beyond it.
5) I will create 25 video reviews of different muscle building products and workout programs I think are good for my customers. You can review different protein powders, workout supplements and so on.
What happens after:
By the end of the year, a person who grows a YouTube channel with this kind of content can really become well known among 10,000's of people, make a bunch of affiliate sales and establish great foundations to grow that same business in 2022. Creating more videos on a specific niche topic is one of the best ways to get more views to your videos and YouTube channel.

For what essentially a 50 video quota, making one, once a week is VERY practical, especially for beginners.
If you are new, this is the pace you should set when you begin. It is also very likely that as your experience in making videos grows, that you'll be able to create more than one video a week and like I said before, if you wish to, make more than 50 videos by the end of the year. 
2) Succeeding with affiliate marketing in 2022
through blogging: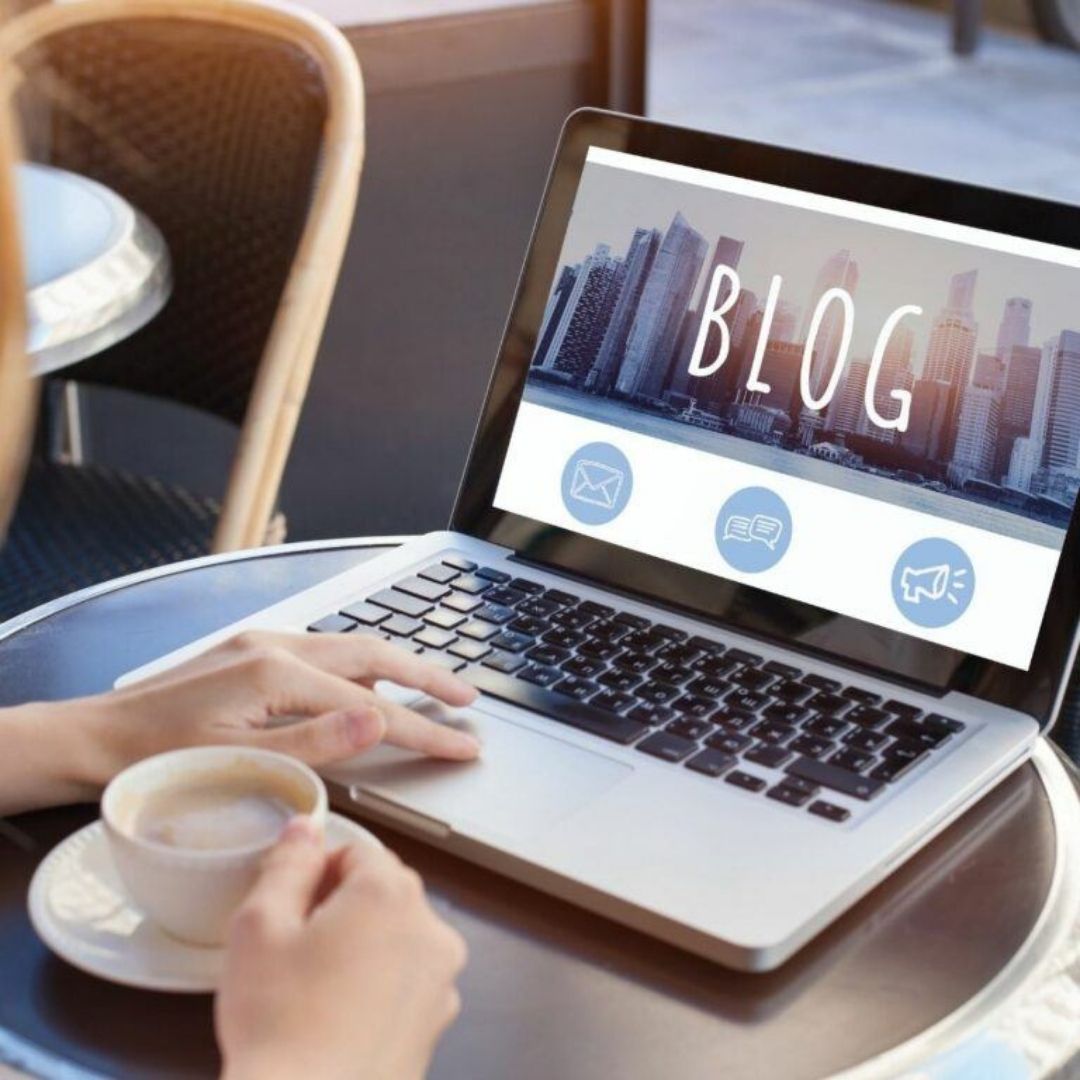 The end goal with blogging is going to be very similar as it was with YouTube, except any content you create on a blog is written, whereas on YouTube it's video content.
1) You're going to want to first buy a domain name and install a WordPress website to it.
2) The website's goal is to become an authority website for the evergreen niche topic you choose (again, here is help on picking a niche).
And furthermore, here are 10 niches for affiliates in 2022 as another example to use and if you want to do some high ticket stuff, here are 10 high ticket niches for you as well!
3) Join 1 major affiliate network for starters and if you already did for the YouTube part, you can consider this step complete.
4) Create 25 blog posts, that are 2,000 words each that cover aspects of the niche you chose. Also target keywords in your blog for maximum traffic potential.
5) Create 25 blog posts that are written reviews of affiliate products that are within the niche topic.
An example of how this can be done right:
Using the same exact niche as last time (building muscle), let's apply this topic to the blog site we're building.
1) I'll typically buy a domain name and install a WordPress site through a program called Wealthy Affiliate. It is in my experience easiest and cheapest to make it there. And also the very same blueprint in this post for which I offer personal help (information on my help and affiliate coaching), comes from that program.
2) Again the example niche is chosen, which is building muscle and the website I'll make will be dedicated to this niche and becoming an authority for people seeking to build muscle. 
3) The same affiliate programs I joined up with from YouTube, I'll also join up through to promote on my blog. I'd probably also join up with Clickbank since they offer a number of good digital workout programs that pay good commissions, and some of their workout programs have high ticket commissions. See my Clickbank affiliate marketing guide for more details.
4) I'd write 25 very high quality blog posts, 2,000 words each on building muscle. I'd cover topics on how to go from being skinny to lean or from fat to shredded. I'd cover topics on which foods to eat to burn fat and so on.
5) Just like for YouTube, I'd create 25 different blog posts reviewing muscle building products, protein powders and programs. Same exact idea, just in written content.
What happens after:
Like I said before, the results with blogging take longer than with YouTube, but also, once again, the results from blogging and affiliate marketing can go further long term.
I suspect any blog that does affiliate marketing or aims to will have to wait around 6 months before it gets traffic.
When you start blogging, and track how much traffic it's getting, it won't be a lot for the first few months. Expect single digit visitors but don't be discouraged by it as it's normal.
After 6 months is when you'll see the snowball effect begin to occur and legions of traffic to start coming. Between the 6 to 12 month mark, a blog should be able to get 1,000's of visitors and climb higher and higher in those numbers as time goes on.
The goal you should set for blogging is to be an authority for the niche you chose. This is why I tell people to write blog posts that do more than just review product after product, but also discuss topics on the niche. It is typically those blog posts that readers will use to gauge if they can trust your advice on what products to buy.
Update: See this comprehensive guide on doing affiliate marketing with blogging.
3) Creating a successful affiliate business in 2022 (YouTube + blogging):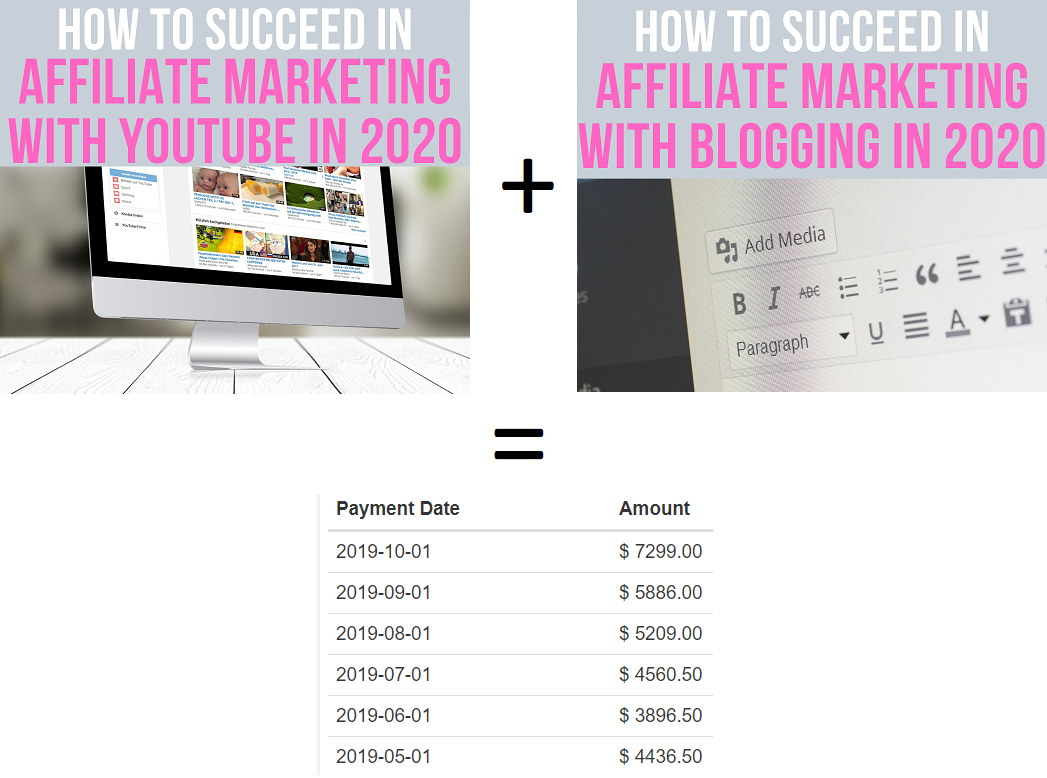 This is ultimately where I recommend you take your affiliate business (mix these 2 methods together). The more involved you are with using multiple methods of affiliate marketing, especially these 2 which are at the top, the more exposure and growth your overall affiliate business can and will see. 
Here is how to mix both blogging and YouTube together to make your affiliate business shine in 2022:
1) Make sure you have both a YouTube channel and a domain name (WordPress site). They can have different names.
2) Both the YouTube channel and blog should be dedicated the same exact niche.
3) Be signed up to the same exact affiliate program. You'll be promoting the items from it on both the blog and YouTube channel.
4) Combine your content goals: 25 videos and 25 blog posts for the same niche topic.
5) Combine your product review goals: 25 videos reviewing products and 25 blog posts reviewing the same exact products too. You will want to write different content for each, but ultimately, you are just getting your product review out in more than one way and making more sales.
6) Link your YouTube videos to the corresponding blog posts on your site and link your product reviews on YouTube to your corresponding product reviews on your blog. With YouTube you will still be promoting products, but you'll just add an extra link back to your blog.
What happens after:
Basically every result of what would happen if you were making a YouTube channel or blog separately and the results I told you about for each method, will combine.
Your YouTube channel will still grow as it would if you were doing it separately. 
And your blog will actually grow faster and possibly see results earlier than the 6 month mark, because it will be fed by the backlinks being made by you from your YouTube videos. 
Overall, your name, your site, your YouTube videos and your affiliate business will get more visitors from the internet and be able to make more money in affiliate sales.
At first I expect your affiliate business will make more money and get more traffic from YouTube, but as your blog grows, it may surpass the YouTube traffic and make more sales in the long run.
Don't make the mistake of only trying to sell with YouTube or blogging:
I have a strong feeling that many people who read this blog post will assume they just need to write product review articles or make product review videos on YouTube and that this will be enough to make them bank easily.
If this is them message you got from this article, you need to fix that assumption. Remember, we are making an authority website/YouTube channel and overall affiliate business. And that is made up of much more than just product reviews.
An authority website, an authority YouTube channel and overall successful affiliate business can't just do nothing but try and sell. It needs to create trust and content that answers niche audience questions. This is why 50% of all the content you create, whether it's on your blog or YouTube will be content related to your niche and answering questions.
I'll give you an example. As of now, about 90% of all the content on HelpingHandAffiliate.com is dedicated to only answering questions and covering topics on affiliate marketing. I actually have maybe 2 or 3 pages on this site that actually sell anything. 
And this is important because the more valuable content you provide (the one that doesn't sell), the better a job it does of raising your status in reader's eyes and making them trust you more. Then the selling is easier.
Don't make the common affiliate mistake which is overselling in your business. Otherwise it's success will be limited and it may even fail. 
The blueprint you received here is literally the same one I am following on HelpingHandAffiliate.com, with the intent to make this site one of the greatest authority websites for the niche topic of affiliate marketing.
I have made more than one website successful in other niche topics before using this same strategy and it is because of that past experience and success (see my income reports), that I am applying the same exact principals here, and this is the blueprint that you need to follow in order to see your success in affiliate marketing explode in 2022.
What happens after these blogging and YouTube quotas are met:
Well then for starters, you'll probably be one of the rare cases of people who actually follow through with a proven blueprint that has worked me and tons of people, and you will get results.
From there, I would advise that you do not stop. 
I would continue blogging in the same fashion and making YouTube videos in the same fashion as well. Set another 25/25 goal for each platform and make that your new quota. And if you can easily surpass that number, make the quota 50/50 where you double the content you produce on YouTube and your blog. 
The more of this that you do with your blog and YouTube channel, the more it will grow and the more your affiliate sales will too. And how much money you can make affiliate marketing through combining these strategies is amazing.
Expanding into the pay per click world to grow your affiliate business further:
If you make sales with YouTube and blogging, then there's a good chance you'll see success in affiliate marketing with pay per click and it's a realm I'd start to consider only when the affiliate profits from your YouTube and blogging are big enough to spend on ads in the pay per click world.
It's an area which I won't get too far into in this article, but basically, you will set up ads to drive more traffic to your YouTube videos and your blog with the goal to sell more affiliate promotions in the process. 
There are many pay per click networks to consider doing this through, but it should again only be done after you have a good, established affiliate business in either blogging and/or YouTube, not before.
Expanding into other niche ideas and replicating the same formula with other sites/YouTube channels:
You may eventually hit a point where your affiliate business that you establish with this tutorial may not be interesting for you anymore OR perhaps it is succeeding, but your passions are steering you to create another affiliate business, in another niche.
If this is the case, then you can literally take that next idea you have, repeat the same steps I gave you but just apply it to the other niche topic you choose to grow. This can create a secondary affiliate income for you.
However, before you get to this point, make sure your first site and YouTube channel is working, because a lot of people often try to do these 2 things at once, before any one of them is established and this is a mistake you shouldn't make because there is a lot of time needed to see one affiliate business grow, so put the effort into that one business first.
Setting the seeds in 2022 guarantees affiliate success in 2022 and beyond:
Remember, everything I wrote in this article is designed for long term results in the world of affiliate marketing.
In short, if meeting the original goal got you affiliate sales, then only doing more of that will increase it, which is why someone who completes these quotas in 2022 will do very well in affiliate marketing in 2022 and if that same person continues to grow their business the same way I just said, then 2022 will be even better.
However, if you get results in 2022 and stop growing the affiliate business, then 2022 will be a year of decline for you. And having been through that scenario in my history, I can tell you this is not a mistake you want to make.
Focus on growing your affiliate business in 2022. Don't get lazy and every year that goes by, you will see increase after increase in your affiliate business. That's the best possible scenario you can have and now you have a specific blueprint to reach that.
Need help with setting up a truly profitable affiliate business in 2022?

I can totally understand if you just read all of this but feel overwhelmed and doubtful (I've been there). Fortunately, I've gotten past that and am where I am now and also help others do the same.
If you'd like to get my help, plus a blueprint that implements everything I showed you here and more to start your affiliate business, I recommend trying a program called Wealthy Affiliate. This is where you'll learn ALL of this (And receive my personal help too).