I have mixed views on the products Russell Brunson puts out, but one thing I cannot deny is that his books are pretty awesome reads, and that includes Expert Secrets which I just checked out and will provide a review and summary of shortly in this post.
The main thing to understand about Expert Secrets:
The most important thing I want to get across is that there is a singular core concept to success in life and business and that it is taught both by Expert Secrets and any legitimate teacher out there, and that is this:
If you find a niche passion you love, and properly market that passion online, there are no limits to how successful you can become.
Now that's a statement that I personally live and learned years ago from the Wealthy Affiliate program as well as my own experiences in affiliate marketing and teach that to anyone who checks out my websites and sees my YouTube videos.
This message is also taught (in other words) within the Expert Secrets book, and naturally when I saw that, I was on board with recommending this book, but again, in terms of products that Russell puts out, I don't really promote or recommend those because there are better options in my opinion for manifesting your passion online and making money from it.
I will talk about that too in this review.
A summary and overview of Expert Secrets:

Author:
Russell Brunson.
Price:
$9.99 for me (Kindle).
How long is it? 
302 pages (hardcover). 22 chapters.
What do you learn from Expert Secrets?
How to find your niche passion, become an EXPERT at it and then through online means grow a following and sell products to that following in that niche. Doing this will help you become a success online.
By the way, this is not the full summary and I will be getting into it shortly, but consider this a small preview of what is taught.
Do I recommend it? This is my short review of Expert Secrets:
I really enjoyed this read and I have also checked out Russell's other books like Traffic Secrets. Like I said before, I cannot argue with the content in these books and agree on almost every single front.
The only things I am not a fan of are Russell's programs like Clickfunnels and Funnel Scripts, and I have reviews on those that explain why that is the case.
In my opinion, the books are great reads and are recommend, but the products are a bit too expensive and I think you have better options out there for making an online business successful.
What I do recommend: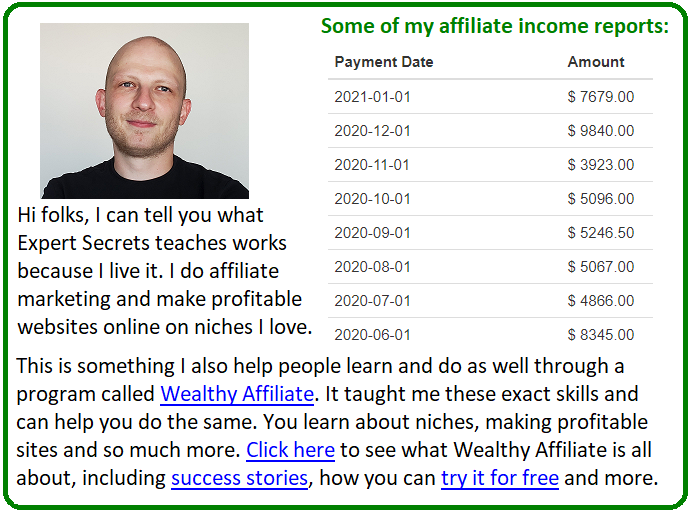 A full video review of Expert Secrets:
A summary of Expert Secrets:
There are 4 main parts to this book in the way I like to think of it:
1) Finding your niche and becoming an expert at it to grow your following.
2) Going through the process of becoming an expert to get future clients.
3) Creating offers such as webinars to capture the clients and selling your products.
4) Ways to capture the audience through opt ins and follow-up messages through email marketing.
So in 1 sentence, it's like I said before, this book teaches you to become an expert at a particular niche you love and then start a successful online business out of it. Everything else in between that thesis is HOW you make each part of that process happen.
What I want to do right now is break down each process so you understand the details.
1) Finding your niche to become an expert at (and get a following):
I am 100% on board with what Russell teaches here. Like I said, this is the CORE concept of success in business. The main thing to understand with this part of the Experts Secrets book is this:
You have passions and interests in life. Russell shows you how to take these passions and find a niche based on that, then let that be the driving force moving forward. He has several pages in the book talking about how to take broad topics and make them into niches using a strategy I actually used long ago to help tons of people find their niche, which is basically the arrow technique. For example:
Health –> back pain –> lower back pain (niche).
Russell has tons of examples in his book, but it's all in black text since it's in a book form. I like to teach this same exact concept with colors where greens are the niches.
Now in my case, I do affiliate marketing and the stuff Russell teaches is 100% applicable here. I find a niche passion, and then I make websites, YouTube videos and pay per click ads promoting products in my niche, to my niche audience (like mountain bikes for example). In fact, I have a number of articles detailing the niche subject:
The reason I stress how important niches are because this is the ROOT of your success online and I'll bet money that Russell knows this too, which is why this is basically how Expert Secrets begins. I reckon ANY success story in business knows this fact too which is why it needs to be stressed and early on if people have any hope in succeeding.
2) Becoming the expert to get the clients (the journey):
After choosing YOUR niche, your goal if you aren't already the expert is to become one and if you're not at a point of having a following, to get it. What Russell talks about in this section of the book is the importance of doing the following things:
Interviewing other experts in your niche (to learn more).
Having free clients (to build a following and long term clients).
Having them market for you too (happy clients lead to word of mouth, and I know this for a fact).
3) Creating offers such as webinars to capture the clients and selling your products:
After going through the niche process and becoming an expert, the next step is to create some sort of product and market it to clients so you can build your following and be THEIR expert.
In this section of the book (it's about 20% of it at least), Russell talks about making webinars that sell your product to the audience and VERY important details and steps to creating a highly converting webinar.
Some of the stuff Russell talks about is basically great copywriting examples such as:
Story telling. Tell people about YOUR journey (Russell shares a lot of his stories).
Offering the product and showing the value of it.
Giving people bonuses.
Giving a limited time offer option.
And more.
The product you create for your following depends entirely on you. If your niche is fixing relationships, you can make some sort of eBook selling how to get the partner of your dreams and talk about your personal journey in accomplishing this and then using the webinar to sell the eBook.
You can also do things like create a membership site, offer, high ticket offer, ect…
Side note: I recently read an eBook by Russell's friend Jim Edwards in a similar subject called Copywriting Secrets. This might be interesting for you.
4) Ways to capture the audience through opt ins and email marketing:
The last section of the book gets into details on converting followers through opt in lists, squeeze pages and follow up messages through email marketing.
You will commonly see images and illustrations in Expert Secrets on what profitable online sales funnels look like and in every section of the book, including this one, you will get plenty of examples to work with.
Concluding thoughts on Expert Secrets:
I like this book and was pleasantly surprised at how similar it's tips were, especially in the beginning to what I learned to personally do to see my own success online. I do recommend the read, but in terms of taking action, Russell offers his own products (as he should for this), but this is where we go separate ways:
Russell does recommend his other products, particularly Clickfunnels and I personally think the product is overpriced. It can help you sell your products and even affiliate products, but in the end, the necessary tools and training to do this, are things I believe you can get for lower prices, in better places and the one I'm specifically talking about is Wealthy Affiliate.
How Wealthy Affiliate helps you achieve what Expert Secrets teaches: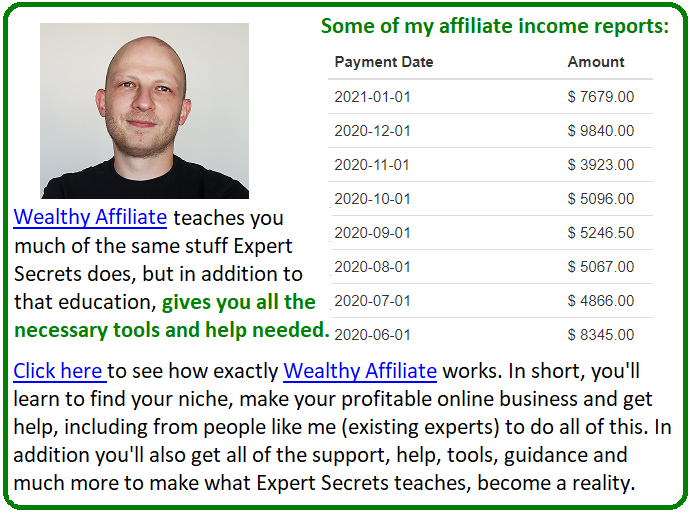 That's really the bottom line of Wealthy Affiliate and I can tell you that you'll spend a lot less to get the desired results. In my case, Wealthy Affiliate helped me become a very successful affiliate marketer and like I said before (see my affiliate income stats), I do what Expert Secrets teaches, but I promote other people's products in the affiliate marketing world, through the online sphere.
You'll learn the same, whether it be affiliate marketing or selling your own product. The most important thing is that it'll be in your niche for which you are the expert for, and with the blueprint inside Wealthy Affiliate, you have your "secret" to success at your hands.