I've been doing copywriting as an affiliate marketer for many years and in today's post, I'd like to share 5 personal examples of what great copywriting looks like. These 7 examples led to me making over $600,000 in sales.
In a moment I'll show you each example and go deep into explaining why it worked and how you can also use that for your copywriting needs. Despite the fact that I do affiliate marketing, I can assure you of one thing:
Great copywriting works universally, whether you're:
An affiliate marketer.
A blogger.
An advertiser who makes ads.
An email marketer.
A person who is running a personal business website.
A freelance copywriter.
The examples and tips in this post will apply to anyone in any of the positions above, and this is because like I just said: Copywriting is universal. The same copywriting tips I use to make money in affiliate marketing can be the exact same tips you use if you're a blogger, an advertiser or anyone I listed above.
I know this from firsthand experience because I have done ALL of the above things.
Here are the 7 examples of great copywriting I'll be showing you today:
1 blog post that earned me $400,000.
A simple landing page that made me over $2,000 so far.
An online ad that made me a $1,000+.
A business page I copywrote that earned nearly $10,000.
A single landing page that made almost $200,000 .
Another landing page with the same template that made $50,000.
And finally, we'll be analyzing this very post as the last example to see how copywriting is being.
I have numerous other examples but these 7 will really be a diverse enough list of examples to help you understand how to become a great copywriter.
Before I get into these examples, let me help you understand 2 very important things:
What copywriting is.
Why it's a skill that can make you a passive income.
What is copywriting?
It's just basically the art of writing in a way that convinces people to do something, which would be:
Buying from your website.
Buying from your blog.
Buying from your emails.
Signing up on your website/blog to get emails and so forth.
The level of skill you possess as a copywriter is directly reflective of how good you are at making money writing.
If you're bad at copywriting, you probably won't make much money.
If you're good at copywriting, you'll probably make a decent amount.
If you're great at copywriting, well then you have a pretty good chance of making a lot of money in life.
This is a very important lesson I personally learned over the years I've done this and I can tell you this:
They say that money doesn't grow on trees, but great copywriting skill sure makes that metaphor more like to be true.
5 quick tips to help your copywriting skill go from bad to good, to great:
Target people's emotions. Make them FEEL they want to buy something.
Use pros and cons to quickly let people see the value of what you're selling.
Share a personal experience on whatever you're promoting.
Show success and happy people using whatever you're promoting (testimonials).
Compare the product you're selling to others and show them why yours has more benefits.
I have found in my personal experiences that using one or more of these copywriting tips greatly helps with convincing people to buy what I am selling them.
The light and dark side of copywriting (ethics):
One thing I want you to understand about copywriting is that the art of convincing people to buy or do stuff isn't always ethical. I know more than a few people in the time I've been in this business who are full of it but make a lot of money because they are great copywriters.
You can even say that great copywriters can often be great BS artists, and I wouldn't argue with you but I say this as a warning because if you do become great at copywriting, it can quickly turn into an alluring and corrupting experience.
After all, when you have the ability to write in a way which universally convinces people to buy stuff and makes you money, that process can turn you into a bad person and if you have ethics, you need to be careful.
I have a post on doing affiliate marketing ethically here, which you can check out to see how I personally grade myself when I sell stuff online to make sure I'm not crossing over to the unethical side.
And now that I've mentioned this, let me get to the 5 examples and break down WHY they are using great copywriting skills to work.
1) The single blog post earned me over $400,000:
One of my greatest success stories to date is a blog post I wrote reviewing an affiliate program called Wealthy Affiliate.
In this blog post, I basically review the program and use specific copywriting techniques to convince people to join.
Here is a list of the copywriting techniques I used to make this blog post have the results it gets:
I share my personal success story and income stats (visual proof).
I share other people's success stories (positive reinforcement).
I clearly explain how the program works (no confusion).
I share that people can try it risk free (takes away doubt).
I use a simple pro and con table and show way more pros over cons.
I included a bonus: Coaching to people who join (extra value)
I clearly provide call to action links (no confusion on where to go to start).
I provide an exit pop up thanking people to reading the post and once again explain the benefits/bonuses I give if they join (last ditch effort to get them to sign up).
With each of these techniques I used, it helped reinforce the blog post and convince people to join. The $300,000 I earned has been going on since 2014 and still works today. You're welcome to check out that post on Wealthy Affiliate here and see exactly how these techniques are used there.
I also have another Wealthy Affiliate review post here on this site that I am aiming to grow even further than that one.
2) A landing page that made me over $2,000: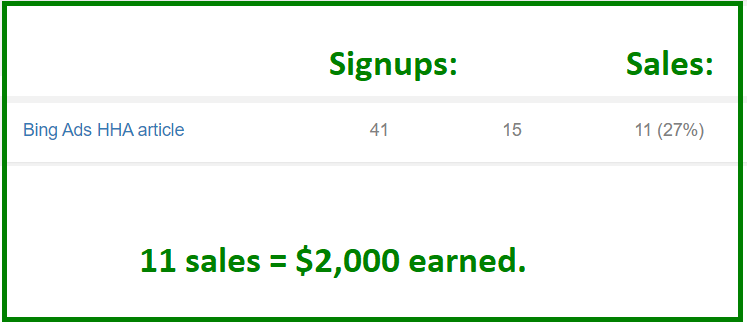 One of the fields of marketing I know a lot about is pay per click affiliate marketing where I run paid ads to make money online.
Of the networks I use, Bing Ads is the one I have most of my experience with.
So what ended up happening was that I wrote a very long blog post on how to do affiliate marketing with Bing Ads where I explained how it works and it ended up being a pretty popular article.
On that post, I promote Wealthy Affiliate to people by saying that if they wish to also succeed with Bing Ads affiliate marketing, that Wealthy Affiliate provides that step by step blueprint.
And in the process of setting up this online sales funnel, I've gotten 14 sales out of it equating to over $2,000 in profit (screenshot above) and it is still growing with many more opportunities on the horizon.
Here is a list of the copywriting techniques I used to make money with this:
I established myself as an authority on Bing Ads (I was confident in my claims).
I provided a personal YouTube video clearly explaining things (great for social proof).
I explained how much money I made ($300,000 from it and showed proof).
I gave a step by step guide to doing things (people love step by step guides).
I provided an extra resource for training/help if they needed it (if people needed more info/help, they had a way to get it).
All of this made them confident in buying into the program and making me the sales. Therefore my copywriting techniques proved to work quite well!
3) An online ad that made $1,000+ in sales:
This is a case study involving one of the many successful ads I made through the Bing Ads network. As I said at the very top of this post, copywriting can also be applied in ad copies where the better the ad I make, the better it will perform.
In this particular case, we're just going to examine 1 simple ad I made and the copywriting text it has. It deals with a popular program I reviewed on my site and then made an ad for promoting it.
Here is the ad stats:
The most important thing we're looking at is the clicks and impressions this ad got:
1,670 impressions means that many people looked up the name of that program.
197 people who saw the ad clicked it (11.80% of people who saw the ad clicked it).
In the world of ad copies and copywriting them, having a 1% or lower click through rate is considered "good", but in my case, I got nearly 12% of people who saw the to click it! This means my ad copy was nearly 1,200% BETTER than the others, meaning my copywriting approach worked. You can see the ad in the image above for reference, but as you can see it's very simple!
Here is a list of the copywriting techniques I used to make money with this ad:
I specifically targeted people who knew about this program (targeted traffic marketing).
I made an ad that is easy to read and see (I used the name of the program in the ad).
I made a convincing argument to click the ad (I got the program, so people want to see my review).
From there, I wrote a good affiliate product review with good copywriting skills.
This led to the sales.
4) A business page I did copywriting for that earned nearly $10,000 in online sales:
A long time ago, I was in a joint venture with a vendor on Clickbank who needed my help in promoting her women's workout program. She had her web designer make the sales page promoting the product but after going live on Clickbank, the product, despite being good wasn't making any major headway with sales.
So I took over the design of the sales page and did copywriting work to fix it. And in the process, the site ended up slowly growing and earning nearly $10,000 in sales.
Here is a list of the copywriting techniques I used on the sales pages:
1) I made a bullet point list of pros of the program that was easy to see (people love to see a quick report on the program benefits). Before I took over, the sales page had complex paragraphs that were too long and annoying to read through.
2) I made the before/after images easy to spot and obvious (people love to see results). Beforehand, these images were hard to find (don't make it hard to find benefits).
3) I made a very short but simple walkthrough on how the program works (so people know what to expect and feel safe getting). Beforehand, there wasn't any obvious text showing this so people could quickly see that.
4) I positioned the above things to make it easy for people to take in quickly, and it helped build rapport for visitors. Beforehand, it was tough to see all the major benefits of this program within seconds. Afterwards, it was easy.
As a result, this sales page became successful. Eventually, the vendor and I parted ways, but this was one of my best experiences with copywriting sales pages.
5) A single landing page that made almost $200,000:
I wrote up a case study page on how 1 page websites made me $500,000 and in that post, I cited one specific example where I was talking about a VERY popular diet program and promoting a Clickbank one that was better.
Basically with this copywriting example, my goal was to convince people not to get the popular diet and get the Clickbank one instead. So how did I do that?
Here is a list of the copywriting techniques I used on the 1 page site:
I summarized the main diet program (this made it easy to understand how it worked).
I listed the pros and cons (focused on showing the legitimate holes in the diet).
I mentioned how the Clickbank diet program is better.
I then literally wrote up FACTS such as:
Both diets are great and WORK (establishes safety).
This diet takes 50 days to complete. This one (Clickbank) takes only 10 days.
This one has many food restrictions. This one is very

flexible with foods

.
And things like that which basically steered people to buy the program instead. As you can see, clear cut comparisons and contrasts made it easy for people to see why my choice was better and I also include red and green colors for easy things to spot for the eyes.
This ended up earning almost $200,000 and is an example of what great copywriting can produce.
6) Another landing page with an identical template which made $50,000:
Shortly after my $200,000 case study, another opportunity for promoting a popular diet/fitness program came up, and I took full advantage of it by following the same copywriting template as I followed in case study 5 (the one above) where I took the popular diet, but promoted the Clickbank one.
This particular program was different than the one in the above case study, so I had to change some things around with my copy writing.
Here is a list of the copywriting techniques I used on this 1 page site:
I summarized the fitness/diet program.
I listed the pros and cons (all facts).
I listed why the Clickbank program is better (I said it's cheaper, it works faster, it's more flexible, all positive reinforcement terms that steered people to see why it's better).
For what it's worth I also used facts so it wasn't like I was bad mouthing the other program. If you'd like to see the product review template I used, click here as I also used it for other product reviews I did.
7) Looking at this blog post (notice how I use copywriting techniques):
This very post you're reading right now is applying copywriting skills. Here are the most important things I was aiming to accomplish:
I wanted you to understand what copywriting is.
I wanted you to see it's potential.
I wanted you to see how to keep it ethical.
I wanted you to see my personal examples of how it's used.
I wanted you to join the Wealthy Affiliate program and become a good copywriter yourself so you can see the results this skill can bring.
If I accomplished more than 50% of the above goals and I was clear in how I explained things, then this article had great copywriting in it.
Remember what the main goal of copywriting is:
It's to convince people to do something. In this case, I provided education on copywriting with specific examples I used throughout my history with affiliate marketing and success stories.
Copywriting is an incredibly useful skill that you can turn into a serious income generator and while I have some great examples I shared with you, I continue to learn this art and improve upon it.
There's also pretty good books on this like Copywriting Secrets which can show you similar techniques.
If you are seeking some awesome copywriting training, then I have to honestly suggest you try the Wealthy Affiliate program here. One of the many things this program will teach you to do is:
Create a niche website you can easily establish yourself as an authority in.
Drive traffic to your niche site and use copywriting skills to make the sales.
Being an authority in a niche you love is one of the best fundamental things you need to have. If you have it, then good copywriting almost comes NATURALLY. And this is what the Wealthy Affiliate program will teach.
You can also see my personal affiliate coaching here if you'd like to know more about the program or how I help with this material.