The answer is yes and it's actually one of the best blogging courses I've seen so far. In this Create And Go review, I'm going to show you why, and also offer other alternatives which have similar and even higher quality training too.
Either way, I will say this: Create And Go is a legitimate blogging course and possibly in the top 5 for it's category in my opinion. Before we get started with this review, allow me to say a few things:
1) Create And Go offers a free 5 day bootcamp (which I am signed up for) and I like it and if nothing else, I do recommend you at least try that (I'll leave links in this review to that).
2) The main training is actually in a further upsell known as Launch Your Blog Biz which is $297 one time. This particular offer, I did not buy.
3) I am a blogging expert myself and can tell you that what Create And Go teaches is legitimate and works.
A summary and review of Create And Go:
Who created Create And Go?
2 people: Alex and Lauren.
How much is Create And Go?
It's a free course (5 day blogging bootcamp), and there is a funnel to buy Launch my Blog Biz which I said earlier is $297. Additionally, the Create And Go website has other options:
Buying Blue Host for your blog (this is necessary if you're going to do the free course).
SEO Blueprint For Beginners: $197
Pinterest Traffic Avalanche: $197
Six Figure Blogger: $297
Pro Blogger Bundle: $797 (or 2 payments of $427).
There is also a "course roadmap" page on Create And Go which summarizes each of the options above and helps you choose which path to go.
What does Create And Go teach you?
The free course gives you a good introduction and beginner action steps to create a blog in any topic you love. The end goal is to make money off that blog and do it for a living if you really reach the upper levels of success.
There is a 5 day blogging bootcamp you can sign up for on Create And Go which helps you if you're a total beginner to get your feet wet with this business, and then to go further, you can sign up for Launch my Blog Biz to get the complete training.
The following topics are covered:
Choosing your topic (niche).
Getting traffic to the site (SEO stuff).
How to create content.
How to build a profitable business selling stuff on the blog (courses, affiliate marketing and so forth).
My rating for Create And Go:

4.5 out of 5 stars
Do I recommend Create And Go?

Yes.
There are TONS of positive things I can say about Create And Go including that its teachings correlate with my own personal knowledge on this topic and that I know it works.
Furthermore, one of the things that resonates most with me is the transparency of the creators and how they give you a lot of free content to try and also give you an inside look/preview of the courses if you choose to buy them.
If you're considering starting a blog, I can certainly tell you that this site and it's courses are one of the top ones I've seen and I do highly recommend it, although I do have some options that I think might be better fit money wise and value wise.
Alternatives? Some:
I'll be listing out the specific ones below, but here is my top choice: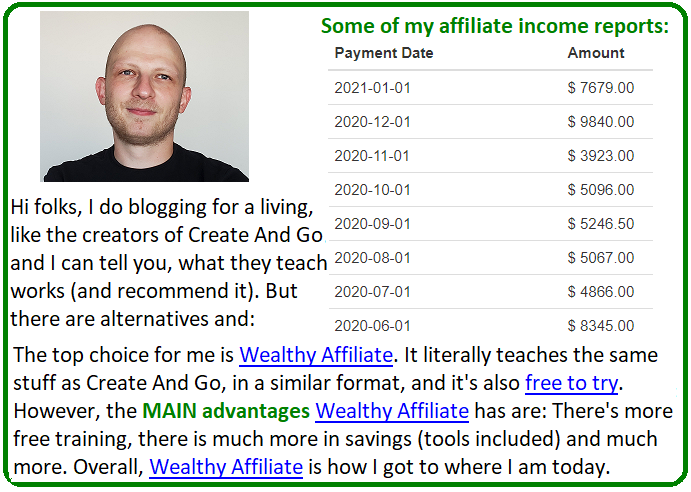 Create And Go: A deeper review.
So again, Create And Go is a site for helping you start a profitable blog. To get started with Create And Go, you have 3 choices:
First you can sign up for a free course known as the 5 day Blogging Bootcamp).
Second, you can upgrade and get the Launch my Blog Biz program (the full training).
Third, you can elect to get one or more of the other programs in Create And Go, such as the Bundle Package.
For me, I have a ton of experience in everything Create And Go teaches, since I do this myself. While you can see the full about me bio, the short story is that I run several successful blogs, including this one that make me money online, mostly through affiliate marketing, meaning I promote products I don't own.
I also have a lot of experience with other topics like travel blogging as well as stuff related to SEO, Pinterest, and other topics covered in one or more programs of the Create And Go website.
When I see there inside look into these offers, I can quickly tell what's up and this is one of the reasons why I do highly recommend Create And Go, but for me, the program where I learned ALL of this from and more is Wealthy Affiliate.
One of the reasons why I recommend them over Create And Go is because besides teaching you the same type of stuff, they offer their entire course for 1 monthly price of $49/month, so you can save a lot of money (plus they give you a lot of tools included, so that's even higher savings altogether), but we'll cover that later.
Details on Create And Go's 5 Day Blogging Bootcamp: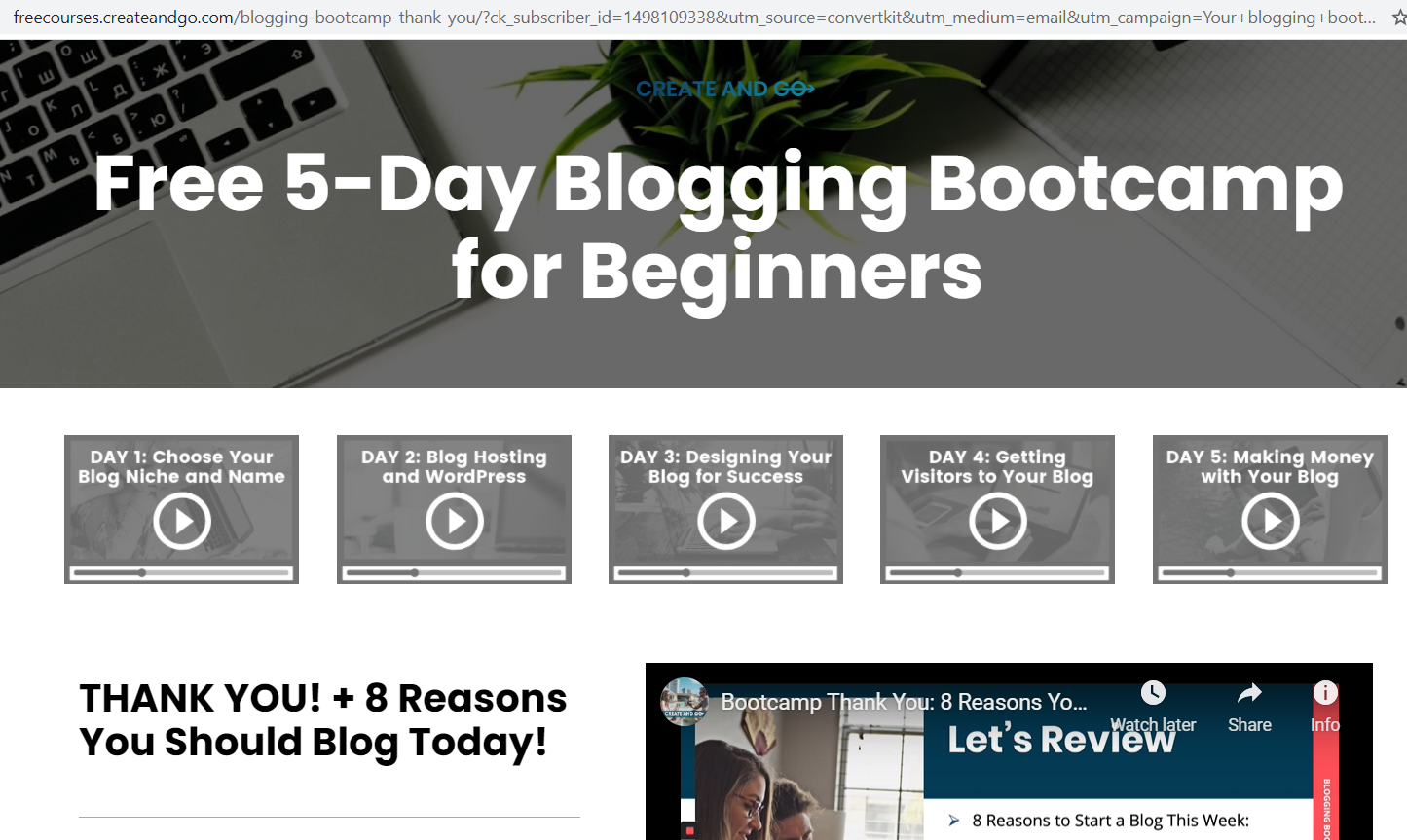 Day 1: Choose your blog niche and name.
I love this starting point because it's exactly what Wealthy Affiliate teaches too.
Basically you will pick out a topic (and name for your blog) you would love to build a blog off, in this case a niche. A niche can be anything you love that is a specific topic. For example:
These offer you over 20 choices and in this lesson, you'll get good training on it as well, but keep in mind that there's no "limit" to the number of niche topics out there folks. You can choose from anything, but the important thing is to keep this in mind: Choose something you love.
Day 2: Blog hosting and WordPress.
This is where you'll buy Blue Host and install a WordPress website for your blog. This process can be annoying in places, but overall, if you're going to build a profitable blog, there needs to be a name chosen for it, hosting installed, and a WordPress theme installed onto it.
Personally for me, the simplest place I found that helps expedite this entire process is Wealthy Affiliate. They have a 4 step set up process for this which is actually free to try and you can have a functioning WordPress blog in under a minute (I'm not joking).
Day 3: Designing your blog for success.
In this lesson, you are shown how to install the basics of the blog, including plugins, designing the basics of the site and the initial framework such as the necessary pages and blog posts. This lesson basically covers the foundational setup of the blog.
Day 4: Getting visitors to your blog.
This lesson covers how to blog to get visitors to the site. You will learn about keywords, SEO and how to write content that gets indexed and gets your blog seen.
Now speaking from experience, let me tell you that this part of the blogging process is what takes the longest (for everyone). This is because every new blog/site that aims to get traffic has to go through a certain "sandbox" period with Google before it's trusted more.
Day 5: Making money with your blog.
This step of the process covers options to monetize your blog from several options. Speaking from experience, you have multiple options here, although the key to even reaching this point is to actually get visitors to the blog itself, but anyway, here they are:
Mediavine (display ads).
Affiliate marketing (what I love most).
Selling/making courses.
Selling your own consultations and training like the creators of Create And Go do.
And more.
3 other blogging programs like Create And Go (which are just as good):
1) Authority Hacker. Great blogging program for learning this same material, and it is a bit expensive, but it offers the type of content you'd get in the bundle package of Create And Go.
2) Blogging Fast Lane. Another comprehensive blogging course also made by a couple that also run a popular travel blog. The cost of this program is under $700, so a bit cheaper than the bundle in Create And Go, but it also offers full training.
3) Passive Income Geek. Another great blogging program that is similar to all of these.
Now the advantage that Create And Go holds over these other programs is that they offer the free training for starters, and their Build My Blog Biz program is still significantly cheaper than the other 3 programs.
However, this is where I have to mention my top choice on the matter:
My top blogging program recommendation: Wealthy Affiliate.
I'm going to try and say this as objectively as I can, but Wealthy Affiliate in my biased opinion holds more advantages than any other blogging program I've ever seen and tried, including Create And Go. I am promoting it, but in spite of that:
Here's 5 indisputable reasons why Wealthy Affiliate is the best blogging training program:
1) It also is free to try but has

MORE free training

that Create And Go:
See for yourself:
Learn more about this free course at Wealthy Affiliate here.
2) You don't have to wait to "unlock" the lessons at Wealthy Affiliate (do them at your own pace).
I really like Create And Go, don't get me wrong, but the whole "wait until the next lesson opens up" isn't something I like personally. I want to do things at my own pace and love programs that give you that freedom, no matter how slow or fast you like doing this stuff.
In Wealthy Affiliate, you get just that: The freedom to do that.
3) Tools included to speed the process up:
The website set up in Wealthy Affiliate is a perfect example of what I'm talking about. You can create 1 free site as a free member of Wealthy Affiliate and that process is the most expedited that I've ever seen anywhere.
Like I said earlier, it can take less than a minute for most people, but you also save a ton of money (and time in the process). You will be able to make a website name, get free hosting in WA (savings) and set up a WordPress theme very quickly, which is perfect if you're a beginner.
With Create And Go, you gotta get blue host first, then follow the set up process, which is a bit longer (and eventually more expensive).
4) Saving across the board with Wealthy Affiliate (here's why):
Yes the program is free to try but of course there is a paid upgrade in WA as there is with Create And Go. This is a business after all, and obviously the best stuff is in the paid area of the program/s.
However, this is where Wealthy Affiliate and Create And Go differ. Here's how:
With Create And Go, you have multiple options on which direction to head in and most will elect to do the Build My Blog Biz which is still less expensive than the other 3 alternatives above.
However, Wealthy Affiliate offers people a $49/month premium program which includes everything you need, including tools, hosting, help and websites. You obviously don't need to use everything and can just stick to making 1 website, but the savings in that $49 a month option save you a TON in the long run.
Hosting, security for the site and more are individual costs that add up to big costs in the long run, but in Wealthy Affiliate, you only spend $49 a month for ALL of this (and still get the awesome training on top of this).
5) The best training, support and help all around:
Create And Go gives you access to the owners and their help which is great, but I would argue in Wealthy Affiliate, you also get expert help, in more amounts and in faster response times to help you move forward, including from me.
See this comprehensive Wealthy Affiliate review to see how that works (and how to get free 7 day coaching from me).
Conclusions on Create And Go:
I don't think you can go wrong with Create And Go and like I said before, it's an excellent blogging program (top 5 for me easily) based on what I've been seeing, hearing and exploring on their site.
That being said, I'm giving you the other options in this article because there are others available whose benefits/costs might be better suited for you and overall, Wealthy Affiliate has all of those benefits over Create And Go in my opinion, across all boards (pricing, training, value and more), but that's my opinion.
Either way, every program recommendation in this article is legitimate and highly recommended. They'll teach you the same things.