In this Mediavine review, I'm going to be showing you 3 specific case studies, one of which is mine on how this platform is literally helping me generate a side income (and how that's growing to potentially becoming a full time income).
Not only that, but I'll also show you how much Mediavine pays me, the other 2 case studies and what you can expect from it.
Quick info on Mediavine: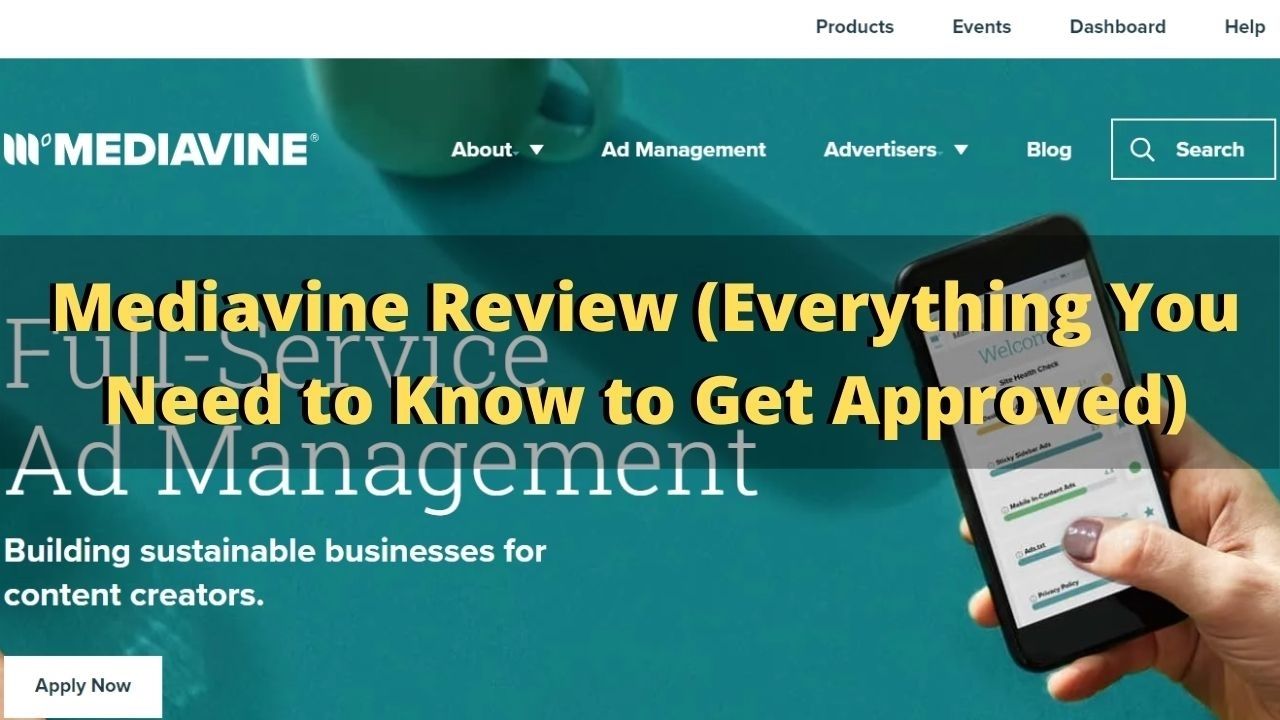 Name: Mediavine.
Price: $0 to join.
What is it? It puts ads on your blog and pays you for it.
Is it legit? Yes!
How much does it pay? That varies but I'll show you 3 case studies (including mine where it's part to full time incomes).
Pros: It's legit, their support is awesome and the platform pays well.
Cons: Site slow down is likely (for mobile) and you need 50,000 sessions a month for your site to be eligible.
Rating: 5 out of 5.
Recommended? If you have serious intent to make money from a blog, Mediavine in my opinion can greatly help you do that as it did for me and my friends (and others who use it too).
However, the key to success with Mediavine is actually knowing how to blog to get to the point where it'll approve you and then pay you well, and at the same time have good hosting to be able to handle the ads that are on your site (I'm going to recommend a program below that does all of this and more).
Background on this Mediavine review:
I used to have a mixed review of Mediavine and that was because at the time my opinion of running ads on a site didn't seem like it would produce a good income, so my mindset was always set on other ways to monetize a blog such as with affiliate marketing (which I still do).
However, after seeing 2 of my friends who are also bloggers share their earning reports, I was honestly shocked at what it could potentially bring me, and so I started working on a secondary blog revolving around nature and in October 2022, got approved by Mediavine and the rest is history (income reports coming up).
How much can you make with Mediavine? My $4,000+ case study: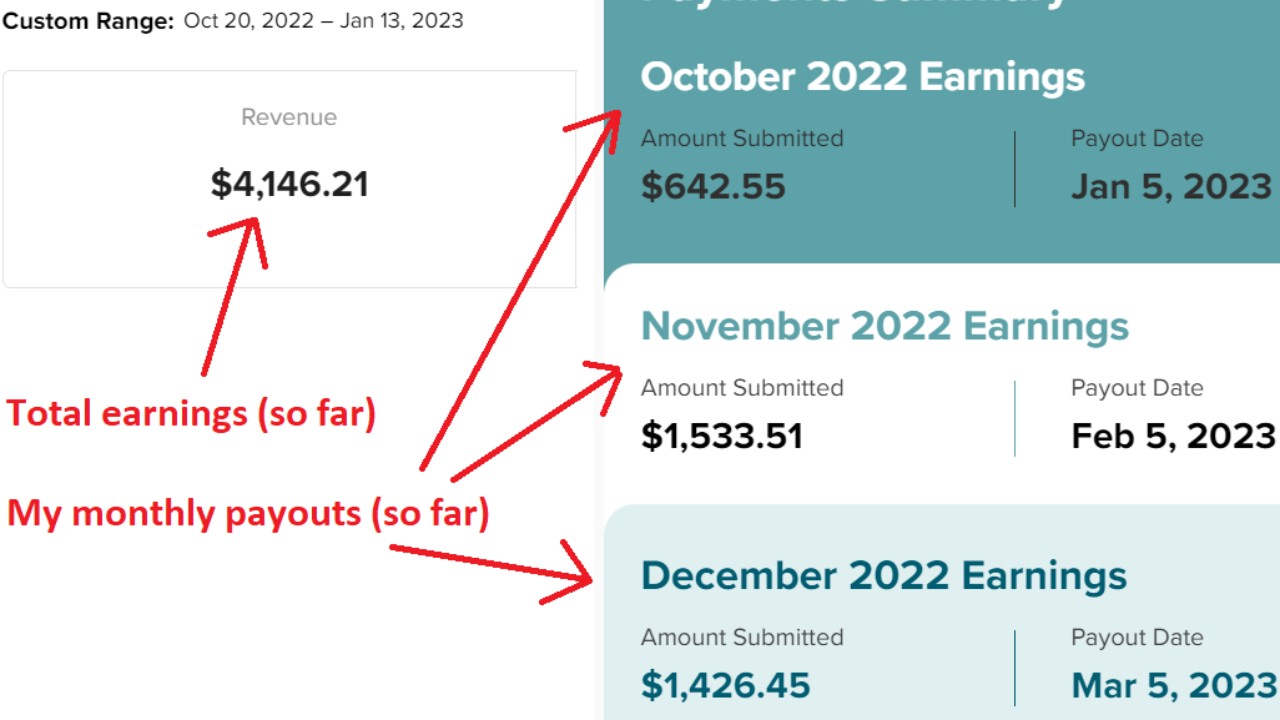 As I said in (late) October 2022, my website on nature got approved for Mediavine.
From that point to November, it earned about $600+.
Then from November to December, over $1,5000.
Then in December, a little over $1,400.
Now in January (about halfway in), it's about $500.
There are ups and down in daily earnings but this is due to several reasons:
My site traffic goes up and down (affects earnings).
Late December through early February, traffic for nature stuff is generally down.
Advertisers don't pay much in early Jan (this affects earnings too).
However, besides these fluctuations, I'm still earning daily from Mediavine.
Here are details on my RPM with Mediavine (how much it pays for every 1,000 visitors):
For every 1,000 visitors I get, I get paid $37.78 by Mediavine.
Checks (they already started coming in from Mediavine too):
My first check was for $600.
My next one will be for over $1,500.
The next month after will be $1,400.
This is what I meant by passive income and I am seriously growing my Mediavine site to increase these numbers.
More proof Mediavine is legit: Case studies on my 2 friends that also use it.
First we have Rick ($5,000-$10,000 a month being made through Mediavine alone):
Then we have Eddy, who is making $2000-$4,000 a month with Mediavine: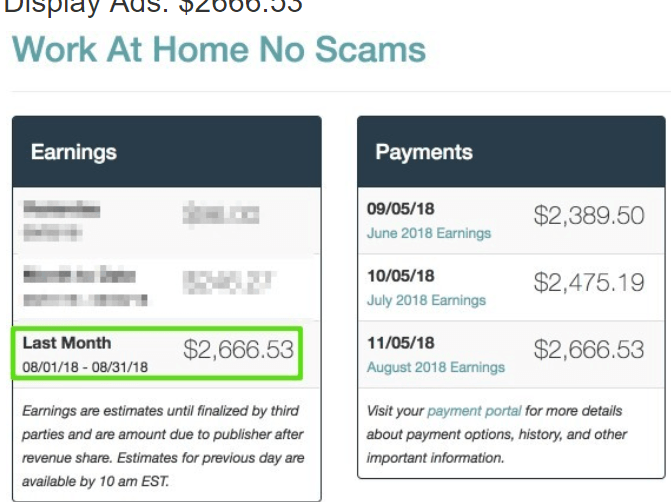 What is Mediavine?
This is a very high tier display advertising network where if you get approved for it, Mediavine will place their ads on your website and pay you a lucrative amount in the process.
You will earn money for each visitor who comes to your website.
Typically lower tier ad display networks only pay for each person who clicks the ads on your site, but with Mediavine, once again, you get paid for each visitor coming to your site.
This is a legitimate display network with high standards (Which I'll get into shortly) to get approval, but if you can reach their quotas, you can really make some serious money passively.
What does it take to get an application approved by Mediavine?
Here are a few of the most important criteria's you need to meet:
You need to have a website.
Your website needs to get at least 50,000 organic visitors a month.
You need to let Mediavine actually get access to this information to see if you're truly eligible and the visitors are real.
If you have secondary site/s, you would then need to have 25,000 visitors come to those pages to get approved.
See more Mediavine criteria explained here.
These are the 3 most important components Mediavine sets. It used to be 25,000 visitors a month, but they doubled it about a year ago. So in short, to get an application approved by Mediavine, you basically need to:
Have a website that gets at least 50,000 organic visitors a month (from search engines most notably).
How much can you make with Mediavine?
If 50,000 visitors is the threshold and Mediavine typically pays $0.05-$0.30 per visitor in my research, then the average you can expect to earn every month from that is anywhere from: $2,500 to $15,000.
Secondary sites you use to file an application with Mediavine need to at least get half of that (25,000 users a month) in which case, the estimate for earnings is $1,250-$7,500.
Keep in mind that traffic numbers for websites do fluctuate and these estimates reflect what happens when a site actually keeps a steady flow of 50,000 organic visitors a month. Some months sites can experience a downturn in traffic and this will obviously affect the earnings.
How do you actually get to the point of making money with Mediavine?
The real key to this is to know how to start a blog, and get enough traffic to it so you become eligible for the Mediavine network. In fact knowing the skills to do that will not just make you eligible there, but on any other network regardless of what their traffic requirements are.
Here is a look at my blog that has Mediavine ads on it. Notice how much traffic it received in 2022:
Now onto actually getting started with Mediavine:
1) Since I have done this personally, I'm going to share a summary of how this should be done:
2) Make a niche blog on a popular topic, and also have it crossover into a topic you love too.
3) Know how to find keywords on your popular topic that are actually popular (you want to rank your blog highly for those keywords so you can get traffic from it).
4) The key after that is steadily or quickly growing your blog so it's traffic rises month after month. If you're a new blogger, your first 6 months are likely going to be bad traffic months because most blogs go through a dry traffic period then.
5) I would say it'll take most (good) bloggers about a year to get their traffic to reach 50,000 sessions a month. You will likely have to write about 100 or more blog posts following the guidelines I mentioned above.
6) Another major component to this working in your favor is having some sort of all in one program that has everything you need to make this work (especially if you are very new to blogging), and I'm talking about:
A program that has good training on blogging.
A program that helps you build a good website.
A program that has good hosting for your website (dedicated hosting is probably what you'll want for Mediavine and I use that).
A keyword tool so you're able to find the best keywords to blog about to get to the Mediavine level more quickly.
Enter Wealthy Affiliate, the program that has all that (and more) to help you build a profitable blog and reach Mediavine status:
So as I said earlier, Rick, Eddy and myself have at least 1 or more blog websites that run Mediavine Ads and in addition to myself who does affiliate marketing full time, we all learned how to do this with the Wealthy Affiliate program. The training in Wealthy Affiliate is 100% applicable to people who:
Want to build profitable blogs.
Want to get approved and paid by Mediavine.
Want to do affiliate marketing.
Want to have good hosting for their blog.
Want to do online business in general.
So if you are serious about making a passive income with an online business like we do, then Wealthy Affiliate will help you do just that.
More stuff on Mediavine:
What is Mediavine used for?
Mediavine is used for displaying ads on your personal blog website for which you get paid for.
How much can you make with Mediavine?
How much you can earn with Mediavine varies on the site, the traffic and ad quality but I have met numerous people who have made full time incomes every month through this network.
Is Mediavine safe?
Yes Mediavine is 100% legitimate and a great program to connect with when your site is eligible.
How do you qualify for Mediavine?
Your website needs to have at least 50,000 sessions each month for at least 2 months to qualify for Mediavine.
Is Mediavine better than AdSense?
In my opinion yes, Mediavine is far better than Adsense because it pays you more.
Conclusions on Mediavine:
Again if nothing else, success with Mediavine starts a lot earlier by knowing how to build a legitimate traffic generating blog. When the doors to sign up with Mediavine open up, then you not only have the ability to earn from them, but also through other display ad networks and just as well other methods like affiliate marketing.
The key to making this all happen is to have the right training to show you how it's done and that's why the Wealthy Affiliate is the best place I'd start with if you already are not a Mediavine user or a successful blogger for that matter (but want to be). They'll show you the right way to reach Mediavine and blogging success together (and more).