2 years ago I discovered Authority Hacker and at the time believed it to be one of the top sites/resources for learning how to make profitable websites through SEO. Today, I still believe that to be the case, but this review is far more updated to help you understand if this website and what it sells you is worth getting or if there's something better (or cheaper) out there for you to try.
A summary and short review of Authority Hacker:
Who created Authority Hacker?
Gael Breton and Mark Webster.
How much does Authority Hacker cost?
$0. But there are 2 main products promoted on the site which are:
The Authority Site System 3.0: $997 (but it is discounted several $100 if you buy it after a webinar on the Authority Hacker site).
Authority Hacker Pro: Several $1,000 but also available with a discount. You also get Authority Site System free if you join this option from what I have seen.
The majority of this review is going to focus on the Authority Hacker blog though and the value it offers people. The other 2 programs will be reviewed in the future exclusively.
What is Authority Hacker and what does it teach you?
It's an awesome blog providing people with free content on making money online with niche sites, affiliate marketing, case studies on the subjects and more.
There is a lot of SEO content as well on things such as keyword targeting, SEO topics, backlinking, selling your profitable niche site for tons of money, and more.
My rating for Authority Hacker:

4.7 out of 5 stars
Do I recommend Authority Hacker?

Yes!
There are many benefits to this site and a lot of it comes from free content you can check out on your own to decide that for yourself.
Personally, I get a lot of value, even as an experience expert on the same subject from this website and do highly recommend it, although my personal preference for the top program on this subject is a different one.
Alternatives? Yes:
Authority Hacker: A deeper review of the site
So to start, let me say that when I first saw this site years ago, like I said earlier, in my opinion it was already good, but in those 2 years since, the site has grown a great deal, the case studies have racked up and even more value has been added on top of the already good impression Authority Hacker gave me the first time I stumbled upon it.
Authority Hacker pros:
1) There are numerous case studies to look at:
Whether it be traffic generating blogs, profitable affiliate sites, SEO content or more, Authority Hacker has articles on all of these subjects and more. There's plenty of stuff to digest in terms of content and it's highly recommended.
2) Lots of high quality content across the board:
While Authority Hacker kinds of competes with sites like mine for similar keywords, I can't deny their content is top notch on the same subjects and have to recommend their stuff for diversifying views (although they give out the same kind of advice I would on certain topics).
3) Great reviews for the blog and it's products (and many success stories):
Other than Wealthy Affiliate which also has a great number of positive reviews, the Authority Hacker blog and the Authority Hacker courses, get great scores across the board from a multitude of reviewers and my objective opinion, as someone who is not promoting them is that it is all warranted for good reason.
4) Their courses, support and help is also high level:
This is based on the reviews I've seen from other members.
5) Their courses and training do evolve:

This is very important for the long term success and positive reputation of a make money online program. Authority Hacker has this quality which is great.
6) The creators of the program are pretty up front and don't hype themselves up:
One of the many things I really respect about the creators of this program is their blunt honesty and not hyping up their success or stats. Their results really are what give them such a positive reputation.
Authority Hacker cons:
1) Their courses can be pretty expensive.
Do note if you watch one of the Authority Hacker webinar classes promoting these products, you can get discounts upwards of several $100s.
2) From what I've seen, there isn't much on pay per click marketing or other forms of online business:
This isn't really a bad thing, and all things considered, the value of the training in terms of success potential is limitless. There are other programs where you can get what Authority Hacker teaches, and get training on more advanced topics like pay per click, such as Wealthy Affiliate.
A quick overlook and review of Authority Hackers courses: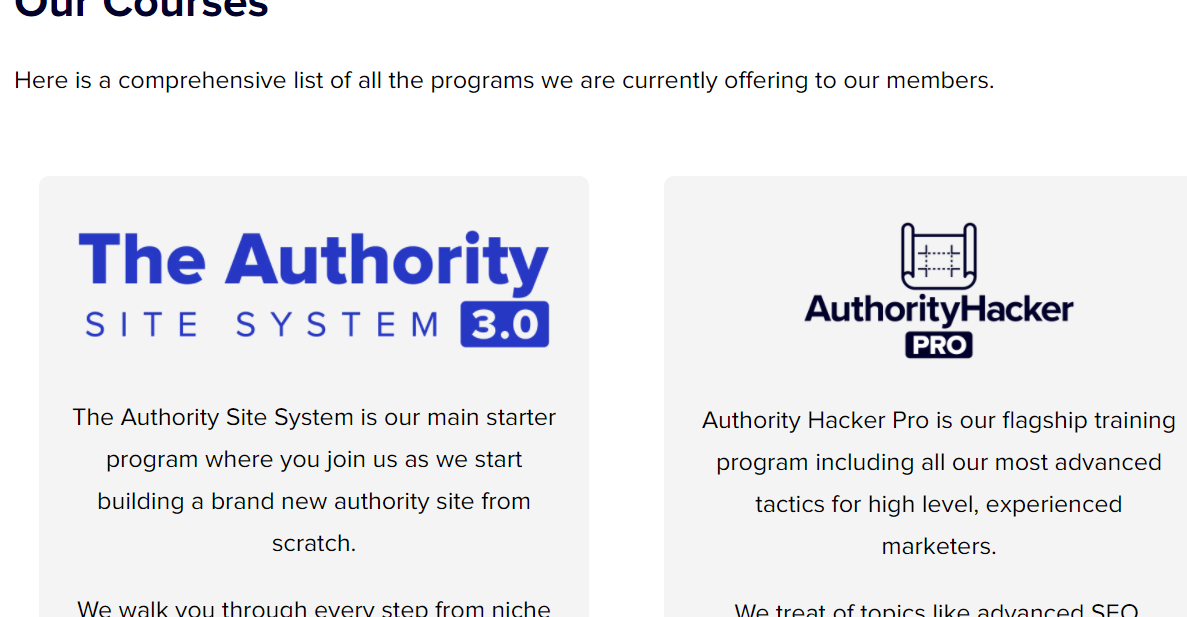 I didn't buy them, but I have researched them, read other reviews of people who have, watched the webinar in Authority Hacker promoting it and also know a lot about these topics myself. With that said:
1) The Authority Site System 3.0:

4.5 out of 5 stars
This program is a beginner friendly training course on starting a niche website. There's over 100 lessons from start to finish on making a website, getting visitors to it and monetizing it.
2) The Authority Pro:

4.5 out of 5 stars
This is the next stage program for people who complete the Authority Site System course and/or those are intermediate/advanced SEO users that have an existing site that needs growing. From everything I've seen, this program is great, focuses a lot on making specific content that ranks, gets traffic, and there's also a lot of focus on backlinking to grow your blog.
Side note: There are other good blogging courses out there in addition to these ones you may want to consider. Here is a list of 8 blogging courses I recommend (one of them is Authority Site System by the way). Other good ones include places like Blogging Fast Lane and Create And Go.
Conclusions on Authority Hacker:
There's no doubt in my mind that Authority Hacker is one of the top sources online for helping people make profitable niche sites through SEO, as well as for affiliate marketing profits.
Authority Hacker is NOT a scam.
I normally do not recommend high ticket programs, but this particular one is an exception to the rule.
There's other sites I'd recommend in the same sphere which also offer great content such as Niche Pursuits and content by Miles Beckler, but still, Authority Hacker in my opinion is still better. It's one of the few programs that strongly remains in my top 5 recommended ones out there, and possibly even the top 3.
The

1 program

I consider better than Authority Hacker (5 reasons why):
It would have to be Wealthy Affiliate. There are others which compete against both it and Authority Hacker, but WA is really the only one I'd consider better, and for 5 reasons:
1) Wealthy Affiliate's main training program teaches very similar stuff that you'd learn from Authority Hacker.
2) It's a lot cheaper ($49 or $99 a month) and free to start with. The pricing for Wealthy Affiliate is monthly, so it can later add up to more than Authority Hacker, but there's another major benefit in this:
3) You get many tools as a member which save you money than getting it separate. This is one of the reasons why most the paid membership of Wealthy Affiliate is actually under priced in many respects, as the value of the tools it includes exceed the cost of the membership.
4) There is a very large community (far larger and active than Authority Hacker) and a lot more wide access to support, help, as well as expert help (there's many people there in that realm, including myself). The owners of the program are also awesome dudes like the owners of Authority Hacker (highly ethical and not about the hype).
5) Finally, the training in Wealthy Affiliate is also wider reaching in the online marketing sphere. It does teach similar stuff to Authority Hacker yes, but later on offers people access to training on other topics like PPC, local marketing and many other things.
Final points:
Now don't get me wrong, Authority Hacker as a blog is highly recommended, as are it's premium courses and if you still want to access them, you have my personal green flag and recommendation to do it. In fact, just do it if you have the money.
But if you don't and you want to "dip" your feet in the water with programs that are like Authority Hacker, but in my opinion better (for the reasons above), then Wealthy Affiliate is where I'd go.
And to add to it, the content and training in Wealthy Affiliate is also very close to if not identical in high value to Authority Hacker in my opinion, so you can't go wrong with either choice. The real choice should be decided on how much you want to spend and what you want to learn.
Both Wealthy Affiliate and Authority Hacker will teach you awesome stuff on blogging and SEO success, as well as affiliate marketing success (although WA doesn't focus much on backlinking), but beyond that, I think Wealthy Affiliate can offer you more tools and training in further spheres outside this to help you go further if you wish.