Blogging is one of my favorite ways of making a legitimate income online and in this post, I want to share 8 of the best blogging training courses I've found that are perfect for beginners to learn how to do just that.
I'm someone who understands the blogging sphere and how to make money from it (see my about me page) and because of that knowledge, I have researched and reviewed the following courses to be the best at helping you reach success in this. Much of how I grade these courses comes from how aligned their teachings are to what I already know and do personally (in addition to researching and reviewing them too).
Before I get to this list, allow me to share why blogging is an excellent way for you to make an income:
If you enjoy writing, this is a perfect outlet, not just for the activity itself, but the money you can make.
There's multiple ways to earn (affiliate marketing, Mediavine, Adsense, Ezoic, courses, consultations, ect…).
You can write about any topic you love (for blogging, you'll want to stick to 1 particular topic you like, like an outdoor niche).
You can run a successful blog from anywhere.
Here are the 8 best blogging training courses (for beginners):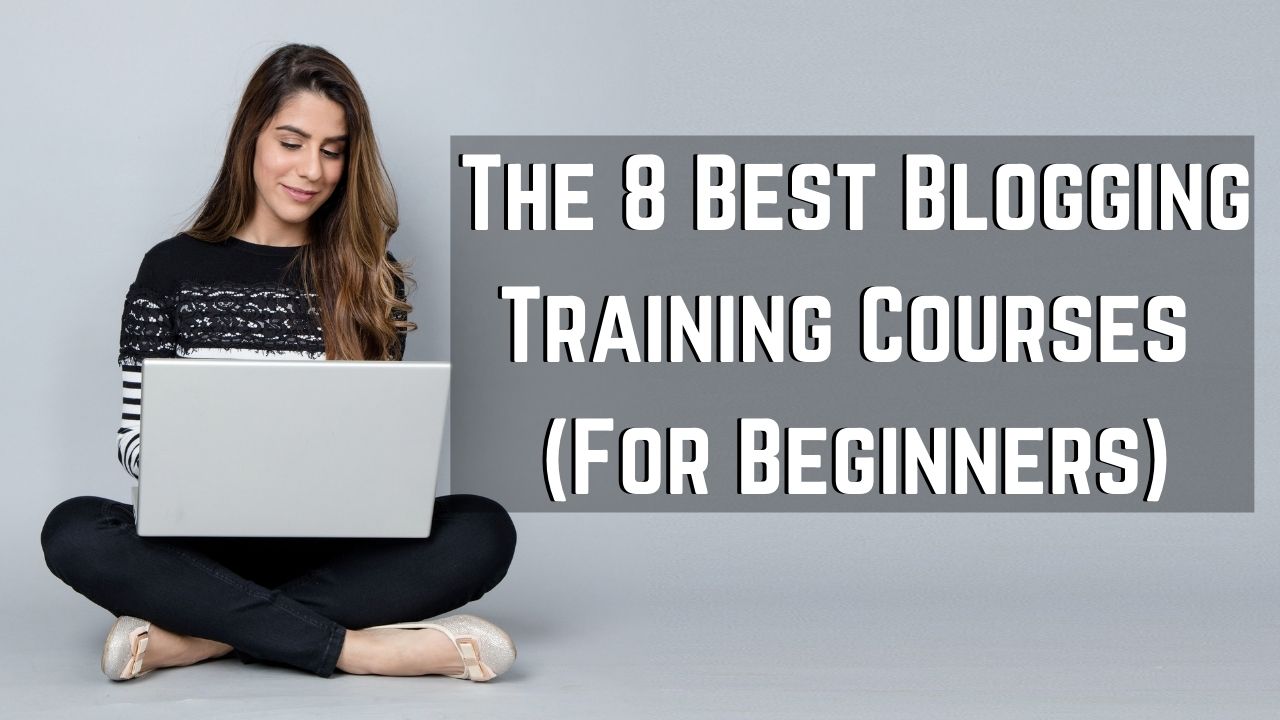 Write Your Way to Freedom.
Blogging Fast Lane.
Passive Income Geek.
Elite Blogging Pro.
Create And Go.
Income School.
Authority Hacker.
Wealthy Affiliate.
I'm going to be providing a summary of each of these training course in this post, but will also be linking to a more thorough review I have already done on each if you wish to learn more.
Either way, what I can tell you is that if blogging is something you're serious about, the following 7 programs are going to help you succeed at this.
The last option on this list (Wealthy Affiliate) is the one I personally learned blogging from and think it offers the best deal, but you're going to see the pricing and pros on this post, so you can decide for yourself what you wish to go with. Anyway, let's begin:
1) Write Your Way to Freedom:
Description: Write Your Way to Freedom is a complete blogging course that helps you create a blog that gets traffic in any topic you love, and then to find online gigs (such as freelance writing) from clients that'll pay you to blog for them.
This course is great for people who want to do both blogging and also find outside freelance gigs. The purpose of the blog you make is to use it as a resume for the gigs.
Price: $1,997.
My rating: 4 out of 5 stars
2) Blogging Fast Lane: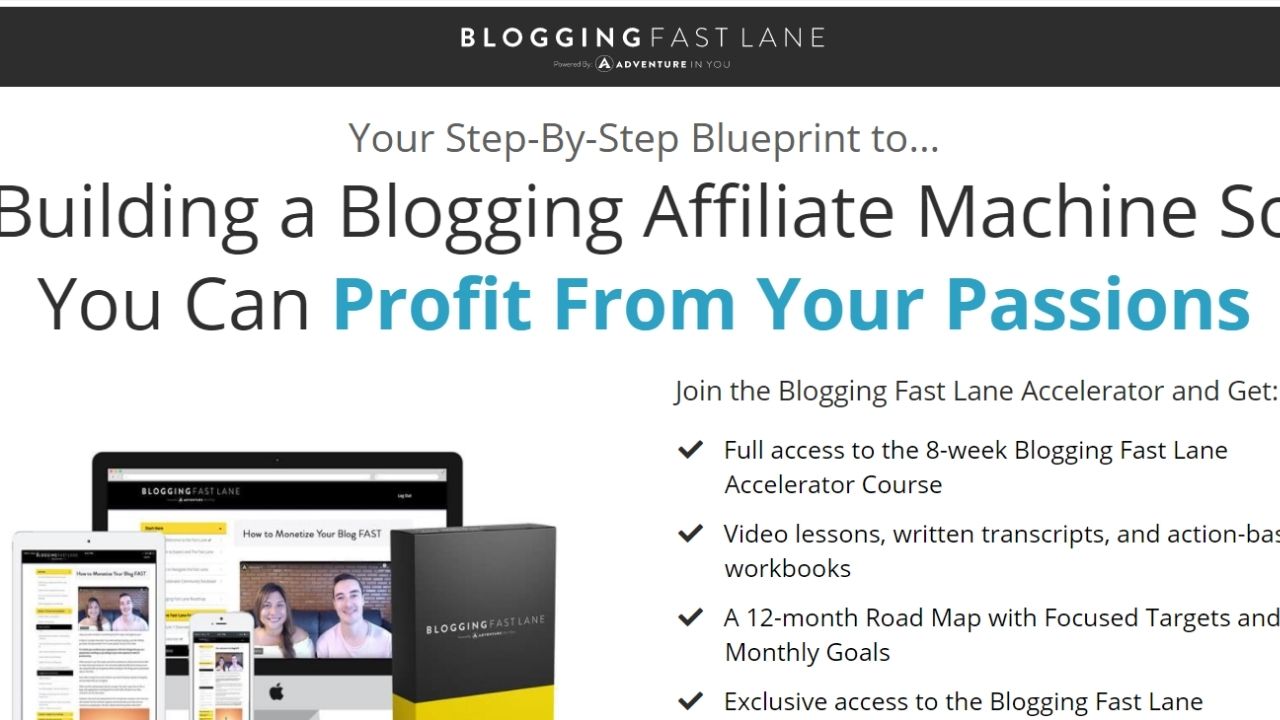 Description: Blogging Fast Lane is also a complete blogging course that teaches people mainly to build travel blogs.
But the same training can also be used on anything else.
You do get a lot of course related material on marketing your blog on Pinterest and search engines like Google.
The course was made by a couple who also run a travel blog and use that experience of success to teach you the same stuff.
Price: $697.
My rating: 4.3 out of 5 stars
3) Passive Income Geek:
Description: Passive Income Geek is also a great blogging training course for beginners that also covers very similar material as Blogging Fast Lane.
It's also a complete course like it and highly recommended.
It's pricing is less than the other blogging courses (above) but it is a renewing payment. Here's how much it costs to be a member of Passive Income Geek:
Price: $299 for 1st year, then $99 a year after.
My rating: 4.3 out of 5 stars
4) Elite Blogging Pro:
Description: Elite Blogging Pro is (as it's name suggests) a course on blogging, but it is actually designed for beginners.
It's creator, Chris runs a free getting started course you can try.
Chris is a huge advocate of blogging (and making YouTube videos) and has a lot of success in both these fields.
I've seen a few bits of this program but have not yet reviewed it (yet). However, I know the creator and he's a good guy and his success (and teachings) are legitimate.
Price: $1,497 for 1 year.
My rating: 4.4 out of 5 stars
5) Create And Go: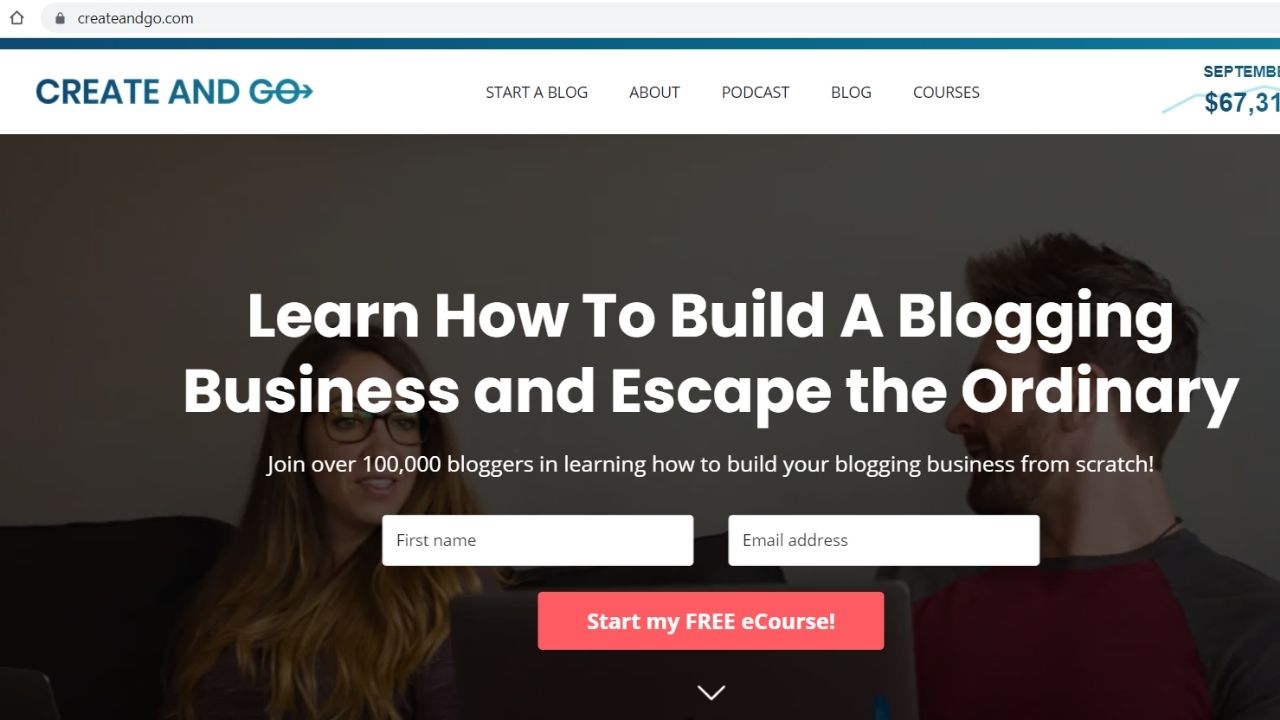 Description: Create And Go is a blogging program I literally reviewed 2 days ago and I loved almost everything I saw there.
The program itself is a beginner blogging course and you can sign up for a 5 day bootcamp there.
From there however, you have several options of the more complete and premium programs to upgrade to, in order to continue the training. However, their free material, among other great perks is one of the reasons why I really like this program and recommend it to beginners.
Price: Varies, but it can start at $297 for the full blogging course (other options exist).
My rating: 4.5 out of 5 stars
6) Income School: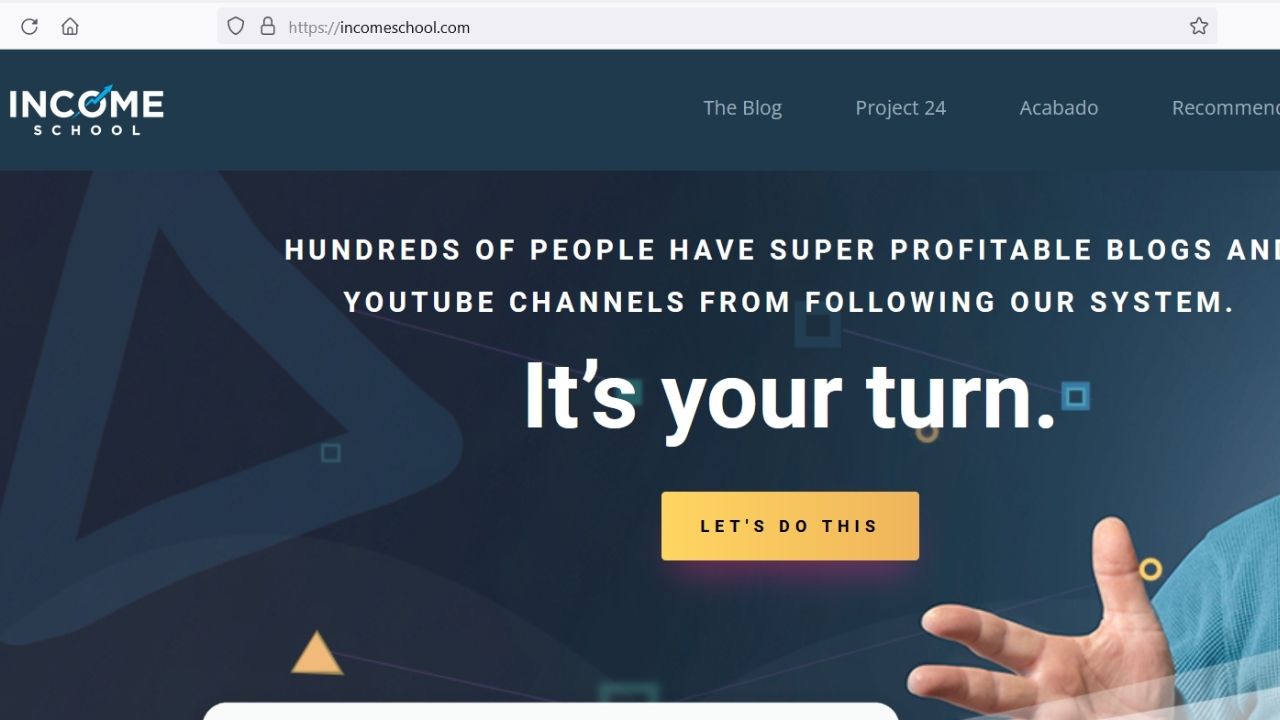 Description: Income School is a definite top 5 in the world of blogging training programs and for many reasons.
Aside from being realistic about what it truly takes to get a fully income generating blog (it's not a quick thing), they are also great at sharing much of their strategies and free tips on YouTube, which you can check out to find this out yourself.
Their main program is actually called Project 24, which basically means 24 months to having a fully functioning blog that makes you money.
Price: $449 for a year.
My rating: 4.5 out of 5
7) Authority Hacker:
Description: Authority Hacker has one of the best reputations in the world of blogging training courses. They actually have 3 different options:
The Authority Hacker Blog (free just to read on the topic and get good tips).
The Authority Site System: The main "flagship" blogging training course for beginners.
Authority Pro: For people ready to go fully into the program (includes Authority Site System too).
Price: Free, $699 and a few $1,000.
My rating: 4.7 out of 5
8) Wealthy Affiliate: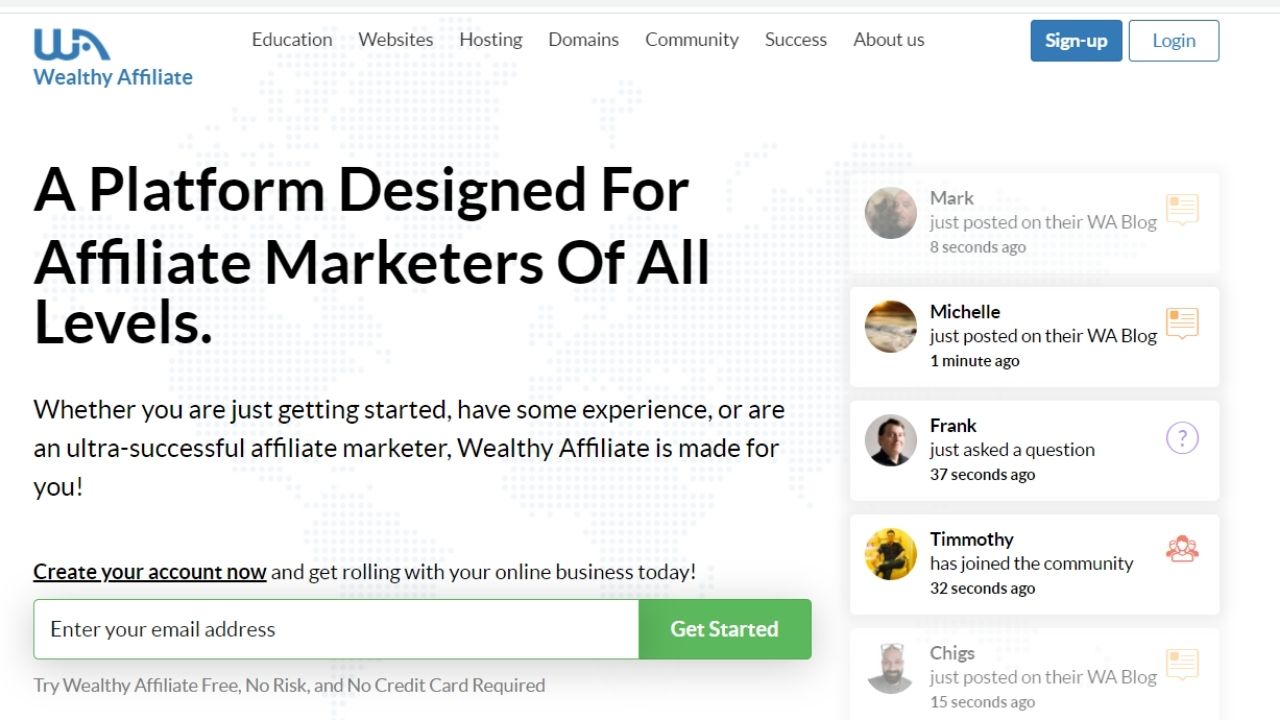 Description: This is the blogging course that's responsible for my personal success in this world and in fact, it's more than a blogging course. Wealthy Affiliate is actually an encapsulation of online business training in just about every field you can imagine.
It's starting course for beginners focuses on blogging via niches you love. It's advanced training focuses on paid ads, social media, local marketing and many more skill sets.
One of the many things which makes Wealthy Affiliate my top choice (besides being biased), is that it's free for users to try and get a feel of things. Additionally, people also get equipped with many tools that are otherwise separately priced on the other programs (aside from the training). Overall, the best deal for your buck on a blogging course is Wealthy Affiliate in my opinion.
Price:
There's the Starter program which is free.
Premium which is the FULL blogging training course ($49/month).
And Premium Plus which is all the above, plus expert classes (and many more tools).
My rating: 5 out of 5 stars
More blogging training programs to come:
This list of 8 is certainly more than enough to get beginners started and like I said earlier, every single one of these programs are highly recommenced and legitimate.
Keep in mind that blogging is a process that takes work and time, so no matter which of these programs you choose, a safe "bet" as to how long it'll take to get results would probably be a year in most cases.
To some this might be too long to get results, but blogging is also something that builds upon itself, meaning that the more you work, the better your results will be and since I do this full time myself, I can tell you that it's totally worth it (if you enjoy writing).
If you have personal blogging programs you'd like to recommend I add to the above list, do let me know below!