The general consensus online regarding Income School is that it's an excellent program and in this Income School review, I want to give you my personal take on the program as I happen to be very experienced in the very same methods they teach their members to succeed online with (blogging).
To spare you all the "build up", let me just say that Income School in many ways is as good as people say it is, but most people who say that are often inexperienced in the world of blogging and they often parrot what they hear and see, thus diluting accurate reviews of this program.
Disclaimer:
Without sounding like a hypocrite here, I just want to say that I am not a member of this program, but:
1) I am someone who has applied many of the same strategies they teach their members which I learned from another called Wealthy Affiliate (the teachings in both programs are very closely aligned) and because I know how the process works is why I know Income School is legitimate.
Never the less, this review is going to give you a breakdown of this program (including the pros and cons) so you know what to expect before you join.
2) I do personally know people who have been with this program and promoted it very successfully who shared their experiences with me, so they understand the inner workings well).
Product info: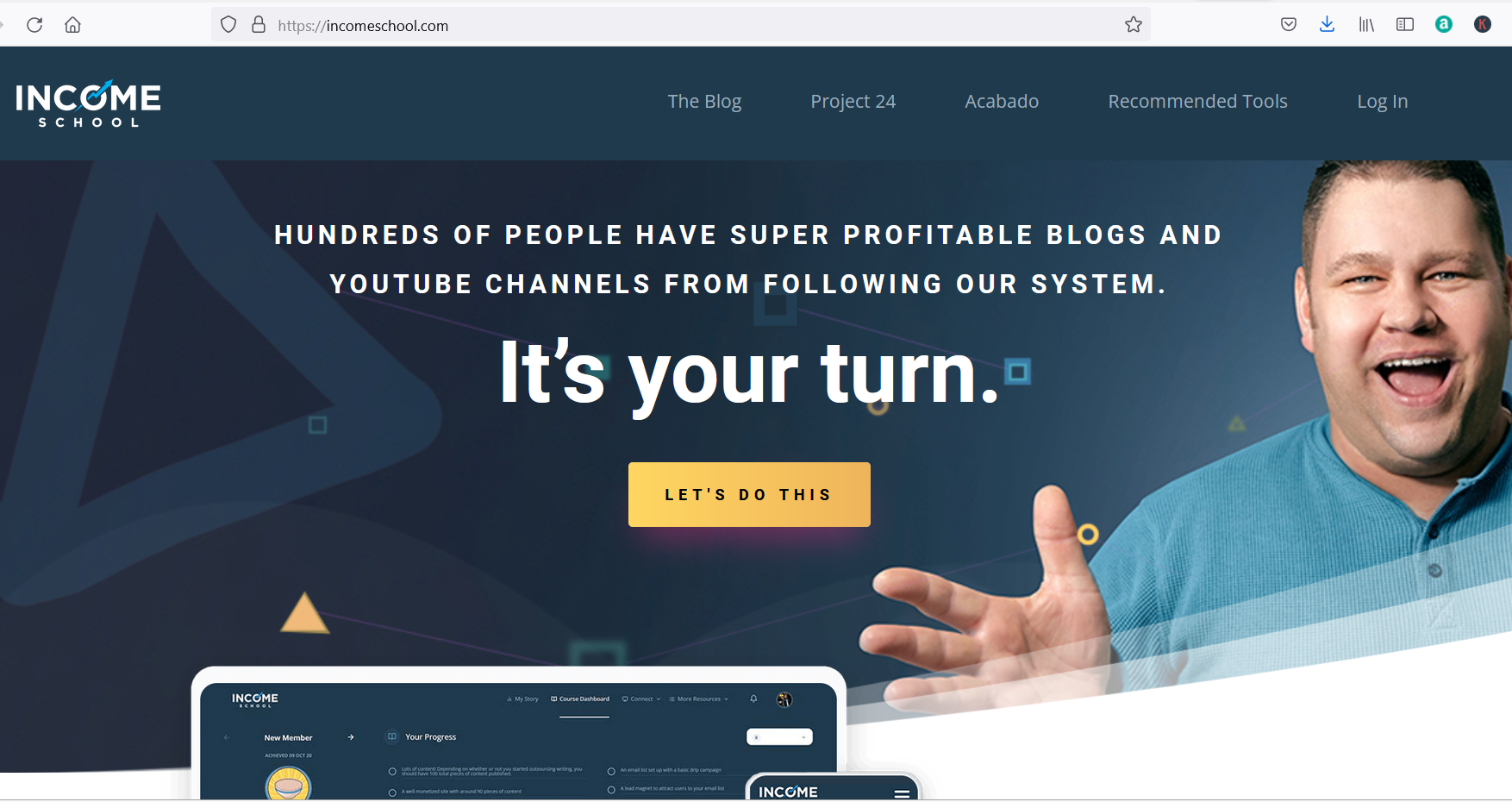 Name: Income School and Project 24 (main program).
Owners: Jim Harmer and Ricky Kesler.
Price: $449 a year for main program, then $249 recurring (yearly).
What does it teach? Blogging, affiliate marketing, display ads and SEO.
Rating:

4.5 out of 5 stars

Recommended? Yes.
In my personal opinion, based on all the things I have seen within and outside of Income School, this is a very good program across the board and if you're interested in learning blogging and potentially making that your full time thing (partly as well), then I would recommend this program to you.
Now what this review will show you is exactly how the whole Income School program works (and what to expect).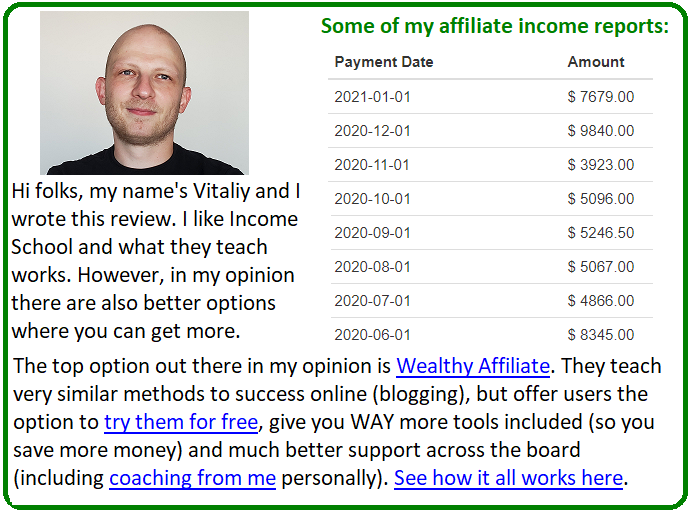 Pros:
Excellent blogging training.
Excellent YouTube training.
Good support provided.
The owners practice the exact same methods they teach members.
Their YouTube channel training is excellent (I am a subscriber too).
A lot of happy members are part of their program (Project 24).
Good for beginners.
Realistic take on growing a blogging business (nothing get rich quick gimmicky).
Cons:
No refunds for Project 24 members (see details).
Some tools and services are added costs on top of membership.
Typical results may take up to a year or more (some are earlier, some are later).
I personally think the affiliate program for Income School could pay it's promoters more. Last I checked, it was 5%-10% which isn't much.
Income School Breakdown (how it all works):
Income School itself is actually a multifaceted company and what I want to do in this part of the review is breakdown everything so you know exactly where you need to start should you decide to actually do that.
1) Project 24 ($449 and this is where members can get started):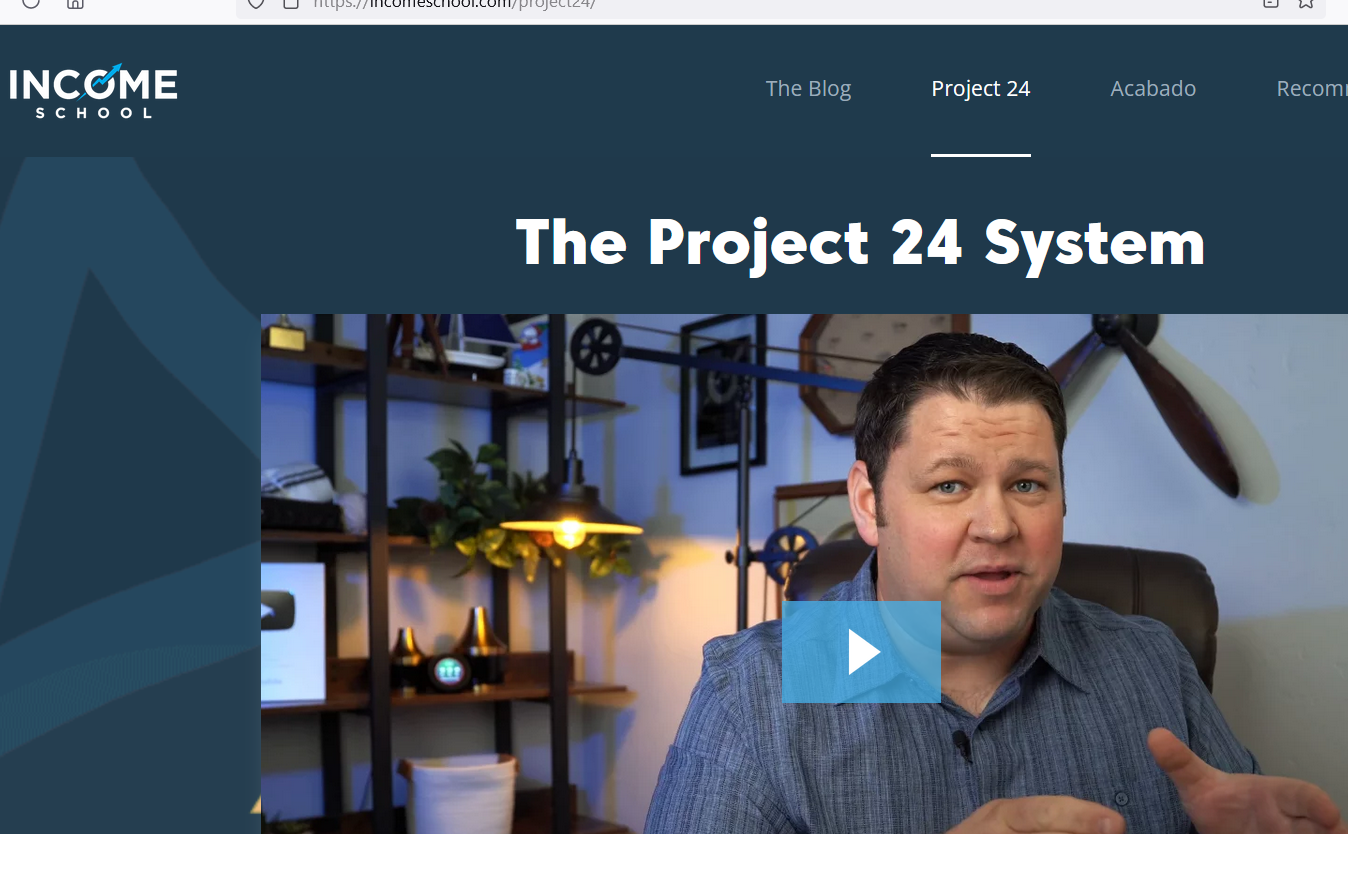 I think of Project 24 as the flagship program of Income School. It is a 24 month long program that teaches members everything the owners of Income School do to create highly profitable blogs.
So in short, it will teach YOU how to create your own profitable blog, specifically:
Members will choose a particular niche they wish to blogs out of it and apply the Project 24 training from start to finish to do that. You will learn SEO, how to monetize the website through affiliate marketing, ads, and other methods to make money off your site (YouTube affiliate marketing for example).
In short, if you wish to take action and learn what Income School has to teach/offer, Project 24 is where you want to go.
2) Then we have the main Income School website:
This is sort of like the introduction of the entire business. On the main Income School website, visitors can check out what the program has to offer, join up with owner's YouTube channel, read up on the free content their blog offers and/or buy or more of their recommended products and services.
3) Income School's YouTube channel:
One of my personal favorites of Income School is their YouTube channel which not only has a lot of subscribers, but offers in my opinion awesome content and training on SEO, blogging and many other things. They will sometimes breakdown their own member websites and help them do better while also teaching viewers how to apply this well.
I am a big fan of any program/person who offers high quality and free information on such important topics and Income School's YouTube channel is one of the best places I've found excellent information on regarding the multiple subjects I mentioned.
For example, they did a great 3 part series on why Google isn't indexing blog posts and provided some nice content on how to fix that. They also showcase how existing member blogs can grow their traffic (and income) by applying certain tips. It's almost as if it's a public/private lesson shared with viewers which you can learn from.
4) The success of the owners:
Rick and Jim both run a number of successful blogs and basically every formula they have applied to grow those blogs is taught within Project 24 so you can replicate it with your chosen niche topic. Again, it's a matter of practicing what you preach and in regards to that, the owners of Income School get an A from me in that regard.
Quick questions regarding Income School you may be wondering about:
What is Project24?
It's a 2 year program inside Income School that helps you build a niche blogging business.
What does Jim Harmer do for a living?
He used to be one of the owners of Income School but now runs a business called Backfire.
Upsells to keep in mind regarding Income School:
An important thing to note though is that certain tools and accessories may be necessary to buy as upsells if you wish to progress. Some are optional, but if you're brand new and going by what Income School suggests, you may need to buy some extra stuff. For example:
1) Acabado:
It's a WordPress theme that costs $67 a year or $179 for 100 years (that's no typo, it's basically a lifetime membership. The benefits of this is that you really do get a high performing WordPress theme for your site which will help in many SEO regards, including ranking.
I personally don't think it's necessary as I like to suggest people use something like Generate Press which is a free theme that's great for bloggers, but that's beside the point.
2) Certain hosting plans:
Every blog needs this. Similar programs like Wealthy Affiliate give you free and fast hosting if you're a member, but in this case (Income School that is), you will need to buy it to host your blog. That's an added cost too depending on which plan/service you get.
Just to be clear, this is by no means a bad reflection on Income School and should not be treated as some "sneaky way" to get you to buy more. It's just a necessary thing for blogging (and website) businesses. What I'm just doing here is pointing this out so you're not surprised by this if you join.
Conclusions:
As I said before, I look at Income School through the lens of an experienced (and successful) blogger (see my about me page and my income reports page for proof).
Therefore, Income School is in my opinion a great program (nearly all around) and I do suggest it among other great blogging programs here.
Is there a better blogging program out there? In my opinion yes:
And its the best one that offers a better deal too. But first, Income School is as good as others say.
But I don't think it's the best blogging program, for the best value though.
For that, in my opinion, Wealthy Affiliate would be much better, and for simple reasons:
It's free to try (great starter training).
Lots of included tools (savings).
Similar training to Income School (and much more).
Giant community with more help and coaching (learn more).
Even more successes (See proof).
There's just more value in my personal opinion.
But if this is not for you and you're already set with going with Income School, it's a smart choice in my opinion, but you will have to work very hard and write a lot, because this is what blogging mandates you do to succeed.
However, with the guidance of Income School, as long as it's applied correctly, you'll get results.
And since the training in Wealthy Affiliate is so similar, I will say the same thing for that program too, except there, you will get more and it won't cost as much.