If you were to take the top 5 internet marketers of all time, there's a good chance Russell Brunson is on that list and with all that popularity, you'll also find controversy as well with questions regarding him and his programs asking if they're legit or a scam and overall if this is the guy you can trust to help guide to succeed online.
In my opinion, its tough to find an objective take on Russell Brunson because so many people who write reviews on him and his programs are often promoting them too (especially Clickfunnels). I'm somewhat a fan of Russell's but at the same time, I hardly ever recommend any of his products (I'll show you which ones I like and don't) and overall, yes the guy can help you succeed online.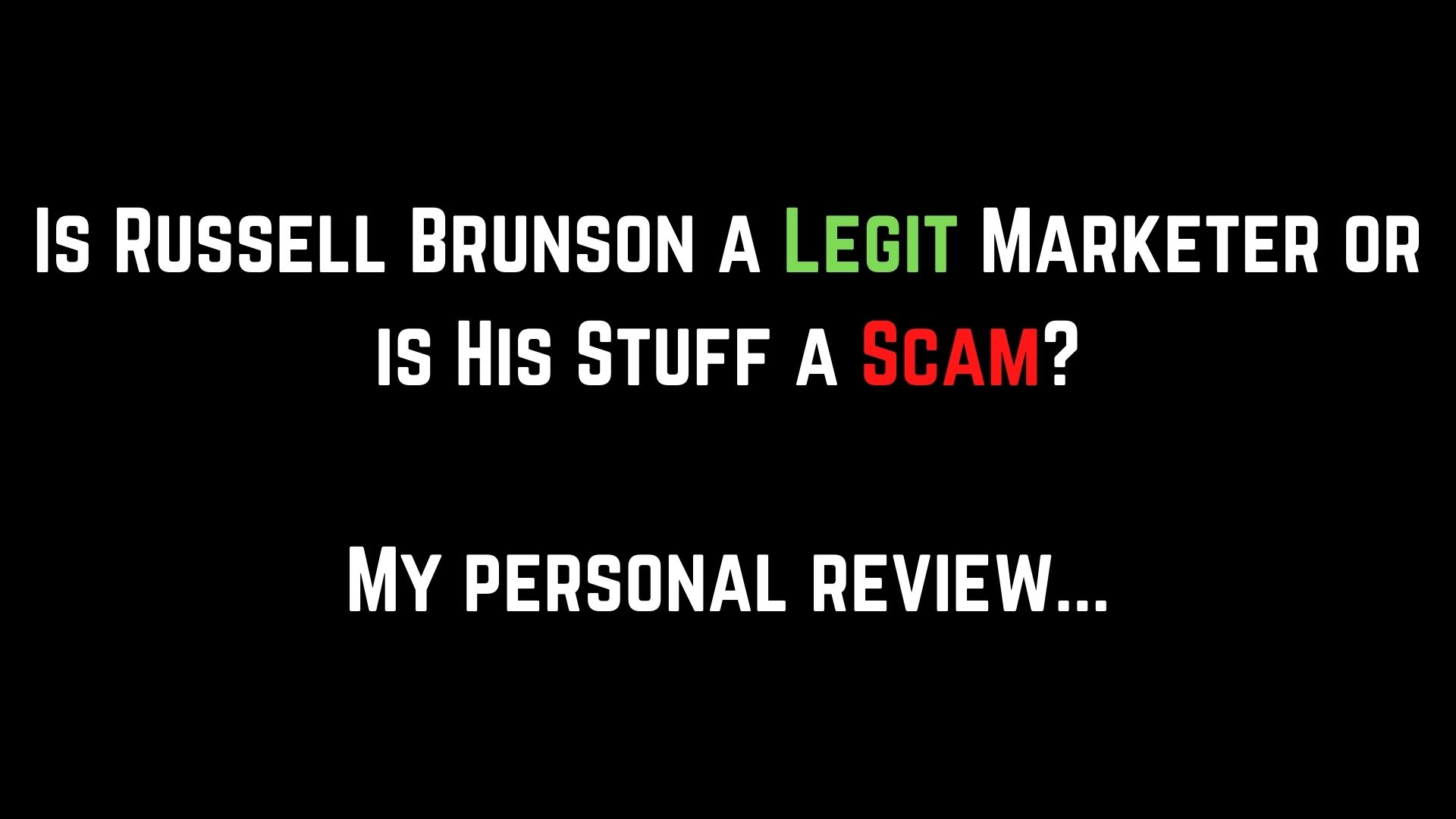 Here are my main views on Russell Brunson:
In my opinion he is a legitimate businessman and marketer. But at the same time:
I don't believe you need to buy his main products like Clickfunnels to succeed.
Most of what he writes in his eBooks and free programs is pretty spot in my experienced opinion, but you can accomplish his advice through other channels that won't cost you so much money.
I'll explain why I have come to these conclusions shortly, but this is a thesis of my position on the guy (in case you're wondering).
Who is Russell Brunson? Here's a quick summary: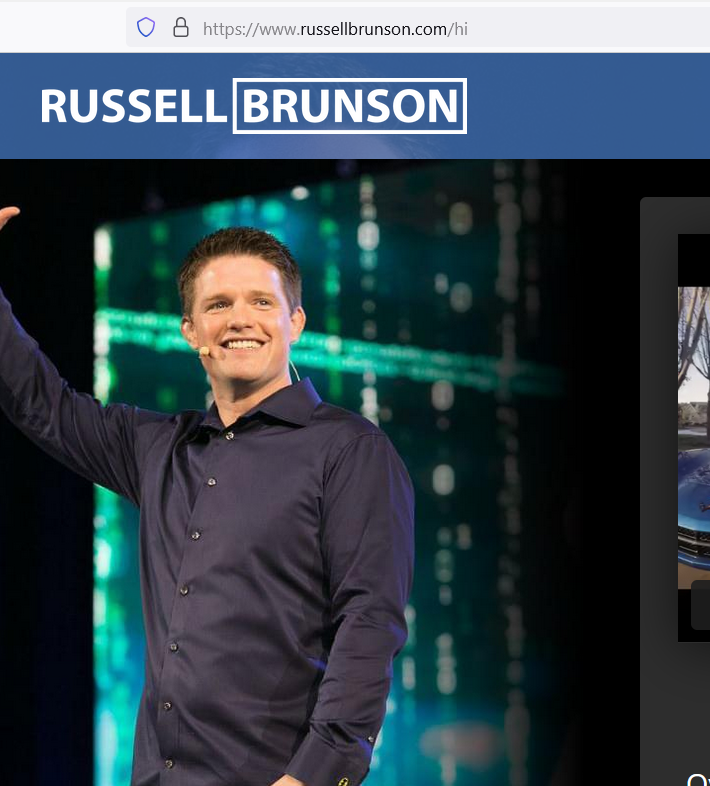 He's basically a super successful online businessman whose name is well renowned. Most of what Russell Brunson provides is programs, free training and books to help others succeed in online business.
I would say that 80% of all online programs, courses and products I've reviewed in one way or another pitch Russell Brunson's stuff (like Clickfunnels).
Though I honestly think there are a lot of unethical affiliates who sneak in promotions of his and that just ruins their reputation (and affects Russell's as well), but let's circle back to the guy:
From what I know, he actually got his start in online business through the same exact program that helped me get to where I am today in it: Wealthy Affiliate but then he went off on his own, began building up his brand and now he is where he is today.
I do believe he is a legitimate marketer and not a scammer, but I do think some of his products are overpriced and not really necessary, but that doesn't change the fact that he delivers great stuff at times to people looking to succeed online, the specifics of which I will be covering right now:
My experiences with Russell Brunson, his products and my ratings for them:
I've known about and studied much of Russell Brunson's stuff for years (since about 2013). Here's just a few of the things I've bought, tried, researched and reviewed (of his):
1) I've purchased numerous eBooks of his (

4 out of 5 stars

):
Traffic Secrets.
Dotcomsecrets.
Copywriting Secrets (different author but they work together with Russell).
Generally speaking, Russell's content in his eBooks is awesome and even though I'm experienced, even after I read his content, I still get a lot out of it. In my honest opinion, Russell's eBooks (the paid ones) offer the most value out of the lineup of what he puts out.
2) I've tried out several of his free programs too (

3 out of 5 stars

):
One of the things I admire about Russell is that he often delivers great (free) programs to people and while most of them will pitch his main flagship product (Clickfunnels), he still offers a lot of free stuff to people. I've tried a number of his free programs and read some of his eBooks too and my general score for this is also high. Here are just some:
3) Then we have his (as I call it) premium programs (

2.5 out of 5

):
This is where from my understanding, Russell makes most of his money:
Clickfunnels. I'll be honest, I'm not a fan of the product, nor do I promote it.
I think it's very expensive and that you can make nice looking funnels without it. I also think it's not good for beginners, but overall the program does what it's supposed to: To help you make good looking funnels and depending on your level of experience, you will get more results out of it.
In my opinion this product is pitched like crazy by people because of it's affiliate program which in all fairness is lucrative (there are people who have made millions promoting it), but that doesn't mean I would recommend it. I often find people will take programs and inflate their value (in my opinion) as long as there is a good affiliate program attached to it (high ticket affiliate marketing promos especially).
Take that affiliate incentive away and you'll likely get a very different opinion out of the same people (see Legendary Marketer as another example of that).
Funnel Scripts (I have an even lower opinion of that). Basically this is like Clickfunnels but more of a done for you affiliate and online business funnel builder. In my opinion, this program is too expensive, but also takes away people's need to learn how to create their own, unique funnels on their own and this takes away from authenticity which I think is a MAJOR player to online success (and in life).
Other questions about Russell Brunson:
Is Russell Brunson CEO of Clickfunnels?
Yes Russell Brunson is the CEO, creator and owner of the Clickfunnels program.
How much money does Russell Brunson make?
There is no specific amount to how much Russell Brunson makes, but he has 10's of millions in earnings.
What is the best Russell Brunson book?
I have read numerous books by Russell Brunson and in my opinion the best one is Expert Secrets, although there are other good ones too.
My overall review and rating for Russell Brunson and his stuff:
3 out of 5 stars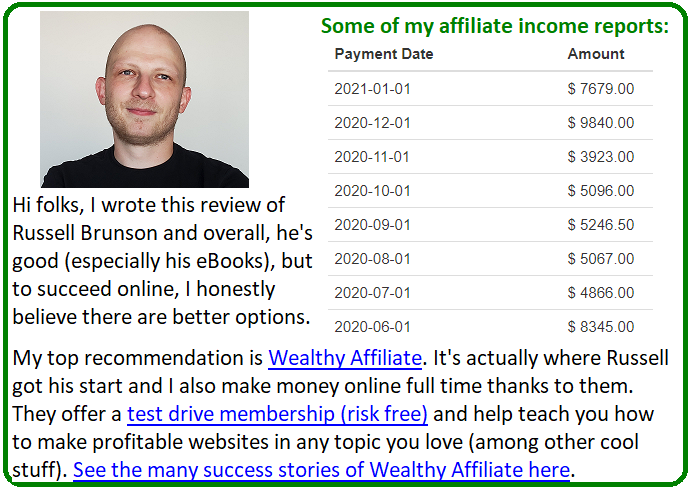 I would put Russell Brunson in my top 10 list of good internet marketers, and above people like:
The final points to this review of Russell Brunson are:
His products and programs are legitimate (but not for everyone in my opinion).
He is not a scammer, but there are affiliates promoting his stuff who might be (this has nothing to do with Russell).
Out of all the stuff he delivers, his paid eBooks in my opinion offer the best value/training.
If you are a beginner to online business, I personally would not recommend Russell's stuff (maybe only his eBooks). In my opinion you would be better off getting the same start in online business as he did (and I did) which is in Wealthy Affiliate.
There's a very good chance that Wealthy Affiliate can give you ALL you need to become successful online without relying on Russell's expensive products. Most importantly, that program taught me to be very independent and flexible and not needing to find flashy looking products and programs to make money online.
The main thing I would say which makes Wealthy Affiliate superior to Russell Brunson's stuff is that it focuses A LOT on authenticity and generating an online business through your passions, whereas Russell DOES have a focus on the same thing (his eBooks like Expert Secrets do talk about that), but most of his products in my opinion focus too much on flashiness and stuff that personally doesn't vibe with me which is why I will likely never promote his products (but maybe his eBooks, especially Experts Secrets once again which is my favorite).
Thanks for reading this review on Russell Brunson and if you have any questions about him or succeeding online, you're very welcome to ask me below!