I might be one of the few people in the world who feels that Russell Brunson's free and paid eBooks offer more value than his Clickfunnels program. And after reading the PDF 108 Proven Split Test Winners, I feel more confident in saying that and this review will show you why.
I've read numerous content from Russell Brunson over the years, including:
Dotcom Secrets.
And more.
And each time I feel as though the value in those eBooks (and the others I've read) gives me a lot of new ideas to apply to my existing online sales funnels. And now I can add 108 Proven Split Test Winners to that list because I did get a lot of value out of it too.
Now full disclosure: I don't use Clickfunnels, I don't recommend it and I feel as though the principals Russell teaches can be applied without this program. So you won't see me sending you over to the Clickfunnels site for a 14 day trial like you may see others do (that's going to be up to you).
108 Proven Split Test Winners review (summary):

Who wrote 108 Proven Split Test Winners?
Russell Brunson.
How long is the 108 Proven Split Test Winners pdf?
144 pages.
What is the 108 Proven Split Test Winners about?
It provides over 100 case studies of split tests run by Russell and his teach around online sales funnels they've built and compares them to similar funnels they tested against them to see which would convert more.
There's a lot of interesting information on the outcome of these tests and which ones perform better that you can apply to your own online sales funnels (I'll get into examples shortly).
My rating for 108 Proven Split Test Winners:
4 out of 5 stars
Recommended?

Yes, it's free.
Not only that, but it does have good value. Now the thing is, there's different levels of people who will read this eBook. If you're a beginner, I would not put so much emphasis into sales funnels and all this stuff yet, because you need basic macro principals of online business to make it all work.
And if you're advanced like me, these case studies can offer you some ideas for your existing funnels.
Alternatives?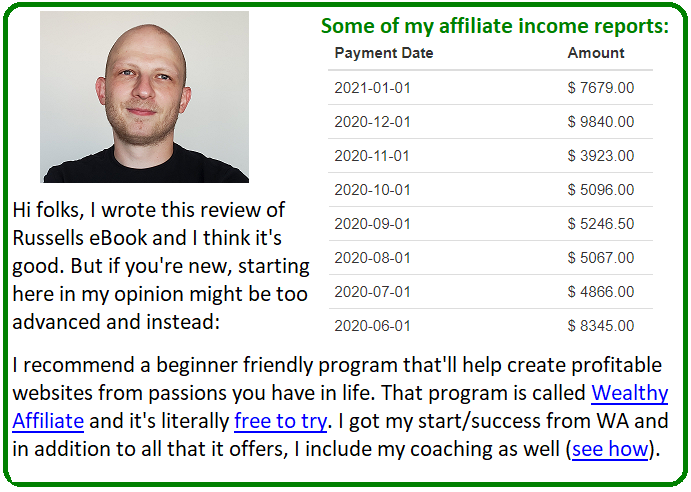 108 Proven Split Test Winners (full review):
Let's start with the overall idea (which I briefly covered above), and then get into the details:
This eBook covers the subject of building online sales funnels and making another version of them, to do what is known as A/B split testing which is basically you seeing which version of the funnel performs better, whether it be for:
Conversions (sales).
Email opt ins.
Form completions.
Button clicks.
And more stuff involving call to actions from the customer you are selling/pitching to.
When you create an online sales funnel, you are targeting a specific audience with the purpose of convincing them to do something for you, whether it be a simple email opt in, or something as big as a purchase.
To do that, the sales funnel needs to have a convincing message, video or something pertaining to the subject of interest to that person/audience so you can get that out of them.
For example:
If I'm trying to target guys who lost their girlfriends and are trying to win them back, I can make an email sales funnel targeting guys who may have lost their girlfriends and on it, say things like:
"10 free hacks to get your ex girlfriend wanting you back"
Now that could be my headline. And since we're talking about A/B split testing, I can send 100 visitors to that page with that headline and see how many sign up. Then after the 100 people visit it, if I see the conversion is about 10%, I will try to test another version of that headline and page.
I could set up another page that says something similar but different:
"Say these 4 magic words and your girlfriend won't be able to resist you…"
Notice the differences there:
It's a new headline.
It has a bold red area for "4 magic words".
It leaves the person reading the headline wondering just what those 4 magic words are.
Yeah I know a lot about online sales funnels and do a lot of this for a living, so I am well acquainted with the subject.
Anyway, I'll send another 100 visitors to this new page and in most cases, I might get 2x the signups (20%). Then I'll know this new headline made the difference and keep that.
Now turning back to 108 Proven Split Test Winners, this is essentially at the core of the eBook and Russell covers various split tests he did on many different sales funnels to see what would do better.
Some of those tests covered things like:
Women speaking vs men.
Pop in buttons vs static buttons.
Headline uses of call to action words like "click here, free" and more.
And many more experiments which are extremely detailed and microscopic where 1 word can change the entire sale's funnels results.
Conclusions on 108 Proven Split Test Winners:
While the end goal in my opinion in any of these eBooks by Russell is to pitch you Clickfunnels, again, I cannot deny the value I got out of this eBook. In many ways, I got a lot reinforcement of concepts I've already learned in my own experience doing online marketing.
But again, I am not a believer in Clickfunnels or that you need it. I can set up easy 1 page sites (and I have numerous times) to make sales, email collections and more and they work.
Here's what makes online sales funnels convert (whether they are for emails, sales, ect…):
Find a super targeted niche audience with a problem (getting the ex girlfriend back for instance).
Send them to a one page site which hits them with a message that gets to the core of their problem.
Offer a free gift or product that solves that problem and pitches a product.
These 3 things are what make almost any sales funnel work (trust me, I know). But this concept is better understood and used when you're more advanced and if you're just getting started, my advice would be to build an online business in your ideal niche using very fundamental things that have worked time and time again.
For that, programs like Wealthy Affiliate are perfect for establishing that. Most people don't know this but making the types of sales funnels that I explained here involve you having experience with things like paid ads (because you need traffic to even run these tests) and being good at making websites, 1 page sites and so forth, and this can have you lose a lot of money if you're not experienced.
What I'm suggesting is that you build a website on a niche you like first, make money from it that way, then keep building that up because it's safer, and then move into making custom online sales funnels, for which again, Wealthy Affiliate is the best program for learning that from, and it's also where I got my skills from too.
The stuff Russell teaches isn't exclusive to just him and Clickfunnels.
In many ways, it's just core fundamentals of online sales funnels and while Russell is at the top of the hill in showcasing that, at the end of the day, you don't need Clickfunnels to do this. What you do need is good and solid programs that teach the entire system to you (Wealthy Affiliate does that).