I have many years worth of experiences with regards to Anik Singal, and in this review would like to give you my personal opinion on the guy and:
Whether or not he is a scammer or someone legitimate you can trust.
If he can help you succeed and make good money online.
Which of his products, programs or services I recommend (or don't).
And if there are better alternative figures you can rely on for the same goals.
However, before I get into those details, I need to be completely honest with you and say a few quick things: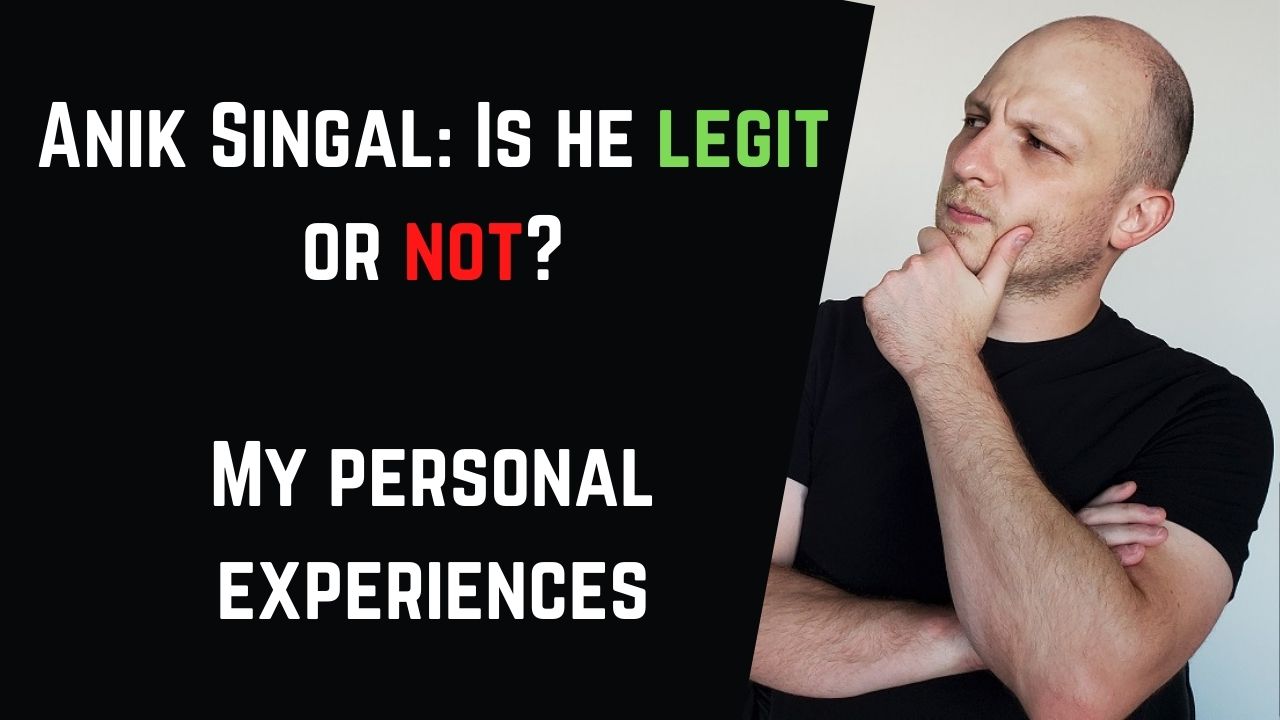 1) First, I do believe Anik is a legitimate marketer.
2) Second, I have not purchased his major products, but I have read and watched many of his eBooks/webinars/content.
3) Third, I am also a marketer and have a lot of experiences in what Anik teaches his followers. It just so happens I learned it from other sources (that I think are better).
4) Fourth, I like the guy, but I think most of his products are a bit too expensive for my taste, let alone worth recommending and think there are better options (I do a lot of what he teaches and don't think you need to pay so much to learn this material).
Let's start from the beginning: Who is Anik Singal?
He's an online entrepreneur and teaches people to do the same thing. And in my experience he is one of the oldest figures in the business, specifically on the topic of making money online. While you can check out Anik Singal's bio here, I'll give you my personal summary:
Anik has been around for a very long time in the internet marketing world and in many ways is sort of like a top 10 figure in terms of popular internet marketers, at least in my book. He does have many products, programs and influence in this industry and below I'll be going over his main accomplishments, products and programs I believe to be the most important.
The guy has made $100's of millions in the online business sphere, from affiliate marketing to selling his own high ticket affiliate programs. Anik's main approach to making money online (and also what he mostly teaches people) is email marketing which is where a majority of his success comes from.
This is why if you check out most of his products, eBooks, programs, webinars and so forth, most of what you'll hear him talk about is the value of collecting emails and selling stuff to people through that.
About Anik Singal's legitimacy. Is he a scammer or is he for real?
In my opinion he is not a scammer, but at the same time he is also not without controversy. For example, if you look up reviews of his products online, you'll find not everyone is happy from time to time (in my experience that's normal no matter how good a product or person can be) and some people will accuse him and his stuff as being a scam.
Let me make a few points very clear about this particular topic:
1) First, he (Anik Singal) is actually a real figure and has been around for a long time. If he was a scammer, I'm pretty sure this would have caught up to him by now as the complaints would pile up in large amounts.
2) Second, he does have a real office HQ for his main program called Lurn (which I'll cover in a moment), so there is actually a physical location for his business.
3) Third, you have to be very careful with negative reviews from people out there (like these Lurn reviews from Trustpilot.com). Sometimes they are legitimate and sometimes they lack context and give people the wrong impression of the product they bought. In my experience, there are many people who unfortunately buy make money online opportunities that don't really work hard at it and expect quick riches and when that doesn't happen, you see them type up short, vague and serious accusations.
I would say this also happens even with programs that I recommend above all else like Wealthy Affiliate. However to be fair, I would say that sometimes Anik's marketing methods in my opinion give off that kind of impression and that's actually one of the cons I see, but he is not a scammer.
4) Fourth, for the people who complain about his products, I have personally seen his team communicate with people and refund them (see this Lurn BBB page for proof), so at the very least you know there is a way back if you bought something and aren't happy with it.
5) Don't get me wrong, I'm not a fanboy of Anik, but I'm just giving you my objective views here to consider. I admit there is controversy to consider with Anik Singal as well as his products and if you read the links I provided to Trustpilot and the BBB site, I only ask that you keep an independent point of view and do your own research.
Onto my experiences with Anik Singal, what I recommend (or don't):
To save you reading time, let me just summarize a few quick points with regards to this:
1) Anik's eBooks (they get a yes from me,

4 out of 5 stars

):
Generally speaking, I recommend Anik's free eBooks which I have read many of. I like the content, there is a lot of value in them and I have often recommended them. Here are a few I would say are good to read:
2) Anik's YouTube channel (this gets a

3 out of 5 stars

):

Anik happens to have a YouTube channel and a lot of the content he covers there involves interviewing different online marketers, talking about entrepreneur topics and of course recommending products like his or the ones from Lurn. I generally think the content on his channel is pretty good so I share a similar view of it like I do with his eBooks.
3) Anik's products (they get a no from me for now,

2.5 out of 5 stars

):
On the topic of Anik's products, I have not recommended a single one yet. The main one being pitched today is Email Startup Incubator and based on what I've seen (correct me if I'm wrong), it is a rebranded from the old Inbox Blueprint program (it teaches email marketing).
On what I saw, researched and know on the topic, the main problems I see with this program are:
It's very overpriced in my opinion.
Email marketing in my opinion is also an advanced way to do online business (leave it for later stages).
In my opinion, the pitch on email marketing Anik gives is overly simplified and makes it sound too easy (it's not that simple).
Finally, to do email marketing, much of how Anik teaches this involves using paid ads (making online ads in places like Facebook ads, driving it to an email sign up page, then promoting products later), which can be very expensive if you don't know what you're doing and even with great training and guidance, it will still take time and money spent to get results (I know all about paid ads and this is why I'm warning people about it).
4) On the topic of Lurn (this gets a

3.5 out of 5 stars

):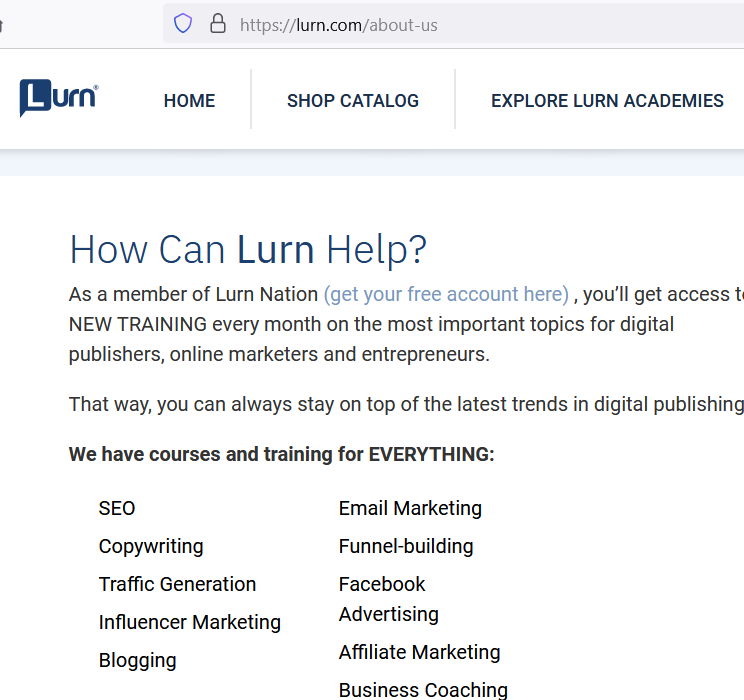 Lurn is the main business where you'll find products Anik puts out as well as from other successful entrepreneurs.
I've actually done pretty positive reviews of certain programs coming out of Lurn and there is also a lot of free content you can get there.
However, the main problems I see with the program, which is why my rating is split for this is that:
There are MANY products to choose from and many of them have high costs (too much when added up).
Some of the people in Lurn in my opinion are a bit questionable (won't name any names).
In terms of value, I think you can get an all in one value pack out of places like Wealthy Affiliate vs buying them separately in places like Lurn.
Conclusions and back to the main question I posed earlier:
In the title of this article, I asked a simple question: Can Anik Singal help you succeed online? And the answer to that is yes.
However, at the same time, it's not a simple yes and here's why:
The content he puts out and the things he teaches work, but they cost a lot of money in most cases and the concepts in my opinion take time to learn.
Nothing is a get rich quick scheme in this business and one of the things I'm not really happy about with Anik is that in my opinion he can hype things up a bit much in his ads, webinars and so forth. Yes he is charismatic, but since I know much about his teachings from doing it myself, I can distinguish these things and remain objective.
Now one thing I would like to say is that Anik Singal is more on the favorable side for me in terms of trust. Compared to people like Jeff Lerner or other popular figures like John Crestani (people I have mixed views on and whose products I do not recommend), Anik is on a higher level in that regard.
But there are many marketers and influencers in online business who I trust and recommend way more than Anik. People like Ivan Mana for example. But there are those who I recommend at the top above all other choices:
Alternatives? Yes! What I recommend above Anik Singal's programs and teachings:
There is one program I've learned how to make money online from better than the others I've reviewed and that's Wealthy Affiliate. In fact, much of their training educated me so much on this business that 99% of the stuff I see from other programs and people (including Anik) I already know thanks to Wealthy Affiliate.
This program can teach you to make money online better than any other program can in my opinion and there's a few reasons for that:
1) They are free to try (so if you doubt my words, give them a shot risk free and decide for yourself).
2) They have much more success stories than any other place.
3) They teach people safe ways to make money online if they are beginners, and more advanced ways later.
For beginners, you will learn blogging and making money online that way (as an affiliate marketing), then other strategies like pay per click affiliate marketing and much more.
4) In terms of reviews, Wealthy Affiliate has a 4.9 rating on Trustpilot whereas places like Lurn have a 3.5 rating.
4) And finally, they offer all their training, tools and benefits for 1 low monthly price: $49/month. This beats what other programs offer out there in segments and very large prices, so you end up saving a lot of money both in the short and long runs.
There are more benefits to list, but if you want to learn more, see my review of Wealthy Affiliate here for all the details and draw your own conclusions.
Either way, I appreciate you reading this article on Anik Singal, I hope I answered your questions/doubts and if there are any, let me know below!