My first impressions upon hearing about the 1k a Day Fast Track program was that it was probably either a scam or some overpriced make money online program with merit. But after researching it carefully, in some ways I was proven wrong, but in others, I was right and in this review, I want to give you my take on the program and if you should buy it or not.
A summary and short review of 1k a Day Fast Track: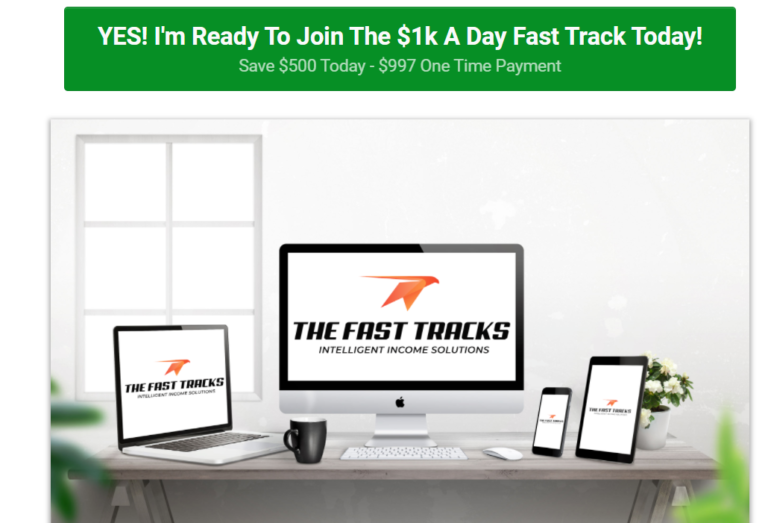 First, there are 2 names to this program:
$1k a Day Fast Track and The Fast Tracks. This is just 2 names for the same program.
How much does it cost?
The program is $997 (training and more), but other costs exist, including:
Autoresponder (Possibly $50/month for a good one).
Paid ads (Possibly $1,000s).
Clickfunnels (Either $97 a month or $297 a month).
What does it teach?
You will learn how to promote top Clickbank products as an affiliate marketer by:
First setting up a simple site with only 2 pages that captures people's emails and promotes the product.
Then you will use none traditional paid ad methods to send traffic to those pages.
Affiliate commissions can be earned either directly from the 2 page site you make, or after you collect the email list from the user.
Rating:

2.5 out of 5 stars (split)
Do I recommend $1k a Day Fast Track?

Only if:
You can afford all the costs and understand that there are no guarantees. However, if you are either:
A beginner affiliate marketer.
Or you have very little money to even try this stuff.
Then I would honestly advise a better option instead of The Fast Tracks. I know a bit about how this program works because I do affiliate marketing and while the strategy Merlin presents is interesting and can work, it presents it's own pros and cons and in all honesty, the method is better to be used if you're advanced (and already making money in affiliate marketing via other ways to even fund this).
Alternatives?

Yes:
Everything you need to know about the 1k a Day Fast Track program (how it works):
The thing I want to do is give you a basic summary of how the program is pitched to work from Merlin's end, at least how it looked to me after watching his webinar and then by giving you my perspective on the strategy and how likely I think it is to work, so here we go:
The main idea behind the 1k a Day Fast Track program (or The Fast Tracks) is that it's mostly a done for you affiliate program and here's how it works:
You find popular Clickbank products to promote.
You then create a 2 page site to promote it.
You then use a secondary ad network to send paid traffic to the 2 page site.
People who click your ads visit the 1st page which is a poll with a yes or no question.
Upon clicking any option, users also get the results (2nd page) and a direct link to buy the affiliate offer there.
People who don't buy it right there and then can elect to opt into your email list and get pitched future offers there.
You will learn how to use all of this in a 6 module program within the Fast Tracks program. Additionally:
You will also get templates to use for your 2 page site, including poll questions on whatever niche topic you choose. If it's fitness, you will get a poll for that, if it's weight loss, you will also get a poll template for that. Basically whatever Clickbank product you choose to promote in whatever niche, the program likely has a pre made template set up for you.
Additionally, users of this program will also get email swipes to use so if people sign up to their newsletter, they will be able to pitch offers without having to come up with their own emails.
An example of how the 1k a Day Fast Track system can work (if it's successful):

You decide to promote Super Affiliate System (a popular Clickbank product).
You make the 2 page site using Merlin's templates.
You advertise your 2 page site on a secondary ad site like Revcontent.
Your ad gets 1,000 clicks and you pay about $200 for it.
The 1,000 clicks is 1,000 traffic coming to your 1st page.
The 1st page is a poll page that can say something like "want to make money online?" with a yes or no.
Whatever people click, they get transferred to a page to buy Super Affiliate System or sign up to your email list.
If 5 people buy the program, you will earn about $1,000 right there.
If 5 more people buy from your email, that's another $1,000.
So you'd make $2,000 in revenue, spend $200 on ads and make $1,800 in profit.
Note: This is a successful example of how this can look, it is not a guarantee and I personally see problems with this formula that can affect this kind of scenario.
Pros:
A lot of this program is done for you.
I do believe it is beginner friendly to learn this approach.
Merlin's strategy is a bit of a new spin on old affiliate marketing tactics.
I do believe Merlin is sincere and legit.
There are success stories for The Fast Tracks program.
The Fast Tracks program ($1k a Day Fast Track) is part of Clickbank and thus has a 60 day return policy.
Generally speaking, using "second" like ad networks induces cheaper costs vs traditional pay per click affiliate networks like Google Ads.
Cons:
In my experienced affiliate marketing opinion, email marketing is advanced (not for beginners).
I also don't believe paid ads is beginner friendly (it' also very risky because you can pay a lot and earn little).
The program itself is $997 (and I never recommend high ticket affiliate programs unless you can afford it).
There are many risks to using done for you affiliate marketing systems (I'll explain further below).
$997 may just be the start. You are also a lot extra for paid ads, autoresponder and possibly Click Funnels too.
If your ads do not profit, if you don't know how to adjust (or are experienced), you can lose a lot of money potentially.
I think some of Merlin's presentations go completely against what I would recommend to beginner affiliates.
I would never recommend or risk this strategy unless you have money you are not afraid to lose (no guarantees).
Conclusions (4 reasons why I'm not on board with The Fast Tracks):
First, there's a number of things I disagree with Merlin on, and here are some of them:
1) He recommends secondary ad networks because they are cheaper than primary ones. Is that true?
In his webinar, Merlin shows a stat where he points out primary ad networks charge $2 or more per click (if I remember correctly) and says that this is why you should use secondary ad networks where he's getting under $0.30 a click for each click. Is this legit?
To an extent yes, but if you KNOW what you are doing, you can get even LESS costs on primary ad networks like Facebook ads and Google Ads. Don't believe me? Have a look at my own personal reports (vs a screenshot of Merlin's report):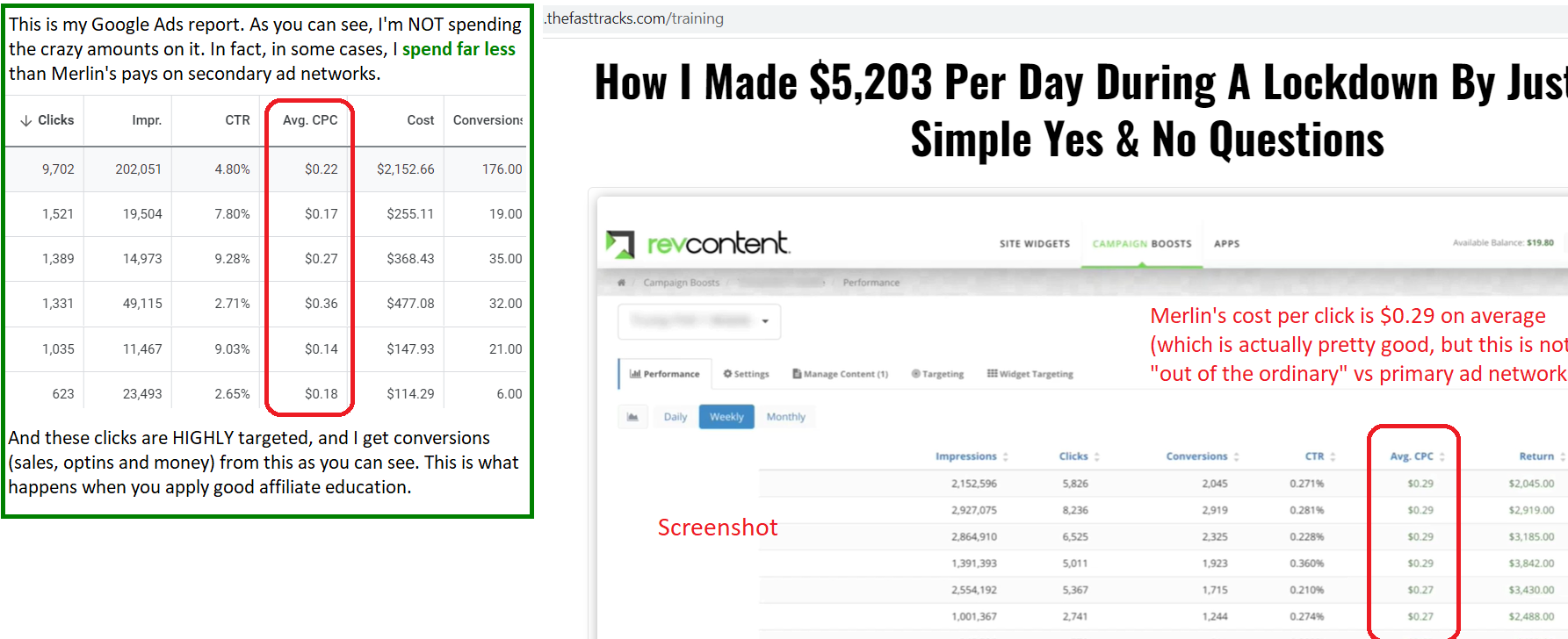 In case it's too small to see:
Some of my clicks cost as little as $0.14 while Merlin's clicks cost as little as $0.27.
Plus with primary ad networks, you can be more targeted in the type of traffic you get so in my opinion, you can potentially get more value out of the clicks vs secondary ad networks (which can work, don't get me wrong). But overall, this is just an advanced strategy for affiliate marketing (I say don't do it if you're a beginner or don't have money).
2) He says you shouldn't target niches you have passion for (
What!?

):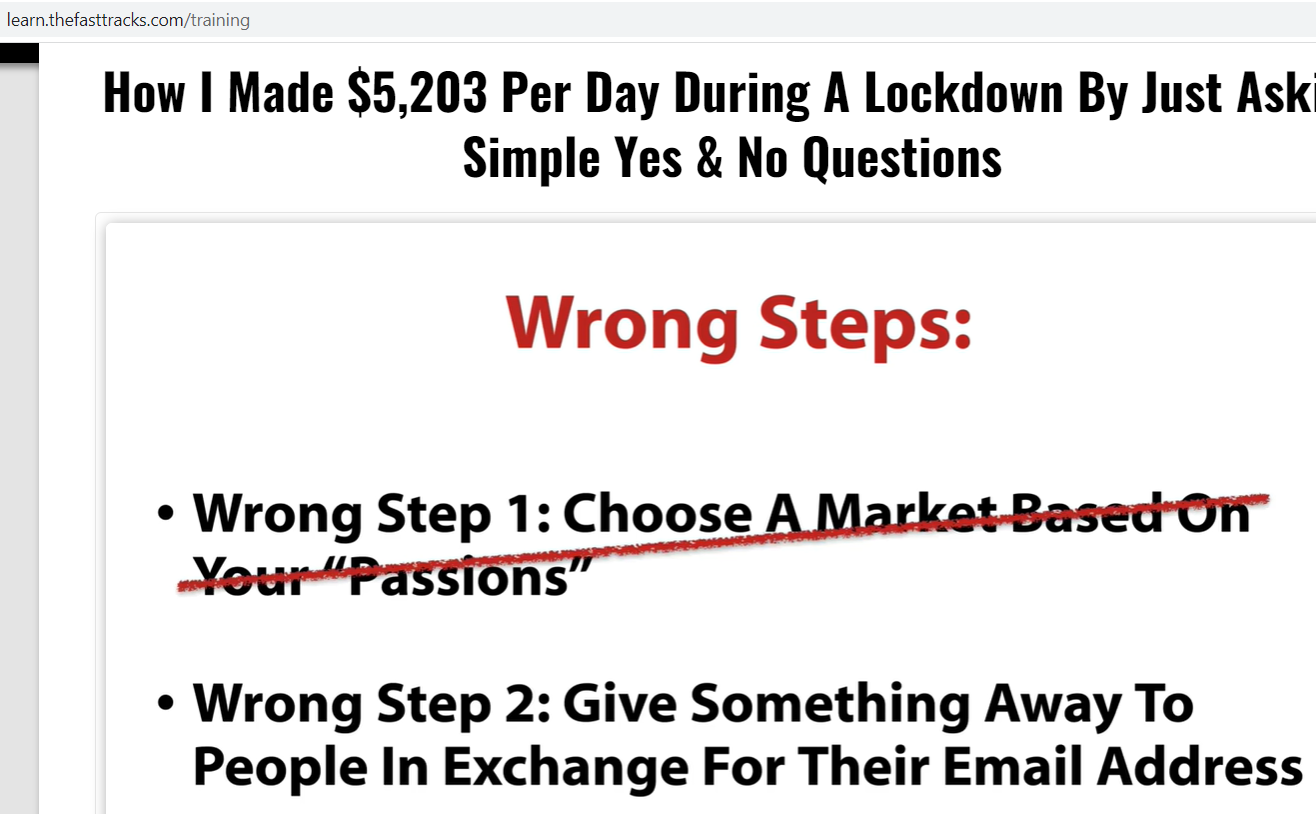 When watching Merlin's webinar, there is a part where he recommends NOT doing 2 things that just go against everything I know to work (screenshot to the right):
In my personal opinion, this is one of the worst things I have ever heard for affiliate marketing advice but Merlin argument's for that is that it takes too long, costs time and energy to do (in some respects, he's right, but generally I disagree as a whole on this).
One of the biggest mistakes I see affiliate marketers make when they start is promoting products in niches they have no passion for (they only want to make money).
Passion is a KEY ingredient to online success and in business overall. This is why I always preach that to succeed:
Find a niche topic that you love.
Use Wealthy Affiliate's blueprint to take that niche and make money from it by promoting products you actually know about (it makes it so much easier).
Then as you get better, experienced and successful with a good template like this, THEN go into promoting products you are not so interested in.
As for the second piece of advice on giving something away, if it's done right, it can work very well. Free gifts and VALUE given for free creates trust in people. It doesn't necessarily have to be done when doing email marketing, it can be done on something as simple as a blog or YouTube video, and that can lead to an affiliate promotion.
But the reason that works is because FREE value creates TRUST and that creates sales. With all due respect, Merlin lost me here.
3) You can literally make this stuff yourself (without buying the expensive program):
If you have proper education on affiliate marketing (and experience) you can set this up yourself. For me, I can set up a funnel like this within an hour using the same approach and strategy Merlin uses. But I can do this because I have the money to try it and the experience to test it.
If you don't, there are less risky ways to start and do affiliate marketing, especially if you are a total beginner: Start with Wealthy Affiliate and you'll understand why.
4)

The biggest risk

of using a mostly done for you program like this (in my opinion):
Here's the thing: If it works, that's great, but what if it doesn't? What if the costs exceed the commissions? What do you do then?
This is where you HAVE to know how to test, how to run ads, how to find good offers that convert for your funnel and how to adjust your online sales funnel so it actually makes money.
The core problem in my opinion with The Fast Tracks system is that when you have so much done for you (and you're a beginner), it hinders your own experience from growing and if problems arise (which they do often in my experience in this business), if you have no clue what to do, you are likely to have problems and remember, this all costs money to test.
This is why affiliate marketing education is SO important for success. It can help you take for instance a program like this (if you're in a situation where you're not making money) and adjust your sales funnel if necessary to make it profitable.
I always tell people to be VERY careful with any program that makes it look and seem like the system is easy to use and make money from. And if you are already short on change before starting this, my advice would be to never invest money in anything you are not ready to lose, no matter how juicy it sounds.
Alternatives? Yes, Wealthy Affiliate (easily):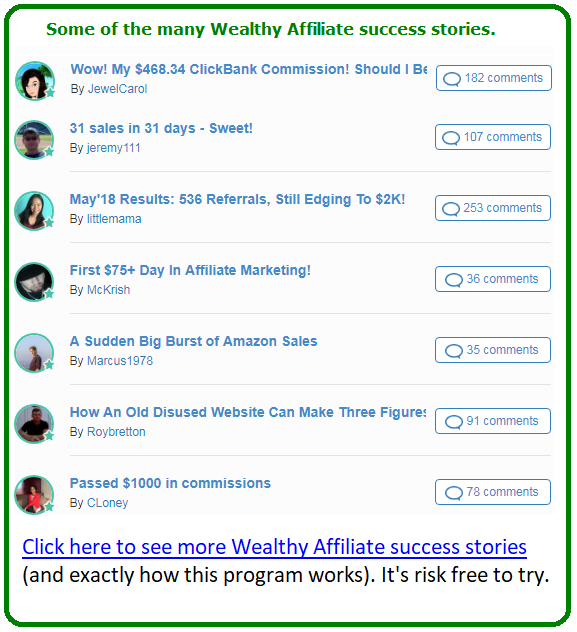 Wealthy Affiliate in my experience is the "missing piece" for success in affiliate marketing. They provide the necessary education and training to help you become an independent (and successful) affiliate marketer.
Affiliate marketing is a business and in my opinion should NOT be treated like some sort of cherry picking, find the easiest/fastest way to succeed without doing much work.
People who treat it with the latter in my opinion/experience are potentially setting themselves up for failure if they're not careful and while they may find luck, it's VERY rare.
Without fundamental knowledge of affiliate marketing and knowing how to do it properly and fix it if it isn't working, eventually the odds shift against you and everything I have seen work in affiliate marketing is thanks to the Wealthy Affiliate program.
1k a Day Fast Track is not a scam, but I would be very careful with this program before you consider buying it.
They CAN work, but like I said before, huge costs (the program, paid ads, email marketing, ect…) and no guarantees, plus the whole "done for you" stuff that I broke down and why I don't endorse that equals too many risks in my opinion, specifically for beginners and those who don't have a lot of money to start.
If anything, like I said before, I'd experiment with Merlin's strategy only if you are good on money and experienced at making money as an affiliate already. If you're not, only get this program if you don't mind spending (and potentially losing) the investment.