When it comes to comparing Wealthy Affiliate vs Legendary Marketer, I won't waste your time and "lead up to it". I'm just going to tell you that I strongly believe that one of these programs is way better than the other for helping you succeed online.
And that choice for me is Wealthy Affiliate. The reasons why will be explained in this review. Now I'm not looking to bash Legendary Marketer in this post, and if you think I am, consider one strong argument against that which is:
I can honestly become an affiliate for Legendary Marketer and make more promoting it than Wealthy Affiliate. But I don't. Why?
It's because I believe it's pricing is a bit much for most consumers and I prefer people have affordable ways to learn how to succeed online, and that's why I happily promote (and basically take a pay cut if you will) Wealthy Affiliate and I'll explain more about that in this comparison.
In short, it's not about the money for me. It's about the value the consumer gets and Wealthy Affiliate in my opinion has way more of that (for less) than Legendary Marketer.
But enough about that, let's get to the specific info. First up is this:
Here is my short history with Wealthy Affiliate and Legendary Marketer: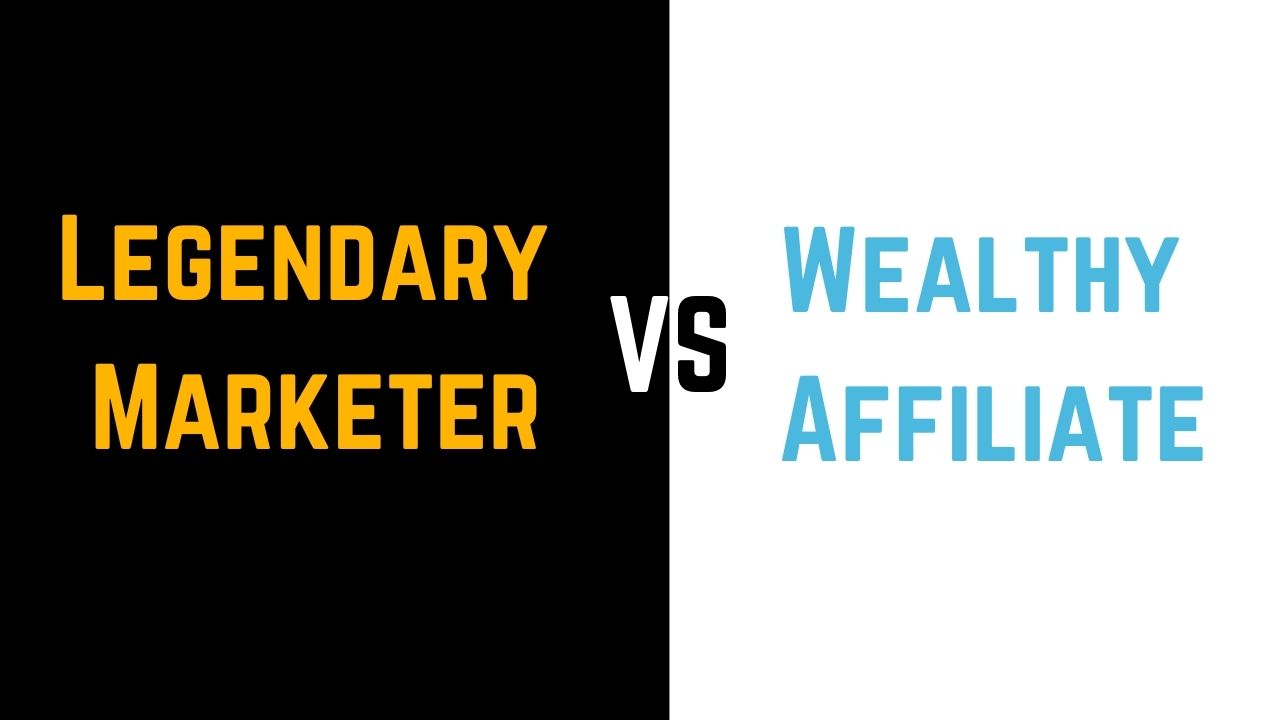 With Wealthy Affiliate:
I've been there for 14-15 years.
I have become a full time affiliate marketer thanks to them (see my income reports).
My primary success areas thanks to WA are in blogging, YouTube, pay per click, email marketing and Pinterest.
With Legendary Marketer:
I reviewed their 15 Day Challenge.
I tried their Legendary Marketer's Club program (see my Legendary Marketer review here).
I didn't buy their other options because they were too expensive and based on what I saw, I didn't see anything that struck me as being so amazing I couldn't get it in Wealthy Affiliate.
Wealthy Affiliate vs Legendary Marketer: A short summary of each program.
Both programs teach individuals how to build online businesses and while both programs are legitimate in my opinion, the differences however are mainly in 2 things:
Pricing.
What each program teaches (although some things are similar).
With Wealthy Affiliate: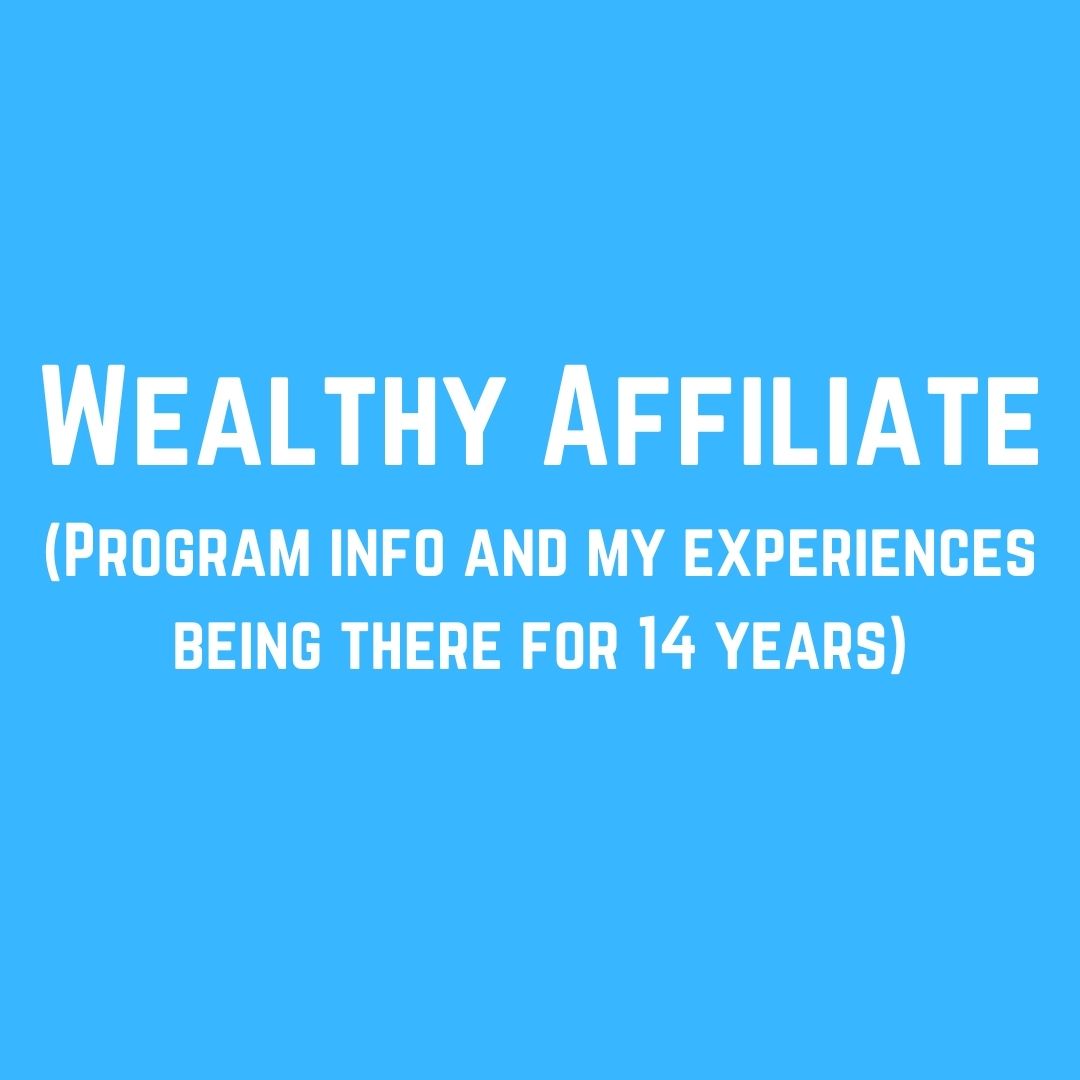 First the pricing:
$0 starter.
$49/month Premium.
$99/month Premium Plus.
If you are a beginner, I'd start with Starter and you can begin with one of two places:
You either build a niche website on any topic you love (I recommend this).
Or you can become a promoter of Wealthy Affiliate.
In my case, when I began, I started with 1 and moved over to 2. But I still have multiple sites promoting various things that aren't related to Wealthy Affiliate.
After the training is complete, you have basically built a niche blog website that makes money with affiliate marketing, and there is then higher up training available such as:
Bing Ads and other pay per click affiliate networks.
Local marketing training.
An upgrade to Wealthy Affiliate's Premium Plus membership ($99/month) which provides people with expert classes from it's top affiliates, such as myself (similar to the stuff you get in programs like Lurn).
Along the way, with whatever route you decide to head in, you are given tools, top tier training and tons of helpful guidance from the community and it's experts.
With Legendary Marketer:
First the pricing:
$7 (or $3.50 downsell) for the 15 day challenge.
$30 for the Marketer's Club.
$1,000, $2,500 and far higher prices for the higher memberships/training.
If you're just getting started, it's recommended to work your way up through the "ladder" of programs in this place.
You can start with the 15 day challenge for $7.
Then upgrade to the Legendary Marketer's Club.
And then higher if you wish (you're looking at $1,000s for the higher ticket packages).
Much of the training in Legendary Marketer helps you promote the program to others, but it can also be used to promote any other program you wish.
A lot of the focus in this program is on paid ads and making online sales funnels around them, as well as email marketing, things of a more advanced affiliate marketing nature in my opinion.
Because Legendary Marketer offers a pretty lucrative affiliate program, you'll often find people promote it (to be fair, a lot of Wealthy Affiliate members also promote Wealthy Affiliate for similar benefits and I do also know some who promote Legendary Marketer as a side thing).
The
2 advantages

Legendary Marketer has vs Wealthy Affiliate:
1) Their affiliate program can pay you more (in the short run).
Because this is high ticket affiliate marketing related, you can earn very good commissions promoting Legendary Marketer and the more expensive of the packages your referral buys, the more you can make.
I did say short run though because Wealthy Affiliate is a month to month membership and in the long run it can earn you more (but it normally won't).
2) Their paid ads training (for now) is a bit more vast:
The main training in Legendary Marketer deals with paid ads and email marketing stuff and the last time I looked, they had more content on that than in Wealthy Affiliate.
Wealthy Affiliate has a lot of training on Bing Ads (I didn't see Legendary Marketer have this), as well as some Facebook Ads stuff, and it is growing, but I'll leave this advantage to Legendary Marketer until I have more info.
Paid ads are extremely lucrative but also extremely dangerous on the wallet, so I am always more of a fan of not recommending you get into that until you are experienced (or well funded).
The
10 advantages

Wealthy Affiliate has vs Legendary Marketer:

1) It's free to try (vs Legendary Marketers that's $3.50/$7 entry). So it's risk free basically.

2) In my opinion, based on research, there is more value in the free training of WA (more lessons) than in Legendary Marketers lower tier program.

3) WA has faster support, help and communication. I am 100% confident in this since they have so many ways you can get help.

4) More open ended training (niche blogging, YouTube, paid ads, and it's always growing).

5) I think Wealthy Affiliate is far better for beginners (the niche blog training is where I'd start).

6) I think the cost value is better for beginners too (you can try it free, and then pay a low monthly cost to get a lot more).

7) If you're tight on money, WA is honestly a financially better place to start and be at. No place guarantees success, but base your purchasing decisions on how much you can afford, not how much you think you can make.

8) Real coaching included. Many people promote WA and add in their coaching as a bonus, including me. You can learn about my coaching here, but specifically, if you join Wealthy Affiliate, you'll get me as your coach and I always guide/assist my referrals.

9) More included tools (you save money).

10) 15+ years in business. Wealthy Affiliate has been around for a long time (Legendary Marketer has been around for a bit too), and has evolved way quicker than any other program. This is why they are still #1 in my opinion.
More common questions about the Legendary Marketer program: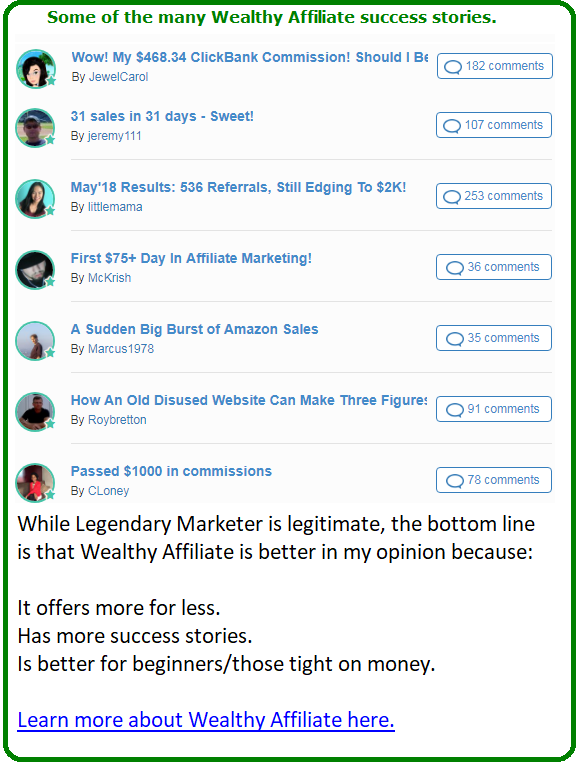 Is Legendary Marketer legitimate?
Yes Legendary Marketer is a legitimate program, but the prices for it are why I do not recommend it. You can learn the same things from cheaper programs and save a lot.
How long has legendary marketer been in business?
Legendary Marketer has been around for over 10 years.
Who is David Sharpe?
David Sharpe is the man who created Legendary Marketer. He is also a very famous internet marketer overall.
Is Legendary an MLM?
No Legendary Marketer is not an MLM program.
Can you really make money with legendary marketer?
Yes. Members of Legendary Marketer can earn money by promoting the program through it's teachings or using the very same training to promote other affiliate products online.
If you have your own questions about this program, ask them below and I will respond as soon as I can.
Final comparison of both programs:
Conclusions on Wealthy Affiliate vs Legendary Marketer (why I stick to WA):
Like I said before, while I can promote Legendary Marketer and make an extra income, I choose not to. High ticket affiliate courses and programs are just not things that I like to promote (it's a preference) and I personally think you'll get more from WA anyway, so that in my opinion is the far better choice.
If you have any questions on Legendary Marketer or Wealthy Affiliate, let me know!