It's rare that I ever come across an online marketer who I say confidently say is legitimate and their work is not a scam, but after looking at the free courses (and content) Miles Beckler produces, I can pretty safely say that.
Here are the 3 things I'm going to show you in this post on Miles Beckler:
1) I'm going to give you a summary and review of his free courses.
2) I'm going to give clarify details on what Miles does on his site aside from producing a lot of great free content. He basically does a lot of program and product recommendations and I'll help you understand if they're worth getting (I know about many of them).
3) I'll help you decide if what Miles recommends is ideal for you to buy and learn from or if there are better options in the same field.
I will be providing you with a lot of my free content on similar subjects throughout this post.
How I got introduced to Miles Beckler and his courses:
Very recently, I got a comment on my post reviewing a program called The Prosperity Warrior and the gentlemen who wrote it mentioned Miles Beckler's name and after the praise he gave him, I was intrigued to learn more about him.
This brought me to his official site and to take a look at his free courses and overall content. It didn't take long for me to see the great value Miles offers readers and after looking over his courses, that opinion was solidified (it's good). So let's dive into this!
A summary and overview of Miles Beckler and his courses:
How many courses does Miles have? 2:
7 Figure Business Blueprint (4.5 out of 5 stars).
WordPress 101 (

4.5 out of 5 stars

).
How much do these courses cost? 
$0. They really are absolutely free.
I'll be reviewing them in a moment, but do note that Miles Beckler's main website has a lot of product, program and service recommendations for people wanting to start their online businesses.
In this review, I'll be breaking down most of them too.
What do Miles Beckler's free courses teach?
1) 7 Figure Business Blueprint:
There are 9 levels of training and it teaches people how to find niches, then start a blog solving people's problems and build it up to collect email lists and eventually promote your business through Facebook Ads.
I found the content to be very informative and you do learn very basic things about building online businesses.
I wouldn't say that the lessons are in-depth enough to take a lot of action, but you do get great knowledge from them.
2) WordPress 101:
There are 32 free lessons and you get beginner friendly content on starting and optimizing WordPress websites. You'll learn about blogging, setting up posts and pages and a bunch of other things to build your blog site up. It's meant to be used together with the 7 Figure Business Blueprint course.
My rating for Miles Beckler's free courses:

4.5 out of 5 stars

.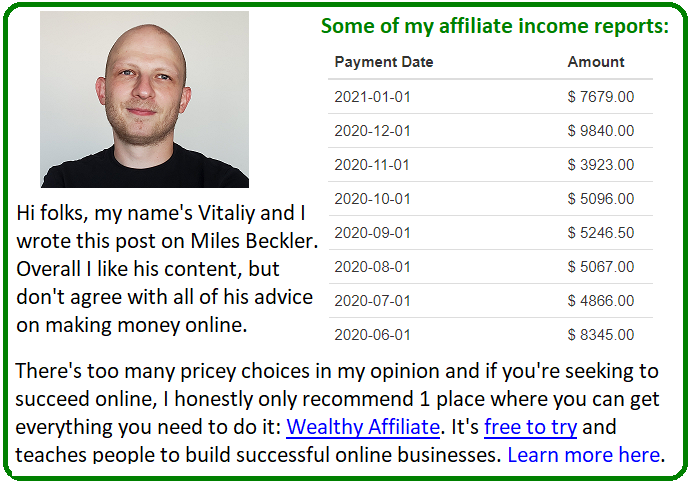 Pros of Miles Becker and his courses:
Miles has great free content on his site.
For the most part, I like Mile's recommendations.
I do think his material is good and above for beginners.
I do consider Miles a legitimate marketer.
Cons of Mile's content and recommendations:
There are many outside product/service recommendations (confusing).
Many of the outside product/service recommendations are very expensive.
Some of the product and program recommendations Miles has are questionable to me (they go against my principals of making a legitimate affiliate marketing business).
I'm going to be summarizing much of these other product and service recommendations shortly, but:
Here is my overall conclusion on Miles Beckler and his courses:
They provide great start up training, but in my opinion the "next step" is getting one or more of his program recommendations and many of them are:
In too many different fields of online business.
Are confusing because it may be difficult to know where to start.
Lots of them cost a lot of money.
Overall, my advice here is to try an

alternative program

like this: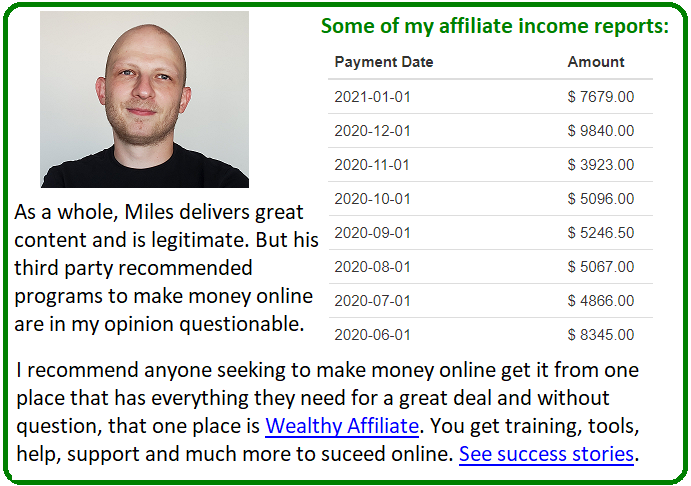 What other content and info does Miles Beckler provide?
Aside from his other free content (on the Miles Beckler blog page), Miles provides program and product recommendations on different types of online businesses.
He promotes a lot of them and that's one of the ways he makes money (through affiliate marketing). Just so you know, I too am an affiliate marketer and a lot of these products and services could cost a lot of money.
So if you're not exactly on a budget to buy it, I will be providing my own free content on a lot of the same material here that you can check out.
Here is a quick look at what what Miles recommends:
There are 12 different online business segments in Mile's product recommendations tab (here is a direct link to them).
We'll start with Miles Beckler's first 3 recommendations: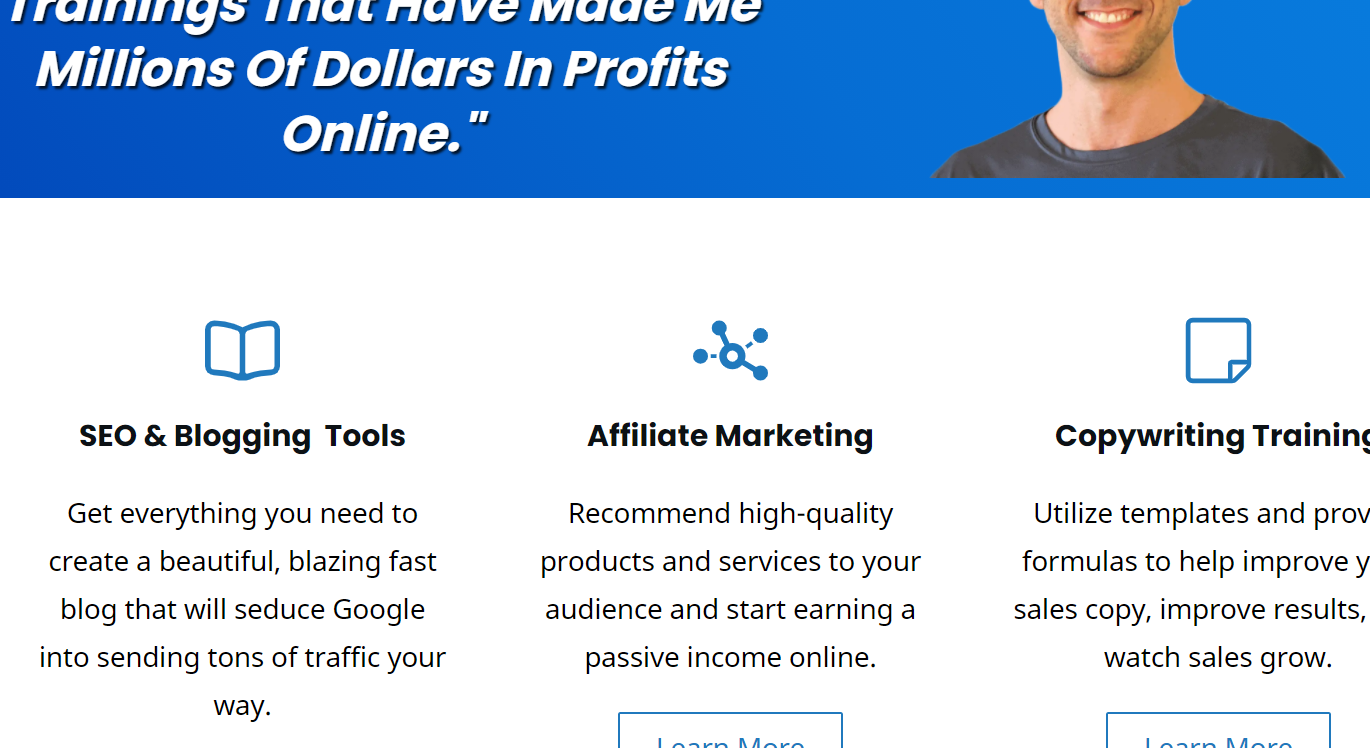 1) SEO and blogging tools:
Here Miles recommends 12 different programs and services to help people with the subject of blogging and SEO. Things like:
Sites where you can hire freelance writers.
SEO courses and programs to get traffic from.
Enhanced hosting services.
Using keyword services.
And more.
Miles does promote a number of the things here and the prices can really vary all the up to $1,000's and up. All of the recommendations here are new to me so I can't comment on their quality, but I do trust Miles so I do believe they are good recommendations.
As a side, I also have free content on these subjects and here are some of my recommended (free) readings:
2) Affiliate marketing:
Here Miles recommends 5 different affiliate marketing programs, some of which I have experience with. Here they are:
1) Authority Site System: It's good, but expensive. I gave it 4 out of 5 stars. Here is a review of Authority Site System.
2) Five Figure Niche Site: Also a good, but expensive program on making profitable niche websites. I also give it a 3.5 out of 5 and you can also see a review of Five Figure Niche Site here.
3) Solo Build it: This is only option on the list I am not exactly a fan of. Solo Build it is ok in my book, but I gave it a 2.5 out of 5 stars.
4) Digital Strategy Crash Course: It's the only recommendation on the list I have never heard of, but it's a 30 day course on making niche websites.
5) Human Proof Designs: It's an expensive service where you can buy existing niche websites (and not have to start fresh) and more services. I actually know the original founder of Human Proof Designs (he's an old affiliate friend of mine) and can say this service is good (3.5 out of 5 stars).
What surprised me here:
First, some of the program recommendations are really good, but because they're expensive, I personally never recommended them. High ticket programs are not really my forte in recommendations, even though I could easily be an affiliate for them.
Second, I'm surprised he didn't recommend Wealthy Affiliate here, which I dare say would be the best option out of the lot by far. I'm sure if he promoted this program, he'd easily be a super affiliate for them.
Wealthy Affiliate is in my opinion the best affiliate marketing program to start with (and learn online business from). It's affordable and has an awesome step by step plan for beginners to make their business (you also get a blog to start the course with).
My additional free resources to help you with affiliate marketing:
Aside from Wealthy Affiliate being the best option to start with: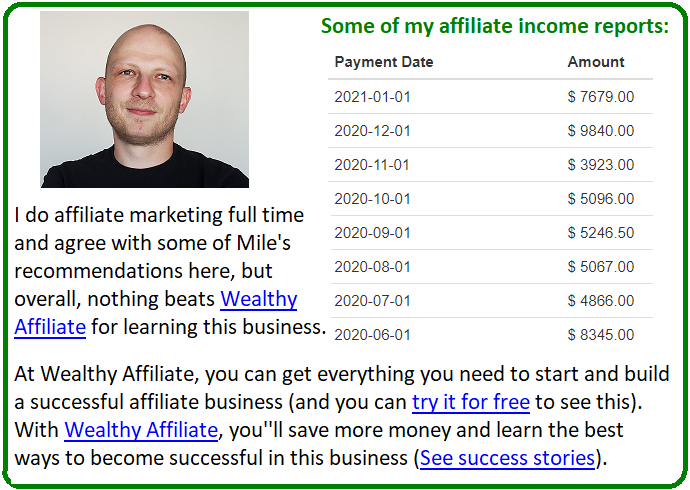 3) Copywriting training:
This is a section of Mile's recommendations where he recommends several things:
1) Courses on becoming a copywriter.
2) Program recommendations like Funnel Scripts and other services to help you create sales pages that sell (1 page websites, webinar funnels and so forth). I am not the biggest proponent of Funnel Scripts because I think it lacks unique content from the person using it. I believe in being original and authentic.
Some of my free content on similar subjects:
Moving onto Mile's next 3 recommendations:

4) Sales Funnel Software:
Here Miles recommends from 7 different programs that range from landing page generators (for making 1 page websites) to autoresponder programs like Convert Kit. There is also a FB ads course recommendation.
I have no experience with any of the product recommendations here, but they do cost their own individual prices and Miles does promote them as well.
My alternative free content on similar subjects:
I have a short Facebook Ads tutorial here you can check out. Facebook Ads is not my biggest recommended platform to do pay per click ads on, but it does work. I do recommend other resources:
5) Email marketing tools:
Here Miles recommends from 5 different autoresponder programs and courses and surprisingly, none of them are familiar to me. I have always recommended people use Aweber if they're just getting into email marketing and I have (so far) only 1 free tutorial on email marketing here.
6) Keyword and content marketing tools:
Miles provides 5 more recommendations here for programs that help you find keywords for blogging and creating content as well as freelance writing services.
I cannot comment on any of these recommendations as I do not know about them, but I did provide free tutorials on blogging with affiliate marketing above that have similar content. The recommendations here are also promotions.
Here are Miles's next 3 recommendations:

7) Shopping carts:
Here Miles provides up to 6 program recommendations for setting up shopping carts for your website to do promotions and upsells on. Some of the program recommendations are:
Samcart which I did review (it's alright).
And Clickfunnels, which like Funnel Scripts, I do not recommend.
These services do offer some good opportunities, but I really believe you can do your own sales funnels and set up free and successful shopping carts to promote your stuff with. Or you can do affiliate marketing and just send your referral traffic to the vendor page so they can buy from there.
8) Online courses (making them and selling them):
Here there are 3 program recommendations that are all about helping you build an online course and then the tools needed to sell them. Some repeat recommendations are here as in other parts of Mile's sites, like Clickfunnels.
9) Legal documents for your online business:
Here there are 2 recommendation Miles has, 1 which he promotes and 1 which he sells as his own product for $147. This is basically a template that you get for making legal documentations for your online business. Things ranging from:
GDPR compliance.
Affiliate disclosures.
And other similar documents.
You can get a lot of these for free in the Wealthy Affiliate program without having to pay for it (among other awesome training with making your own online business). For example, my privacy policy and affiliate disclosure pages were set up thanks to Wealthy Affiliate.
And finishing up with Miles Beckler's last 3 recommendations:

10) Free online marketing courses:
Here Miles is simply redirecting back to his free courses page which I reviewed at the top of this post (the 2 free courses).
11) Outsourcing sites:
Here Miles provides 5 recommended sites on getting writers, including Upwork, Fiverr and more. I am honestly mixed on my opinions here because I'm very skeptical of hiring people from Fiverr or third world countries to write for me. You have to be very careful with freelance writers.
12) Social Media Marketing Tools:
Here you get 5 recommendations (1 repeat course recommendation on FB Ads), some of which deal with:
My overall thoughts on Miles's program recommendations:
All of this said, I have to reiterate that I am happy that Miles Beckler's name was mentioned to me. I enjoyed looking over his content, courses and more and yes I have a very good opinion of the guy and recommend his stuff.
But if you're a beginner to online businesses, I am leaning more towards recommending Wealthy Affiliate for you so you can get (arguably) better quality content and training in starting and growing one. That is my opinion, but I do believe taking advice from Miles, and acting on it while also working hard is going to get you results too.