I took a careful look at SamCart and in this review want to show you both the pros and cons I spotted to help you decide if it's worth getting.
My first impression of SamCart was very positive, but after taking a deeper look, the hype sort of died down, which I kind of expected and aside from all the affiliates promoting this thing and swearing by it, I am not one of those people, so this review is not biased towards it.
In this review of SamCart, I'm going to breakdown the following things:
What it is and how it works (basic info).
Explain the 3 step process to making money online with SamCart.
Who it's suited for (as well as not suited for).
The realistic pros and cons of that 3 step process (and SamCart).
Summarize by helping you decide if it's for you and if it isn't, what you should get (if anything).
Before I get to the details of this review of SamCart, here's 3 important mentions:
1) My name's Vitaliy and I am an affiliate marketer. Some would consider me a veteran of this business, as I have made over $1.4 million in sales (more about me).
2) Secondly, what Brian explains as part of his pitch to sell you SamCart is a 3 step process of making money that I am very familiar and experienced with which is setting up 1 page sites, driving paid traffic to them, and selling products (in my case affiliate products).
I've made over $500,000 with 1 page sites so I know about the process and can tell you a ton of things, both good and bad about that process that you HAVE to know before you attempt it (major warnings).
3) I didn't get SamCart because I feel it's uses aren't necessary for people who understand traffic generation, making good landing pages and selling products.
It's a good product, but frankly, I don't think it's necessary, certainly not to an affiliate like myself, but I will be giving you this review from a broader perspective because this program suites mainly people who have products and services of their own to sell.
A summary of SamCart:

What is it?
It's a checkout cart program that you can customize to sell your own products and services.
You can basically make flashy looking checkout carts, and do things like add 1 click upsells to it to increase your sales. That is the most basic feature of SamCart and it does work as intended.
Who is the creator of SamCart? 
Brian Moran.
How much does SamCart cost?
There are 4 options:
You can try the program for free for 14 days.
There is a $49/month option.
A $99/month option.
And a $199 a month option.
For details on each plan and it's benefits, click here to see SamCart's pricing.
How is money made with SamCart? The 3 step process explained:
There is a 3 step process that is explained by Brian Moran that I personally found to be lacking in detail which is why I'm going to give you my point of view on it, as I'm experienced in it.
First, Brian provides his own short explanation of the 3 step process like this:
1) You set up a quick online business via making a 1 page site selling your product/service.
2) You create the 1 page site to sell that product/service (you do get a template for this from SamCart).
3) You drive visitors to the 1 page site, and then to the checkout cart provided by SamCart.
There is a problem I have with this 3 step process: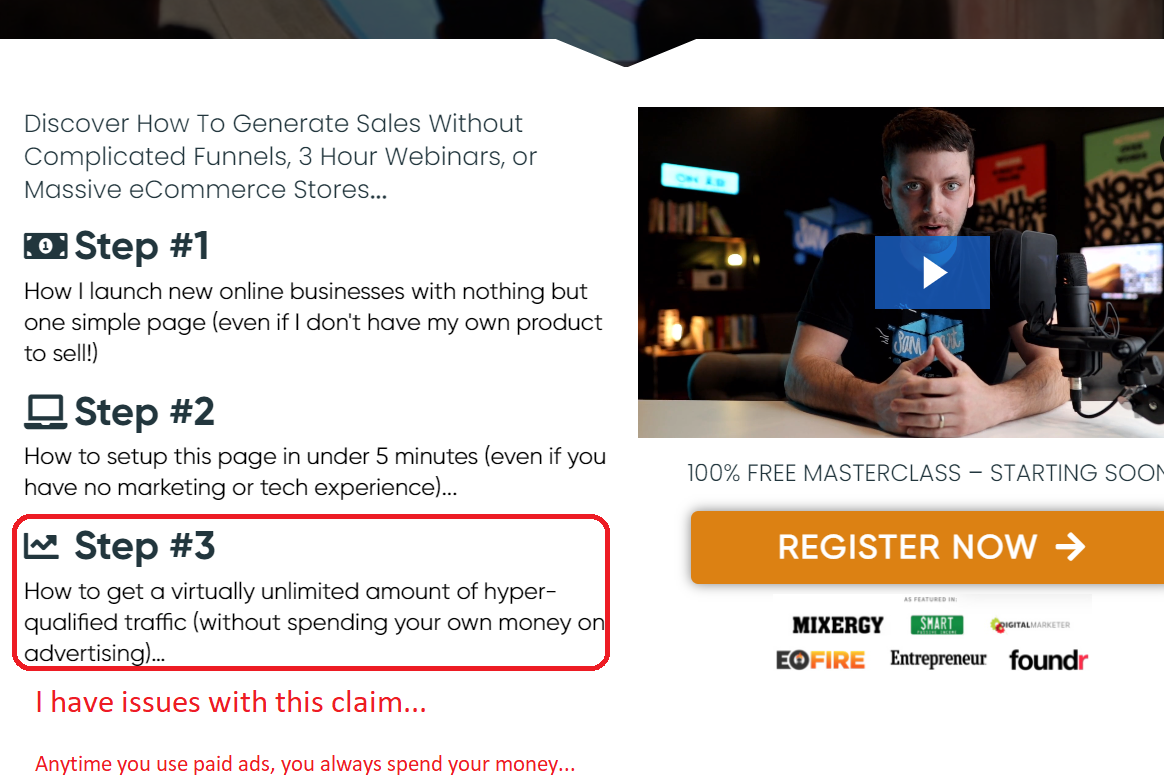 It's a very "wishful thinking" type of explanation in my opinion because it makes it sound like all you need is to follow the SamCart steps to get results quickly, which is technically possible, but it neglects to mention all of the things required to make that 3 step process work, so let me explain a few key details:
1) Making 1 page websites works if you actually understand how to find targeted niche audiences that are likely to buy.
2) Setting up the 1 page site isn't really all that difficult once you find the niche audience.
3) Driving traffic to that 1 page site is really one of the most important steps and it typically requires paid traffic to do so.
One thing I very much disliked about Brian Moran's pitch of SamCart is how on the literal sales page he says you don't need to spend your own money on traffic (see screenshot to the right for proof), which is not true.
In his webinar, he literally states he uses Facebook Ads to drive traffic and guess who pays for that? That's right, Brian.
And you be using your own money too when you use this formula, and the only way you can say that you don't pay pay for the traffic is if you make enough sales to cover the costs, so TECHNICALLY it can be that, but in my experience, most people fail with making successful 1 page sites, in most cases!
An example of how to successfully pull off this formula (based on my $500k experience):
I'm not saying that what Brian talks about is bogus. But it has to be done right or at least explained more clearly, and here is a more comprehensive way of looking at this formula:
Find a targeted niche like guys who want to get their ex girlfriend back.
Set up a 1 page site selling a product on getting the ex girlfriend back ($20).
Create ads on Facebook targeting guys in a certain age range who have that problem.
Get 10,000 visitors to the 1 page site selling the product ($20). The cost of this is $500.
If you make 100 sales, you earn $2,000, and $1,500 profit.
Note: You can use more than just Facebook Ads to do this. For example, I've used the following pay per click networks to make the $500,000 from:
Besides these PPC networks being great for affiliate marketing, they are also great to funnel traffic into 1 page websites promoting whatever offer you want to promote.
A warning about this formula (it is not reliable for most people):
You can apply this 1 page formula for any site, affiliate products or promoting your own.
But despite me giving you a very simplified example of it (it's how anyone would pitch it if they were trying to sell you something), I once again advise you read my 1 page $500,000 post to understand the risks and rewards of doing this (you can lose a lot of money with paid ads when you focus on this too much).
This is because even for the veterans, this formula rarely works, otherwise I wouldn't be sitting here writing blog posts for a living (I enjoy it, don't get me wrong), I'd just be making these 1 page sites over and over again (I still do, but I don't rely on it).
I lost a lot of money relying on this formula and even if I used SamCart, it wouldn't really be the difference maker.
It's just a tool for making good looking 1 page sites and nice looking checkout carts with upsells behind them. But if the niche, your ad targeting and ability to create great high quality 1 page sites isn't on par, forget about trying this.
Who is SamCart for?
I personally believe that the following people would best benefit from using this program:
1) People who own already own a website that sells a specific product or service that they own.
2) People who understand traffic generation and know how to get people to the page.
3) People who have up-sells of their own to offer customers and need a simple system like SamCart to set up the online sales funnel for them.
4) Affiliates who want to promote SamCart (I am an affiliate but I chose not to promote this program).
Who is SamCart not for?
1) In my opinion affiliate marketers who are promoting a product.
If you do this, then you're steering people into checkout carts not run by you, so it doesn't make sense to use this program. The only thing I would say SamCart could be useful for is using the 1 page site Brian provides as a template, but you can make those on your own.
2) People who are new at online business in general.
I believe that if you have no clue about 1 page sites, traffic generation and so forth, you have no business starting with this, unless you are ready to give it time, money and energy, which it will cost for most people.
I can give you the best formula to success with paid ads, 1 page sites and so forth, but if you lack personal experience with it, 99% of people will get it wrong not just the first time, but many times following that in my experience, and this will cost you money you may not be able to get back.
3) People who think that just using this program is going to be the difference maker for them.
I promise you that if you aren't already making money with a checkout cart and website, SamCart is unlikely going to fix that, because the fundamentals to making a successful, profitable site require skills that are outside the SamCart territory.
If you do already have a website making money, then yes, SamCart can help you enhance those profits. Bit if you're not, I wouldn't say this program will fix that magically.
Pros:
It's a legit program.
I like the software and ease of use for it.
It can enhance site sales for people who already have success.
1 page sites CAN be successful if you have the skills to know how it's done.
Cons:
I disliked Brian's pitch about not using money for traffic, but then shows you he used it.
Overly simple explanation of the 3 step process.
Lots of financial risks involved with the 1 page site formula in general.
This tool is not a magic fix for people who don't already have success with making profitable sites.
This talk about success stories who used this tool to make a 1 page site and then were making money in 24 hours is based on EXPERIENCED people who know how the process works.
I also saw some ads for SamCart with testimonials of people saying they didn't need a site. This is ridiculous in my opinion. Any page you send people to in order to sell something, even if it's just a 1 page site, its still a website.
More on Samcart:
What is Samcart used for?
Samcart is mainly to make checkout carts and help you promote an online course.
Is Samcart good for beginners?
In my opinion no, Samcart is better for advanced online marketers and online course creators.
Is Samcart the same as Shopify?
Not quite. Samcart is more of a shopping cart with other features while Shopify is a way of making a customized eCommerce store.
Is Samcart better than ClickFunnels?
That depends on what your online business is used for. If you have an online course to promote, Samcart is good for making a nice checkout cart for it, but with Clickfunnels, you may find more creative ways to market it.
Finalizing this review of SamCart:
To know if this product is for you or not, I would check out the "Who it's for" and the "Who it's not for" part of this review. That's really the most definitive part of this post.
For me personally, despite fitting into the category of people who would benefit from using SamCart, I choose not to use it because in my opinion, I don't feel that the price of this program warrants the buy and if you are looking at this product as a magic pill to make you sales online when you don't already have:
Present experience at making money online.
No clue about how to set up websites, even 1 page sites.
No clue or experience with traffic generation, especially paid traffic.
Then like I said before, SamCart is not going to magically cure that problem. And even if you do possess these skills, then you can honestly do what SamCart does on your own.
This product is good overall and I cannot deny that, but like Clickfunnels and other similar systems, I don't find it to be necessary to use and can do without it.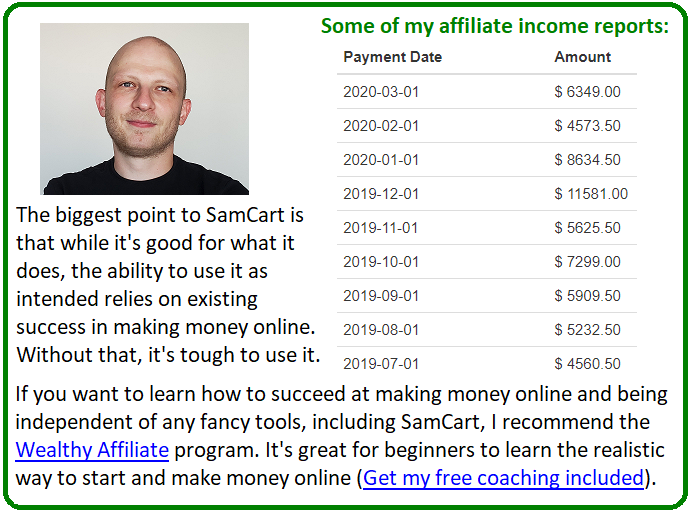 Free checkout carts exist, and as long as you possess good knowledge on making money online (get it from Wealthy Affiliate if you don't or are just getting started), then you can also do without this program.
But if you're still focused on getting and trying SamCart, you can at the very least give the 14 day trial a shot and see if you make sales. If you do, then perhaps I was wrong.
But if not, then you'll know I was right and what you would need is awesome training on everything online business which like I said you can get from Wealthy Affiliate, even if you aren't actually looking to get into affiliate marketing, but online business in general.