The short and clear answer to that is yes. Adam Enfroy in my opinion is a very legit marketer and in this post, I want to share why I think that is and help you understand what you need to know about him.
Very recently, this individual came to my attention (via YouTube recommendations) and I was very quickly impressed by the content Adam delivers, the tips he provides and so forth.
What I want to do in this post is explain the most important things you need to know about him and if you're interested in his products, recommendations and so forth, where to get started, as well as other alternatives on similar programs if his recommendations may be a bit much. Let's begin:
The most important things you need to know about Adam Enfroy: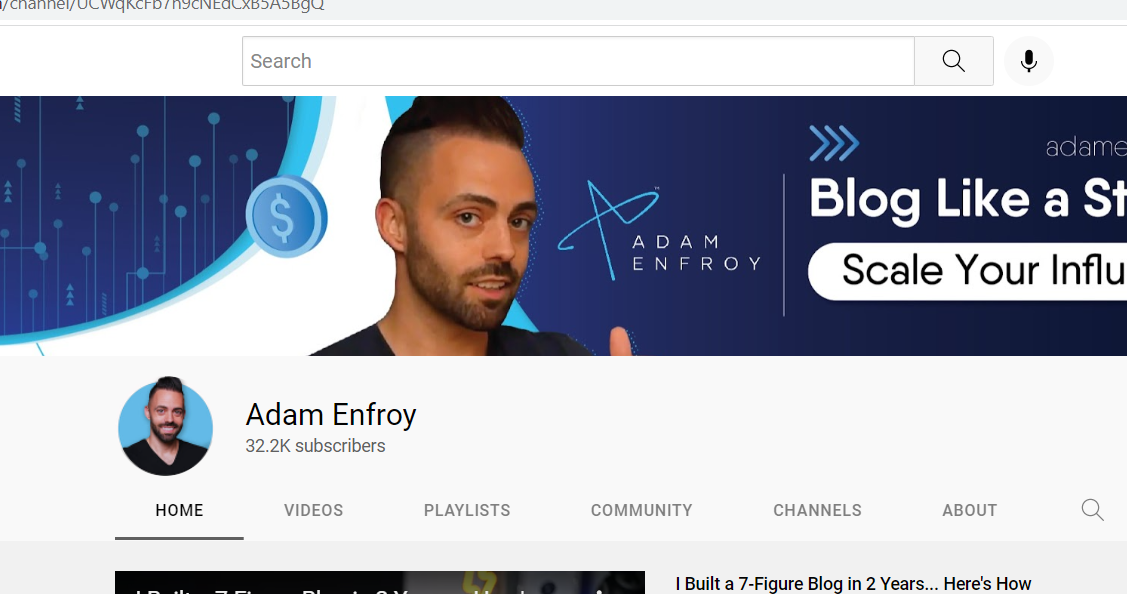 Who is Adam Enfroy?
He's an affiliate marketer and expert online marketer who (mainly) specializes in blogging, SEO and teaching people to do the same things (starting a blog, doing affiliate marketing and so forth).
What does Adam Enfroy sell to help you succeed online?
He actually (mainly) offers products and service recommendations that he uses in his own online businesses and websites. He also promotes a lot of the same products (see info here) which you can check out.
Adam does provide a free masterclass where you can get info on starting an online business. If you look at his program, product and service recommendations, he does recommend a lot of different things including:
Website builders.
Autoresponders.
SEO services.
Other ingredients needed to build a blogging business and other types of online businesses.
I can't go every single recommendation he provides, but in my personal opinion, from the products and services that I do know about personally, I mostly do agree with his recommendations.
How does Adam make money online?
For the most part (from my research), affiliate marketing and promoting the products and services you see on his site. His personal blog (AdamEnfroy.com) gets 100,000s of visitors every month and his promotions, some of which pay recurring commissions make him a lot of money.
How does Adam help people start a blogging business? The basic breakdown is this:
You select a niche.
You build your blog.
You create content for the blog to grow it's authority by targeting very specific/popular keywords.
Adam also talks about guest posting and getting high quality backlinks to grow the blog.
Promoting affiliate products on the blog.
Scaling the blog to four, five, then six figures monthly.
In my personal experience blogging, this is a legitimate strategy to build a blogging business, although I personally do not do guest posting or much artificial backlinking (I prefer the more organic type and Adam does endorse this as well to my knowledge).
How does one get started with what Adam teaches? If you're brand new and considering starting a new blog, check out his masterclass first and foremost as that offers the guidance newbies need to to get started.
Other than that, he does also provide recommendations and courses on social media growth (Instagram, Facebook and so forth).
Pros:
Adam IS a legitimate affiliate and teacher (I highly endorse his teachings).
I strongly believe his recommendations and guidance can help you succeed (It takes a lot of work though).
He offers a ton of GREAT content on his blog and also his YouTube channel (highly recommended).
Cons:
The only one I personally see is that with all the product/program recommendations, it can be confusing (and expensive) to get started for beginners.
Conclusions on Adam Enfroy:
By this point I hope I clearly explained why I think Adam is a legitimate marketer and why (if you aren't already on board) you may want to consider checking out his masterclass and overall free content.
Just know that blogging takes a lot of work and time to get going with and while I do think Adam is a great teacher, you will still have to put in the time and effort yourself to see the results (no guarantees though).
Personally, I'm very happy that I discovered his channel and that it led me to his blog and work. I always enjoy featuring great marketers on my site and also learning new things from them. Adam in many areas fortified my existing knowledge on blogging but at the same time showed me new ways to grow it. While I don't agree with his method 100% of the time, it's closer to about 95% and considering how picky I am about recommending other people's work, Adam certainly gets high scores across the board in my opinion.
Other than this, I also like to mention other great marketers to get advice from and here's at least 3:
Ivan Mana: Great source for paid ad knowledge (specifically for affiliate marketers).
Jay Niell: He's one of my original affiliate coaches. His services are expensive, but you get 1 on 1 coaching (via zoom).
Miles Beckler: Similar to Adam Enfroy (offers free content and recommendations on making money online) but I would recommend his stuff more for social media growth. He does also help people with blogging, but recommends an expensive (but good) blogging program known as Authority Hacker.
Alternatives? Yeah there are some:
While I think Adam is a great teacher and I highly recommend his work and recommendations on building an online business, in my opinion the recommendations on hosting, autoresponders and other stuff he recommends can quickly add up and while people have choices in what they can use out of Adam's recommendations, it can still add up.
If you are tight on money, a great alternative that teaches very similar stuff that Adam does (affiliate marketing through blogging and other topics) while offering basically all the tools and services you need (all in one) is Wealthy Affiliate.
That has been and still is my go to program for blogging and online business knowledge (and success). You can see my income reports that showcase what happens when you apply their teachings.
They offer people a free test drive membership that teaches you initial stuff on this topic (blogging) and for $49/month provides you with the necessary tools and services needed to build your business further (blogs, hosting, other website features, keyword tool and much more) and because it's all included, you save more in the long run.
Don't get me wrong, I still highly recommend Adam, but there are other good recommended sources out there that can give you just as good of a guidance as he does and Wealthy Affiliate is in my opinion the top option for that.