You're reading this right now because you're either an existing or new affiliate with Amazon Associates and you recently got or heard the bad news about them cutting your potential commission rates. 
And obviously, you're worried and I don't blame you.
After all, there are literally millions of affiliates with Amazon currently, with countless others seeking to join and do business there. And with these shake up in commission changes, I predict a lot of these people are either lost and/or considering leaving the program.
And again, I don't them. Not one bit.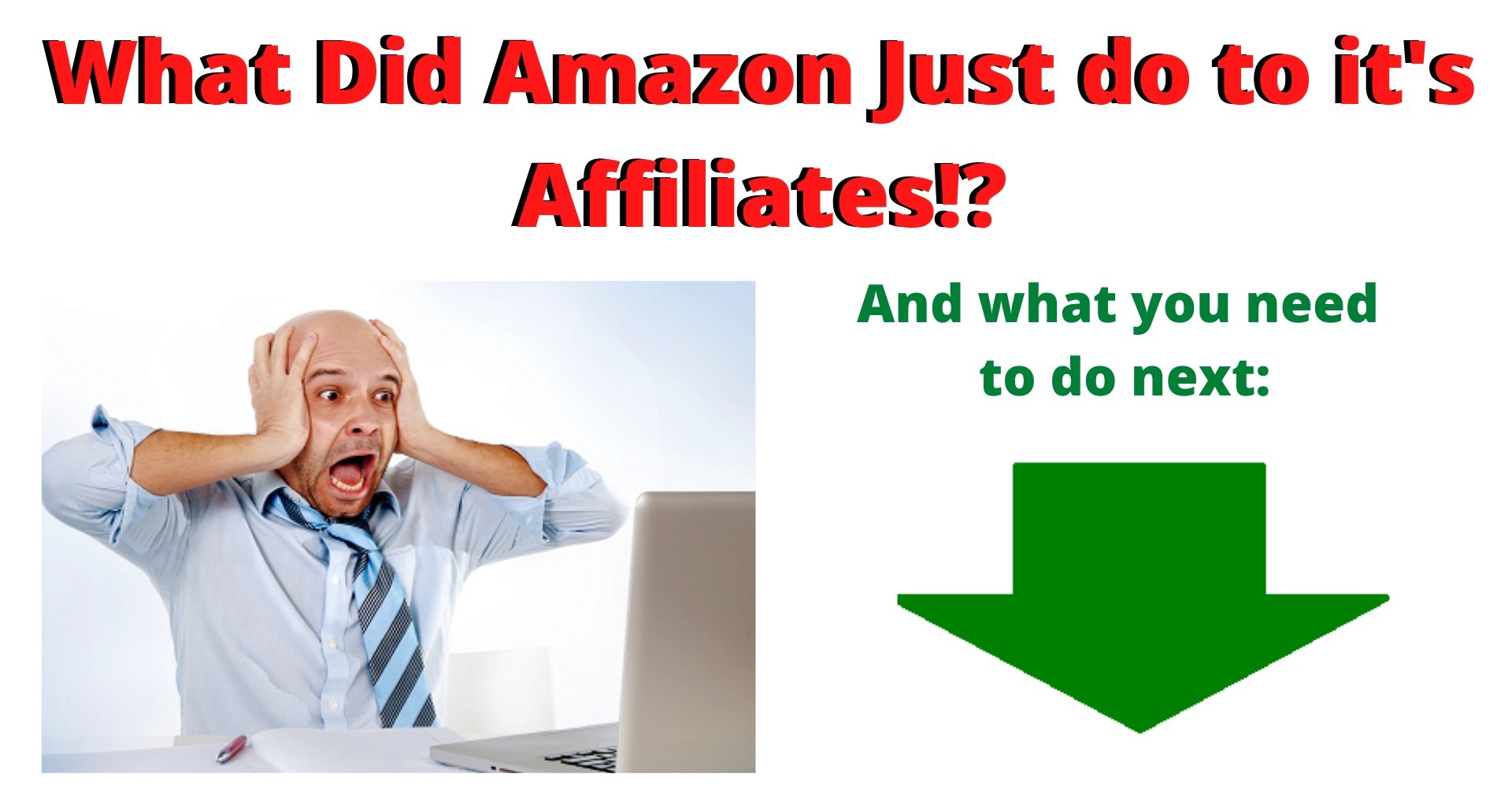 If you're tight on time:
Do this if Amazon cut your affiliate commissions:
Find another affiliate network that will accept you and even if they pay 1% higher, join that.
If you can't find a better affiliate network (unlikely), then stay with Amazon.
Do not delete or stop using Amazon Associates as they may change their policies in the future (don't wait on that though).
Don't panic about these things overall because it happens often in the affiliate world.
There are always better affiliate offers and networks and I'll show you how to find them in this article.
As an affiliate marketer and existing Amazon affiliate, I've often had to face these types of situations.
I've had:
Account suspensions happen across more than one pay per click network that killed my profits overnight.

I've also had six figure affiliate sites come and go more than once.

I've had countless bad experiences with website profits (from affiliate marketing) rising and falling again and again.

I've often had to readjust what programs I promoted, because they either changed their commission rates or they flat out vanished.

And long story short, I've experienced some bad things (here is my full affiliate marketing story and journey).
And despite the setbacks, I took important lessons from this and still managed to create a passive income with affiliate marketing.
I know how to overcome scenarios such as the one many people are dealing with regarding Amazon right now and I will be helping you figure out what to do next, because the truth is, you have options, possibly way better ones and in the end, if you take action, you're going to be thankful this happened because it may lead to you making even more money as an affiliate in the future.
Amazon's affiliate commission change explained (video):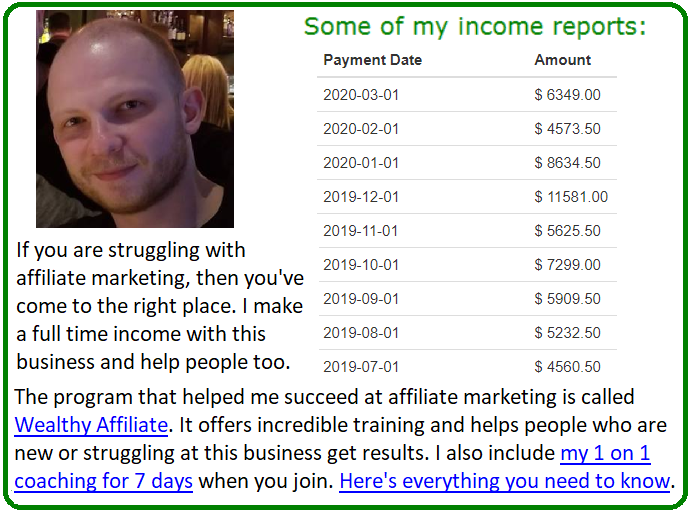 Here's the rest of the article, which will cover similar topics the video above did, but if you're interested in learning more about alternative affiliate programs to Amazon, I will show you them further below. 
In case you missed the news, here is what went down with Amazon:
At the beginning of April 2020, Amazon Associates sent out emails to their affiliates notifying them of changes to their T.O.S and in it, as you probably already know, some of these changes were quite alarming. In short:
Amazon slashed commissions for affiliates in these product categories:
And by slashed, we're talking potentially double digit cuts and yes, it's really bad news for a lot of affiliates. 
Here is a screenshot of the new affiliate commission breakdown that will go into affect in late April with Amazon and again, it applies to certain product categories. Here they are:
What Amazon's new commission structure means for you:
To fully understand it, we need to compare it to how Amazon used to pay it's affiliates, so let's quickly go back a few years:
1) Amazon Associates used to have a "if you make more sales, you'll get a higher commission" type payout where depending on the quantity of sales you made for them, they'd pay you a higher commission rate and that started at about 5% and rose up all the way up to 10% which in my opinion gave affiliates incentive to work harder to make more sales. 
2) Then changes occurred with Amazon Associates where the higher payout went away and you now had a fixed affiliate commission rate of 5% for pretty much every product you sold for them as far I remember.
It was around this time that I became a bit more active as an affiliate for them. 
3) And this brings us to the present time. After late April 2020, that 5% fixed rate drops to 3% and in some cases 1% for the product categories in the screenshot above.
Obviously, if you put the timeline of commission rates into perspective, then of course, making anywhere from 5%-10% in commissions to now having to adjust to 3% in many categories paints a bleak picture.
4) I still believe you can make good money as an Amazon Affiliate despite these cuts, but in all honesty, you may want to look at other affiliate networks if you can find the same promotions there as you were making off through the Amazon Associates program.
Other issues I've personally had with Amazon Associates (as did many):
This recent move by Amazon is in my opinion not new. There have been requirements and red tape added to my affiliate opportunities over the years and I'm starting to feel happy that I didn't put more effort into promoting there. 
I believe the 24 hour cookie policy they have for affiliate links that expires afterwards is a bit messed up. 

I believe the update after update they sent affiliates to adhere to their new policies over the years has often been overkill. 

I always believed the low commission rate of Amazon's affiliate program was a deterrent for people to make good affiliate sites, except in the case of high ticket items.
In the greater scheme of things, what Amazon did shouldn't deter you from affiliate marketing. Here's why:
Even if you take every bad move Amazon has made against it's affiliates, I've come to the understanding that not everything is as rainy as people make it seem so if you are reading blogs and news about this slashing of commission rates and that content has a "sky is falling" type tone, I would disregard it.
Instead, read articles such as this one, because my point of view on this is level headed and optimistic and this is what you should be aiming for if you're aiming to be a successful affiliate marketer anyway.
Believe me, the sky is falling type affiliates are still the same people who are broke and still making the same common mistakes every affiliate makes. So don't listen to them.
It's basically the only reason I survived in this business and still do it successfully (and am growing my profits).
7 silver linings to know about Amazon's commission cuts:
I told you, I'm an optimist and you're about to see how I look at affiliate marketing and opportunities that pop out no matter what. And in this case, that optimism applies to Amazon's affiliate rate cuts.
Here's what you need to understand about the situation (in terms of the opportunity that was born out of it):
1) Competing affiliate networks will happily offer you more (if they haven't already).
If nothing else, this Amazon thing will make a lot of affiliates look for more networks, and there's plenty already out there that offer way better compensation to their affiliates as well as access to promoting millions of the SAME EXACT products Amazon currently sells.
In other words:
2) You still have opportunity, and even more so if you look in the right places.
Just look at the video I made on this whole Amazon thing above. Notice how easy it was for me to find a new promotional opportunity and how I can easily replicate that for just about any affiliate promotion I have/had with Amazon.
This has ALWAYS been the case with affiliate marketing as a whole. People just become complacent with the network they are in and stop looking for other places.
3) Amazon's current changes are not permanent. Bad changes can change in the future and vice versa.
Market forces often determine how a big company acts and in Amazon's case, I think this cut comes because they're already doing so well.
But considering how affiliates were responsible for a large portion of Amazon's growth to where they are now, to do this to them will produce the opposite result. 
It may take a year or longer, but I predict Amazon is going to face some serious financial issues because they did this to their 2 million+ affiliates. It HAS to produce a negative effect in my opinion and it may force them to rethink and change their T.O.S for the better in the future.
But whether or not Amazon changes things doesn't change the fact that:
4) You have the freedom to choose who you wish to affiliate yourself with. That is priceless.
This is one of the greatest gifts of being an affiliate. We are freelancers who have the opportunity to choose our "bosses" and if we don't like what they're doing, we can move on to better things.
5) The most important thing you need to have is a profitable online business, not affiliate promotion.
If you already have a:
Then this Amazon change will hardly affect you negatively. You can easily move to a different network, change your affiliate links to reflect the new network you're with, and continue to do well.
Having one or more of these 3 things makes your online business EXTREMELY elastic and resilient to changes like the one Amazon is instituting. As long as you have one of those things in tact, you'll be fine.
If you currently do NOT have any of those things or aren't even making money in affiliate marketing, stop worrying about Amazon because it doesn't make any difference what they do.
If you don't have any of those 3 things, I would start focusing on building that first: Start that here.
6) Your opportunity as an affiliate will never go away, I promise.
Affiliate marketing being dead is a rumor I hear often, especially when places like Amazon do what it's doing.
But I'm telling you, eCommerce is in large part affected positively by affiliates and the fact that they are in DEMAND will keep the incentive for companies and affiliate programs to institute policies to bring more of them into it.
Companies WANT affiliates, because affiliates will help them grow, just like they did and do for Amazon and any company that's dumb enough to not see this, deserves to go under.
So if one company gives you the finger, give it back to them and find another, better affiliate network. They will always be around.
7) More affiliates leaving Amazon can be good for you.
I suspect a lot of affiliates are going to make the mistake of not just leaving Amazon but also leaving affiliate marketing overall.
People make stupid decisions just as much as companies do and I suspect that if enough affiliates leave the affiliate marketing pool for a particular network, not just Amazon, then the affiliate network (if they're smart) will raise their commission rates to give the affiliates who are left more incentive to make money.
I'm perfectly fine with competing against less affiliates and while I will never encourage you to leave this business, I'm not going to convince you to stay either. Either scenario the affiliate chooses is fine by me.
5

reasons

to remain an Amazon affiliate:
I am by no means an Amazon affiliate fanboy and I certainly don't agree with what they're doing here. In fact, a minuscule amount of my affiliate income reports come from it, but objectivity is important here. 
1) If you are a new to affiliate marketing and/or Amazon Associates, consider staying.
This is because if you weren't experiencing high sales through Amazon to begin with, you're not really going to feel the hurt long term affiliates have who started long ago and made good money, who now have to see their profits slashed.
2) If you're promoting Amazon products in the categories which are unaffected by the cuts, I'd stay.
The fact is, if these cuts aren't affecting the products you're already promoting on Amazon, who cares? Now if in the future your categories start to get commission cuts, it's a different story, but for now, I wouldn't worry about this.
3) The opportunity to promote stuff through Amazon is still one of the biggest affiliate opportunities overall.
When I talk about case studies or give people blueprints on how to do affiliate marketing, I often cite Amazon Associates as a good example because they really give you a ton of products to promote.
4) Overall, Amazon Associates is a good gateway network to affiliate marketing.
You will never hear me say that Amazon Associates should be your only network, but it's still a good universal network to stay on in general.
5) Tides may turn and affiliate networks change their policies all the time. Don't leave just yet.
I've seen it happen on more networks than just Amazon. While the current changes are in my opinion very anti affiliate (and I'm 100% pro affiliate here), I do believe Amazon is going to feel the hurt from these changes just like I said above in one of the silver linings.
If this is to happen, I suspect they may reconsider their compensation rates for affiliates and once again if they don't, they're really going to screw themselves, you'll see.
2 reasons

to leave Amazon's affiliate program:
I'll give you a sample list of alternative affiliate networks shortly, but most of these arguments you're about to read will already be clear, but if you're new, you may want to read this:
1) If a large chunk of your income came from being an affiliate for Amazon, then you may want to diversify.
As an example, you were making $50,000 as an Amazon Affiliate and a 1% or more drop lowers your income to a point where you can't continue, my opinion is that you should move onto a network where you'll be compensated by better. 
For example, see my list of affiliate programs for scuba diving. If in this example, a competing affiliate network would pay you even 1% more for the same promotions, then switching to them vs Amazon would be beneficial for you.
Once you do, change up your affiliate links to the new network, and test out the sales rates you're getting there.
If it's higher (Above $50,000), stay with that network.

If it's equal, stay with that network.

If it's LOWER, move to another network or back to Amazon.
Now I'm giving you the $50,000 as an example. I'm not telling you that you should leave if you're making under it. This is just a reference number.
The point is, if you're truly negatively affected by Amazon's changes, my opinion is to find other affiliate networks and I assure you, there's plenty, which are legitimate and just DROOLING at the thought of all the new affiliates they'll be swarmed with because of Amazon's actions.
Being a good affiliate means having to have a plan B and C in case things like Amazon's actions ruin your plan A. 
2) If there is another affiliate network you can find that'll give you a better rate and it's legit, then why not switch to it?
I think it's a pretty clear choice folks. I'll never tell you to leave an affiliate network entirely, because again, they always change policies and if a positive change happens with Amazon and you quit them, you'll be regretting it.
But at the same time, nothing is stopping you from looking elsewhere, so do it and if you find it, switch to it if it's to your liking.
5 alternative affiliate to Amazon Associates:
This is a list of examples I've come up with that are legitimate which you can explore if you're not happy with Amazon's new affiliate commission structure. Whether or not you decide to stay or leave with Amazon has to be your decision, but these other choices are worth exploring in my opinion:
Alternative network 1:
Best Buy. While I didn't see electronics being affected much by Amazon's new changes, headphones were listed as one of the things getting cut, and you can find plenty of those with Best Buy as well as electronics whose commission rate may be better for you.

Alternative network 2:
Lowe's. Many product categories involving outdoor stuff and furniture are subject to the new changes in Amazon's T.O.S for affiliates and Lowe's happens to have an affiliate program that could offer a potentially better deal to promote many of these types of products if you're an affiliate.
Alternative Network 3:
Commission Junction. Lowe's happens to be part of the greater, Commission Junction network and if you get approved there, let me tell you, that may be the best alternative to Amazon Associates you'll find since it's got access to many products you can promote.
The sign up and promotional aspect of CJ.com can more annoying to work with at first than Amazon, but it's still a great opportunity.
Alternative network 4:
Clickbank. This is one network I've always recommended people explore because it's very affiliate friendly. I've done very well with them and considering how health and personal care are going to be at 1% commissions on Amazon and considering how Clickbank has so many products in the health and personal that will pay you over 50% commissions, it's worth considering.
Alternative network 5:
Individual affiliate programs. If you use Google to type in the name of the product you wish to promote with the words "affiliate program" next to it, you're going to find countless opportunities with this as well.
Be sure to filter out the options you get with individual affiliate programs because not all of them are legitimate, so research the network if it isn't already a big name like the ones above.
For example, I've been writing up on affiliate networks that are best to join if you're in a particular type of niche market. Here are some examples:
Many of the options I offer in the drone and mountain bike example pay you more than Amazon would, so finding ways to increase your affiliate sales isn't an issue here.
The only annoying thing would be signing up to the program and filling out the application really. But as long as you run a good site, the approval should be quick.
Video: Ways to find alternative affiliate programs to Amazon:

Keeping your affiliate business alive and growing despite negative changes.
If I didn't already change your mindset about Amazon's changes not being a big deal, remember to re-read my 7 silver linings again because they really paint the big picture about the overall affiliate opportunity that's out there no matter what Amazon or any other big company does.
Don't listen to the people who are flailing around saying "It's all over". Those are not the people who will succeed at this business or life for that matter. Focus on the positive and believe me, with affiliate marketing, there's way more positives than negatives and any negative situations that occur ALWAYS have alternatives to solving them.
And if that's not clear enough, re-read my affiliate marketing experiences and how I've lost everything more than once, and got it back.
Trust me, I know how bad it can get and if I can get past the truly bad things that occur with affiliate marketing, you can certainly survive the changes places like Amazon make.
You already have those alternatives at your fingertips. So get to it.
Successful affiliates who have experienced short falls like this and bounced back know to continue being optimistic and I personally know several awesome affiliates who have had a very similar take on the Amazon situation. But they also have excellent views on what's going on and how to handle the situation that you may want to check out.
These people are all Wealthy Affiliate members who were able to create that solid foundation of an affiliate business and it's why they are still in this business, while others are not. 
Here are some of their blog posts on this subject I recommend you check out:
1) Kyle.
He is one of the bosses of Wealthy Affiliate and Kyle's take on Amazon's actions against it's affiliates are worth a read. He provides links to other alternative affiliate networks you should also look at that I didn't mention here.
2) Nathaniel.
He is also a successful marketer who I know used to do a lot of business with Amazon. One of his major points in this article he wrote on the Amazon thing is that there are many fake reviews within Amazon and this problem actually produces an awesome opportunity for affiliates. He explains what to do in that post, check it out.
3) Eddy.
Eddy is also another successful affiliate at Wealthy Affiliate and just like the rest of us above, he also has his own unique, yet positive take on the Amazon affiliate debacle.
These people and their optimism is really what I want you to focus on should you read their posts. That is what we learned to maintain when we went through the Wealthy Affiliate training, and it's why we aren't worried about what Amazon is doing.
And if you'd like to also learn how to create your own affiliate blog, click here.