Trying to find legitimate 1 on 1 affiliate marketing coaching is very difficult, considering how often you'll run into people who preach to be great at this, only to find that they are just sales people trying to get you to buy their high ticket programs.
And if you're reading this right now and you've encountered one of these many sleazeball affiliate "coaches" and worse, lost a lot of money, I'm sorry that happened and sadly it happens to most people who seek help in this business.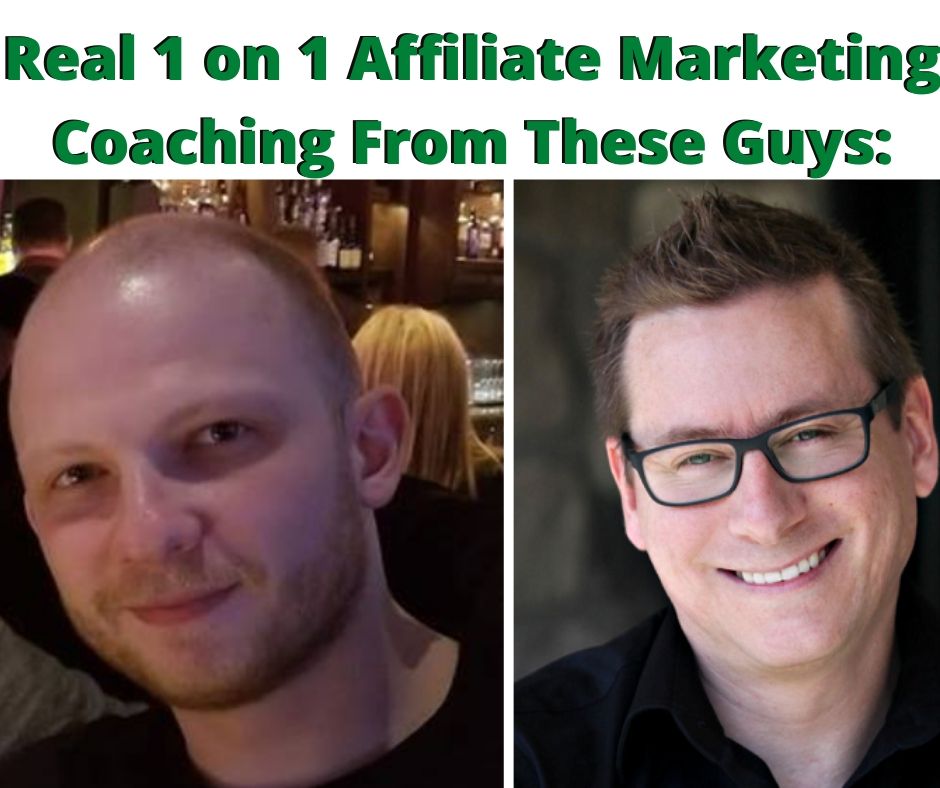 Fortunately, there are real coaches out there (albeit rare) who truly have the goal to help you succeed in this business and in this post I'm going to show you 2 ways you can really get hands on help with becoming successful at affiliate marketing from 2 different coaches:
One of which is named Jay (right), who is the same affiliate coach who trained me to get to new levels at this business.
And the other who is actually myself, Vitaliy (On the left and I possess a lot of years of coaching experience in affiliate marketing).
Both of us offer good help and coaching in affiliate marketing but depending on the type of goals you have, determines which of us is better fit to help you get started.
Let's start with Jay (because he's the better choice when it comes to coaching):
This video will explain how that all works (but I will provide a summary of the service below):
Here's a quick summary of who Jay is and how his 1 on 1 affiliate marketing coaching works:
Name:
Jay Niell.
Credentials:
Jay is an affiliate marketing expert, coach as well as someone who runs multiple successful online businesses which include local marketing sites.
Jay has generated millions in the affiliate marketing world and shares his knowledge through 2 places:
Wealthy Affiliate, and his personal affiliate coach program where he works 1 on 1 with people.
His latter service is where he offers far more attention and hands on training.
Services Jay provides:
Literal 1 on 1 affiliate coaching. Jay does weekly 45 minute sessions with you personally, records it and provides you with each lesson you both had.
Additionally, Jay also provides beginner friendly starter training in his affiliate coaching program to give you a blueprint to work with if you're new.
If you're not new and/or are intermediate in this business, Jay also provides whatever help you need, in whatever field of internet marketing you are interested in (I'm serious, Jay knows everything about affiliate marketing).
Pricing:
Jay provides 3 pricing plans:
I am personally on the $275 a month option because it suites me fine, but the other options are certainly better deals.
It's expensive, I know:
But the reason why is because the quality of help you get from Jay is unmatched, at least in my experience. But the good news is that:
Options are available and you can start at the $275, get results and expand to other plans from there if you like.
If this is something that you're not exactly certain about, I understand.
This is why this article offers another choice for 1 on 1 affiliate marketing coaching, which is from me and you may find my option to be a better deal for your wallet (I'll explain how that works below).
I tried Jay's 1 on 1 affiliate coaching and here are my results:
I've worked with Jay for nearly a year now and in all honesty, he has truly helped me increase my affiliate income numbers in ways I doubt I would have been able to do myself, at least nowhere as quickly as he helped me do it which is in the double digit range.
Here is proof:
The money I earned from Jay's help alone already pays for any of his pricing plans that he charges. I easily make an extra $1,000-$2,000 more (and growing) thanks to his advice that I've applied to my existing sites and new projects I'm working on.
He's the real deal. I'll be doing a more thorough review of his affiliate coaching in another article, where I'll detail EXACTLY where Jay helped me grow my affiliate business by providing individual case studies. Stay tuned.
Update: Here is a review of Jay's Affiliate Coaching program in detail.
This one is more of a summary of the results I got by using his 1 on 1 help. Learn more about Jay's coaching here.
How Jay's coaching works:
You get 5 modules of training. This is where you should start if you're a beginner.
You get 4 lessons with Jay, 1 on 1 every month, each of which is 45 minutes long.
The lessons you have with Jay are private, confidential and truly 1 on 1.
He helps guide you to what you need to do and in a way holds your hand in the process.
You do need to do the work and put to action what he tells you to do to see results.

And for me personally, having worked with Jay a lot:
Here is proof of some of the many lesson recordings we have together: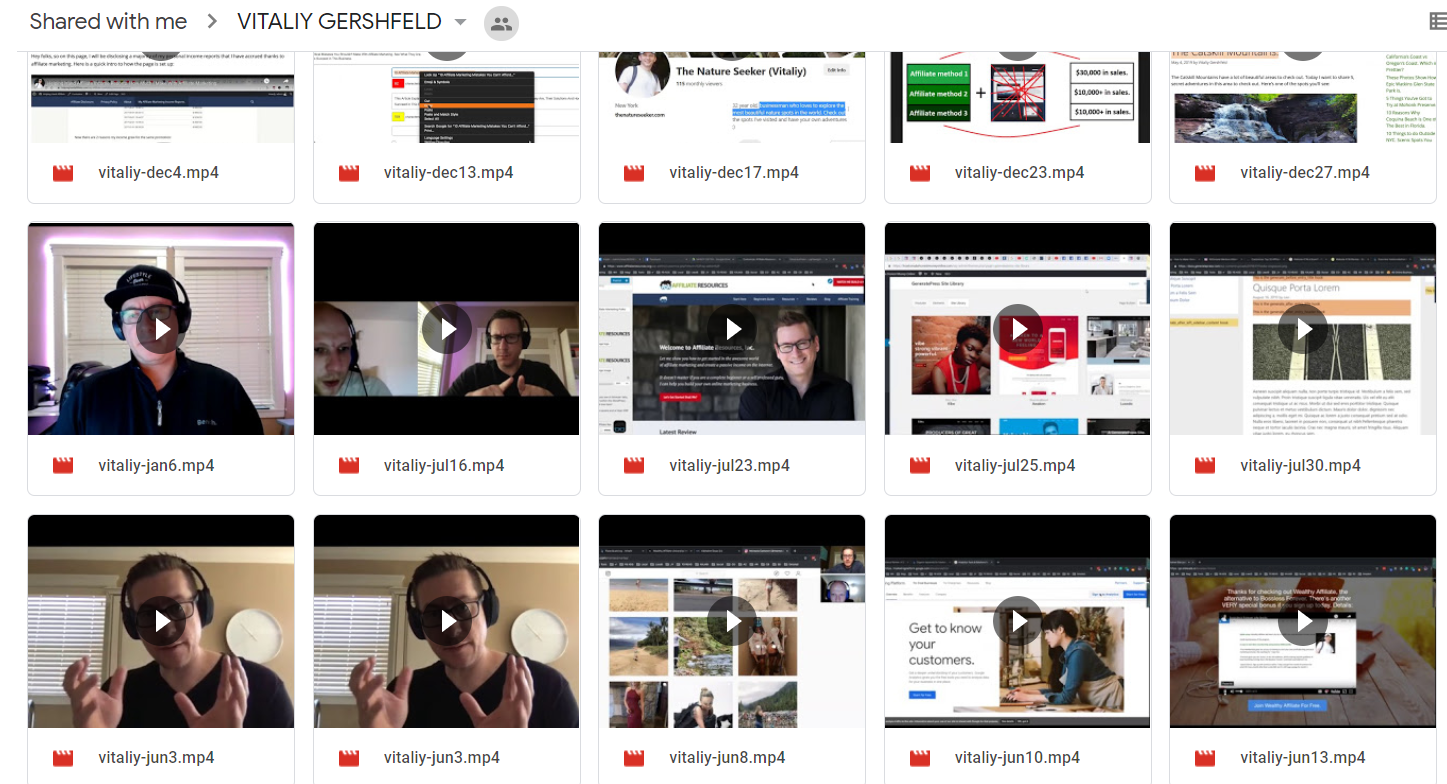 If I ever need reference, I can always go to these lessons and review them. The value in each lesson I have had with Jay has been way beyond the price he charges and I'm not exaggerating that statement.
Now if you find that Jay's service is too much, then this is where I'll be talking about my own:
Let's go into my (Vitaliy) personal 1 on 1 affiliate marketing coaching:
Before Jay, I already had my own success in affiliate marketing and have helped countless people (specifically beginners) start this business. My coaching is explained here but let me summarize how it works just like I did with Jay's services above:
Name:
Vitaliy Gershfeld
Credentials: 
Basically I've made over $1 million in affiliate sales through different niche markets over 15 years.
I've also worked with tons of other struggling affiliates to help them rise up. My income reports are openly shared here.
I'm not exactly as successful as Jay is, but I already crossed the million sales mark before I started with him, so I have the experience, six figure sites, specifically in the following fields:
Services provided by myself (Vitaliy):
I provide free guidance on this website. All you need to do is send me an email or just comment with your question on any post I make.
I also provide help through my YouTube channel.
For 1 on 1 affiliate marketing coaching specifically, I provide help directly through a program called Wealthy Affiliate. This program helped both Jay and myself get success and I always tell people to use this program to start successfully doing affiliate marketing too.
I provide help within the program while you follow the training they provide. They also provide tons of other awesome resources, tools and support.
Every detail about my 1 on 1 affiliate marketing coaching is explained here.
Pricing:
Because I help people who join Wealthy Affiliate through me, I don't charge anything extra on top of what Wealthy Affiliate charges, so their plans work like this:
You can try the program for free. For this you get 7 days of free coaching with me (within that program).
You can upgrade to the premium membership, which is $49/month or go yearly for $495 a year and get my coaching included with your membership. As long as you're a member there, you get my help.
How my coaching works:
It's all provided within Wealthy Affiliate. Your goal is to start the training there and commit to it, and if you have questions, you can ask me it there. The goal I have is to help you do the training and move forward with your affiliate business to help it grow through Wealthy Affiliate.
I've helped 100's of people start a legitimate affiliate marketing business, from absolute beginners and above.
I don't do video 1 on 1 meetings like Jay but I do respond to every inquiry I get very quickly through the messaging system within Wealthy Affiliate. In addition to that, the program itself offers tons of access to support besides through me so you can get even more expedited help in addition to mine.
Testimonials about my coaching: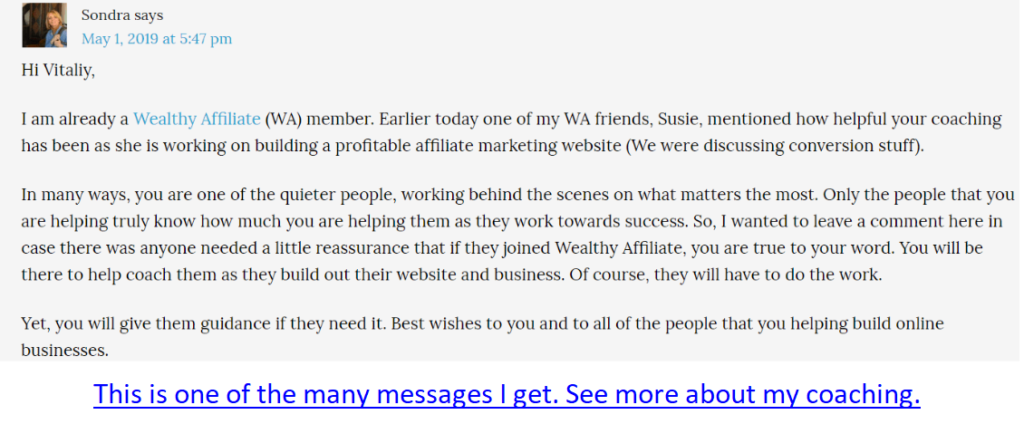 And with this, you now have 2 legitimate ways to get 1 on 1 affiliate coaching.
Once again, I have to reiterate the fact that both Jay and I started with Wealthy Affiliate and are still members there. In fact, you can contact Jay within that program too, but to get his personal coaching, you'd need to go through his coaching program.
With me, I directly still help people within the same Wealthy Affiliate program, so depending on:
Your needs.
Your level of skill when you start, even if you're new.
And depending on the prices you saw for the 1 on 1 coaching.
It's up to you which way you want to go but either choice will be a legitimate one for you. And if you have any questions about Jay's or my affiliate coaching, please let me know below.