For many weeks now, I've been seeing promos from Jono Armstrong and his Ministry of Freedom program, advertised under the concept of making money off YouTube videos you don't even need to make.
And after holding out, I finally decided to check out his free webinar, see his strategy and give his program a more personal look, to find out if it's really legitimate or a scam.
Now it is important for me to honestly note that I did not buy the Ministry of Freedom program for a few reasons:
It is quite expensive.
Odds are there are more expenses (upsells) later.
Jono's strategies are not just familiar to me, but in some cases are things I do to make money online.
In short, even if this program is 100% legitimate and not a scam, I honestly don't need to spend the money on stuff I already know, and in his webinar, he does explain what his Ministry of Freedom program teaches, so with that mind, I looked over it, reviewed it and decided that:
There are some good things about it, but most of what I saw was very hyped and unnecessary to pay for as there are better options.
This program to me is just another one of those extremely expensive courses on making money online that's trending in today's world and I am not about to jump on that "opportunity" when I know you don't need to spend that much.
But I did say this is an objective review, and I'm going to give you that, so let's get started:
A summary and overview of Ministry of Freedom (2.0):

Creator:
Jono Armstrong.
Price:
$797 (3 payments).
$1,497 (1 time payment).
If there's other expenses and upsells after you buy into Ministry of Freedom, I can't comment on that but if you know about this, let me know. I assume there are given that every program I ever review or am part of has them.
My rating for the Ministry of Freedom:
2.5 out of 5 stars
Alternatives: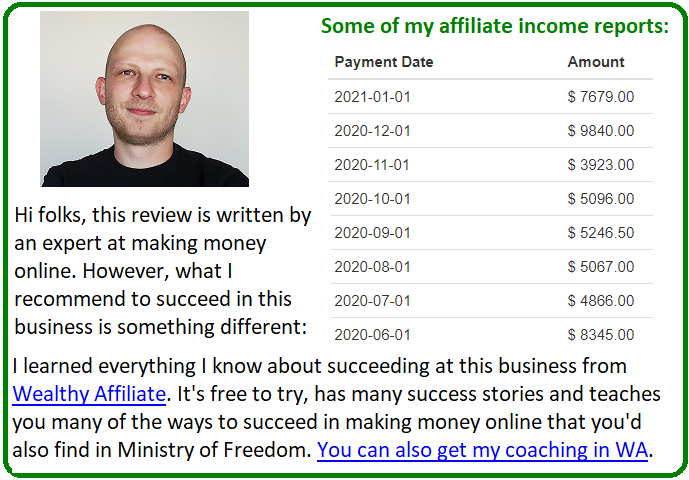 My video review of Ministry of Freedom:
What is Ministry of Freedom?
It's a make money online course composed of several methods. It's creator is Jono Armstrong and in this program he teaches you the ways to make money online that are personally working for him.
Who is Jono Armstrong?
Aside from being the program's creator, Jono is a pretty well known and successful affiliate marketer. I have personally seen a lot of his ads and videos on YouTube and mentions of him from other make money online programs I've explored.
What does Ministry of Freedom teach?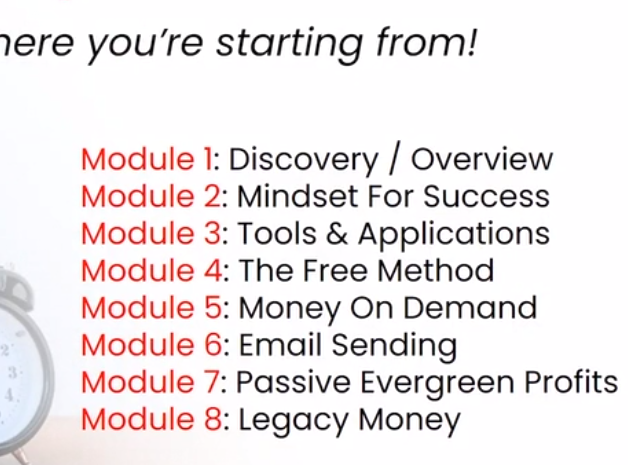 It's composed of 8 modules (which I have included a screenshot to on the right). And here's a summary:
This course starts you off on using free money making methods to earn income to then pay for more expensive paid methods and eventually leads you into list building to scale and build a passive income.
Here is a short summary of how this works:
1) You start with the free method of making money on YouTube without creating your own videos. This is through a backdoor approach to affiliate marketing.
In a moment I'll explain why I don't like this method, at least in the way it's taught by Jono and what I suggest as a better option, but let's move on in the meantime:
2) Second, from that income you build, you can then scale into paid ads and in Jono's case, he talks about creating Google Ads. There's also some holes in this strategy as Google Ads can be very risky to work with but for the most part, it can be profitable if used right. You can promote high ticket programs and build an extra income off this.
3) Third, you scale that income to building an email list of most people who buy from you as an affiliate and then promote programs and opportunities to that list over and over to build a passive income in the process. You can promote recurring affiliate programs like Clickfunnels or whatever else you're interested in to do this.
This basically encompasses the Ministry of Truth program as a whole, and like I said, it's broken down into 8 modules. You supposedly get help from Jono and his team, in addition to having a weekly Q & A available to ask questions.
I don't really have any reason to doubt that, so I assume (and hope) that the support in Ministry of Truth is exceptional, because I've been a bit spoiled by what great support looks like in programs like Wealthy Affiliate.
Conclusions:

3

doubts I have with Ministry of Freedom:
1) Let's dissect this YouTube strategy Jono talks about:
First off, I discuss that in length in the video above, but anyway, here's the summary of how it works:
You go to the website

Munch Eye

.
You find releases of new products.
You go to their demo videos.
You download those videos and re-upload them as yours on YouTube with your affiliate link promoting the product.
The idea is that by doing this, once the product is released, you'll get views and sales by promoting this product and doing it with many promotions and so forth, you'll make money easily without ever having to make your own YouTube video.
Here's a few problems (5):
The strategy is extremely tacky in my opinion. Here's why:
It's too easy to use and you will have to contend with other people doing the exact same thing (This offers no unique value, but just people copying other videos in masses).
I dislike methods of making money promoting anything (it makes you look cheap).
This is a lazy approach to the strategy in my opinion and is a poor way of doing YouTube affiliate marketing.
A large number of the programs on Muncheye are seriously questionable and of poor quality. I never feel comfortable promoting most of them (and a lot of people do because they only care about making money). It's a serious ethical affiliate marketing issue.
In my honest opinion, at best, this strategy may work in rare cases, but the effort you put into this is better spent making a legitimate, unique online business with your own videos instead of using this strategy.
2) I dislike the talks of easy money and simple, fast results talk:
For 15 years, I've heard this talk sprouted across make money online programs, webinars, sales pages and so forth. I learned that these talks never come to fruition and these talks are what is used to get you to buy the programs.
I liked some of Jono's presentation, but as the webinar went on and his talk about how easy and effortless this could be started being said again and again, I lost my interest in it.
I assure you, as a fellow entrepreneur in online business, if it were this easy, most if not all entrepreneurs would just quietly sit back and make their easy profits without putting in the time and energy to making substantive businesses, but if you look carefully at any make money online "guru", they never do that. They always work hard (and often unethically, though I'm not applying this analogy to Jono).
You can see my about me page here to get a better understanding of who I am and why I learned that hard work is really the only way to succeed in this business.
3) I will never be one of those high ticket endorsers:
High ticket info programs are a no no in my affiliate marketing promo book. I dissect why I don't promote them, and rarely endorse them (see Growth Cave as an exception) in that link above but in short:
Wealthy Affiliate is where I learned this same subject material and I never paid so much to do it, which is why in almost every single one of my reviews of high ticket programs, most of them time, I draw the following conclusions:
Oh, this high ticket program literally talks about the same stuff Wealthy Affiliate does, but I can get it for much less in WA, so why pay more or recommend that people pay more for it?
In the case of Ministry of Truth, I can confidently say most if not all the material you'd learn there, you'd also be able to learn in Wealthy Affiliate and heck, I'll even go as far as to say you'll learn way more. See my Wealthy Affiliate review for the details.

To finish up, I have mixed views of the program and I do believe it can work, but:
The 3 major problems I have with it prevent me from recommending it and I hope that sounds as objective of a review as there can be, but if you disagree, let me know below.