While Amazon's affiliate program offers promoters more products to promote than any other network, the fact that commission rates are usually so low raises concerns and the most common question which is can you make good money as an Amazon affiliate?
I can tell you the answer is yes even if what you're promoting (or thinking of promoting) pays you pennies, and it requires looking beneath the surface of just "low commission rates".
In this post, I'm going to prove that you can make good money as an Amazon Affiliate:
I'll also show you the formula to making it with Amazon's affiliate program.
And I'll show you real case studies of people who use this formula and their results from doing so.
But first, let me start by saying that there are countless affiliates connected to the Amazon affiliate program who make good money promoting their products and though I happen to be someone who makes a little bit from that particular program (I make my main money from other affiliate networks), the simple formula I'll be showing you combined with working to apply it, you won't just become a successful Amazon affiliate, but you'll also have the flexibility to apply and see the same and even bigger success with the other networks out there.
Here is the formula to making good money as an Amazon affiliate:
Isolate a popular niche topic you like.
Build up a blog site that generates lots of traffic in this niche.
Promote the Amazon products on this niche site.
Scale the niche site from several $100 to several $1,000 a month (and up).
Optional: Create YouTube videos, market your Amazon promotions there and do things like Mediavine (Earn $1,000's+ every month or more on top of what you're already making).
Applied correctly, this formula can take about 6 months to begin working well but it will slowly grow from the moment you start applying it and the results from using it can grow without any ceiling.
Let me explain the logistics of each step in this formula and help you understand why it works to help you make a lot of money as an Amazon affiliate, and just as well, proof of that with real success stories who use it (as well as their results).
1) Isolate a (popular) niche topic (that you truly like):
One of the biggest problems most people who wish to be a successful Amazon affiliate face is that they don't understand niche selection at all and frankly, because I've seen much of the "training" revolving around niche selection out there, I don't blame them (it's terrible). One of the best places you'll actually get good guidance on niches is in Wealthy Affiliate, but anyway:
The better you select a niche topic that you like and the more popular it is, the more likely you'll raise your success odds at being a profitable Amazon affiliate. I have a few posts which do cover this, and I'll share 2 of them here:
For my own reference to make this easy to understand, I'm going 1 niche I personally find interesting (and know about) that's also popular and here it is:
Outdoor gear (for camping and running).
If I take the many products in this niche, as well as topics people type up as searches on Google, I estimate a good blog on this subject can in many cases reach 100,000 visitors a month. And frankly, I know of blogs that already have those types of results (in this niche). So we'll start there.
2) Build up the blog so it receives a lot of traffic:
Traffics in large quantities isn't as important a niche traffic and the latter is what we want. In my case, I want people interested in outdoor related stuff to find my blog. The hardest part (after picking your niche) is growing a blog that gets the traffic it needs to make good money.
99% of people will fail at blogging because of 2 things:
Their niche choice is not correct.
Their ambition dies out in a few weeks or month to blog about the niche because they run out of ideas and stop growing the blog.
For someone like me, this is an opportunity because I know this means less competition for me to worry about (don't let people who say blogging is dead convince you of that nonsense). But in my case:
For the next 12 months, I am going to set a quota for myself to grow my outdoor gear niche blog:
Make 100 blog posts reviewing outdoor gear and products.
Make 100 blog posts talking about outdoor gear and the subject of being outdoors (survival, tips, what to wear, where to go, ect…).
I will target the most popular topics and products I can find as keywords in my blog in order to get the most potential out of those blogs as it grows and my content ranks higher on Google. As it does, and the traffic comes to it, the blog's success will grow.
This is how you create a profitable affiliate business through blogging.
For most people, writing 200 blog posts in 12 months would seem impossible, but remember, if you know the topic and like it, this process will be easier.
3) Promote Amazon products as an affiliate on your niche site (here's the money you can make):
In my 100 blog posts reviewing outdoor gear, I will typically be reviewing and promoting affiliate products (through Amazon). If you're new to this, here is a simple product review template you can apply to your posts. Of course, by this point, I'd need to be approved for the Amazon Associates program to do this.
While I will look for the products which would pay me the highest commission, the fact is, for this particular niche, I will have to promote smaller priced products (which is fine). Think of it this way:
1) If I can make 100 sales every month for say water shoes that pay me $2 a sale, I can make $200 a month off that.
2) If I can make 10 sales for a winter jacket that pays me $10 a sale, I can make $100 a month.
3) I can even sell high ticket products in this niche like actual tents and power generators for outdoor camping, some of which can cost $500 and up, for which the commission rate would be $50 or so a sale.
These promotions can all be combined in my blog and I can have various product reviews making me money here and there to give me a combined total of $500 or more a month and as I review more products and get more traffic to the blog, this number can easily grow further.
4) Scale the niche blog to make more money as time goes on:
I set the 200 blog quota for a few reasons:
1) Few people can actually reach that point in their own blogs (most won't even pass 10 posts).
2) If you can write this many blog posts, you can expect a lot of visitors.
3) As your blog gets older, it gets more trust, gets higher rankings and you can get more traffic as time goes on (content/blog maturity).
4) Google puts weight on content and most recently, Google also released a product reviews algorithm update you can benefit from.
The point is, you can grow your blog's traffic (scaling) by writing more content and letting older content mature and with that growth, you will be getting more traffic. So in terms of making money:
If you had 10,000 visitors come to your blog and made $200 a month from it.
If you can double that number to 20,000 visitors, that blog can make $400 a month now.
And so on and up. And while my first year quota is 200 blog posts, I can go further and in the next year hit 400 blog posts and so on to keep the blog growing and making me more money.
5) Add more layers to your Amazon affiliate business (YouTube videos and Mediavine):
If you're not too shy, start doing YouTube affiliate marketing and promoting your Amazon products there (I do this a lot, especially recently). You can easily add $100's or $1,000's more in affiliate sales by adding an extra layer on top of your blogging efforts by simply making YouTube videos on literally the same subject matter your blog posts are covering.
In other words:
If I review a popular outdoor product on a blog, I can also review it in a YouTube video, get more traffic to either sources and get more sales out of these 2 methods.
Next, if your blog can reach 50,000 or more visitors a month, you can add an even more profitable layer on top of your Amazon earnings with a program called Mediavine. They'll place ads on your blog and that easily lead to $1,000's extra in passive income monthly.
Altogether, making a six figure income out of putting these 3 things together is not out of the question.
Want to see more proof that you can make money as an Amazon Affiliate?
I promised to showcase some case studies and I've added some screenshots showcasing this and these are all members of the Wealthy Affiliate program who have followed that formula I mentioned. Let's take a look at some of these cases (there's actually many more like this inside the program):
First we have someone who made over $700 in Amazon Affiliate sales:
Next, we have someone who is making $1,000's in Amazon affiliate sales every month: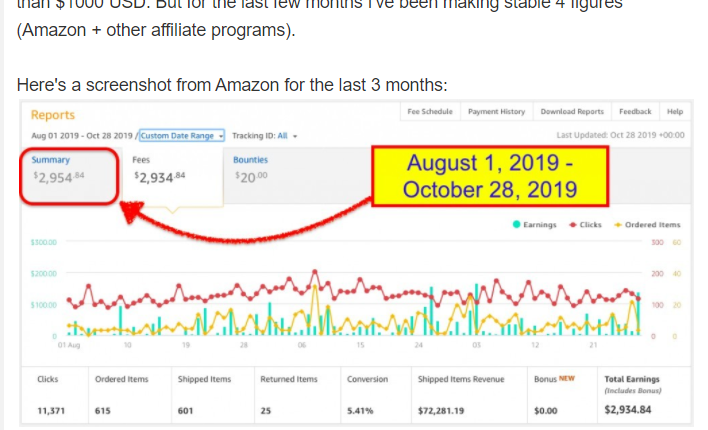 Note: I realize some of these case studies are outdated, but in the case above, I personally know the girl whose making this money and her profits have actually grown since that image above. In 2021, she usually generates $4,000+ in Amazon affiliate sales every month.
And here's another one ($1,300+ in Amazon affiliate sales) and this is in 2021:
Looking past the Amazon affiliate program for even greater success:
As much as Amazon's affiliate program can still make you good money this year and moving forward, I won't deny that they have made things worse for their affiliates. They used to offer a better commission structure, but a few years ago lowered it (among other things) and here's what to know about Amazon's low commission rates and while they are still a lucrative program to make money from, there are better ones.
My advice is to focus on growing your affiliate business using the above steps (and especially through things like Wealthy Affiliate) and once you do, having your pick at which affiliate network you want to do business with.
There's a lot of options out there that pay an extra percentage point above what Amazon Associates pays which makes them a much better choice if you're already someone with a profitable affiliate blog or YouTube business. But either way, the formula I gave you, provides you with a lot of flexibility in choosing which network to work with and that's what's really most important here.
With that said, if you're still wondering if you can make money as an Amazon affiliate, I hope I answered that clearly.