This Clickbetter review is honestly a 2 sided coin and the reason why is this: On the good side, it is not a scam, but on the flip side however, it attracts many "questionable" vendors and affiliates in my experience.
What's worse is that in my opinion, Clickbetter has done a horrible job in trying to fix this and this has ultimately ruined their own reputation in the process.
Here's 5 things you need to know about this Clickbetter review:

1) Currently, if you try to visit Clickbetter.com, it redirects to Clickbank, a different affiliate network I also happen to have a ton of experience with, and overall, my opinions of it is that it's good (for the most part). I've done a lot of affiliate work there (and made quite a bit).
2) However, if you Google Clickbetter, they are still up, but under the domain Clickbetter.net. So I assume (correct me if I am wrong), that they changed domains.
3) I looked up news and sites on whether or not Clickbank aquired Click Better but nothing of relevance popped up. So I will assume that Clickbetter may have changed domains and still operates the way it did before.
4) This review of Clickbetter reflects my old experiences there. I know there have been changes there and I hope they have gotten better, but so far, I don't see any evidence of that (I'll happily update this post if I see it).
5) I am an affiliate marketer and help you with this business (see my about me page). The truth is that your success (if you're new or struggling) depends on the right training, not the affiliate network you are connected with. If you want to build a legitimate affiliate business, I can help you through the same program that helped me: Wealthy Affiliate.
My experiences with Clickbetter explained:
This part of the Clickbetter review reflects my personal experiences when I dealt with that network years ago:
The short story is that I purchased numerous products off that network in the past for reviews (see this Clickbetter post off my old site for examples).
In the numerous purchases I made off that network, I found a lot of scam programs that were part of it and that made me very critical of Clickbetter in general.
Again, the network itself isn't a scam, but they did a bad job in my opinion of screening many of their vendors.
It got to a point where if I saw the Clickbetter logo, I became pretty defensive and it made me think twice about buying some of the products that were on the network. This is the kind of bad reputation it had in my mind (and the minds of other affiliate marketers I know).
Is Clickbetter still good? Well there are pros:
They do pay you legitimately.
They have a customer support desk.
They do have an address and number.
They provide an opportunity for affiliates to make money (high ticket commissions too).
They do provide refunds to customers (I would know since I was one of them that had to do it many times).
It's an organized and easy to sign up with affiliate network (for both affiliates and vendors).
But the cons of Clickbetter cannot be overlooked:
Their screening of vendors is very poor (anyone can join basically, legitimate people or scammers).
From my experience, Clickbetter had a lot of refund requests (not just from me).
There isn't really much variety in the niche offers you can promote (other than make money online stuff).
Despite the front end organization, this program tends to attract some "questionable" vendors and subsequently unethical affiliates at times (including scammers).
One of my friends Jay who is an affiliate coach of mine, also had a great article here on Clickbetter I recommend you check out. He also gets into similar points as me (if you want more info on this network).
Do you need to be a Clickbetter affiliate to succeed online?
The short answer is no.
While you can find a lot of promotional opportunities there and get paid, I personally do not do business with this network, nor plan to until I see some serious change for the better (no pun intended).
I've spent quite a bit of money buying programs associated with that network and not once was I happy. Although I always got a refund when I requested it, I was still disappointed in the quality of what I got. So to then be a promoter for those same programs would be a mistake in my opinion.
I'm even the sort of person that will avoid places like JVZoo for promotions because they too have their own similar issues in my opinion.
Here's what you need to know about succeeding:
Too many people sign up with ANY affiliate network that will promise them good high ticket commissions or just good deals in general. This is why they naturally gravitate to places like Clickbetter, Clickbank and so forth.
And while you can probably find some good offers there, without proper understanding of how this all ties together and how to operate a real, legitimate affiliate business, you are just wasting your time.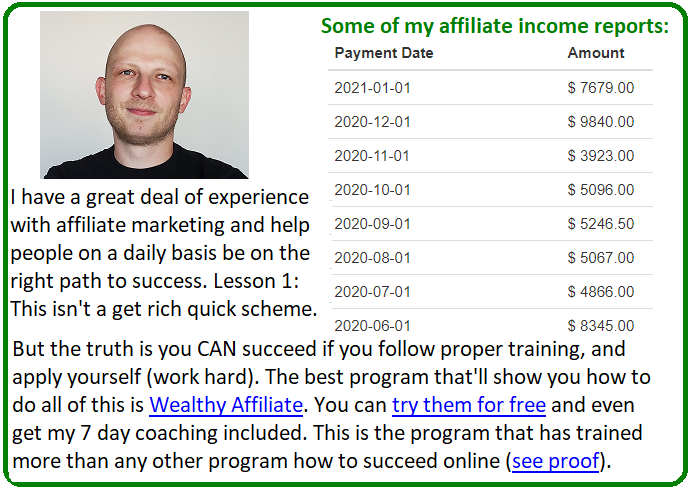 Need more details? No problem:
1) Don't worry about which affiliate network pays you more, worry about finding your niche. That's key.
2) Your niche doesn't have to be a make money online one (unless you truly love and understand that topic, and 99% of people starting out in this business don't).
3) Pick a niche in something other than making money online (be honest with yourself and what you love, even if it's mountain bikes, gardening, outdoor niches, or something completely arbitrary). The good news is that in 99% of cases, your niche can turn into a profitable affiliate business (if you do what's right).
4) Doing what's right means picking the right niche for you, building a proper website and then attracting the right traffic to it (this is something that will take you time when you first get started with it).
Then sign up with legitimate affiliate networks like these and promote the products there.
5) To get comprehensive training on all of this (and my coaching), check out Wealthy Affiliate here. You can start with them for free, including getting free training, but the point is, this program (unlike most others) will give you the true approach to success. This is what I followed in my personal affiliate business and inside this program, I can also help you do the same.
As for Clickbetter, while I won't hold my breath for them to get better, I'll remain optimistic and leave the door open for potential future affiliate ventures.