Arise Work From Home is a very interesting opportunity I came across recently and decided to do a write up review on.
Overall, it is a legitimate program to help you work from home, and not a scam, but there are pros and cons to weigh before you join it and if you're someone who may have heard of this program, but doesn't know what to expect, this post will clarify how Arise Work From Home operates and how you can make money from it.
Disclaimers about this Arise Work at Home review (before we start):
1) I'm not a member of Arise. I have done a lot of research on them though.
2) I actually work from home full time, operate an online business, specifically in the affiliate marketing sphere (promoting products and services for commissions). See my about me page for info.
3) I also help people get into the same business and do it correctly (details below).
4) Just as well, I also have a lot of experience with work at home opportunities in general (paid surveys, rewards companies, writing gigs, ect…).
A quick summary and review of Arise Work From Home:

Who created Arise Work From Home?
Scott Etheridge.
Does it cost money to start with Arise Work From Home?
Yes and it's a combination of things. If you intend to be an worker for Arise (you'll be an independent contractor basically), then you have to go through numerous startup costs/fees:
$200-$700 and in this range is where the startup fees are included (background check, training, set up, ect…).
Then there is a monthly cost of $124 to stay in the program.
How do you make money with Arise work from home?
If you get approved by Arise, you will basically be doing customer service work and getting paid for every call (not hourly).
I'll explain further details below, but you are basically an independent worker for third party companies which are connected to Arise and need customer service work done for them remotely.
My rating for Arise work from home:
3 out of 5 stars
Do I recommend Arise Work From Home?
There are 2 major pros to this opportunity: The first is that it is legitimate and the second is that you can make money from home with Arise (provided you pass the training and can take customer service calls).
However, there are also 2 cons to consider: A large startup cost and a pretty expensive monthly cost to be a member. There is also an important thing to consider which is that calls won't always come in frequently, so the amount of money you can make varies.
For me, I work from home doing something I am fully in charge off: My online business. The idea of working for someone else and paying a lot for it isn't really my style, but you may feel different and if that is the case, then Arise may be for you, but if not, then here is my alternative:
Alternative: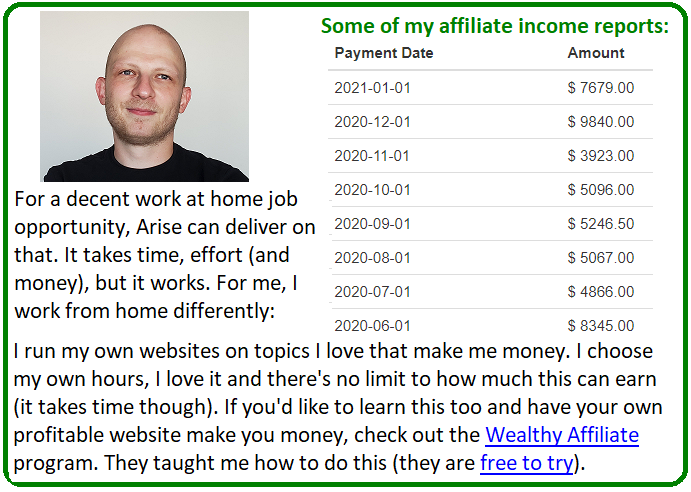 Arise work from home explained (a deeper review):
Here's a good way to understand how this company works. There are 3 parties connected together:
1) Arise itself:
Arise is basically an HQ that helps businesses needing customer service work. These businesses can connect to this company and have Arise staff (you) take those calls. Arise will then pay you for each call.
2) Third party companies:
Certain companies need to outsource their work and go to companies like Arise to do it (as I understood it). The benefit for them is 2 things:
They can curb costs by outsourcing this to Arise (see details here).
And they get access to already trained people, so they don't need to spend money on their own training.
3) You (the person working for Arise):
After you pass the training and get certified, Arise will then have you connect with the companies and take their customer's calls. You will help close sales, answer questions and do what a regular customer service rep would do.
The good news is that you do have the flexibility to actually choose which companies you wish to work with.
Just as well, you can select the hours that are most comfortable for you to work during.
I looked at the basic list of topics you can choose from to be connected to companies and it's really wide ranged, from fitness and wellness companies, to travel, health and other things so based on what you already like in life, you may be a better fit for selecting the topic you are most familiar with so you can deliver better customer service work for the company you get hired to take calls from.
How much money can you make with Arise work from home?
Estimates vary on the calls and hours worked, but it's around $9-$17 based on different reviews I have read. Here are some of them:
Keep in mind that you will need to sign up as an independent contractor basically when you work with Arise. This isn't a traditional employee job from what I saw, and one of the startup expenses and training explains this in detail.
How are the review of Arise Work From Home?
Overall, most of them are positive and the company is very transparent. This is one of the reasons why it is recommended as a decent work at home job opportunity. But let's get into specifics:
Pros of Arise Work From Home:
Good, transparent and legitimate company.
You can find decent pay working for them (some would argue differently).
You get the flexibility of choosing your hours/companies.
It is not a scam.
Cons of Arise Work From Home:
It's pretty expensive to start up with this company.
You do have to pay a pretty high monthly cost to stay (Arise costs).
Training and high standards are involved if you are going to work with them (I think this is good).
Currently, job offerings are not allowed in certain states (check here for details).
Based on what I saw, I would not call this a quick or "short" gig. It's takes time investment, work and energy to do this right and make money.
Despite there being 5 cons, this is more of a "reality check" for anyone considering working with Arise and to keep this in mind. This is not a get rich quick gig, but a serious, legitimate job opportunity and should therefore be treated as such.
Conclusions on Arise Work From Home:
I do like this company, and work for at home job opportunities, it is one to consider for sure. So if you are someone who feels that customer service is something they can handle and feel like an ideal fit for them, join Arise here, start the training (be prepared to spend money on it) and work hard to rise in this company.
For me, I stick to running my own online business, here's how:
There are many types of online businesses, but the one I operate involves me making niche websites on topics I love, getting visitors to them and selling them products I am affiliate with.
The more visitors my sites get, the more I can earn and this is something I've been doing for a living (and helping people start with) for many years.
The short story about this type of online business is this:
1) If you're someone with a love/passion for a topic in life, you can create an affiliate business out of it using the same training I did, from a program called Wealthy Affiliate.
2) This program, like Arise has training that teaches you all of the steps required to making this work, but unlike Arise, is actually free to try and actually supplies you with tons of stuff (training, tools, help and even my coaching).
3) If you follow the program, work hard and apply it, you can create a passive income online.
Now this does take time to develop, but Wealthy Affiliate program is where I created what I have today, which is a legitimate online business making me a passive income, that allows me to work when I want to and where.
How much can one make with an online business like this?
The amount you can make from this, vs a traditional job is limitless, but at the same time, know that it takes time (there are no guarantees) and if you're in a serious bind (financially), that it's better to have a regular job paying the bills, while doing this separately until it becomes the main money maker.
Overall, if you'd like to learn more about how this all works, learn more about Wealthy Affiliate here and thank you for taking the time to read my Arise Work From Home review too!