In this review of Cashwords Formula, you're going to understand exactly how Jeff Lenney's program works. As an expert on what the program teaches, I believe the program is legitimate, but has a few cons as well that are important to note and whether or not you decide to get the program, I also believe there are better alternatives which can teach you the same methods (for less).
A few disclaimers:
1) I did not buy Cashwords Formula (I find it necessarily too expensive). I did however watch the webinar and it explains basically everything I need to know.
2) I literally use the same methods Jeff teaches in this program to make money online from, thus I know it works.
3) I learned these same methods from a program I think is not only better (and cheaper), but also arms you with many tools to further save you money and have an edge if you decide to try this method too.
I am giving you my educated and experienced opinion on the program, but if there's anything I got wrong, you can tell me below in the comments.
Product info: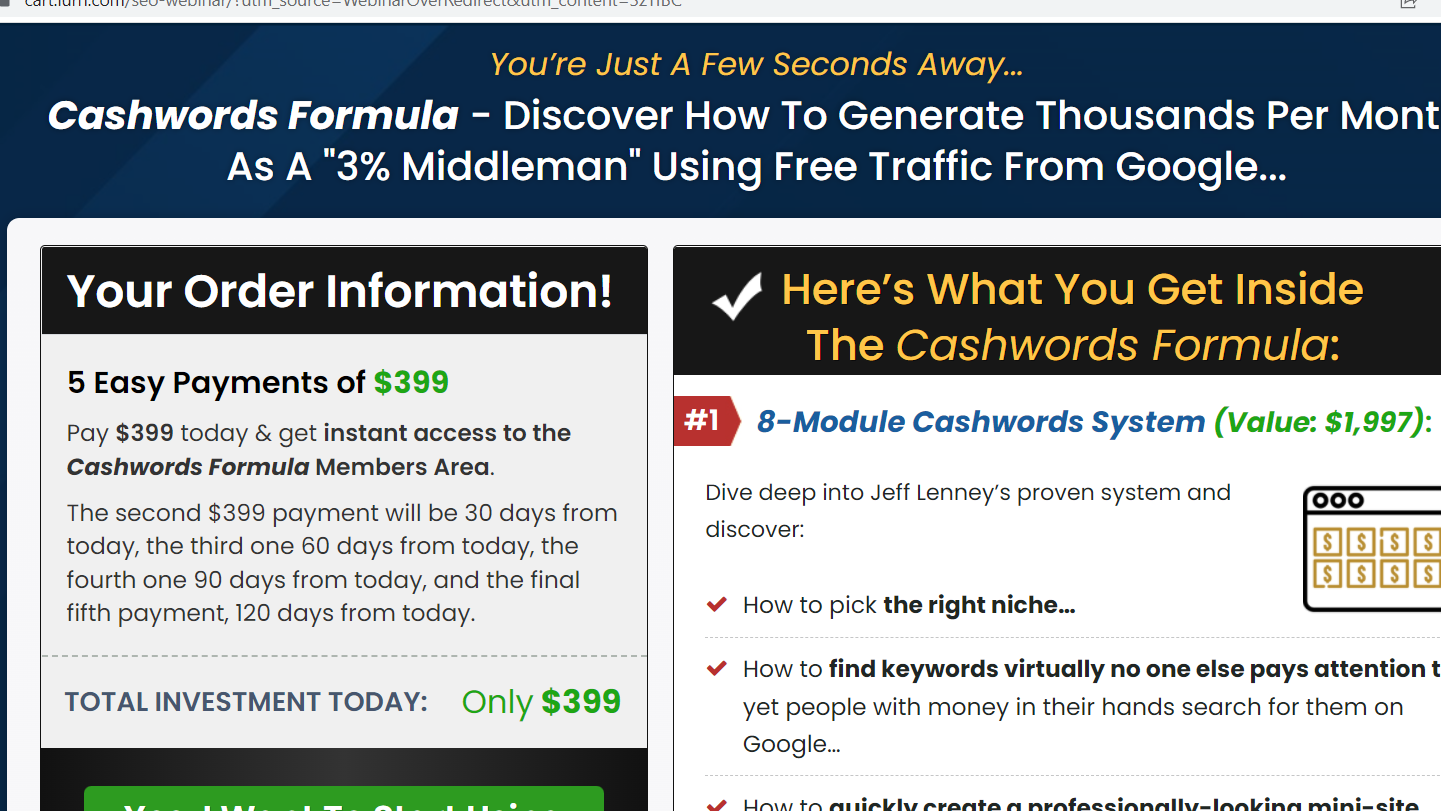 Name: Cashwords Formula.
Creator: Jeff Lenney.
Price: 5 payments of $399 (Nearly $2,000).
What does it teach? Enhanced SEO and affiliate marketing.
Does it work? Yes, I personally have tested the method.
Is it a scam? No the program and principals are legit.
Rating: 3 out of 5 stars
Recommended? If it weren't for the high price, I'd say yes.
I would say if you can afford it, get it and on another positive note, this program's principals work (I'll share what they are and why that is shortly), but there's 3 main cons I see:
The near $2,000 overall cost. If you know me well, you know I don't recommend high ticket affiliate programs like this.
Once you start applying these principals, there are certain SEO realities you need to know about (I'll share them).
You can get similar training from less costly programs (and even try it risk free) and learn the same stuff (and get more tools).
Alternatives?

Yes: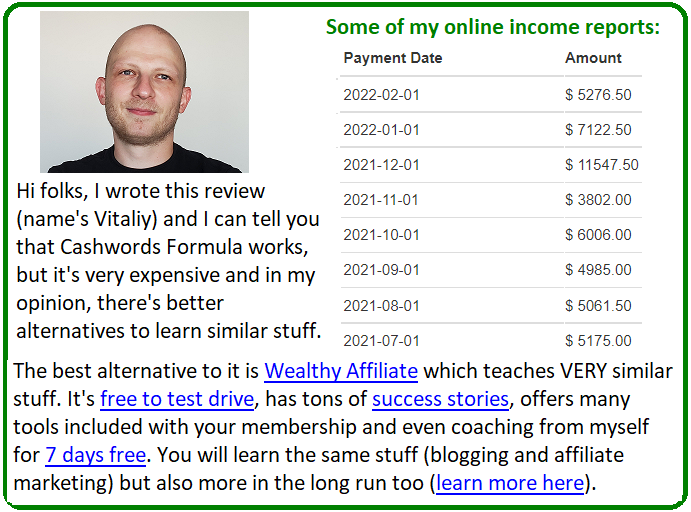 Everything you need to know about Cashwords Formula (how it works):
First, you have to know the basic idea:
There are countless people who review products online (specifically Google) before they purchase anything. Many of these people review similar products in specific niches.
You can create product reviews for the said niches and rank for them so when people look up the product review, you appear for that, get the visitor to come to your site and possibly buy the product (which you promote).
In many ways, this principal is very similar to basic SEO stuff you'd find about blogging on products, ranking for their keywords, getting the traffic for them and monetizing off promoting them.
However, Cashwords Formula is a little bit different than that basic SEO formula (and an example):
Cashwords Formula teaches you to chase specific, very long tailed keywords which have VERY little competition, but high traffic searches. Let me give you a simple example to illustrate how this works:
1) Let's say you decide to target a type of outdoor niche like trail running.
2) You research keywords for something like "trail running shoes". It gets a lot of searches, but is pretty broad and competitive.
3) You narrow it down to something like "best trail running shoes for men". This gets less searches, but is much more specific and less competitive than just "trail running shoes".
4) Cashwords Formula's approach is a little bit different. You would target something even more specific in this niche like "trail running shoes for men with flat feet" and that would be a highly specific, less popular, but also nearly a 0 competition keyword and you can easily rank for that.
5) Using this tactic, not only can you rank faster for such a keyword, but the search is so refined, and likely to get buyers that you'd easily be able to make sales promoting trail running shoes (for men with flat feet).
6) You'd then replicate the formula in the same niche, but with other keywords and rank for them, get a high traffic count to your site and make good money as an affiliate promoting products.
Specifics on how the Cashwords Formula program teaches you this:
You get 8 modules of training which cover the following subjects:
1) How to find idea niches and even micro niches to build your site on. You also get a top 10 niches list as well as lists of good affiliate networks to join.
2) How to actually build your website (you will get a WordPress site for this).
3) Case studies on others who have built full time incomes with their site.
4) A 6 month guarantee to see results (this is important as I'll explain in a moment).
5) Support and help throughout the process.
6) The idea is that you build a 17 page mini website using these principals.
7) And more.
Proof the Cashwords formula process works (from my own experiences):
Here's one of the blogs I run called TheNatureseeker.com in which I follow a lot of similar concepts Cashwords Formula teaches for my product reviews (although I also get rankings for popular locations so I do more on this blog than what the formula teaches):
Pros:
The program is legit (the principals are too).
There is great training on niche selection and finding low competition keywords.
I am confident people can see success with this program (who apply it properly).
I generally have favorable opinions on the products in Lurn, something that Cashwords Formula is part off. I want to note that a majority of the webinar for this program, Anik Singal (founder of Lurn) was the presenter.
Cons:
Again, Cashwords Formula in my opinion is very expensive.
It typically takes about 6 months to start seeing results with this method (in my experience).
Nothing is guaranteed and there are other SEO obstacles to consider (I'll explain them shortly).
You can learn very similar stuff in programs like Wealthy Affiliate and literally try it free before upgrading (only $49/month) and it actually teaches you more, for less and gives you tons of tools so you don't need to spend extra money (more on that later).
Conclusions on Cashwords Formula:
If this program cost under $1,000, I would have easily given it a 4 out of 5 stars, simply because the formula is very realistic and I've seen it work and literally use it on my own existing websites (including this one).
There are certain realities I eluded to earlier that I would have liked to see mentioned more in the presentation of this program, that are VERY important to understand before you embark on this journey. Here they are, at least based on my experiences using similar methods:
1) New websites take about 6 months to start seeing good traffic.
Even if you apply the methods perfectly, there is such a thing as the "Google sandbox" to consider where new sites usually don't get high rankings until 6 months pass. I think this is why there is a 6 month guarantee to stick around before seeing results and sometimes it can be longer.
2) 17 pages worth of content might not be enough:
Jeff is clearly an expert at this and he can make such a thing work, as can some of his success stories, but most SEO sites that follow this kind of method might need to make more pages. In fact, I would say you need to keep building your site and not have a 17 page quota. The more you build your site, the more it'll get traffic and monetize. You are after all building a real business here.
3) Learning curves (most people have to go through them):
Most people in my experience who are new to this concept have to go through a learning curve, even if there is a perfect blueprint set for them to use. How they apply it and their own filters on how they use it varies, so just understand that results vary.
4) Extra costs to consider:
A website domain, hosting, SSL and other features/plugins might be necessary to get this going. I'm sure Cashwords Formula sets you up with everything you need, but you may need to buy more stuff on the back end to get the wheels spinning.
5) A lot of writing is necessary to make this work:
Make no mistake, this is basically you blogging and reviewing products. Even if it's 17 pages, you still have to write a lot and if you're not someone who is ready to do that, this might not be for you.
Why I recommend Wealthy Affiliate more (to learn the same stuff and even more):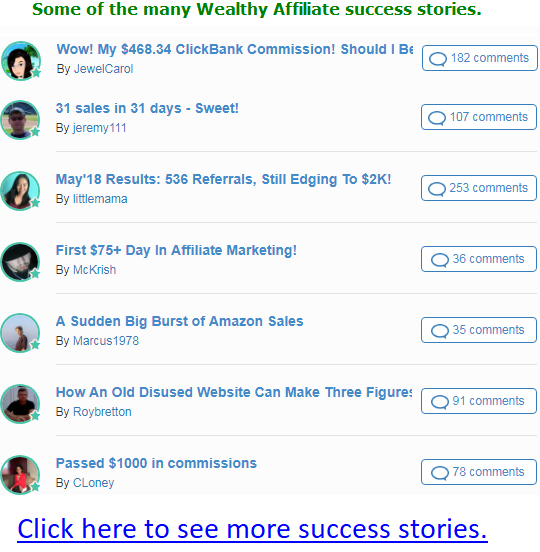 1) Many of the same concepts Cashwords Formula teaches, Wealthy Affiliate has been teaching for nearly 2 decades (I've used it to get my results as have many).
2) You can try the program for free where you'll learn to pick an ideal niche for you to start a blog on and even get a website set up for you. You will have to work on the website of course, but the programing and coding is pre built for you.
3) Many tools in the program are already included. Remember that stuff about hosting, SSL and so forth? Well most of that is included in the Wealthy Affiliate program if you decide to stick around and upgrade and this will actually save you $100's if not $1,000's annually.
4) You learn much more in the Wealthy Affiliate program overall, especially as you progress through the training, all for 1 low monthly price than you would in Cashwords Formula which is part of Lurn that has multiple products/programs on different subjects at different costs (some very high ticket).
Bottom line: You learn more and save more with Wealthy Affiliate. I do promote the program but at the end of the day, you are welcome to try it free.
There are many more benefits in my opinion that Wealthy Affiliate holds over Cashwords Formula and while I think the latter program is definitely legit, I'm just showing you the objective realities of applying these principals since I have real world knowledge and experience with them.
If you have any questions about this program or the method used, feel free to ask me below!