The Breakaway Business Plan is an eBook which details work at home side gigs one can earn good money from. I recently checked it out and want to give you my thoughts on it since I do possess a bit of knowledge on this as a whole.
Product Info:
Name: Breakaway Business Plan.
Author: Alicia Lyttle.
Price: $0.
How long is it? 19 pages.
What is it about? An index of 50+ side gigs.
Rating: 2 out of 5 stars
Recommended? Not really.
I generally like the eBooks produced by Lurn's authors and Alicia Lyttle in this case too.
However, I found the value of the eBook to be pretty small and vague as it's really just an index of 52 side gigs without much details on how to get started. I could just as easily find info like this on a regular blog site without ever needing to opt in to get this eBook, let alone watch the long webinar by Alicia (which is what you'll need to do in order to get the eBook in the first place).
On the flip side though, Alicia does have a program called Freelancing Genius which in my opinion is pretty legitimate and the eBook which is Breakaway Business Plan is a stepping stone to promoting that (something to keep in mind).
Alternatives? A few:
Firstly, side gigs are quite common to find in places like this:
And there is also what I do as a full time gig (making money online):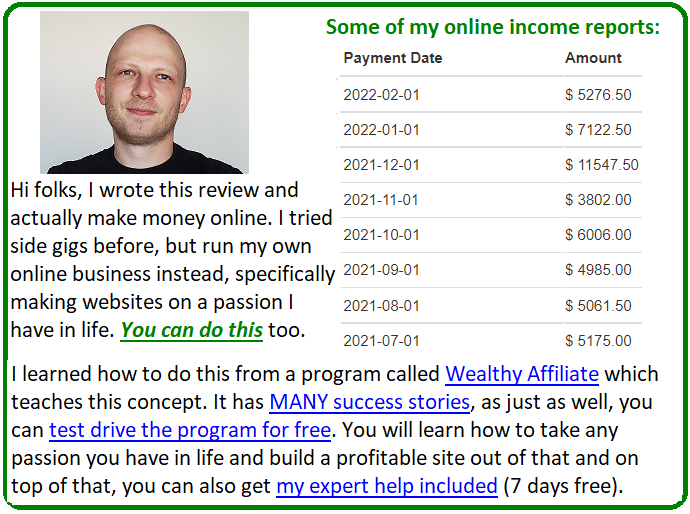 A summary of Breakaway Business Plan:
The eBook is 19 pages and starts with a cover and then a 1 page summary of how profitable the side gig business is, and how there are many different ways you can earn money from home.
The next 16 pages of the eBook goes into specific occupations and opportunities out there, including things like:
Freelance writing (for other bloggers/site owners).
Blogging (you can start a blogging business).
Writing letters of all sorts (resumes, business letters, ect…).
Basically the 52 gigs are a mix of either freelance gigs where you work for someone else or a type of online business in one form of another where you work for yourself (like drop shipping).
Pros:
The 52 gigs are legitimate.
Cons:
The eBook was very short and vague.
Like I said before, I could find more value in free blog posts on this subject.
I liked Alicia's webinar presentation on this much more than her Breakaway Business Plan eBook.
You can start side gigs via free info resources over buying programs like Freelancing Genius.
This is one of the only Lurn eBooks I didn't find that valuable.
What to expect after reading Breakaway Business Plan:
The last page of the eBook provides a link to getting started with this stuff which will involve joining Alicia Lyttle's Freelancing Genius program.
The cost of the program however is 3 payments of $397. But it will provide you with much more resources and getting started tips on finding and profiting from side hustles.
I didn't buy it personally because I think it is pretty expensive, but (again) I did find Alicia's presentation of the concept and selling the idea WAY better than this eBook, so at the very least I would recommend watching her webinar.
Let's talk about side gigs and how likely it is to make money from them:
It is absolutely true that it is possible to make money online from side gigs. However, in order to do that, you need to have several components:
First, you need a skill that is needed for online gigs. Let's say you can make eBook covers, that is a skill people pay for.
Second, you need to find places where those skills are publicly available for sale at. In other words, sites like Freelancer.com, and places like Fiverr.com is where you can post your gigs.
You can't think of these things as simple "type and get paid" jobs where you can do little or nothing and get paid big. This is a common mistake people who seek side gigs make. Alicia's Freelancing Genius will help you in both regards if that's what you're seeking to do, but just understand that no one will pay for side gigs unless you actually have value to offer them.
Why I recommend starting an online business (how to do it even if you're completely clueless about it):
Before I started doing what I do now for a living (affiliate marketing), I sought out different types of side gigs online. What I found is that it's pretty hard to get into such markets because a lot of other people are doing it, and while I am NOT trying to discourage you from finding them, just know that it's not a simple paste your resume online, get quick clients and get paid.
Very often, it will take a lot of job posting, or getting paid very little when your client doesn't know you well. Plus you are working for other people and while you CAN make it big, it will take time, a growth of your reputation and you having great skills others don't so you can actually offer more (graphics design, being an amazing writer, things like that).
Me personally, I like running my own online business because it has not only taught these skills, but it has also helped me create and run my own online business that makes me money full time, which is why I don't rely on clients or others to give me a paycheck (I work for myself).
This is how I make money online (and how you can too if you're interested):
The concept is this:
You pick a topic/hobby you like and build a website off it which attracts visitors who share similar interests and then you promote products through what is called affiliate marketing to the visitors so when they buy it, you earn money. This can earn you a passive income and offers limitless growth to the business. Allow me to give you a clearer example:
I have a passion for model trains.
I create a website talking about model trains (how to build train worlds, reviewing different train models, ect…).
I attract people who also love model trains to my site and get 10,000 visitors a month.
The site promotes train model I am affiliated with and every time 1 visitor buys a product promotion on the site, I get paid $50.
If 100 people buy the products every month, I will have earned $5,000 every month.
This makes it much more simpler to understand and it is YOUR website and better yet, if you have any passion (doesn't have to be model trains), you can make the same kind of site.
Here's how to get started with that:
There is an awesome program known as Wealthy Affiliate which teaches this concept step by step, and you can test drive it free if you like. They offer people a free introductory course to help you properly select your passion/hobby and build a website for it (you don't need any experience with this).
This kind of business does take time and a lot of work, but if you've ever wanted to monetize your passion and build an online business, then this is how you can get the best of both worlds. Check out more on Wealthy Affiliate here to see details (and success stories) of how it all works.
And if you have any question on this or side gigs in general, let me know below. I'd be happy to guide you in the right direction to help you succeed in this.