I've had dealings with websites like Click Earners and in this review will be covering why I don't recommend it even though there may be potential for finding decent work at home gigs and making money from them. The big question is click earners a scam?
The truth is that this isn't the first type of website I've dealt with that promised the best gigs only to have me pay a "membership fee" to get access to these opportunities and frankly, my personal opinion is to always stay away from these types of site because their opportunities can be found on free websites that also do the same thing. But I'm jumping a bit too far ahead, so let me start from the beginning:
A summary and overview of Click Earners:

Creator:
Unknown.
Price: 
$57 for lifetime access.
Or $27 a year for the same membership.
What is it?
I'll explain that in a moment, but shortly put, it's a site to help you find and make money with work at home gigs and in my opinion, there's far better options that don't charge a thing for getting access to these gigs.
At the same time, even if the site is legitimate, I don't recommend it because the gigs that pay best require more than a simple registration and it's more than likely that even if you do get one or more gigs, they won't pay enough to make you a good income (this has been my experience with similar programs like Click Earners).
My rating for Click Earners:

1.5 out of 5 stars

.
Alternatives:
What exactly is Click Earners? The details:
It's supposedly a membership site that gives you access to "awesome" work at home opportunities. Here's how it works:
You sign up with this program.
Pay the initiation fee.
And then you'll get emails and notifications for offers.
You sign up to the offers and if you're approved to do them, you can start getting paid for them.
The types of gigs you get offers to are summarized on the Click Earners home page, and here is a screenshot of at least 12 of them: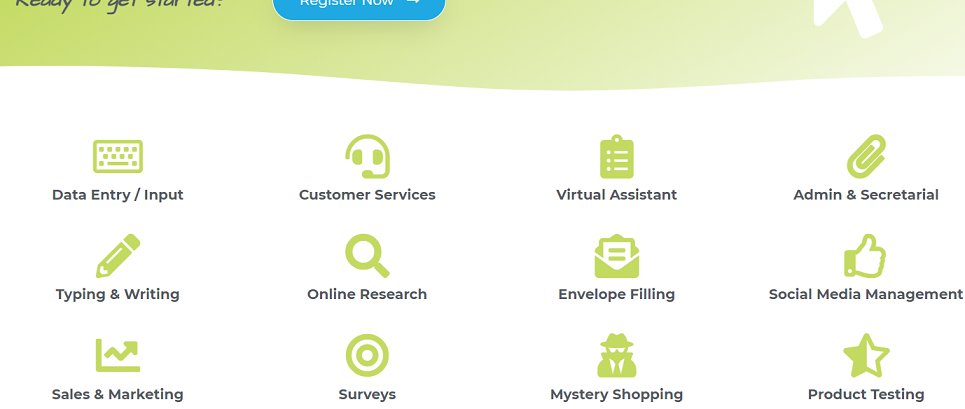 Now because I've been part of these types of sites before (and lost some good money on them), I know how this works, so let me explain a few things:
My experiences with sites like Click Earners (the pros):
1) First, there are legitimate ways to make money from these types of gigs (outside of sites like Click Earners).
2) It is possible to make money from home in general. I just happen to believe these sites aren't the best way to do it.
What you may notice with these 2 pros is that neither of them is directly connected to Click Earners, but is just a generalized view and you'll see why as you read the cons:
My experiences with sites like Click Earners (the cons):
1) In my experiences, the gigs and opportunities offered on these kinds of sites are hard to make good money from.
2) Things like paid surveys and rewards programs pay extremely little to make a positive impact on your finances.
3) You can literally find these opportunities on free sites. Some examples include:
Upwork and Textbroker (freelance writing gigs).
Paid Viewpoint (decent survey site).
Another good option is Arise Work From Home.
As for the other things Click Earners "gives you access to", you can find similar options on free sites like Monster.com (a very popular job hunting site) as well as others like it.
4) I've had experiences with sites like Click Earners where they literally don't give me good work at home options, just copy over random gigs they find and then charge me to view them. That in my opinion could be a scam in some cases.
My general opinion is to never pay for sites that charge access to work at home gigs, and I stand by that opinion with Click Earners, even if the gigs they offer are legit (in most of my experiences, I rarely see these kinds of programs giving me good opportunities).
5) It's a site connected to Clickbank (a good program and you can get a refund if you're not happy for Click Earners) which means it's offering people the option to promote it and while I do affiliate marketing personally, I don't find the value in Click Earners to be high enough to justify doing that.
6) I have no clue who made Click Earners. There's literally not information on the creator or creators. This is never a good thing in my opinion.
7) I've seen way too many sites like Click Earners and have yet to even recommend 1!
8) This is my personal opinion, but I believe their whole thing about seeing if there's "spots left" and the "act now to get he discount" is nonsense and is just a way to get you to sign up and pay faster.
Conclusions on Click Earners: Is Click Earners a Scam?
I've been through these programs more than once, know how they work and frankly, I don't ever recommend them.
However, I will not say that Click Earners is a scam either but my main issue is that people may get the impression that these kinds of sites hold some "secret info" or access to amazing work at home gigs. In my experience, I've never seen this to be the case.
Instead what I've always seen with these kinds of sites is access to general gigs you can find for free and while I can't say that directly about Click Earners, the other cons I listed, included the fact that I can't find any info on the owner is a big deal to me personally.
And yes, I've often spent money to find this out. So no, Click Earners is not getting my green light for the above cons. It's not just that I don't trust it, but it's also because I know how the work at home business and opportunities work, and here's what you need to know:
The truth about working from home explained (what works and what doesn't):
When it comes to making money from home, I've gone through many different gigs and opportunities and have been able to see that most of them are garbage.
Barely paying work at home gigs: Paid surveys and rewards sites are often the most alluring and "easiest" to get caught in, but they pay almost nothing for your time.
Work at home scams to avoid: Then there's the serious ones you have to watch out for which is high ticket programs and MLM programs, which are very often scam opportunities that promise you big money but then you end up spending big money to partake in it (before losing it) and I have seen them pitched through membership programs like Click Earners, so I am very careful about this now.
The only good ones: The best work at home gigs that pay the most usually involve freelance writing, but to get paid a lot for it requires you have a good reputation and prove you're a good employee to be hired in the first place.
The point is:
The best paying work at home gigs never come easy and never let anyone tell you that's not true. I've lost a lot of money and time in my life trying to chase this nonsense.
But in my case, after learning from my mistakes, I decided to start learning how to make money with affiliate marketing and many years later, work from home making a passive income with affiliate marketing full time.
It's something I personally consider the best option out of all the work at home gigs I've been involved with because you build your own online business through blogging and many other legitimate methods available.
If this is something you want to learn, then there is only 1 program I recommend: Wealthy Affiliate. It will teach you this and help you do affiliate marketing partly or full time from home.